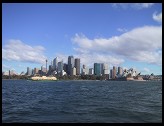 Sydney
by Philip Greenspun; created 2000
---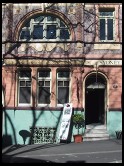 Sydney is one of the world's most beautifully situated cities. Four out of Australia's 18 million people live here. You can attend a class at one of two world-class universities in the morning, surf in the afternoon, and attend the opera at night.
Circular Quay and The Rocks
Walk around Circular Quay to get photos of street performers, ferry boats coming and going, and the narrow streets of The Rocks.
Take some wide angle lenses over to capture the ambitious architecture of the Sydney Opera House. When you're done walking around the building, hop a ferry and switch to a normal lens for a view from the water. Construction on the Opera House complex was begun to Joern Utzon's blueprints in 1959 at a projected cost of A$7 million.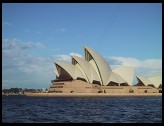 Amid acrimony, Utzon quit in 1966 and went back to Denmark to sulk. Australian architects did the interior design, an Australian lottery financed the A$102 actual cost, and the building was completed in 1973.

Getting Around
If you stay near Circular Quay, you can get to most of the good tourist destinations via Sydney Ferries, walking, or train.
Where to Stay
My favorite hotel in Sydney is the ANA, owned by All Nippon Airways [now a Shangri-La]. It is a five-minute walk from Circular Quay, has spectacular views of the harbor from most rooms (see photos below), and has in-room Ethernet-based Internet access. Service and food are impeccable.
I stayed at the W Hotel for a couple of nights. I was attracted to it because they promised in-room Ethernet-based Internet connectivity. What they actually had was modem-based Internet at by-the-minute charges that added up to nearly $1000 per day. I got rather a shock upon checkout! Although the prices are similar to those at the ANA and other luxury hotels in Sydney, the W is in an out-of-the-way neighborhood and lacks the panoramic views of the high-rise competitors.
---
philg@mit.edu