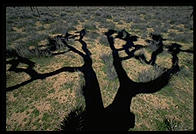 Joshua Tree
by Philip Greenspun; created 1998
---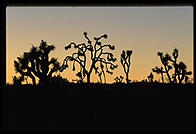 Joshua Tree National Park comprises regions of two deserts: the Colorado (the hot dry eastern portion of the park) and the Mojave Desert (the high cool western portion).
Close-up
Not so close-up
Way High Up
You can drive to Keys View at 5,185 feet above sea level and see out over the Coachella Valley to Palm Springs and the Salton Sea.
The tree, the whole tree, and nothing but the tree
Actually Joshua Trees are succulents, related to the Yucca bush. According to the Michelin Green Guide to California , these were named by Mormon travelers. The strange contorted branches made them think of Joshua pointing the way to the promised land.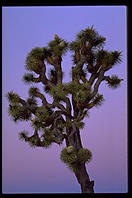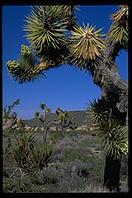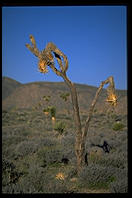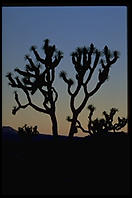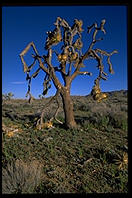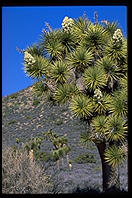 and when you're not too lazy to drag out the 4x5 view camera... (click on the thumbnail below for an experience in sharpness)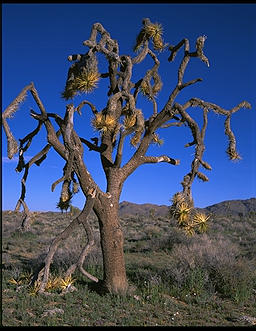 Five Easy Pieces...
... of Joshua Trees
OK; maybe I could only find two.
Cholla Cactus Garden
Rock-oriented Photos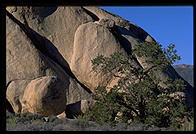 Just East of Twentynine Palms
If you keep driving east on California Highway 62, you will cross the Mojave Desert into Nevada.
Practical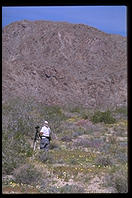 Visit in March or April so that you can enjoy the wildflowers. Take water and food into the park. Allow at least two days to see most of the interesting road-accessible sights. Bring a hat.
Stay and have dinner at the 29 Palms Inn in the town of Twentynine Palms: (760) 367-3505. The inn is less than a mile from the park entrance.
Photo Nerd Checklist
If you're a camera nerd, here is your checklist for Joshua Tree:
Wide angle lens for all-around work. I brought my Canon 17-35/2.8L zoom.
perspective correction lens for images of Joshua Trees. I bought a Canon 24 T/S lens and it was often useful. A longer tilt-shift lens might have been nice as well. (Photoshop Achievers do this with software, though)
Macro lens for wildflowers. The longer the better. I had a 180/3.5L Canon for most of the macro pictures on this page.
Telephoto lens to isolate and compress elements. In full frame, I'd use a 70-200/2.8 zoom.
Your favorite panoramic camera (or ballhead plus stitching software). I had good luck using a Fuji 6x17cm camera in Joshua Tree.
Alarm clock. You'll need to get out at 6 am if you want to get good light. Oftentimes, it gets so windy by 9 am that you can't capture wildflowers effectively with a tripod (i.e., they are blowing around and your 1/15th of a second shutter speed will result in motion blur).
---
philg@mit.edu