---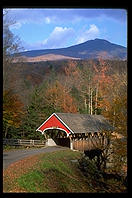 I saw a movie once where it turned out that by photographing covered bridges, you could end up in bed with an Italian immigrant. So I have set out every year with high hopes but I can tell you that I never got so much as a smile from any foreigners up in New Hampshire or Vermont. The author of the book is a business school professor and all the women I know are just wild about guys with MBAs. So I figure the guy must be some kind of expert on romance and yet he seems to have been wrong in this regard.
So in case you just want a bridge photo for its own sake, here's my advice... The photo at right is what you'd see in a postcard. What could be more typically New Hampshire? The freshly painted covered bridge. The mountain in the background. No parked Honda Accords. Yes, this scene is so typical that you'll find it on practically every postcard in the White Mountains. Also so typically that you'll find nothing like it in New Hampshire except in a state park. Yes, this image was made in Franconia Notch, right next to the Flume. The only vehicle that ever drives over this bridge is a tourist shuttle.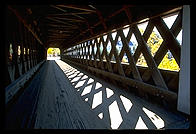 The interior of this bridge in Woodstock is a little more like what I'd want a covered bridge picture to be. Canon 20-35L lens set at around 20. Fuji Sensia film.

---
About the longest covered bridge anywhere connects New Hampshire and Vermont in Windsor, NH (about 15 miles south of Hanover). These first four pictures were taken half an hour after sunset. The exposure for the first one was 30 seconds at f/2.8. I scrambled up a railroad embankment and then walked out over the water on what seemed like a rather loosely held together railroad bridge. Canon EOS-5 and 70-200/2.8 lens. Fuji Sensia. Aperture Priority autoexposure.
Note how vibrant the colors in the above images are. However, if I want to include some sky in the image then anything on the ground is going to be rendered practically black. In these pictures, I exposed to retain some color in the sky. I didn't have a graduated neutral density filter with me on the bridge, but I guess if I really wanted to play with PhotoShop, I could glue together a sky from one exposure and a foreground from another.
---
I came back one morning to find the bridge partly shrouded in fog. I'm not quite sure that these results justify getting up at 6 am. Actually I'm not quite sure that any results would justify getting up at 6 am...
---
These are my favorite covered bridge shots ever. The were taken after dark with exposures like 30 seconds at f/2.8. Canon 70-200/2.8L lens and Fuji Sensia.

Return to the foliage guide index page
---
---
This free service is made possible by the generosity of Boston Photo, which scanned the images presented here, and Hewlett-Packard, whose FlashPix technology will let you optimally view and print these images (and whose servers power this 20 hit/second Web site). Text and photos copyright 1993-1996 Philip Greenspun
---
philg@mit.edu