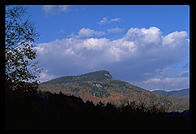 Kancamagus Scenic Byway
by Philip Greenspun; created 1993-1996
---
The Kancamagus Scenic Byway is the highest road in the White Mountains of New Hampshire. It runs from Lincoln to Conway and carries you through what would be wonderful scenery if only the mountains weren't so high and therefore covered completely in pine trees rather than deciduous trees. Actually, some of the more intimate areas off the Kanc are very nice, sometimes no more than a 5 or 15 minute walk from the car.
Sabbaday Falls
I haven't got pictures to show, but it is worth the short hike....
Rocky Gorge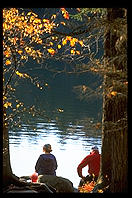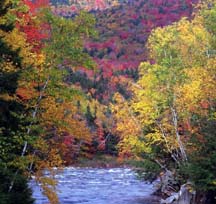 The eastern section of the highway follows the Swift River which cuts an interesting rocky gorge through the hills. One part of this rocky gorge has been helpfully named "Rocky Gorge" by the National Park Service. Stop in the parking lot on a cloudy day, park your tripod on the bridge, load the Rollei 6008 camera with Ektar 25, mount the 250mm lens, and fire away. It is that simple (photo at right). If you walk for two more minutes into the woods, you come to a beautiful lake. I set up my Canon EOS-5 quickly on a tripod and managed to surreptiously grab a few frames of Fuji Velvia with the 70-200/2.8 lens.

Franconia Notch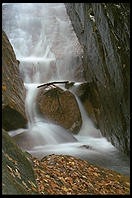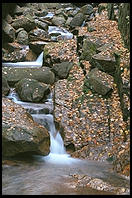 This isn't really a part of the Kancamagus, but starts in the same place (Lincoln, NH) and runs for about 10 miles north on Interstate 93. There is a parallel bike path for touring the Notch, which is essentially one big state park.
The images at left and right are from The Flume, narrow granite rock bed in which a stream plunges about 60 feet.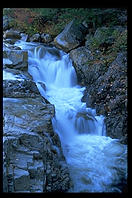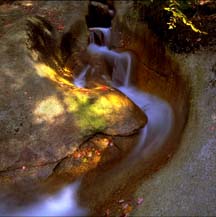 At left is yet another Flume photo. A little farther north, we find the Basin (right). Actually this is only one of the streams feeding the Basin proper, which is kind of a granite toilet bowl. Rollei 6008, Fuji Velvia, Zeiss 50mm lens, f/22 and 2 seconds.
You can also find The Old Man of the Mountain, a rock formation that interested Hawthorne enough to write a short story.


Glen Ellis Falls
About 20 miles north of Conway, NH on Route 16.

Return to the foliage guide index page
---
---
This free service is made possible by the generosity of Boston Photo, which scanned the images presented here, and Hewlett-Packard, whose FlashPix technology will let you optimally view and print these images (and whose servers power this 20 hit/second Web site). Text and photos copyright 1993-1996 Philip Greenspun
---
philg@mit.edu