---
Just the facts:
3 weeks in Argentina to escape the short dark cold days in Boston
December 10 to Dec 31, 2003
Buenos Aires
First stop: Evita's grave.

Here are some graduating law students being pelted with raw eggs by friends and family. This is one tradition we might want to consider importing to the U.S.!

Compared to the great cities of the Old World, there isn't a whole lot for a tourist to see in Buenos Aires. It is a big city with a lot of shops and some nice architecture.
Iguazu Falls
World's second-highest-volume river (the Parana) drops over a cliff that is nearly 100 meters high and 4 km. wide. The result is the world's most powerful waterfall, which is actually broken up into hundreds of sub-falls.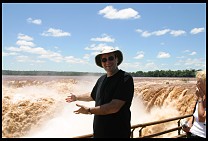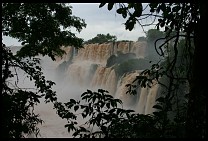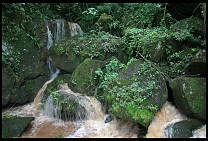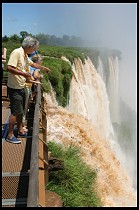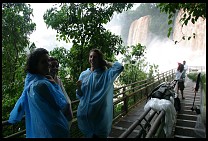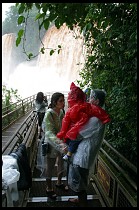 Iguazu is a rugged wilderness experience.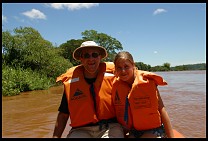 It is tough to get an overall perspective on the falls unless you take a helicopter tour from the Brazilian side. If you're a U.S. citizen, however, the Brazilians impose the following barriers: (a) must apply for a visa in advance by sending passport to consulate, (b) must pay $140, (c) fingerprinting and photographing at the border, which might result in delays.
The Lake District of Patagonia
This is the northwest corner of Patagonia. You get there by flying to San Carlos de Bariloche (big city right on a windswept lake) or to the smaller and much more charming town of San Martin de los Andes.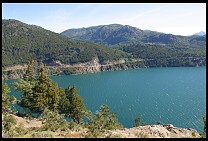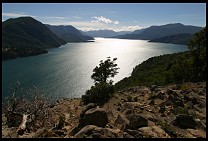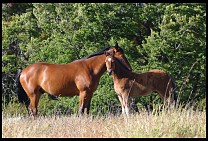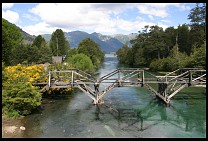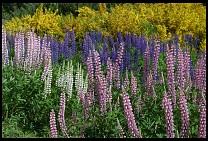 Julie and Justine, an English and South African backpacking team. They'd just walked out of the woods after four days and were hitchhiking back to civilization when I found them. If I hadn't stopped there was a bus on this dirt road that leads to a lake in Chile. The bus runs once a week.
Ushuaia
Southernmost city in the world (54 degrees S latitude) and gateway to Antarctica. This is sort of Argentina's version of Alaska. Prices are high, service staff can be a touch surly, and mid-summer weather can be rather cold.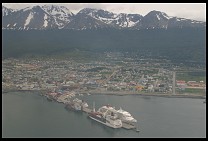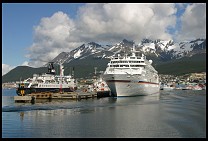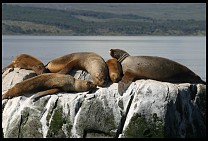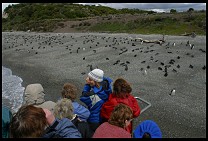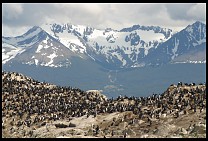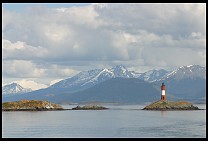 The only available Hertz rental car was a miniature affair with rather fragile tires. After every 30 miles on the gravel roads around Ushuaia the wheels would be bent and the tires would start leaking. Fortunately there are plenty of tire shops in Ushuaia and it only costs $2 to have a guy come out with a sledge hammer and pound a wheel back into some semblance of cylindricity.
Fortunately the local flying club's airplanes are a lot sturdier than the rental cars. Here's me and Claudio in a Piper Archer:
The Road Home
Watched New Year's Eve fireworks in 15 towns at the same time, from 33,000' above northern Argentina and western Paraguay. Landed at MIA at 5:00 am on January 1. Stopped for two nights in Washington, DC where I picked up a nasty cold from my cousin's 7-year-old kid. Spent a week shut inside, feeling ill, while the temperatures got down to -18C (-2F) outside in Boston.
Travel Advice
If you're going to do this trip yourself, here's some advice that I posted in my Weblog under the headline "20 Perfect Days in Argentina".

Argentina is a fabulous place for people from the northern hemisphere to enjoy a vacation from our cruel dark winter. Here are some good reasons to visit Argentina:
15-17.5 hours per day of sunlight in December and January
incredibly friendly people, enough of whom speak English that you can get around reasonably well without Spanish skills
beautiful unspoiled scenery, one of the only parts of South America that still has some wilderness
less rain and wind than Chile--Argentina is on the eastern side of the Andes and therefore in their "rain shadow"
ridiculously low prices ever since the 2001 devaluation; hotels and restaurant meals are 1/3 to 1/2 the cost of comparable services in the U.S.
families traveling with children will find the little ones welcomed everywhere
Days 1-3: Buenos Aires. Most of the domestic flights within Argentina leave from the downtown airport. You, on the other hand, will be arriving at Ezeiza, a 45-minute trip from the center of town. If you've already got your luggage and are in a taxi you might as well spend a few days exploring B.A. rather than attempting to catch a flight somewhere else. B.A. is a lifestyle city more than a tourist city so try to get some introductions to friends or relatives of friends.
Day 4-6: Iguazu Falls. A 1.5-hour flight to the NE brings you into subtropical jungle and the world's most powerful waterfall. The falls are best explored from the Argentine side. If you are a U.S. citizen you need to get a visa in advance and fork over $140 to visit the Brazilian side, which really isn't worth the trouble unless you're desperate to take a scenic helicopter flight (banned in Argentine airspace). If you've got the Brazilian visa it might be worth adding an extra day. Once in Brazil you have the opportunity to proceed further across the Paraguayan border and visit a big hydroelectric project upstream, sadly one that inundated a waterfall of a similar size and beauty to Iguazu.
Day 7-14: fly from Iguazu to San Martin de los Andes, in northern Patagonia (might be a little tough to arrange, at least without an overnight in B.A.). Try to find a rental car that you can drop off in Bariloche and/or take a "Seven Lakes route" tour bus at the end of your stay in San Martin. Be aware that even in the middle of summer Patagonia can be a chilly 10-20 degrees C and windy. At 41 degrees south the latitude here is comparable to Boston in the Northern Hemisphere. However, there isn't a big continental land mass to generate hot summer temps. Patagonia is like a little finger poked into the cold Southern Ocean.
Day 15-17: Calafate. Unless you've seen a lot of glaciars in Alaska or New Zealand, the sight of a thick glaciar calving icebergs into a lake should make Calafate worth the stop. You have to stop here anyway if you're flying from Bariloche to Ushuaia so you might as well get off the plane.
Day 18-20: Ushuaia. At 54 degrees south this is the southernmost city it the world (comparable to Edmonton, Alberta or Manchester, England). Go hiking in the Tierra del Fuego National Park. Take the all-day Rumbo Sur cruise that visits the sea lions, penguins, and Harberton ranch. Enjoy the snow-covered mountains behind the city. Be prepared for cold temperatures, at least a bit of rain most days, and some wind. A typical mid-summer temperature here is 12C. Warning: Ushuaia is a bit like Alaska in hospitality as well as scenery. People move here because they don't really like other people... then they get jobs in hotels and restaurants. On average the welcome you receive in Ushuaia is better than in most parts of the U.S. but the quality of services and friendliness is lower than in the rest of Argentina.
Day 21: You can get a direct flight from Ushuaia to Ezeiza (EZE). Hang out at the airport Internet cafe and write to your friends about what a fun trip you had. Then catch an overnight flight to NY (10+ hours) or Miami (8 hours). The First Class seats on the American Airlines 777s to Miami fold completely flat for sleeping.
For the next trip....
take the ferry to Colonia, Uruguay (tiny colonial town) or Montevideo, Uruguay (the capital)
visit the northwestern provinces, which have more colonial and Indian influence
tour the wine country of Mendoza and then head through a pass in the Andes to Santiago, Chile
---
philg@mit.edu
Add a comment | Add a link