Home : Old Exhibits : One Section
---

Frail Travellers, deftly flickering over the flowers;
O living flowers against the heedless blue
Of summer days, what sends them dancing through
This fiery-blossom'd revel of the hours?

Theirs are the musing silences between
The enraptured crying of shrill birds that make
Heaven in the wood while summer dawns awake;
And theirs the faintest winds that hush the green.

And they are as my soul that wings its way
Out of the starlit dimness into morn:
And they are as my tremulous being--born
To know but this, the phantom glare of day.


-- "Butterflies", Siegfried Sassoon, 1920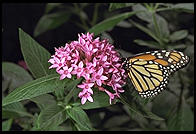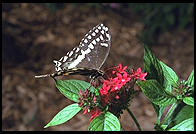 If you wish to see more of my butterfly photos, check out my collection from Costa Rica. These are also available as large prints for your wall.

All of these were taken at Butterfly World in Pompano Beach, Florida (one hour north of Miami) with a Nikon 8008 camera, Nikon 60mm macro lens, off-camera SB-24 flash (held by me), and off-camera SB-23 flash (held by assistant). Note that a 105 macro lens would have been better suited for this kind of work. TTL aperture-priority auto exposure was used in all cases.

All the originals were on Kodak Ektar 25 or Fuji Velvia film, then scanned to PhotoCD and converted to JPEG and FlashPix.
---
Pictures copyright 1991 Philip Greenspun
---
philg@mit.edu
Add a comment | Add a link