Corcovado Tent Camp
part of the Costa Rica story by Philip Greenspun
---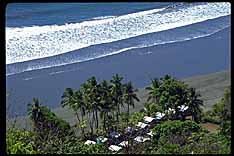 Corcovado Tent Camp is a remote little settlement wedged between the mountainside and the Pacific.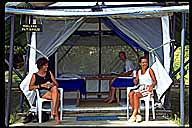 One sleeps in fairly elaborate tents on platforms. Each tent has two single beds. There are pretty effective-looking screens, but we did get bitten somewhat one night.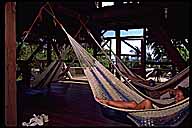 If you're too tired to move after hiking up Rio Madrigal, you can kick back in the hammock room, which is a screened A-frame with good views of the sunset. There's a bartender at night and an honor system during the day. The refrigerator is a big block of ice in a cooler. (The hotel has a generator but it is only operated during certain hours.)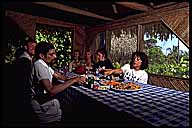 Lunches are quite good and served family-style at two long tables.

The tent camp is run by Costa Rica Expeditions and you have to book a room through them because the tent camp has only a radio. Mostly people book the tent camp as part of a package, but rates for the tent alone are pretty reasonable (around $30/night).


---
philg@mit.edu
Add a comment | Add a link