Tortuga Lodge
part of the Costa Rica story by Philip Greenspun
---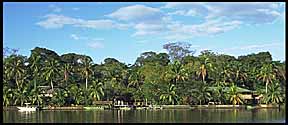 This is a fairly plush, fun hotel in Tortuguero, ten minutes by boat from the national park entrance. It offers the best food we found in Costa Rica served in a convivial atmosphere. We'd met everyone who was staying there after two nights.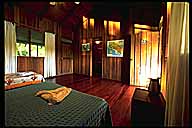 This is one of the "deluxe rooms" in Tortuga, which are much nicer and quieter than the "standard rooms", which are right next to the bar/dining hall. Our room had two queen-sized beds, a single bed, and a lizard or two.

Not sure what the rates are exactly because lodging is usually part of a package tour arranged by Costa Rica Expeditions. I think $70/night is probably about right.

---
philg@mit.edu
Add a comment | Add a link