Alex

Born: January 29, 1996
Adopted: March 1996
Died: April 30, 2009
Breed: Samoyed
Weight (April 1997): 70 lbs.
Inspirations: George and Sky

---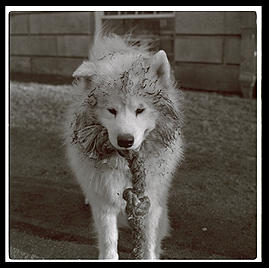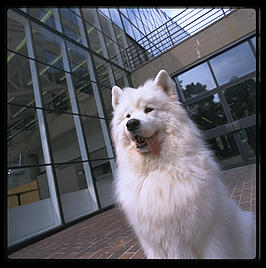 Alex with his older relatives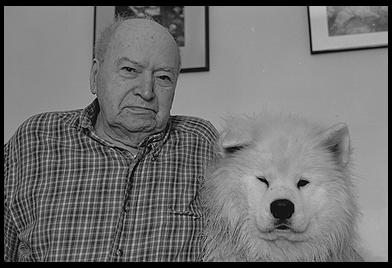 With my grandfather Nick Gittes, 1902-2000, co-proprietor of Melrose Hardware
Alex stealing milk from a baby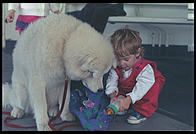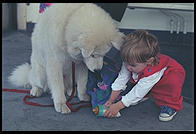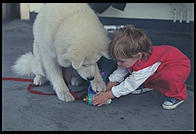 Alex on his way to Alaska and back (Summer 2002)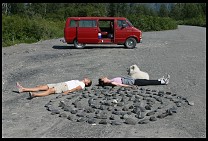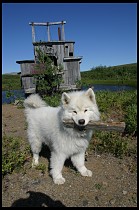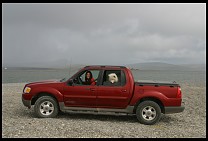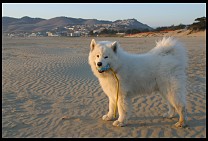 More about the trip: essay for friends | tips for small airplane pilots
Alex on his second trip to Alaska (Summer 2005)
This time the intrepid 9-year-old went in the back seat of a Cirrus SR20 via the Arctic Ocean in Kugluktuk, Nunavut.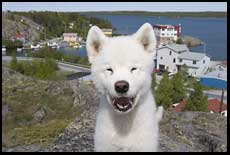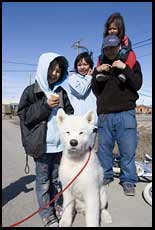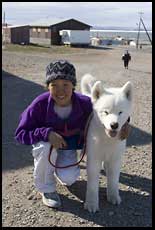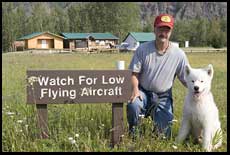 Alex with the Golden Girls
And some of Edward Tufte's striking sculptures....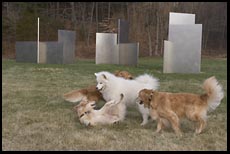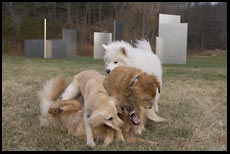 Alex with his friends in Harvard Square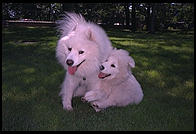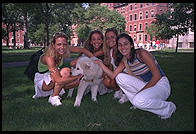 [BIG]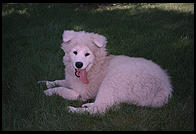 [HUGE]
Alex the hip New York dog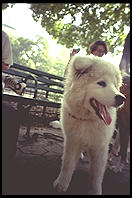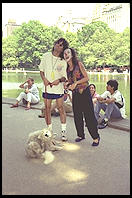 Alex at MIT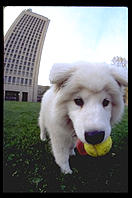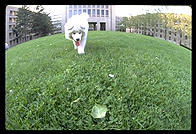 Alex with Magnolia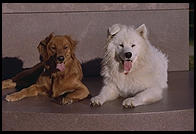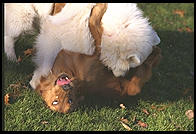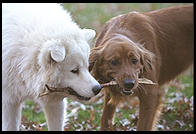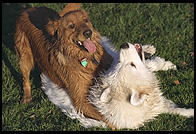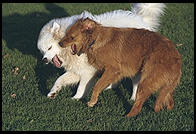 Alex the Traditional New England Dog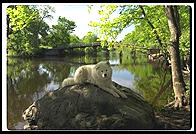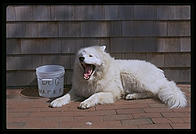 Alex in the Wilderness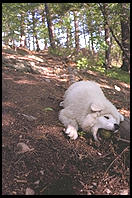 [BIG]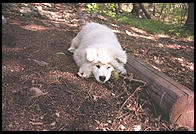 [BIG]
Alex in the Studio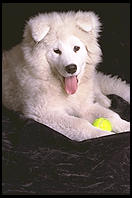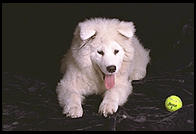 Alex and his Brother
"Lovely white Russian (Samoyed) sledge dog pups, like small polar bears, most gentle and affectionate. Splendid coats and tails. Very rare. Parents imported." -- Ernest Kilburn-Scott, English newspaper advertisement, 1891
(Alex is the slightly larger pup with the blunter nose.)
Training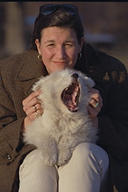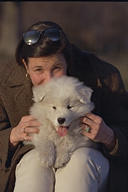 Alex received treats for approaching the first subject in Harvard Square; a powerful electric shock for approaching the second (last frame).
Alex on Vacation in Seattle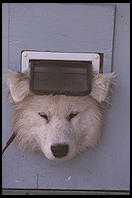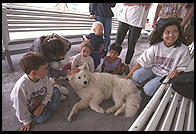 Alex on Vacation in Martha's Vineyard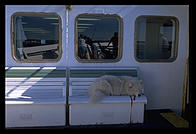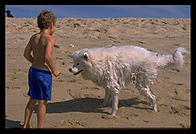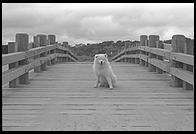 Gratuitous Samoyed Puppy Bath Photos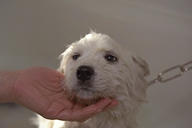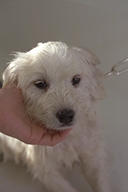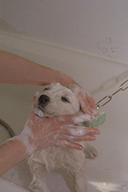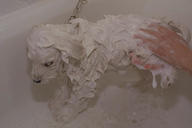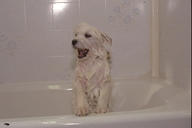 (This is another one of Alex's six litter-mates.)
Alex Up Close and Personal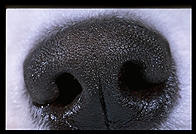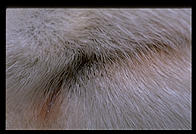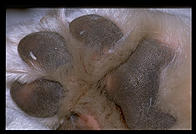 The Inner Dog
Some snapshots from May 2003, my second cool summer: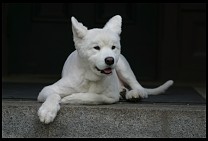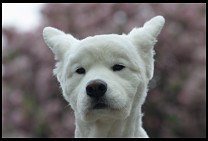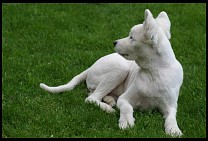 With Windy
Just after I turned 10 years old, a Golden Retriever puppy moved next door. Here are some photos of Alex and the 13-week-old Windy: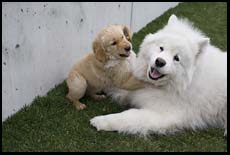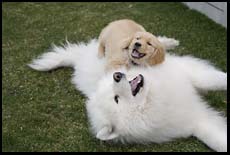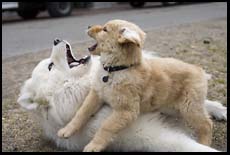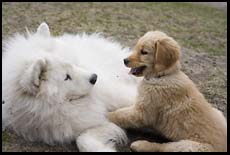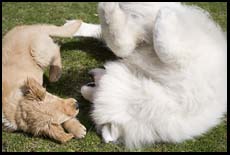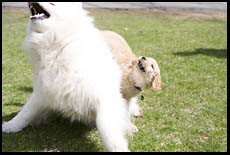 With Roxanne 2006
A pre-Christmas photo project with Kyle and Roxanne (cousin; born 2004)...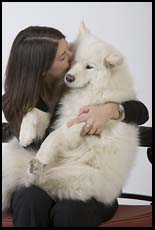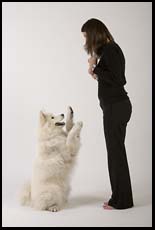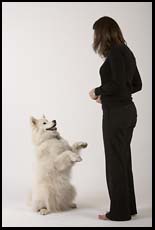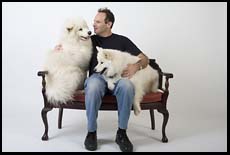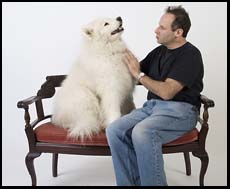 With Roxanne 2007
Another pre-Christmas photo project with Kyle and Roxanne...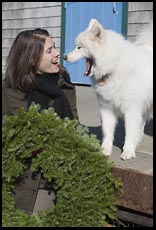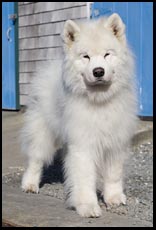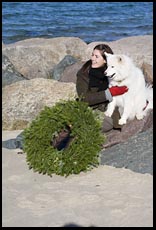 January 2008
At age 12, still spritely enough to play...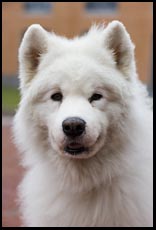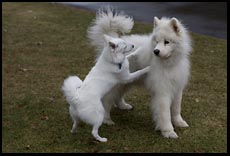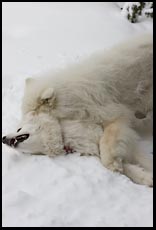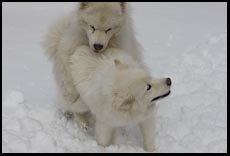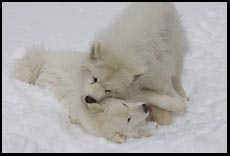 Move to the woods 2008
Having trouble getting up the stairs to the third floor apartment in Cambridge, so my parents got me a house in the suburbs...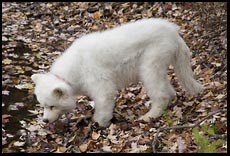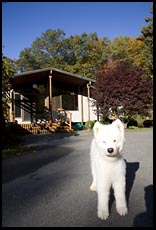 Spring 2009
The winter snow and ice were a terrible challenge for a dog unsteady on his feet. The spring thaw was welcome, but arthritis and weak back legs made it impossible to get up without human assistance. Oftentimes I would fall down when trying to do basic things. It was painful getting up and lying down. It was no way for a dog to live, not even a 13.3-year-old. Nonetheless, I delighted my parents every morning with a smile and would still bark for a toy to be thrown. I enjoyed food, especially steak, to my last day.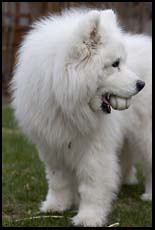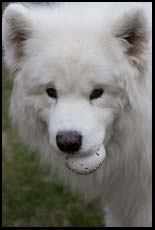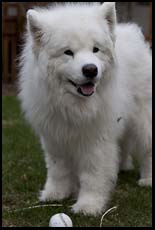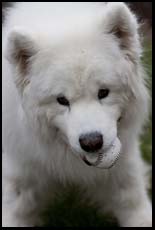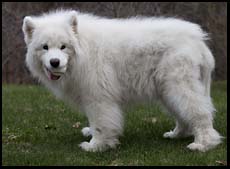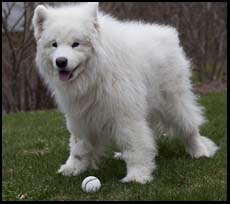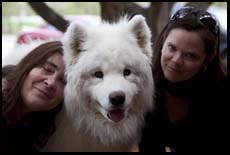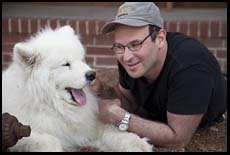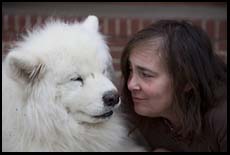 Traditional Media
Alex in newspapers and on television:
New York Times, February 9, 1998, page D5 (also on-line in CyberTimes)
New Yorker Magazine, December 1, 1997, page 92
CNN
New York Times, November 11, 2001, section 9, page 1 (photo did not make it into the online version)
Links
Images copyright 1996-2009 Philip Greenspun.
---
philg@mit.edu
Reader's Comments
Nice to see another Boston Sammy!

http://www.tiac.net/users/roomie/

-- Fred --, August 18, 1997
This was a deeply moving homage to a soul mate. Very poignant! I get lost in the neverending white Samoyed fur and the sandy dirt in my bed. As I mire under the weight of life I tend to become numb to that sammy smile. Thank you for melting that all away for a while! Bailey and Storm thank you, also!

-- Sandra Holfinger, July 28, 1998
Has someone that was once transcendental become just another shaggy dog story? A few years ago a semi-interesting female told me: "I guess my only purpose in life is taking care of my dogs..." Fortunately, by this that time in my life I had developed the ability to not visibly react. http://www.geocities.com/Paris/5817/

-- Simon Templar, September 18, 1998
I had a similar experience with my past best two friends. They were named Kuschi and Akkimma. Akkimma I am told is Alaskan for Lion's Mane. They were both Keeshonds. Kuschi accompanied me everywhere. He was obediant to a fault until one time I made a quick unexpected stop in traffic and he got past me. His death was immediate. Akkimma was a lifelong friend and I lost him in less than 24 hours due to massive internal organ failures. One morning I left and he bid me an entusiastic goodbye. I came home and he was swollen and distended with no energy. He immediately got a visit to the doctor who reported he was in great pain and needed to be put down immediately. That night he was put to sleep. The next morning I said goodbye. I was just surf browsing when I came across your site. After I had left, guys gave me a funny stare as tears rolled down my face. Kuschi, Akkimma, and now George will be with my memories always. Thanks for your site.

-- Thomas M.P. Steuri, October 2, 1998
After spending the time to put together a place of lasting honor for one's loved one, only blessings and honor can be returned to the author. AWESOME! Reminds me to say a special prayer for those around me, who are watching. Lisa@mail.wsu.edu

-- Lisa Wascher, March 10, 1999
Congratulations ! Wonderful photos and the profissional vision with your camera !

Fantastic with persons and animals the photos are magnific !

Aloisio aloisiom@hotmail.com Brazil

-- aloisio marcondes, May 2, 1999
I had a lovely Samoyed named Alex; coming across this page was like finding him in dog heaven... Thank you.

-- Nicholas Spies, June 21, 1999
We were blessed with two wonderful sameys from birth called Zoe and Sasha, Sasha passed away last year from cancer, and Zoe has taken over total control of the home, they are the most wonderful dogs in the world, Zoe is now 12 years old this month and is still so active, please god she will live much longer, as my wife and I do not know what we will do when that day comes.By the way we live in Sydney Australia and Zoe has no problem with the summer temperatures

-- Anthony Miller, June 24, 2000
Welcome to 2001,may this century bring all your dreams "Special delivery",and may Alex be the first Samoyed to spend two weeks in a low-orbit space hotel.At $10.000 a ticket,I'd say he's worth it. Peace~Pass it ON~

-- Lucky Letterman, December 30, 2000
A beautiful day with a beautiful little soul.


Even though I have had many dogs in my 50 years on earth, there are those special ones who have been so close to my heart that they were as much a part of me as my child. People who have never been loved by a special dog have a very hard time with that statement.. People who have had a devoted dog in their life never question it.

-- nanci little, August 31, 2001
The vermont snaps are very nice.

Would like to know whether you have any soft copy of to learn about Photography or very good links.

thank u

-- shiva manju, September 23, 2001
I had the pleasure of meeting Alex for the first time the other day here in Anchorage, Alaska, and I must say that he is quite a remarkable chap, more so than he is hairy! :-)

-- Tony Rowlett, July 22, 2002
I met a neighbor, Diane, walking a beautiful Samoyed alng with her pug Otto. (Otto is great friends with my English Springer, Elizabeth) After admiring the Samoyed I told Diane that there was a really great web page showing Samoyeds at www.photo.net. Diane told me that Alex was your dog that she was babysitting. I was charmed. Elizabeth was standoffish. I think she was jealous of a dog with his own web page. You have a really wonderful site with great photos, wonderful dog stories. You also have a really nice dog, no matter what Elizabeth thinks!!

-- David O'Connor, March 4, 2003
I was terribly saddened when after my divorce my dog died of cancer a few years back. Your photos helped remind me of him and his wonderful face. Porter had that same soft puffy hair that Alex seems to have.

-- Jacob J, June 3, 2003
An avid lover of Samoyeds, I lost my baby Sasha December 2003. A loved member of the family, friend, companion. She was 15 years old. The smiling face, the deep devotion, I dont think you could ever get that from another dog. I thoroughly enjoyed seeing Alex, from those early puppy days to that dirty dog, don't they just love digging holes. Thank you for sharing.

-- Donna Ingram, August 27, 2004
Our Samoyed was named Velcro. Everything in the woods stuck to him, but after a couple hours it all fell off; something about the oil in the fur.

I have never before or since met a dog that got such sheer joy out of life.

We miss you Velcro!

Thanks for the wonderful pics.

-- Connie Reeder, February 4, 2006
I'm sorry to read that Alex is dead. But he will live on in our hearts. Rest in peace, Alex!

-- Arne Kriedemann, May 9, 2009
Add a comment
Related Links
Add a link