Flying in Baja California

by Philip Greenspun in October 2002
---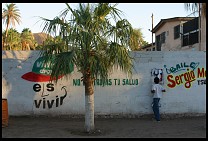 Baja California is a 700-nautical-mile peninsula that some of the locals describe as "the Martha's Vineyard of Mexico." Because of the mix of American and Mexican culture you could also look at Baja as the perfect destination for beginner Mexicans.

Flying down the east coast of Baja, 1500' over the Sea of Cortez, you'll see a 5000' mountain range that looks like one half of the Grand Canyon but with a white-sand beach in front. You'll land on a 7000' paved runway, take a taxi into a town of 10,000 inhabitants, visit the old Mission, stroll along the palm-lined beachfront, have a convivial dinner with some fellow travelers, then settle into a $50 air-conditioned hotel room. In the morning you'll have coffee and conversation in the hotel courtyard then go out to swim, snorkel, dive, or fish.

Baja provides a gentle introduction to Mexican culture. "I love the kids here," an offroad motorcyclist noted, "I gave one of them a peanut butter cup and, without pausing or saying anything, he broke it into six pieces and shared equally with his friends." His companion added that he'd never seen anyone begging in Baja, except in the border towns where "they're taught to beg", and that "everyone is so happy here."

Younger Americans often visit Baja to engage in a specific activity, such as fishing, kayaking, desert hiking, mountain biking, surfing, or off-road driving. Older Americans may come to retire, enjoying the sunshine and low cost of living. A large number of middle-class Californians come down because they can sit in a hotel pool and drink tequila and beer all day for half what it would cost to do the same thing in LA. If you have accomplished nothing more in a day than flying your airplane from Point A to Point B you'll be celebrated among these folks for your achievement.
When to Go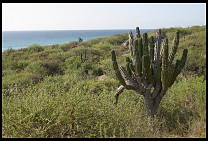 Southern Baja is ridiculously hot during the summer months. All of the airports are more or less at sea level and nearly all have long runways. Thus the heat does not create a density altitude problem for takeoff or landing. However if you want to do aerial sightseeing at low altitudes and your plane isn't air-conditioned, you'll probably want to visit between November and April. Some areas have a cold north wind during the winter months so if you plan to linger in a spot make sure that you check with local experts for the wind and temperature forecast. The heat in Baja tends to be a dry heat, despite the fact that the peninsula is surrounded by water.

If you enjoy watching whales, come between January and March. Unless you enjoy hurricanes, avoid September.
Paperwork and Bureaucracy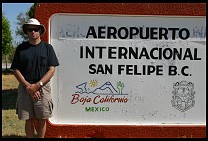 "It is a lot easier to understand the bureaucrats here if you realize that what the Mexican government is trying to do is maintain their monopoly on guns and drugs," noted a long-time resident. Once you get through customs and have demonstrated that you're carrying neither guns nor drugs, the Mexicans are extremely relaxed.

More specifically, the Mexicans want to see documents proving the following:
you own your airplane or have the owner's permission to fly into Mexico
you have liability insurance that will be easy for an injured Mexican to collect from
you are licensed to fly an airplane
As long as you have the right documents to address these issues you probably won't be asked for things like a radio station license or radiotelephone operator's permit.

To prove ownership you can simply show the airplane's registration. If you've borrowed or rented the airplane the Mexicans will want to see a notarized letter granting you permission to fly into Mexico.

Mexico does not want its injured citizens to have to travel across the border and file a lawsuit in U.S. court. The classical way to demonstrate adequate insurance is to purchase a policy a Mexican company. One reliable agent in the U.S. is www.bajabush.com ($110 per year as of September 2002; about 24 hours to get a policy). In theory it may be possible to bring a copy of your U.S. policy with the fact that you are covered in Mexico highlighted. Check the discussion forum at www.bajabush.com to see if this is actually possible.

Your ordinary pilots' and medical certificates will be adequate to demonstrate that you're a licensed pilot.

All of these issues are addressed at the airport of entry where you are issued a "Sanitary" or "General" Declaration. At subsequent tower-controlled airports you'll be asked to produce the declaration but not the original documents.

The one questionable area that you're likely to get into is giving rides to friends. Every flight from a tower-controlled field must be done with a written flight plan. The flight plan must contain the names of all passengers. In theory it was once illegal for you to have a passenger in your airplane who did not come into Mexico with you in that airplane (and would therefore appear on the General Declaration). This was to protect Mexican aviation businesses from the threat of American competition. They didn't want someone in Mexico chartering an airplane from San Diego to pick up some passengers south of the border and then fly back to the U.S. The regulations seem to have been eased in recent years but the news hasn't necessarily trickled down. One flight planner at Los Cabos International said that if you are an owner-pilot this regulation does not apply. But the airport commandante informed me that giving rides to our local friends was illegal... and then he signed the flight plan anyway. An easy way to avoid hassles is to give your sightseeing flights from a non-towered airport.

There may be some restrictions against aerial photography so it is probably better to say that you're practicing turns about a point or other maneuvers than to say that you're taking pictures.

We were not asked for bribes by anyone for any reason during our October 2002 trip to Baja. We never waited more than five minutes for an official's attention. Although some of the rules seemed inefficient, we never encountered an official who worked less than efficiently.

For more information, see the AOPA's member's-only guide to flying in Mexico.
The Glorious Days of Bush Piloting...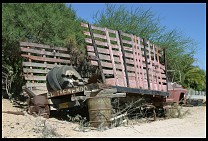 ... are coming to an end in Baja. The government is systematically closing all the airstrips that they deem marginal. Highway 1 is paved from Tijuana to Cabo San Lucas and connects nearly all the significant towns of Baja. Thus there is little perceived need for small airports; any town on Highway 1 with an airport could more easily be supplied by truck or bus. Partly the government doesn't want to provide convenient unattended landing strips for smugglers but mostly it seems that (1) they don't want to spend money maintaining unnecessary airstrips, and (2) American-style fear of accidents is supplanting classic Mexican machismo and fatalistism. The Mexicans really would like to see you departing and landing at paved long towered runways.

Be careful when using a book such as Air Baja or even the WAC chart. Many of the airports in the book and some on the chart are officially closed. The strip may be marked with a white X or the government may have gone so far as to dig ditches in the runway.
Add 45 minutes to Every Flight
One of the beauties of aviation in Mexico is that you can be ignorant as a brick. If you can speak English, stand around for half an hour, and hold a stack of $5 bills, you can fly legally in Mexico.

Before departing you generally speak to a flight planner. This person will check the weather for you and type up an ICAO flight plan form using an electric typewriter and many carbons. The information allegedly goes into a computer eventually but evidently not at the flight planning desk. Once you've checked and signed your flight plan, you take the stack to the airport commandante for his signature. Finally you bring the approved plan back to the flight planner to be entered into the air traffic control (ATC) system. Somewhere along the way you must pay for fuel, air traffic control, parking, and landing. This may involve as few as one and as many as four separate transactions, usually with only $5 or so changing hands each time, except for the fuel which is slightly more expensive than in the U.S. Don't freak out if you see some big fees; the Mexicans use the dollar sign to denote pesos, each of which is only worth about 10 cents as of October 2002. So "$349" is actually less than US$35.

If this process sounds inefficient, it is, at least if you believe that the function of a government is to enable retired guys with small planes to get up into the air ASAP and goof off. However, as tangled as the regulations may seem the bureaucracy is not dehumanizing as it would be in the U.S. You're not treated like a number. You don't wait in line to see anyone. The officials are there to help you work through the regulations. If you come back to the airport a week later they will greet you by name. If you want to find out whether a hotel in a distant city has a room, they'll crack open a phone book and place the call for you on their phone.

Once you get into the airplane everything is as fast and efficient as in the U.S. The tower controller handles ground and clearance delivery as well on a single frequency. Much of the traffic on the radio will be in Spanish but if you speak English the answer will be in English. It is good practice to be very brief in your first communication, e.g., "Loreto Tower, Diamond Star November 505 Whiskey Tango". This gives the controller a chance to shift gears into English and possibly pull him or herself away from other responsibilities before responding "505 Whiskey Tango, Go Ahead." The only real differences that you might observe compared to departing a U.S. field are that you may be expected to perform your runup in position on the runway numbers and that you be asked to report when clear of their airspace, typically 20 miles out.

The Mexican controllers are excellent about telling you whom to contact next and on what frequency. The minimum expectation is that you'll call a towered airport when 20 miles out. Los Cabos International has an ATIS but it will be in Spanish so you can safely ignore it.

At the very worst dealing with any extra forms or bureaucracy will add 45 minutes to a flight, though oftentimes the delay is closer to 15 minutes. Expect 45 minutes, however, and you'll almost always be pleasantly surprised at how smooth everything seems.
Where to Go
For a true Mexican experience it might be best to avoid anything adjacent to the U.S. border, i.e., Tijuana and Mexicali. San Felipe, on the Sea of Cortez, is an efficient place to clear customs, about 1.5 hours flying time from San Diego. File a border crossing flight plan with San Diego Flight Service (+1-858-277-3493) and then do what they tell you to do, which is hardly anything if you cross the border in a non-radar environment such as the desert near Mexicali. If the weather forecast for San Felipe is too brutally hot, consider Ensenada, which is on the cool Pacific Coast. Unless you want to shop where the cruise ship passengers shop (Ensenada) or fish where the fish have mostly been hunted to extinction (San Felipe), it might be best to continue south as expeditiously as possible. You'll find that the wind picks up and the turbulence increases as the day gets older and warmer. You can escape much of the turbulence by flying just offshore, over the water. Alternatively climb to 7000' or 8000' and you'll be above nearly all the peaks and turbulence.

Make sure to plan your travel so that you arrive at your destination before 6:00 pm local time. Night VFR is not permitted in Mexico and the general aviation bureaucrats typically go home at 6. If they have to stay late to be waiting for you it costs about US$50 per hour for every hour after 6:00 pm. Generally the planners don't show up in the morning until 7:00 am.

If you've arrived in whalewatching season (Jan-Mar), stop in Guerrero Negro for fuel and a tour of Laguna Oho de Liebre. If not, consider a stop at the Hotel Serenidad (www.serenidad.com), which has its own 4000' hard-packed dirt runway (known to the Mexican flight planners as GLL or "El Gallito") on the Sea of Cortez. The Hotel Serenidad is a one-minute walk from your airplane and a five-minute taxi ride from the town of Mulege (pop 3000, pronounced "Mool-uh-hay"), which some gringos praise as their favorite town in all of Baja. No rental cars are available so don't plan to spend too long here unless you like riding around in the back seat of a 1979 Chevy taxi. Alex, the bartender at the Serenidad, runs fishing trips that leave every morning at 0600. On the way back you go snorkeling while he cleans the fish. You're back at the hotel at 1:00 pm, in time to enjoy conversation with pilots and other travelers around the bar, half of whose seats are in the swimming pool. Every Saturday night the Serenidad does a pig roast.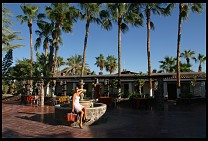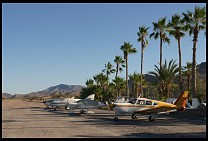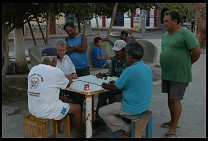 Between San Felipe and Mulege the Sea of Cortez coastal scenery becomes breathtaking and remains so until you get to the end at Cabo San Lucas. Try to do at least one flight early in the morning so that you can stay low above the beach.
Your next stop down the coast should be Loreto, which has a towered airport and government-pumped Avgas. Loreto furnished the example at the beginning of this article. It is an old mission town with a charming seafront promenade and some very comfortable hotels right in the center of town. Rental cars are available in town.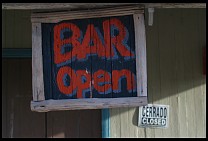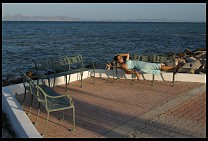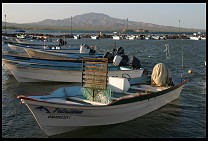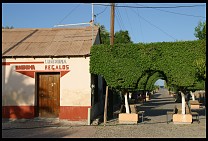 Stop next at La Paz, the first European settlement in Baja California and today a city of nearly 200,000. La Paz and environs offer the full range of services and activities, from history and culture to fishing and beaches. La Paz is a particularly good destination for SCUBA divers. Rental cars are available at the airport.
Punta Pescadero is a big favorite with several pilots that I spoke with. This is a remote hotel on the southern Sea of Cortez with its own paved airstrip. A good way to get away from it all if you don't want to rent a car and struggled on the dirt roads.
Your next stop will be your last, unless you plan to fly to South America. This is Los Cabos International, the airport that serves San Jose del Cabo, the Corridor, and Cabo San Lucas. San Jose is a older resort town of 25,000 with a traditional plaza and church, markets for Mexicans and gringos. This is a perfectly pleasant place to stay, with nice hotels from $50 up and good restaurants starting at $5-10 for a meal. It is the closest town to the airport. The surrounding area is discussed in the next section.
The Cabo San Lucas Region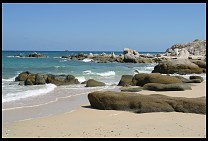 Highway 1 heads northeast inland from San Jose, a good paved road that provides access to some pleasant smaller towns such as Los Barriles. Between November and March the Sea of Cortez beaches here are exposed to enough north wind that the waves are high, the windsurfers are delighted, and ordinary beachgoers are huddled in shelters. For the true Baja experience, however, rent the heaviest newest SUV that you can find and take the coast road. An ordinary car can probably make it but driving for hours over the washboard surface will rattle your organs out. The coast road goes by splendid beaches, empty coves, fishing settlements, and isolated villas that are remarkably splendid considering how far they are from the power grid or telephone system. Cabo Pulmo is notable for having the northernmost coastal coral reef in North America. The fish are great, the coral are plain, and the surface is calmest in the morning before the winds pick up. There are a bunch of places to camp on the beach and most of them are free. Sometimes the government has built palapas (thatched roof shelters) for shade. People seem to show up with their beach gear and hang out while their dogs sleep underneath the trucks. There are hotels and villas to rent along the coast road. We stayed at a six-house villa constructed by some friends in Los Frailes for a very pleasant three days. They had a generator but relied primarily on solar power to heat water and charge lead-acid batteries. You'd read at night by 12V lamps, be cooled by 12V fans (it was early October and it would have been nice to have A/C), and run your computer from an inverter. It was an hourlong drive over washboard roads to get into San Jose.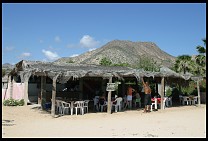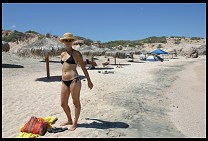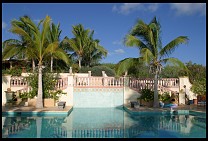 Heading southwest from the airport and San Jose is a very different experience. At the end of the road is Cabo San Lucas. This is the very end of the coastal mountain range that extends through California and into the Aleutian Islands. The hills behind Cabo San Lucas shelter the beaches from the winter winds and Cabo's harbor is the only truly safe place to land a boat for many miles in either direction. Over the last 20 years Cabo has grown from a sleepy boat harbor town into an unbelievably crowded party town. Bars and fast food joints are crammed into narrow streets. Small shopping malls full of American chain stores surround the boat harbor. Houses for the rich creep up the hillsides. Cruise ships from San Diego and LA anchor out in the harbor and send 2000 passengers at a time into the T-shirt shops. The beaches right next to town are beautiful but nothing about Cabo is restful.
The Corridor between San Jose and Cabo is dotted with golf courses and enormous resort hotels. We flew along this strip at 500' above the water, taking care to avoid the parasailers and ultralights just below. The big hotels look magnificent from the air. The most enticing was the Westin Regina, a $200 million arc designed by Javier Sordo Magdaleno. The Regina's beach is too dangerous for swimming and therefore the hotel is fronted with a series of pools that looked clear, cool, and interconnected. We decided to stay at the Regina for our last night in the area because it would enable us to get out of bed and go straight to the airport on a paved road and we figured that, with rooms going for $300-600 per night in season, the air conditioning would be spectacularly cold.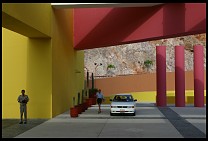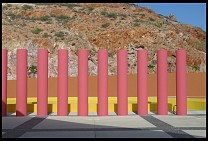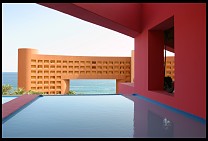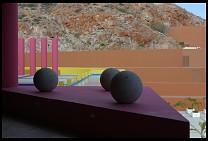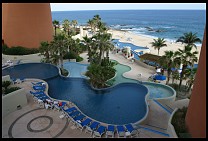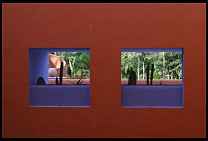 In the lobby we encountered two California residents who were just finishing a weeklong seminar. "It is on personal strategies," one explained, "helping you recognize the strategies that you've employed since birth and how they might not be appropriate today." We said that this sounded like the Landmark Forum, the corporation started after EST (Erhard Seminars Training) got in trouble with the feds. "We've already been through the Forum," her companion explained, "and now we're taking the Wisdom. It is only for really high-level people who have finished the Forum and are really doing important things." How had they enjoyed the Regina? "The food here is awful," Wisdom Student 1 opined, "and it isn't cheap. $30 for a buffet lunch, $9 for a glass of wine. The food anywhere else is much better but it is a 20-minute drive to get from here to Cabo or San Jose."
Despite the warning, we checked in. The first thing that happens is they take your car away and park in underground, not to appear again until you leave. The in-room air conditioner was impressively powerful, albeit noisy. A bottle of water on the desktop carried a pricetag of $6. When we got down to the fabled pools, however, we discovered that they weren't interconnected; you couldn't swim from one pool to another. There was a note in the room saying not to bring the room towels down to the pool. By the pool there was a desk where we had to sign out two towels and hang onto a receipt that threatened heavy charges if the towels weren't returned by 8:00 pm. A few people were relaxing on foam rafts but the booth that rented these ($15 per day) was closed. The pool water was a not-very-refreshing 90 degrees.
The order-from-the-menu restaurant (entrees $50 each) was closed on Mondays so we had our choice of two buffet restaurants. A bland dinner for two was $100 with tip but the truly painful part was that the buffet tables were set outside where flies could land on the food. We were sick for a week afterwards (the only time that we got sick from food in Baja).
Some things look better from the air.
Fuel
The only places that seem to have fuel are towered airports and Guerrero Negro. We were able to pay with a credit card in Loreto and Los Cabos International but traditionally the government gas stations accept only cash, either U.S. dollars (often at a rather poor exchange rate) or pesos, which you can obtain from an ATM in a larger town. Fuel was about $3.50 per gallon from the federales in October 2002 and more like $3.80 per gallon from the fuel truck at the Los Cabos FBO. If your airplane has a range of less 450 nautical miles you should be very careful in planning your itinerary; distances between airports are vast and distances between fuel-selling airports are vaster.

Starting in 2005, the Mexicans cut the tax on a gallon of fuel and added a "wing tax" every time you refuel at a controlled airport. You'll pay $10-15, depending on your wingspan, every time you fill up. [The corporate looter crowd gets hit hard with this tax; wingspans of more than 55' attract taxes starting at $250--thanks goodness the shareholders can afford it.]
Health and Safety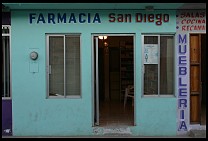 Nearly every time an airplane lands in Baja a soldier with an automatic rifle slung over his shoulder comes over to inspect the situation. Towered airports get only a handful of flights per day and the Mexicans have a very good idea of who is coming and going. It is tough to imagine someone breaking into or stealing an airplane and getting away with it.

Baja is one of the safest areas of Mexico. Property crime is rare. Crimes against persons are extremely rare. The kidnappers are all in Mexico City. Baja would seem to be a bad place for a criminal because there is only one road and most people there seem to know each other.

Food is generally safe to eat in Baja though it is wise to drink bottled water and avoid salads, especially lettuce. The cuisine of Baja emphasizes fresh seafood and consequently is fairly light on spice. We ate home-made ice cream, lemonade, and fruit salad. We ate $2 taco plates with the locals. The only time that we got sick was from a buffet at an expensive hotel (Westin Regina; see below). In retrospect it seems pretty obvious that food left sitting for awhile, exposed to the heat and the flies, is going to be problematic. Take some Imodium AD.
Stuff to Buy
You'll want the WAC-22 chart, which is basically the only VFR navigation chart available for Baja. If you want to fly IFR you'll need to call up Jeppesen (+1 303-799-9090) and have them send you a "Mexico trip kit". Because of high terrain and long distances between VORs the minimum enroute altitudes on IFR routes through Baja can be as high as 15,000'. Additionally many Mexican airport comandantes are reluctant to approve single-engine IFR flights. Finally there is the fact that when the weather in Baja is bad it is usually really bad. IFR is probably most useful for getting into the airports on the northern Pacific coast, e.g., Ensenada, which are subject to the same kinds of marine layer clouds that plague coastal California.

There seem to be only two English-language sources of airport information. The first is Galen Hanselman's Air Baja, which has a lot of information about ground activities. Many of the photos are 10 years old and much of the information is 4 years out of date as of 2002. The book is unnecessary if you're sticking to tower-controlled paved runways but insufficient (because so much can happen to an unmaintained strip in 4 years) if you're planning on adventure with your takeoffs and landings. The second source is Senterfit's guide to the airports of Mexico. This is now in its 20th edition and is avialable from www.bajabush.com.

For planning ground activities, both the Moon and the Lonely Planet guides to Baja are reasonably good. Both suffer from their comprehensiveness, however. They're good for figuring out everything available in any town where you might find yourself but they're not very good for figuring out in which town you should focus your scarce vacation time. For life on the ground, bring sandals, sunscreen, sunhat, insect repellent, mask, snorkel, fins, diving skin (summer; sunburn and jellyfish protection) or wetsuit (winter; warmth), etc. Bring everything that you plan to use because you won't be able to buy anything, except in the largest towns such as La Paz or the Cabo area.

Make sure that you have a canopy cover or some other means of protecting your aircraft interior from the extreme heat and relentless sunshine.

You'll want to prepare a survival kit. Baja is extremely remote. There are a fair number of reasonable emergency landing spots in all areas of Baja, ranging from irrigated fields to powerline-free roads to the beach itself. However, unless you can drink seawater you won't last long in the desert. At a minimum you should carry the following:
2 gallons of water for each occupant
complete sun protection for each occupant (long pants, long sleeves, tents, etc.)
protection from cold if flying in the winter or if crossing high terrain (fleece jacket and a survival tent might be good enough)
first aid kit
signalling devices such as flares and a big flag
insect repellent (some areas have mosquitoes and many have irritating flies)
Normally you'd probably wish to bring a knife when camping but sadly this is one of the things that the Mexicans do not like to see you carrying in an airplane.

If you're not going to be basically following the highway or the coastline you should consider bringing a rented Iridium satellite phone from www.satphonestore.com and/or installing a 406 MHz ELT:
Getting Back In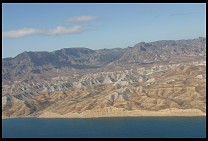 Returning to U.S. California from Baja you must land and clear customs either at Brown Field in San Diego or at Calexico, which is 100 miles east, across the border from Mexicali. The U.S. customs people at Brown Field have a bad reputation. By reputation and from personal experience, the customs officers at Calexico are very friendly. It took us less than five minutes to clear customs, our airplane was not searched, and our passports were not requested. We were asked to produce pilots' certificate and medical as well as aircraft registration and customs decal. We were not hassled for having the customs decal loose rather than affixed to the aircraft. There is an excellent Mexican-American restaurant, Rosa's Plane Food, 10 steps from the customs office on the field in Calexico. The FBO is 5 steps in the other direction.

Customs theoretically wants at least one hour's notice before you arrive and they want you to arrive within plus or minus 15 minutes of when you said you were going to arrive. The easiest way to do this is to file a return flight plan with San Diego Flight Service before departing the U.S. They'll notify U.S. Customs the morning of your planned return. Climb to 5000' or so when returning and you'll be able to contact San Diego Radio within 60 miles of the border. They'll give you a border-crossing transponder code and advise customs of your revised ETA. Because they've notified customs earlier in the day this technically meets the 1-hour notification requirement.
Traveling with a Dog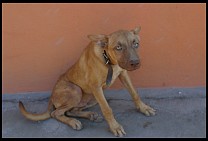 According to the Moon Guide, to bring a dog into Mexico you need a vaccination certificate and a health certificate from a vet. The health certificate cannot be more than 72 hours old. "Upon recrossing the border into the US, the U.S. Customs Service will ask to see the vaccination certificate."

Except for the plastic American-style resort hotels, Baja is a very dog-friendly culture. You can bring your dog to the beach. If the owner of a hotel likes the look of your dog and it isn't the high season, you'll have no trouble getting a hotel room. We never saw a dog actually inside an indoor restaurant but you do see dogs underneath tables in outdoor restaurants.

If you're taking a short trip into Baja, however, and your dog isn't used to the desert heat, it might be best to leave the dog with a friend.
What are you waiting for?
Southern Baja has 360 days of sunshine a year. The scenery is fantastic. Officials are courteous and honest. Airports are secure. Insurance is cheap. Hotels and restaurant meals cost about half what you'd pay in the U.S. The lifestyle is relaxed. What are you waiting for?
More
---
Text and photos Copyright 2002 Philip Greenspun.
---
philg@mit.edu
Reader's Comments
...For your smoking enjoyment.


Officials are courteous and honest...

Are you kidding me? In Mexico & Baja, courtesy and honesty are based on how much you can pay. But, then again, that's pretty much true all over the world, isn't it.

But all kidding aside, Baja, and the rest of Mexico, is quite friendly, safe, laid-back, and a pleasure to visit.

Nice piece, Philip. It's good to see some travel/photography pieces from you again.

-- Jim Tardio, December 8, 2002
Dear Philip

I liked your article "Flying in Baja California" a lot. I included a link to your page on my German Baja California webpage www.baja-california.ch

You'll find your link on http://www.baja-california.ch/index.php?MenuID=5&UserID=1&ContentID=18

Keep on flying and have a Merry Christmas!

Herve in La Paz, B.C.S. (MEXICO)

(at the moment in Switzerland)

-- Hervé Danis, December 21, 2003
Nice article. Please be advised that the book Air Baja! includes a 2004 Update Supplement including the current airstrip information, reservation contacts, and border crossing information. I personally inspected all the airports listed in the book in 2004 and was pleasantly surprised to find many of the airstrips still open, some had been re-opened, and also found some new airstrips.

The government's CH-22 WAC chart is totally outdated and useless. It doesn't even show the Transpeninsular Highway completed in the 1970s. I was compelled to produce my own aeronautical chart of Baja, called the GH-22. Even the Mexican Military is using my chart.

If you've got the airplane and the experience for backcountry flying, Baja is the ultimate flying experience. Don't be afraid to get off the pavement … use good common sense and take care of yourself. I spent four years living in fish camps and remote desert strips while writing this book. It was one of the best periods of my life and I enjoy sharing it with others. Galen L. Hanselman (author Air Baja!)

-- Galen Hanselman, March 19, 2005
As a CFI, I used to take pilots and their planes down to Baja every year, mainly to show them the ropes. We'd go in groups of 4-6 planes. We had major problems during the last three trips, including stolen radios, street mugging, and numerous 'fines' exacted on the streets by cops for non-existent violations. These took place at San Felipe, Muleje, Mexicali, and Loreto. We quit going into Baja over a decade ago, and advise anybody planning a trip to think twice. A friend of a friend was involved in a minor airplane accident involving a wire fence that cost her her airplane and four months in jail. Her family was forced to send thousands of dollars for her food and indoor sleeping 'accommodations.' Mexico is bad news, run by thugs top to bottom, and should be avoided, IMHO.

-- William Woodbury, October 5, 2014
Add a comment
Related Links
NYTimes Travel: Baja Peninsula, Top to Tip- terrific article on touring Baja via automobile. (contributed by kyle nicholls)

Survival Kits- Emergency Survival kits: Your source for survival kits, earthquake kits, 72 hour kits, emergency kit, emergency supplies, and survival guidebook (contributed by nelson james)

Cabo Activity Provider- Phil, You are correct that the Baja si a place to be experienced by all. The trip from the USA to Cabo should be flown in a small craft or driven to truly experience all that the BAJA and its people have to offer. One this you missed was the private airport in north Cabo San Lucas. I recommend this to many with a small private craft as it is more accessible and less congested as SJD in San Jose del Cabo. However, be warned that it is overseen by the military and you will need a private shuttle, car to get in the city from there. It is on the outskirts of town and in a barrio area (not too great). (contributed by Dwight Zahringer)
Add a link