Flying the Caribbean

by Philip Greenspun in January 2003; updated October 2018
---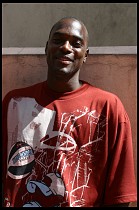 If you are willing to cross 100 miles of open water you can fly yourself all the way to South America by following the Bahamas and Caribbean island chains. The entire trip is about 1500 nautical miles from Miami, Florida, and you never have to go more than about 250 n.m. between fuel stops. Miami Center, San Juan Center, Miami Radio, and San Juan Radio cover most of the region and if you climb to 7000' or so you can take advantage of most FAA services more or less as you would in the Continental U.S. All of the islands depend on air taxi and air cargo services so most runways are at least 3000' long with unobstructed approaches and they're all more or less at sea level. Except at a handful of airports you don't need superior airmanship or a high performance airplane.

Small islands in the Caribbean fall into two categories: (1) those visited by cruise ships, and (2) those not visited by cruise ships. The cruise ship ports are congested with people, traffic, shops, 500-room beach hotels, and hourly Boeing and Airbus landings. Despite the congestion there is still basically no culture and the tourists spend their evenings eating dinner and getting drunk. A private airplane is a convenient and practical way to visit the second category of islands, those that the mass tourism industry has passed by. The pace is slower, the locals are friendlier, and the daytime activities are the same: reading, drinking, fishing, snorkeling and SCUBA diving.

The islands that are large both demographically and geographically offer interesting history, architecture, culture, and socializing with locals. The large islands include Cuba, Dominican Republic, and Puerto Rico. Cuba is problematic for private pilots due to long lead times for obtaining permission from the U.S. and Cuba. Dominican Republic suffers from many of the problems of a Third World country. If you're interested in something more than a beach holiday, Puerto Rico may be a good place to plan to spend a good portion of your trip. Everything is easy because it is part of the U.S., the locals are well-educated and reasonably well off economically, and you can move from rainforest to beach or city to country in less than one hour of driving.

This article is based on a 2003 trip, updated with some book, email, and phone research in 2018 in preparation for a possible January 2019 trip.
When to Go
Avoid the hurricane season that runs from June through November and peaks in September.

The Bahamas are not part of the Caribbean. They're not very far south and enjoy a climate similar to South Florida's. The ocean is a bracing 75 degrees in the winter and it might be better to come in the spring or early summer. It gets plenty warm, even in January, once you get to the Turks and Caicos.

If you love to snorkel and swim but don't like rough surf keep in mind that the ocean in this region tends to be rather unsettled in winter, calming down by mid-April. If you want to see Humpback whales on their way south, late January though March is a good time.

If you wish to avoid the pressure of getting to a specific place at a specific time, it is perfectly possible to make all of your flying decisions at the last minute and get a hotel when you land. I visited the Bahamas and Turks and Caicos islands the week of Christmas 2002 and even the tiniest islands had free rooms. The Caribbean has a tremendous oversupply of $200-400/night hotel rooms. These are too crummy for the hardworking business executive, who flies in via corporate jet and stays in a $900/night resort or a $25,000/week villa (nothing's too good for the shareholders), but at the same time too expensive for most upper middle class Americans, who are staying home working to make payments on their McMansions and monster SUVs.
Paperwork and Bureaucracy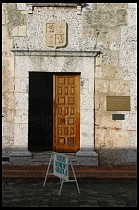 In the good old days of 2003, through all the foreign islands I was never asked to produce anything more than a passport. U.S. Customs in San Juan wanted to see a pilot's certificate and the airplane registration. In theory you should have a radio station license or radiotelephone operator's permit, obtainable from the FCC's Web site (the user interface is a good example of why Web developers should never be allowed to use Java), but nobody ever asked for these.

When you get to a new country you'll often be asked to fill out a one-page "general declaration" form giving your name, the airplane owner/operator's name and address, the N-number for the plane, the time of your arrival and the time that you expect to depart. The photocopier is an unknown innovation in most of the Caribbean and thus you'll be asked to write out three or four copies of the same form. One of these you keep and show the officials upon departure, which must always be made from an Airport of Entry.

When departing you'll often have to fill out a mind-boggling ICAO flight plan form. If you bring along a laptop and printer the Jeppessen FliteStar program will do these for you. Otherwise the tower personnel are usually happy to help out.

Nearly all of the officials that I encountered were friendly and helpful even when the rules were complex and unfriendly. Caribbean government employees work to their own schedule, however, so it never pays to express annoyance at the fees or the hassle. Budget $100 and 45 minutes for every encounter and you'll almost always be pleasantly surprised at how easily you escape.

On top of all of the above, the U.S. added the horror of eAPIS, perhaps the world's worst-designed web system (if you do a flight every week with the same passengers you'll have to re-type all of their information every week, for example). In the old days you'd just call Customs ahead of time at your airport of intended arrival. Now you suffer through the world's worst web experience in which you tell the U.S. government your flight plan, the date and time, and who exactly is on board. You would think that you wouldn't have to call Customs on the ground anymore, right? The Customs employees can just check a web site to see who is coming and when. Or they can get email or text message alerts from the eAPIS server. No. No. And no. eAPIS is just an added hassle on top of the old hassle. So you still have to do all of the pre-eAPIS work as well.

They're not necessarily as strict about it as the U.S., but in theory the CARICOM countries now require their own eAPIS filings (caricomeapis.org). As with the U.S., when they added this additional layer of bureaucracy they didn't strip away any of the old stuff. So you still do all of the same paperwork at the airports.

You can purchase the concierge service from Air Journey to deal with all of the above, but it will cost you more than an American or JetBlue round-trip to almost anywhere in the Caribbean. Some of this cost will be recovered as Air Journey will be able to tell you at which airports you can skip the FBOs and their fees.

If you fly substantial distances among non-US countries and use U.S. ATC services you may get a bill in the mail. FAA overflight fees are, as of 2018, either $60 per 100 nm or $25, depending on the sector. These would apply if you launched IFR from Turks and Caicos and landed in the D.R. No fees are applicable if you fly into or out of Puerto Rico, for example. The FAA will not send a bill if the total is less than $400. Supposedly if one were to push all the way from Florida to Puerto Rico with a couple of fuel stops, it would be considered one continuous flight and not charged. The same fee is charged for IFR or VFR traffic advisories.
Bahamas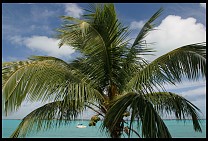 Andros Island International (MYAF) makes a great first stop on a Caribbean journey, especially if you're traveling alone. Stay at the Small Hope Bay Lodge (www.smallhope.com), which is run by Jeff Birch, a pilot who can tell you about all of the other islands in the Bahamas. At Small Hope you'll eat at big tables and meet all of the other guests. When the weather is cool you can relax in the hot tub. Small Hope runs an extremely sophisticated dive shop whose operator is serious about diving physiology. He has been down to 500' on a mixture of oxygen, helium, and nitrogen and this would probably be a good place to get Nitrox-certified (you can always lower your risk of decompression illness by diving on Nitrox; unless you desperately need to save $10 per dive there is never a good reason to dive on compressed air). Andros is a huge island, nearly two-thirds the area of Puerto Rico, but inhabited only by 10,000 souls. The lightly traveled flat roads are good for bicycling. The main problems with Andros are mosquitoes if the wind isn't up and clouds. Islands create clouds and big swampy islands like Andros create a lot more clouds than tiny dry islands such as the Turks and Caicos.

Great Exuma, MYEF, is a big full-service airport that might be an important fuel stop. Folks are friendly, but the island suffers from sprawl and development. You might have more fun hanging out in the smaller islands. Four Seasons resort launched the Emerald Bay resort here in 2003. As of 2018 it is a Sandals. A fee inquiry to Odyssey in 2018 revealed a ramp fee of $15 for a Cirrus SR20, inbound customs fee of $50, and departure tax of $29 per person. Before 7 am or after 7 pm there are after-hours fees that you wouldn't want to pay (e.g., $250 plus "airport security" at $64.50 per person per hour).

A quieter airport on quieter Long Island with similar fees is MYLS, Stella Maris, which has a reputation as a pilot-friendly destination.
Turks and Caicos
Providenciales (Provo; MBPV) is the only place to get fuel in the Turks and Caicos. There are two FBOs, but it would be tough to get through this airport even for a simple refueling for less than $300 in fees. On the other hand, fuel is about $2/gallon cheaper than in the Bahamas and overnight parking does not add significantly to the bill Provo was undeveloped until around 1970 at which point they went straight from wilderness to Floridian sprawl. Grace Bay is one of the nicest beaches in the Caribbean and it has quite a few large resorts, the first of which was a Club Med in 1984.

Your adventure begins about 25 miles out when you call Provo Approach. Back in 2003, you could skip out on some of the fees by taxiing into the main terminal area. Debbie Aharon at the Provo Jet Center, however, is a useful local resource and if you haven't planned everything in advance you may find it worthwhile to take advantage of her services, e.g., negotiated rates with local hotels and all-inclusive resorts. As a place to rest after a long overwater flight, an all-inclusive beach resort is not so bad. Be prepared to encounter hordes of Americans and Canadians who are putting their brains on hold for a week. There are some smaller-scale accommodations, condos, and B&Bs if you dig around a bit. I didn't stay there, but the Turtle Cove Inn looks like a good choice. It is part of a marina complex with lots of yachts, hotels, and restaurants. Deb's 2008 recommendation for a simple hotel is Ports of Call ("immediate walking distance to absolutely anything you could want").

If you do decide to stay two nights, an afternoon cruise on the Silver Deep catamaran will take you to an island full of large wild lizards, excellent snorkeling reefs in extremely clear water, and on snorkel hunts for sand dollars and conch.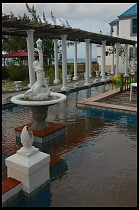 If you're got a high pressure job, a traffic-clogged commute, and are tired of the crush of city life, Salt Cay is the place for you. The winter population consists of about 60 residents and perhaps 15 tourists. There is one road and you get around by golf cart or bicycle. If you stay a week you'll probably have talked to nearly everyone on the island. If the sea is calm, Salt Cay is close to some excellent snorkeling spots including an 18th-century wreck in shallow water. From mid-January through March the Humpback whales come close enough to shore that you can snorkel with them. If the winds and waves are high, however, get in the plane and head for the more sheltered beaches and snorkeling areas of Provo. To plan a stay here, talk to Candi Herwin, +1 649 946-6909, piratequeen3@hotmail.com, or Debbie at Salt Cay Divers, +1 649-946-6906, www.saltcaydivers.tc. The fanciest hotel is Windmills and it is very nice indeed ($300-425/night including meals). For more local flavor you can stay in a simpler $100/night guest house and eat at Porter Williams's Island Thyme restaurant, www.islandthyme.tc, (649) 946-6977. The runway is 2700' long and was in good condition in December 2002. This may or may not be an airport of entry. If you can't find the local policewoman to clear you out (she does boats), you must stop at one of the more populous islands on your way out.
Dominican Republic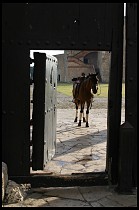 Bring a big stack of $100 bills. You'll need this to pay for fuel ($4/gallon in 2003; $7.15 in 2018) and fees of roughly $80 for a single-engine 4-seat airplane. Credit cards are not accepted at airports. As of 2003, hotels did accept credit cards but the Marriott Renaissance in which I stayed did so only if you were willing to accept a 15% markup, which they helped themselves to by quoting a rate in dollars then converting those dollars at 23.5 Dominican pesos (the bank rate was 20.6 at the time and the hotel cashier's desk itself was selling pesos for 20.2 to the dollar).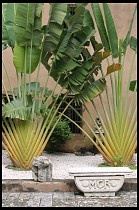 The Dominican Republic has a population of 8 million (that was in 2003; it is 11 million in 2018!) plus an unknown number of illegal Haitian immigrants. Though looked down upon by Puerto Ricans and Cubans, it is a vibrant happy culture with a lot of variety. Tourism in the D.R. consists primarily of Europeans arriving on chartered 767s for a week at some of the world's cheapest all-inclusive beach resorts. The nicest beaches are on the east end of the island at Punta Cana and huge jets were getting it in there every day in 2003 despite the fact that the airport had no instrument approach of any kind. They were actually scud-running in Boeing jets! (as of 2018 they had at least 7 approaches)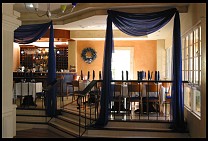 Interested in culture and history? Go to the capital of Santo Domingo. This city has two airports. If the weather is bad, choose Las Americas International (MDSD), which has the only ILS in the D.R. (as of 2003) You'll pay some fat fees here but the FBO (Servair) does all of the paperwork for you. The city airport is much closer to downtown Santo Domingo and has a 4000' runway but the approaches might be a bit scary due to all of the surrounding high-rise buildings. A 30-45-minute ride from Las Americas will take you into the 16th-century heart of Santo Domingo, which includes a house built by Christopher Columbus's son. You can stay right in the heart of the old city at the Hodelpa Caribe Colonial, a lovely boutique hotel with rack rates of $80-100 per night (2003 price and... still the 2018 price! colonial@hodelpa.com; www.hodelpa.com; (809) 688-7799).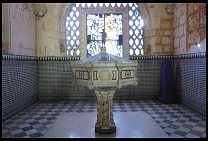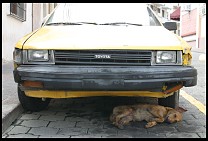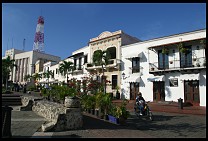 On your way back to the U.S. you may want to stop in Puerto Plata, the last gas station before Provo. The airport (MDPP) sports a 10,000' runway and control tower. Things turned chaotic back in 2003 once on the ground. There are no fuel trucks. If you want fuel, taxi up to the small pump at the southern border of the ramp and call the tower. A guy comes out with a piece of paper listing prices for "Exxon", "Texaco", and some other brands of fuel (in fact there seems to be only one Avgas tank and pump so it is unclear why there would be more than one price). He points to one and asks for your assent to the price. Meanwhile some of the general aviation handlers may come out to assist you with your general declarations and immigration. These guys don't speak English and they wear ID badges with the name of a local airline on it. You end up going through the same lines in the international terminal as the folks coming off commercial flights. Your handler asks for a $20 bill to pay customs for the general declaration. You don't give it to him but go with him into the customs official's office. You ask the customs guy how much he wants. Ten dollars. He does not give you a receipt.
Now you're out on the curb with all of your bags amidst a sea of tourists, Dominicans, and taxi and rental car hawkers. It is probably best to rent a car. If you want a crowded urban experience, head 20-minutes west to downtown Puerto Plata. If you want to kite-board or windsurf, head east to the little strip-village of Cabarete. The beach here is packed with Europeans and the hotels are hard by what is a fairly major highway. A good compromise is the village of Sosua, which has numerous hotels and shops spread among a grid of streets between the sea and the highway. Jews who fled Germany settled here during World War II and established a dairy industry before most moved on to Israel. A small synagogue and a reasonably high standard of construction and urban planning are the legacy of these Jews. The inheritors of this legacy were expatriate Europeans, ironically the largest group are the German gentiles who drove their Jewish neighbors here in the first place.
If you've got a few friends and want to relax in style, rent a villa at the Sea Horse Ranch (www.sea-horse-ranch.com; +1 (809) 571-3880). This is a gated community of the most spectacular residences on the north coast of the Dominican Republic. The villas vary but most have a lot of tile and open space as well as private pools to supplement the shared ocean beaches and seaside pools of the resort. You'll have your own kitchen and a full-time maid to keep it clean. Daily rates start at about $500, which is a good value if you've got enough people to fill all the bedrooms in your villa. If you're a pilot on your own or with just one companion you may be able to get a substantial discount by showing up and asking.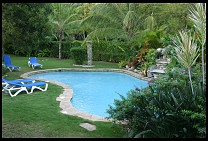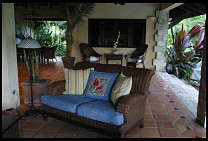 Puerto Rico
Puerto Rico is interesting because it demonstrates that you can be an American citizen and still have fun. Land at the Isla Grande (TJIG) airport; clearing customs and immigration at the main airport involves a lot of walking. Million Air and Signature are here. The folks at Isla Grande Flying School may be useful resources if you need single-engine piston maintenance work.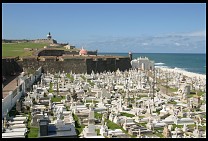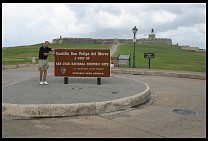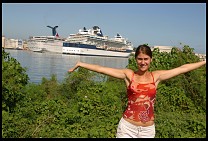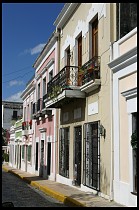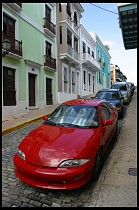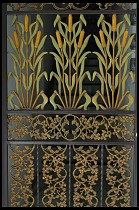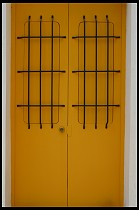 I loved the Gallery Inn, a bed and breakfast at the top of Old San Juan (204 Norzagaray, Old San Juan, PR 00901; www.thegalleryinn.com; 787-722-1808). The rooms range from about $100 to $300 per night, including breakfast. From the Gallery Inn you can walk around among some of the oldest and most interesting architecture in the New World, dating from the 1500s. When you get back to the front garden you can socialize with other guests or make friends with Michelangelo, a magnificent Blue Hyacinth Macaw, and Campeche, a cuddly Cockatoo.
[Note that this hotel recommendation is completely at odds with convention. Most of the big hotels are on Isla Verde, more or less lining the north side of the runway at the big international airport. These hotels are a 15-minute drive from the history of Old San Juan but have the advantage of a swimmable beach right out front. The Ritz Carlton has a very nice pool and is a good example of the breed. My companion walked among the lounge chairs at the Ritz and, observing that nobody was reading a book more mentally challenging than a John Grisham novel, asked "Why is it that the richer people are the stupider they are?"]
As part of my work as an aviation expert witness, I stayed for three weeks in 2012 at the Caribe Hilton, supposedly the place where the pina colada was invented. They have a good beach and are right between Old Town and the main area of San Juan. Reopening after "a comprehensive rejuvenation" (presumably partly due to the 2017 hurricane season) in December 2018.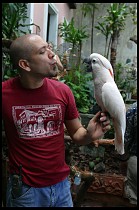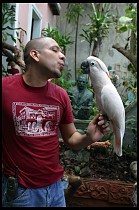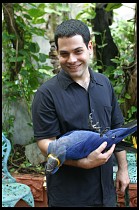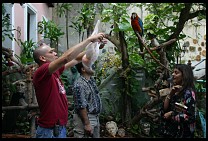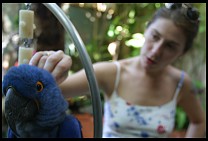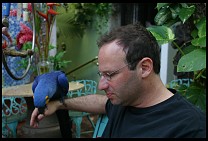 Puerto Ricans decorate extensively and creatively for Christmas, which is celebrated from December 25 through January 6 (Three Kings Day, a national holiday). This is a great time to visit but also a tough time to find a rental car so reserve in advance. Carnaval (February) would also be an interesting time culturally.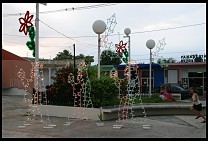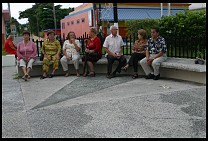 You could easily spend two or three weeks exploring Puerto Rico's towns, rainforests, caves, beaches, and islands. Flying is a good way to explore the beach islands of Vieques (easy approach to a long runway) and Culebra (suicidal hill-infested approach to a short runway) but it is easier to see most of the interior by rental car. You can drive from San Juan to almost any other part of the island in less than 3 hours. If you're short on time and anxious to use the airplane, a good day trip would be to the south coast town of Ponce, which has a beautifully preserved historic downtown plaza (excellent homemade ice cream shop across from the fire engine museum) and the finest art museum in Puerto Rico. The Museo de Arte de Ponce was designed by Edward Durell Stone, architect of New York's Museum of Modern Art and Washington's Kennedy Center. It contains one of the world's best collections of Pre-Raphaelite paintings, the most important Puerto Rican artists, and a good survey of 14th through 19th-century European art (all accompanied by a spectacularly awful Web site, in the tradition established by other art museums: www.museoarteponce.org). If you want to stay overnight, the Hotel Melia ($80-100) is right on the plaza.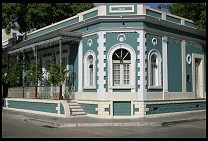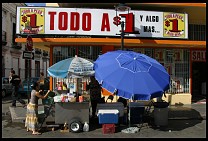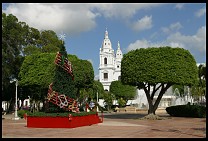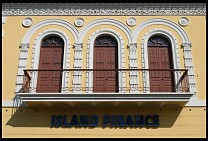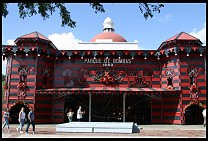 "Our tourism board used to run an ad saying 'Come visit the continent of Puerto Rico'," one local noted. "That's what I love about this place. I can drive an hour east and be in the rainforest of El Yunque. If it is raining in San Juan I can go over the mountains to the south coast and be dry. If I want history I can look around Old San Juan. The only thing that we don't have here is snow."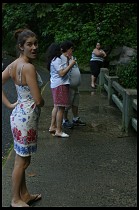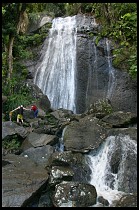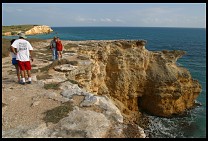 Puerto Rico is interesting politically. The island is home to 4 million American citizens who don't pay federal income tax, aren't represented in Congress, and don't vote for president. Most of the Puerto Ricans whom I encountered were against statehood on pragmatic grounds. They get nearly all of the benefits that any American might get from the federal government, including welfare for mothers and children, defense, flight service, air traffic control, etc., but they don't have to pay for these benefits. "Most of the people who support statehood don't speak English," a local pilot pointed out, "and they don't really even understand what they're voting for. For me I'll take a 25 percent higher income and let you have the privilege of choosing between a recovering cocaine addict and alcoholic and whatever Bozo the Democrats decide to run." (It saddened me to respond that when I voted in Massachusetts in 2002 more than half of the candidates on the ballot were running unopposed.) In a Biblical sense, the Puerto Ricans may be freer than Americans who live in the 50 states. The main component of Hebrew slavery in Egypt was that the Jews had to pay a 20 percent tax, which was considered outrageous at the time. The United Nations Special Committee on Decolonization fails to see the beauty of being American without paying the IRS every year, however, and Puerto Rico is on a watch list of 14 places worldwide that the U.N. wants to see freed.
U.S. Virgin Islands: St. Thomas
As of 2003, an international arrival involved clearing customs and immigration in the main terminal, then starting back up and taxiing across the runway to the FBOs. Back then I wrote the following: "Bohlke's wins awards every year for being one of the best FBOs in the Caribbean. They don't do maintenance. They don't sell oxygen. They don't help you park. They don't help you with your bags. They don't have a soda or snack machine. They do sell gas from a fuel truck and apparently that makes them a dwarf among the midgets of the islands." Since then Standard Aviation has opened and fuel prices have dropped and the range of offered services seems to have expanded.

If you want to stay at a hotel with a swimmable beach, a stone's throw from the airport, choose the Emerald Beach Resort (340-777-8800; www.emeraldbeach.com). Ask for a pilot discount and you ought to be able to get an air-conditioned ocean-view room for between $100 and $140 per night (2003; the web site in 2018 shows rates starting at $206). Be forewarned that the in-room A/C units are rather noisy.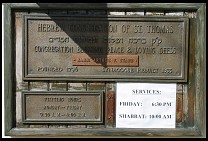 St. Thomas is home to a synagogue that dates from 1833, which was built by Sephardic Jews who'd been forced by the Inquisition to convert to Christianity. They continued to practice Judaism in secret, however, and did so in basement rooms with sand on the floors to absorb the sound of their prayers. In this way they hoped to avoid detection by their Catholic neighbors who might turn them into the Church where they'd be executed. To commemorate these years of secret worship, the synagogue here has a sand floor. The most famous member of the congregation is Camille Pissarro, the Impressionist painter who grew up in St. Thomas. Pissarro ran into some difficulties with his fellow Jews because he wanted to marry his aunt, whom he had gotten pregnant. This was forbidden under Jewish law both because of the kinship and because she had given birth to a child in the preceding 24 months. Pissarro ended up getting a civil Danish ceremony and emigrating at the age of 22, ultimately settling in Paris. This was a strange echo of his own parents' history. Pissarro's father Frederic had come out to St. Thomas from France to settle his uncle's estate. His uncle's widow Rachel became pregnant and they decided to marry but the synagogue refused to recognize the marriage for eight years. I was out on a sailboat with some local attorneys and mentioned these incidents, leading one to quip "This tradition is alive and well here. When I took a family law exam here one of the questions was 'If two St. Thomaens get divorced, are they still cousins?'"
There is a fair amount of racial tension in the U.S. Virgin Islands. Basically this is a Third World country where if you're part of the ruling oligarchy you can make huge bucks through connections and kickbacks. If you're not born into the right family, however, you must choose between low-paying service jobs and emigration. The ruling oligarchs, like most of the natives, are black. The tourists and the rich expats are mostly white. This leads to occasional conflict. For example, it is actually illegal to walk around "downtown" streets wearing a bathing suit top and the police ticket the cruise ship passengers who aren't aware of this rule. As one local put it "there is nothing that black policemen like more than giving tickets to white people."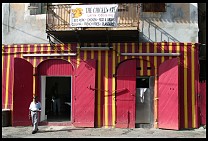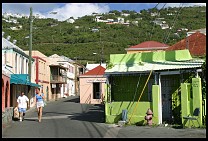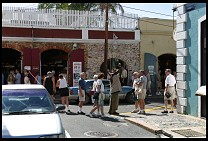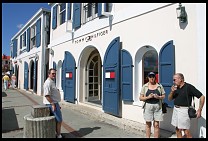 St. John does not have an airport but it does have a lot of lightly developed national park land. "I used to think about moving to St. John," noted one local yachtswoman, "but the place has lost its charm over the last 10 years with all of the rich people moving in and suing each other." On a subsequent sightseeing flight around St. John my local copilot pointed out the new enormous villas: "They are all being built on half-acre lots that they weren't properly titled so they sue each other for building too close, for easements so that they can walk on a little path down to the beach, and anything else that they can think of."
St. Croix is the largest of the U.S. Virgins, has a big airport, a depressed economy, and a reputation for street crime. I didn't go there.
With any of the Virgin Islands, U.S. or British, note that the north shores are much more pleasant places to hang out than the south shores. Shaded from the sun by the central mountain spines, the north shores are comparatively lush and cool.
British Virgin Islands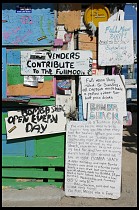 Beef Island has the longest runway in the British Virgin Islands and it is only 3600' long with some frighteningly high mountains obstructing the final approach course. Consequently the BVIs are never going to be as mobbed by tourists as their U.S. counterparts, serviced by the 7000' runway at St. Thomas and 7600' runway at St. Croix.

What is unique about the British Virgin Islands is the sheer quantity of islands and their proximity to one another. The only way that you can really take advantage of this characteristic is by chartering a boat and meandering from one cove to another. The beauty of the BVIs compared to the rest of the Caribbean is that you never have to sail for more than a couple of hours to reach a new island.

If you want to treat the BVIs like any other Caribbean island, a nice destination resort is Long Bay, www.longbay.com, a 40-minute taxi ride out at the west end of Tortola. This is about as far from the airport as you can get and still be on Tortola but the hotel has a really nice pool and hot tub, a comprehensive spa, a tennis pro, is close to some good restaurants and ferries to St. John and smaller BVI islands.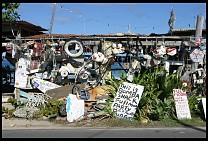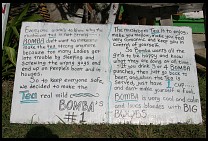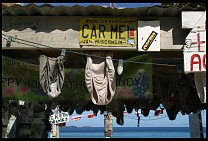 Anguilla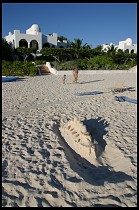 Anguilla is expensive because it is exclusive and it is exclusive because it is expensive. A lot of rich tourists come back to Anguilla year after year because they say the people are so friendly. There may be something to this. I told about five Anguillans in passing that I was planning to take the ferry over to St. Martin to run some errands. Over the next few days I ran into all five of those people. Each one not only remembered my name but asked, "How was your trip to St. Martin?"

Anguilla has lovely beaches and only a handful of medium-sized resorts, in which the guests very seldom venture off-property. The main difference from an island such as Provo in the Turks and Caicos is that the resorts aren't right next to each other. Thus the feel of the island is more isolated.

TQPF has 3200' of usable runway but it will soon be extended to nearly 5000' (actually made it to 5,462' as of 2018), ushering in a whole new era of corporate jetsetters arriving to take up residence in $20,000/week villas and $3,000/night hotel rooms. I was charged $10 for landing and nothing for four days of parking on the ramp (no tie-downs; bring your own chocks).

You need to decide where you're going to stay before the Immigration personnel will let you into Anguilla. If you want to pay $1000/night for room and board, the CuisinArt resort was my personal favorite based on having a fabulous lunch there and meeting some of the guests. They've got their own hydroponic vegetable garden, which lifts their cuisine far above the usual Caribbean standard. I did not like Cap Juluca, which is similarly priced but filled with unhappy-looking rich people eating second-rate food. If you're a pilot traveling alone and don't need air conditioning, the nicest ladies in the world run Lloyd's Guest House, the first hotel on the island, where a bed and breakfast can cost as little as $50/night (2018: up to $65 per the web site). If you're traveling with a dog, stay with Maurice and Maria at the Arawak Beach Inn on the east end of the island (+1 264-497-4888; www.arawakresort.com). Roy's Bayside Grill is a hangout started by an experienced twin pilot who moved to Anguilla in 1981.

For the best in local art and the daily New York Times, stop by the Devonish Art Gallery on the main road south of the harbor. There is a large supermarket downtown where you can stock up on bottled water (don't drink the tap water!) and other staples.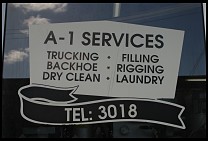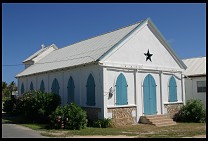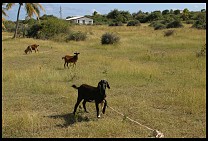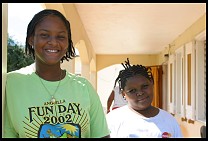 St. Martin/St. Maarten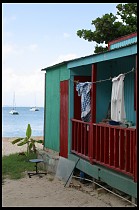 One tiny island, two countries: St. Martin (French) and St. Maarten (Dutch). The big airport (TNCM) that always has fuel is Juliana, on the Dutch side. A simple fuel stop requires that you fill out 3 copies of an inbound general declaration and 3 copies of an outbound general declaration. You need to get these stamped by immigration. Then you go to the departure tax area of the airport to pay your landing and ATC fees (2003: roughly $20 for a light single). Then you need to knock on the door of the airport security office and get them to let you upstairs to the flight planning office where you fill out an international flight plan form. Then you need to wait in an Airbus-sized line of people trying to get through the metal detector and hand-luggage X-ray. Then you need to try to convince the people at the commercial airline gates to let you back out onto the ramp. Then you need to try to find the guy towing the 600-gallon Avgas drum. Then you pay up, in U.S. cash at $3.33/gallon (2003! Thank God the government assures us that there is almost no inflation!), and you are free to leave. The process will make you nostalgic for Santo Domingo, Dominican Republic where you open your wallet, hand out the twenties, and get on with life.

There are fewer hassles at Grand Case (TFFG), the small airport on the French side, but tell the controllers that you're making a refueling stop and ask for confirmation that they in fact have Avgas. Grand Case, which is surrounded by volcanic hills, can be tricky if it is windy so be prepared to divert to Juliana.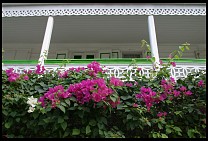 St. Martin/Maarten is mobbed. Most of the 37-square-mile island is too mountainous for construction and consequently nearly every surface that is flat enough to build upon has been built upon. Anyone with a European Community passport who fancies the sun and the sea can pick up and move to St. Martin, just as they could move to a house in a province of mainland France. Adding to the crush, huge cruise ships dock in Philipsburg on the Dutch side and their passengers throng the gifte shoppes. You can escape some of this insanity by concentrating your tourism on the French side of the island. You won't escape the cruise ship passengers, however, because they come over in droves to gawk at the topless and nude women on the French beaches. Marigot is where you can shop for that Rolex (15 percent cheaper than in the U.S.) or take the 20-minute ferry to Anguilla. Grand Case is a quieter town about a 10-minute drive to the east and is famous for its restaurants (one called "California" is a local favorite).
Will you be able to communicate with the exotic mix of locals? "Most of us speak English, French, and Spanish," my taxi driver noted. Spanish? Where did he learn Spanish? "We learn Spanish at the whorehouse on the Dutch side; most of the girls are from Colombia and other South American countries."
Speaking of taxis... if you simply want to go from one town to another you can take a mini-bus for $1 per person. This is apparently a fairly standard arrangement in the Caribbean. You wait by the side of the road, flag down the mini-bus, ride as far as you want and pay the driver $1 or 1 Euro when you get off.
The best thing about St. Martin is the food and the service. The French know how to run a restaurant and make patrons feel comfortable. Chances are that the staff at a restaurant or cafe is from mainland France.
Funny Juxtaposition:
What I wrote in 2003: [By the time that you get to St. Martin you're entering the area where a growing percentage of the tourists are coming from Europe rather than North America. This will give you a good chance to explore the European political mindset. For example, I met a couple of Irish citizens who were very upset that the U.S. military was preparing to remove Saddam Hussein from power in Iraq: "What's to stop them from deciding next that they don't like the Irish prime minister?" Having a military more powerful than the next 15 countries combined is a blessing when we want to coerce foreigners into doing things the American way but it seems to engender ill feelings. Whom do the Europeans blame for their current difficulties with Islamic terror? The Jews of course! They attribute all of Muslim rage against the West to the existence of the State of Israel. "If only the Jews could be moved somewhere else," one German tourist noted. How about hosting some in Germany? Maybe in his neighborhood? "Oh no, we would never allow that," he replied, shocked at the idea.]
2018: we gave them Donald Trump! (and, after 15 years of war we never were able to coerce the Iraqis and Afghanis into doing things our way)
Once you're in St. Maarten, you're a quick ferry or Tradewinds air taxi ride away from St. Barthelemy (St. Barts). People love St. Barts because they say it is much more thoroughly French than the rest of the French Caribbean. You'll need to take several hours of instruction from a specially certified instructor and get a signoff before you're legal to land on the short runway here, whose standard approach course is obstructed by a 500' hill. Visit YouTube to see some wild landings by moderately sizable airplanes!
Key West, Florida
To ease yourself back into mainland life, arrange to clear customs in Key West, Florida, roughly 45 minutes extra flying time from Miami if you drop down low and follow the Overseas Highway. Mallory Square is plagued with cruise ship passengers who may spend more than 30 minutes waiting in line to get back on their own ship! Don't miss the public aquarium (www.keywestaquarium.com) and the Mel Fisher Museum (www.melfisher.org) in the main tourist area but after that you should hop on a bicycle and ride around the sidestreets to soak up the real atmosphere of the town.

For an authentic Key West experience stay in a guesthouse in the historic area.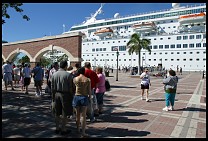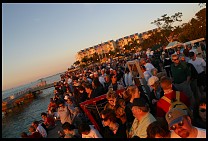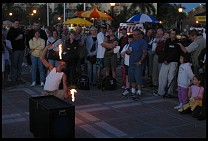 2018: The next trip
In a Cirrus SR20 at 150 knots, it is only about 10 hours of flying time to cover the entire Caribbean chain to South America. Thus the next trip is going to be pushing all the way to the end: Trinidad and Tobago. (Before the Hugo Chavez economic miracle, "the end" would have been Venezuela.)

Here's a dream two-week plan, with 1-2 nights at each destination:
push all the way to Puerto Rico the first day; fuel stops MYEF or MYLS (Bahamas) and MDPP (Puerto Plata, DR). Pack a cooler with sandwiches to keep the stops short.
Antigua for two nights (skip if you don't like high fees!)
Martinique, a big vibrant French island (reasonable fees because there is no requirement to use an FBO)
Tobago: great beach, no fuel, and not much else besides bragging rights at having made it to the last country in the chain
Grenada: "if it was worth invading, it must be worth visiting"
Dominica: Lots of rainforest. Maybe just a lunch stop. Infrastructure heavily damaged in 2017.
Guadeloupe: another great French island where it is possible to buy 100LL and avoid massive handling fees.
Nevis: A tropical paradise including lots of wild monkeys. Air Journey says it is possible to be a customer of the airport (TKPN, 4000') and not the FBO.
St. Eustatius (TNCE, 4,265'). Lunch stop.
Punta Cana, Dominican Republic for the awesome resort beach.
Provo, Turks and Caicos (MDPV) for inexpensive fuel, high airport fees, and two nights of comparative civilization and a beautiful beach.
With four extra round-trip hours of flying, it would be possible to brag "I made it to South America" (Georgetown, Guyana). See below, however, for how this would not be covered under a standard insurance policy.
Coming Back Via Venezuela, Colombia, Panama, Belize, Mexico...
If you've made it down to the Lesser Antilles you're almost all the way to continental South America. You could avoid the risks of overwater flight by returning around the coasts of Venezuela, Colombia, Panama, Costa Rica, Nicaragua, Honduras, Belize, Mexico, Texas, Louisiana, etc. Talk to your insurance company before you embark on this route. (2018: just imagine how happy the insurance company would be about Venezuela today!) The AVEMCO policy on my Diamond Star, for example, stipulates that coverage terminates at 13 degrees north latitude and that Central American countries and Cuba are excluded. Insurance companies don't mind Mexico and the Caribbean but beyond those nations you may find that you'll have to pay several thousand dollars for just a few weeks of coverage or that coverage is not available at any price. Barbara Rowell's Flying South chronicles her 1991 journey from California to Patagonia and back in a Cessna 206. A typical experience for her included a $100 landing fee, a 4-hour wait to clear customs, and a $40 per day parking fee (the Venezuelans charged her $800 for parking when her plane was in a mechanic's hangar for maintenance). She paid $6000 for a Lloyd's of London policy on an airplane worth only $41,000.
Cuba
Getting to Cuba in your own airplane is mostly a matter of advance planning and paper work. In theory you have to convince the U.S. government to allow you to spend money there, basically by saying that you're going to do journalism or education or cultural exchange. 2018: in practice there are various tour opertors that are officially approved to take your money and say that you're on a "people to people" program. You have to apply to the Cubans 10 days in advance for airspace and landing permission (Air Journey and various competitors can arrange all of this for you).

You have to convince your insurance company to extend your policy to Cuba (a standard AVEMCO policy excludes Cuba). If you just want to send your body to Cuba it is probably a lot easier to fly in commercial from the Bahamas. If you fly in on a non-Cuban airline, walk around Havana, eat a packed lunch, and fly back out, you might not have broken any U.S. law. The U.S. does not prohibit you from going to Cuba, only from spending money there.
Fuel
If you're looking for an easy way to make money and live in the islands it might be worth opening up a gas station at a Caribbean airport. The credit card-operated self-serve pumps that are common at small U.S. airports don't exist here. You'll almost surely have to make some stops that you'd otherwise not have made because fuel is seldom available at the airports that you'd most want to visit. If an island has cruise ships, chartered 767s landing, and massive concrete all-inclusive resorts on the beach, chances are it has Avgas for sale at the airport. Otherwise call ahead, no matter what the guidebooks and databases say. My December 2002 Jeppessen database, for example, said that there was fuel at Grand Turk. In fact the fuel service had shut down in mid-2001.
Health and Safety
It is generally unsafe to drink tapwater in the Caribbean. An island may appear to be a pristine desert. How could the well water be unsafe? It isn't well water. The only water available is probably rainwater that is collected in a cistern and left to stew in its own bacterial soup for a few weeks. Of the places covered in this guide Puerto Rico probably has the safest tapwater and the Dominican Republic the most lethal. Except in the D.R., most produce comes from Miami and therefore you're unlikely to get any sicker from food than you would eating in a McDonald's in Ft. Lauderdale. If you want to be extra conservative, avoid lettuce in the D.R. and drink bottled water everywhere.

Because of governments concerned about drug smuggling and collecting import duty, airport security is generally superior to what you find in the U.S. Many islands have such small populations that crime is simply impractical; how can you steal a car and get away with it when everyone on the island recognizes every car on the island?

Property and violent crime against tourists does exist, however, and as usual the United States is the leader. Puerto Rico and the U.S. Virgin Islands of St. Thomas and St. Croix are renowned for crime. Barred windows and private security guards are common throughout Puerto Rico, but you probably won't feel unsafe because there are always a lot of (very helpful) police around the tourist areas. "Crime got a lot worse in the 1950s when the U.S. government started handing out food stamps," a local explained in 2003. "People on farms in the countryside weren't stupid and they figured out that they could make more by not working. So they stopped working, we began to import all of our food from Florida, and the kids grew up without ever seeing a working adult. Now a lot of them are criminals."

From 2003: Fortunately for the criminals and the tourists there are plenty of rich people in Puerto Rico and they are at least as rich as their counterparts in the U.S.; $1 million buys just an entry level condo in the better neighborhoods of San Juan. The criminals don't need to break into your rented Hyundai; there are plenty of Porsches and Lexuses from which to choose.

SCUBA diving presents a decompression illness hazardous for everyone and is especially hazardous for people who intend to fly afterwards in a non-pressurized airplane. More than 85 percent of people who require treatment for decompression illness were within the limits of the tables and dive computers. Breathing only Nitrox but using air tables and waiting 24 hours to fly will considerably reduce your risk.

Given the way that tourists and ex-pats pound back the rum drinks it is amazing that alcohol poisoning does not claim more lives. You'll meet a lot of Americans and Europeans who spend 6-12 months per year in the Caribbean and want you to agree with them that a slow-paced rum-soaked life in the islands is superior to life in the city. If you're drinking Diet Coke they take this as an implicit criticism of their lifestyle and get offended enough to fairly demand that you consume. Even the pilots that you meet are likely to be heavy drinkers, which may explain the appalling number of accidents in an otherwise fairly easy place to fly. Don't let yourself be pressured.

[Whether or not you decide to go native the island versus city life debate is interesting. In theory the cities of North America offer the opportunity to socialize with a lot of fascinating people, to learn new ideas and skills, to appreciate art and entertainment, and to have challenging and rewarding work. In practice it seems that crowding and high real estate prices force most citizens into working 60-hour weeks so that they can meet their mortgage and SUV payments. In theory it should be possible for Joe Wornout to back down to a shabby apartment and a used Honda Civic and change to a lower pressure job. In practice it does not seem to be socially sanctioned among the high-achievers of New York or Toronto or wherever. So Joe Wornout opens a restaurant on a small island and works moderately hard during tourist season but not at all the rest of the year. Joe is relaxed and constantly exposed to natural beauty and the sea but he is now missing out on everything good that the city had to offer. 2018 update: American cities are even more crowded and real estate prices are way higher, but maybe there is no need for the SUV because of Uber.]
Flying Over Water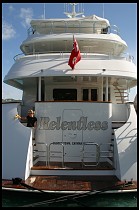 You must cross 100 miles of open water between Grand Turk and the D.R. So you have to glide 50 miles. With a 10:1 glide ratio you have to fly at an altitude of 5 miles or 25,000' in order to make it to shore. Your airplane probably can't do that so the next best thing is to fly at 7000' or higher. These altitudes give you continuous radio contact with ATC or flight service, radar service in the Bahamas and Puerto Rico, and about 10 minutes of gliding and thinking time in the event of engine stoppage.

You can file VFR flight plans and DVFR border-crossing flight plans but it is generally easier and safer to file IFR. If you're flying IFR you aren't going to get lost or forgotten when you fly from one country to another. If you disappear someone is going to notice fairly quickly. If you get into trouble you immediately have someone to talk to who knows who you are and where you are. The only drawback to flying IFR is that it becomes more involved to pick your way around afternoon cumulus buildups. That said, I never had any trouble getting clearance to deviate left or right of an airway.

An instrument rating is surprisingly useful in the Caribbean. If the weather is below VFR minimums you probably don't want to be flying because it is almost surely a violent storm of some sort. But suppose that it is good VFR with a cloud deck at 3500'. In Florida or Kansas you'd say "What a great day to fly! I'll go at 2250'." But flying low over 100 miles of water in a single-engine piston airplane is unsettling and doesn't give you much time to deal with a problem. With IFR capability you may be able to go up through the clouds and get on top. The Caribbean summer offers plenty of embedded thunderstorms and ordinary rainstorm clouds can be very turbulent, even in the winter, so you don't want to plow through clouds for too many miles.

Try to depart as early in the morning as possible. The air will be more stable in the morning so you won't be bumped around by turbulence. If worst comes to worst and you have to ditch there will still be a lot of daylight hours remaining for the search and rescue operation.

If you don't have a solid battery-powered backup GPS, considering keeping a paper chart handy. Every 15 minutes mark off your position in pencil. If your panel GPS should fail you'll have a pretty good idea of where you are and what compass heading to steer to find the nearest island.
Satellite-based Tracking
Garmin and Spot make consumer-priced satellite-based trackers that are designed for "adventurers" but work well for aviation. As of 2018, the Spot X seems to be a better choice than the Garmin inReach line for a Caribbean flying trip. The Spot X has a substantially longer battery life and facilitates text communication via a U.S. mobile number. All of the products within this genre will send position reports up to a server at 10-minute intervals and they also provide "S.O.S." panic buttons.

As of 2018, the Spot X was $250 and a month of coverage with unlimited message would cost about $65.
Survival Kit
If you're going to travel over water in a single-engine piston aircraft, the Caribbean is one of the safest places to do so. That said...

You're required to have a life jacket for every person on board. Helicopter pilots typically opt for "suspender-style" or "continuous wear" life vests that you can don for the entire flight without getting hot or looking too much like a dork. (check Switlik and Eastern Aero)

If you're tempted to stop at life jackets, read In Harm's Way (Doug Stanton, 2001), the story of the heavy cruiser Indianapolis, sent unescorted through Pacific waters where Japanese submarines had been sighted. The captain was not informed of these sightings. The ship was torpedoed and sank within 12 minutes. Despite the short interval the crew managed to transmit a distress call. The call was treated as a Japanese ruse and ignored. When the 1100-person ship did not show up as scheduled the Navy took no notice or action. Four days later a Navy antisubmarine airplane stumbled upon some men floating in the water and initiated a rescue effort. Of the 900 men who survived the initial explosions and sinking, nearly 600 died in the water, mostly those who were not fortunate enough to be on one of a handful of life rafts. Despite warm 85-degree water, many died of hypothermia. Sharks attacked every morning and evening and ate quite a few men.

[After much public outcry over the unnecessary deaths of so many young men in the water, the U.S. Navy decided to prosecute Charles McVay, the captain of the Indianapolis on the grounds that he failed to sail a zig-zag course to evade enemy submarine attack. The Navy even brought the Japanese submarine commander over to testify against Captain McVay. When cross-examined the sub commander said that he had plenty of torpedoes and that it wouldn't have made any difference if the Indianapolis had been zig-zagging; he would have sunk it anyway. Captain McVay was convicted and ultimately committed suicide. The Navy also prepared to court-martial R. Adrian Marks, the pilot of a Catalina PBY seaplane who rescued 56 men by landing between swells in the open sea and using the airplane as a liferaft until rescue ships arrived. It was against regulations to land in the open sea.]

In light of the experience of the Indianapolis, what are we to add to a Cessna 182 flying among the islands? First and foremost, a life raft. You want to be above the water, not in it. If you're above the water you won't get hypothermia and you won't become shark food. You want a TSO'd life raft, one that the FAA has looked at and blessed. A TSO'd raft will have two air chambers and a canopy to shield the raft occupants from the sun. These cost around $1600. The second thing that you want is a 406 MHz EPIRB or PLB, about $300. Having satellites picking up your EPIRB signal will take the "search" out of "search and rescue". The satellite tracker/messenger is great, but a PLB attached to your life jacket is a must.

Considering picking up a mesh bag at a dive shop or at Walmart, lashing it to the life raft, and filling it with additional survival equipment. A signal flare kit designed for small boats is useful as is a waterproof flashlight. Throw in some sunscreen and chapstick. You're unlikely to need food. Fresh water will be your scarcest resource and eating food increases your body's need for water. A normally healthy person can survive for at least one month without food. Put in some empty water bottles for buoyancy and some full water bottles that you can drink.
Stuff to Buy
Good mechanics and well-equipped shops are not easy to find in the Caribbean. It may be a good idea to get a 100-hour firewall-forward inspection done before you head out over the water. Banyan at KFXE has comprehensive maintenance capabilities right up through heavy turbines, an avionics shop, a pilot shop, etc.

Have a battery-powered GPS receiver as a backup to your airplane's instruments. This could be as simple as your smartphone with an aviation app, but make sure that you've tested it well before departing. How could this ever be useful in a modern IFR airplane? Suppose that you have two VOR receivers and two GPS units in your panel. What if the alternator fails? What if something goes wrong in the airplane's wiring harness and things start to fry? If the alternator fails and the battery runs down, the redundant GPS no longer provides redundancy.

There are no sectional charts for the Caribbean. The WAC chart system is no more (as of 2018), but the FAA publishes "Caribbean-1" and "Caribbean-2" WAC-style charts. AOPA also publishes VFR charts for "Bahamas" and "Caribbean". For IFR in 2003, you had to fall back on Department of Defense publications. As of 2018 it looks like the FAA is publishing Caribbean low- and high-altitude IFR charts. These are available as free PDFs from the FAA, in printed form from Sporty's, and within EFB apps.

The bible of Caribbean flying is the Bahamas & Caribbean Pilot's Guide by John and Betty Obradovich. This was taken over by AOPA and split into two books: Bahamas and Caribbean. They're updated annually in October and are available as iPhone/iPad apps or in hardcopy. The books contain photos of every airport that are helpful when ATC calls to ask if you've got the airport in sight. The guide has useful frequencies and phone numbers as well as some tourist information and advertisements. The books are strong if you're sure you want to go to a particular island. They're weaker if you're trying to figure out which islands are the most sensible stopping points in terms of sights, fees, and fuel prices. It would helpful if AOPA added a fee grid for each airport showing what a fuel stop or a two-night stop would cost in a light single, a light twin, and a single-engine turboprop. It would also be nice to have a section on suggested itineraries.

For planning ground activities and which islands to visit, I like the photo-rich DK Eyewitness Caribbean. Unfortunately, as of 2018 it hasn't been updated since 2016, which means that information on hurricane-trashed islands is obsolete.

For life on the ground, bring sandals, sunscreen, sunhat, insect repellent, mask, snorkel, fins, diving skin (summer; sunburn and jellyfish protection) or wetsuit (winter; warmth), etc.

Make sure that you have a canopy cover or some other means of protecting your aircraft interior from the heat and sunshine.

The Caribbean islands are generally quite small. Rental cars are expensive and sometimes difficult to obtain. If you're blessed with extra space, consider bringing a folding bicycle for exercise and freedom of movement without wearing out your feet.
Telecommunications
The Caribbean presents a bewildering patchwork of telecommunications pain. Verizon cuts through this with a $10/day "Travel Pass" rake and supposedly provides 4G coverage in most places. T-Mobile might be a better deal if you're going to spend a lot of time in the Caribbean.

One good thing about the Bahamas in 2003 was that it was possible to call 1-800-WX-BRIEF from any phone and be connected to U.S. Flight Service. In the privatization of Flight Service, however, it was decided that only Miami would be allowed to take an international flight plan, so you had to call 305-233-2600.
Getting Back In
Customs theoretically wants at least one hour's notice before you arrive and they want you to arrive within plus or minus 15 minutes of when you said you were going to arrive. To avoid a $5000 fine, it is best to telephone U.S. Customs yourself and estimate your arrival time as best you can. Climb to 6000' or so when returning and you'll be able to contact Miami Radio from almost any island. They'll give you a border-crossing transponder code and update your ETA in a shared computer system with Customs.

The main adjustment that you must make in flying back to the U.S. is to the brown smog that hangs over mainland Florida and that will very likely accompany you all the way to your ultimate destination. After weeks of seeing nothing but blue and white it is quite startling to see so much brown in the air. Those hippie environmentalists might just be right. Something to think about when you fire up that 10 mpg SUV to make a solo trip to the Quikee Mart.
Traveling with a Dog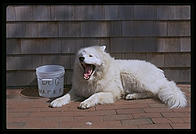 If you are willing to do some advance paperwork you can get a dog into nearly any Caribbean island. However if you are visiting many islands and don't want to be tied to a rigid schedule it might be best to leave the hound with a friend. If your dog doesn't mind the heat the Caribbean is a relatively dog-friendly environment. You can eat outdoors, you can take your dog to the beach in most places, and you can find dog-friendly accomodations.

At right: Alex
Budget
Do not underestimate the expense of traveling in the Caribbean. Everything has to be shipped in from Florida. Many islands don't have any income tax, which means that all government functions are funded with consumption taxes such as import duty. Except in the Dominican Republic and Puerto Rico you'll be paying double or triple what you'd pay in Florida for the same bottle of sunscreen, restaurant meal, or hotel room. Extremely poor islands towards the southeastern end of the Caribbean are paradoxically among the most expensive for tourists. My brother rented a sailboat in St. Lucia, for example, in the late 1980s. At the time the country had an average per capita annual income of less than $1000. The cheapest hotel rooms were about $250 per night. It isn't like India where a flower child from Westchester can go native on $3/day. The average St. Lucian isn't realizing any benefit from the walled megaresorts and they're not too thrilled to see a white face. "I've traveled all over the world including to some of the poorest countries but I've never encountered hostility from locals like this," noted a Bostonian who'd ventured out of the fancy resort into a small town at noon. For a hotelier to operate in an environment like this is inherently expensive. Training a waiter is time-consuming because most of the locals have never eaten in a restaurant and have no idea what a waiter is supposed to do. None of the ingredients for the restaurant or items for the hotel shop will be available on the local market because none of the local people could afford any of those items. Basically if you want to live like an American the cheapest place to do it is in the U.S. or Canada.

2003: Budget $100 per country for getting you and your airplane in and out; this will cover landing fees, customs clearing charges, departure tax, etc. Budget $200 per day for lodging and food if you're alone, $300 for two people sharing a room. At these rates you'll be staying in rather charmless motel-style rooms rather like a $70/night Holiday Inn in central Florida. The delightfully charming resort hotels are $400-600 per night in peak season.

2018 updated prices: airport and FBO fees seem to have gone up to $200-300 for a light single. It may be cheaper to fly JetBlue from Boston to some of these islands than to pay the fees for a Cessna's overnight!

You can save money in the following ways:
do your goofing-around short-hop flights in the Bahamas where government airports have minimal landing and parking charges for single-engine airplanes; Puerto Rico is also a good place for hopping from one little airport to another
spend a lot of time in Puerto Rico, which is one of the most interesting islands anyway, where prices are close to U.S. norms
come in the spring when the ocean is calm and the prices have tapered off; Christmas and New Year's have the highest prices and mark the beginning of the expensive season
What if you don't have your own airplane?
My 2003 advice: If you don't own an airplane, consider flying commercial to San Juan and renting an airplane from Isla Grande Flying School (http://www.islagrandeflying.com/). Isla Grande has the usual range of old metal Cessnas and Pipers. The Web site says "U.S. only" but people on the field say that their customers take the rental airplanes internationally all the time.
Hate fees and planning effort?
A good handler such as Air Journey can simplify a lot of the planning and also help you minimize fees. If you really want to visit a lot of Caribbean islands with minimal effort and cost.... take a cruise! By buying most of their labor in India and the Philippines, all of their food in Florida, and all of their construction effort in Germany, Finland, or Italy, the cruise ship operators take most of the cost and hassle out of the Caribbean.

Despite the fact that each island might require a few hours of planning and paperwork (including getting a hotel) and a few hundred dollars in fees, I think the big Caribbean trip is worthwhile for any U.S. aviator. Think of the bureaucratic tasks as an excuse to work together with some locals. I enjoyed nearly all of my conversations with officials and handlers in the Caribbean. In 20-30 hours of flying time you can go all the way to the end of this region of the Earth and back to Florida. The scenery is almost alway beautiful and lush and the weather is almost always nice.
More
---
Text and photos Copyright 2003-2018 Philip Greenspun.
---
philg@mit.edu
Reader's Comments
Fascinating reading as usual, even from a non-pilot landlubber's POV. One quibble though: Puerto Rico hasn't been on the UN Special Committee on Decolonization's list for quite some time now, whereas both sets of the Virgin Islands, the Turks and Caicos Islands, and a number of other Caribbean islands are.



-- Jani Patokallio, January 28, 2003
You complimented the restaurant "California" in Gran Case, St. Maarten. I dined there in December '02, and was disappointed - but allow me to make a wonderful alternate suggestion: only 2 blocks from California is "Alabama" (what is with these state names?) We were intoxicated by the service as well as the food. Service and cuisine are French. The complimentary home-made orange ginger "rhum" apertif was unlike anything of the genre.

-- Amy Smith, January 30, 2003
I'm an expat who has been living in Puerto Rico for about 2½ years. A lot of what you have said is accurate, but I wanted to fill in some details.

1) Cellular service
Your phone should work here. The local cellular companies are Cingular, Verizon, Sprint, Centennial, SunCom (formerly AT&T) and MoviStar. My brother has been able to use his TMobile phone here in roaming mode. I'm not sure about NexTel, though. Sprint and Verizon also offer mobile data plans, with pricing comparable to those in the mainland.

2) Internet service
There are more wireless hotspots being offered now. San Patricio Mall in Guaynabo has free wifi, as do some Chili's restaurants. Broadband access is about as widespread as you'll find in the mainland. I live way out in the suburbs of San Juan, and I was able to choose between the phone company's DSL and the local cable outfit's offerings. There are several companies that get set you up with faster connections as well.

3) Food and water
The water here is perfectly safe to drink; the EPA and the Clean Water Act operate here too. It does often have a high mineral content, so a lot of people filter it or buy bottled water and use tap water for showers and washing clothes.

Some food is still grown here, but not nearly as much as in the past. A lot is imported from the States or fron the Dominican Republic. The rum that is made here is most likely made with sugar grown in the DR.

One thing that I should mention is that the USDA is very firm about not taking any fruits, vegitables, or other plant life out of the island, due to the risk of insects stowing away and infesting crops on the mainland. They have machines set up in the airports to scan luggage, and you do have to have an inspection sticker on your bags before you can leave.

4) The drinking age in Puerto Rico is 18. The political leadership has decided that they would rather have the votes of 18-20 year olds than take Federal highway funds.

5) There are a lot of rich people on the island, but a lot of them don't pay their share of the taxes. Officially, there are 40,000 people here who make more than 100K/year. There are clearly more than that, since someone is buying up all of those million-dollar condos and keeping the Mercedes and Porche dealers in business. The Treasury department has been cracking down on this stuff, but the problem is pretty widespread.

6) The Ponce Museum of Art really is outstanding. It's not a big place, but they have plenty to see, and one should plan to spend the day there. They have both a Goya and an El Greco (both of which are on loan to museums in Mexico in exchange for being able to host an exhibition of the works of Frieda Kahlo), as well as Flaming June, one of the most sublime paintings of the Victorian era.

-- Ronald Lovejoy, April 16, 2006
concerning the last paragragh on "stuff to buy" where u were talkin about telecommunications. In the bahamas u can use a cell phone that is from the U.S.A. i didnt read to see when this all of this info was dated but as of 1999 the bahamas installed a new gsm cell phone system on the 1900 frequency and makin a call to the U.S is 0.51 cents per minute. if u feel that u would like to reply please dont hesitate to.

sincerely yours, stan the man from the bahamas repin for the 242

-- stanley hall, May 24, 2006
I believe this website offers valuable insight for those seeking the adventure of flying to the Caribbean. However I would like to provide some guidance for those of you how would like to fly to Jamaica. I made the flight about 2 months ago, prior to that I had little experience of Caribbean flying. Some of the procedures are different, especially if youŭre going to Jamaica or Grand Cayman. There are a couple of ways you can go about this trip. If you want the connivance of going non stop, you most certainly have to obtain a Cuban over fly permit. This must be done at least 48 hours in advance, otherwise it may be denied and you will have to make alternate plans.

Well with that said let me my share my experience, I flew a C172 from Miami to Kingston, JA. Total flight time was just under ten hours. That was due to poor research the distance from Tamiami to Kingston is about 595 nautical miles. With a stop in Grand Cayman that would have been no problem, however we did not obtain the Cuban over fly permit. We had to take the long route which involved two stops in the Bahamas, which was not a pleasurable experience I might add. Nothing against the Bahamas, but if you like spending unnecessary money the transition through the Bahamas is your way to go. Our first stop was in Exuma (MYEF), we landed there around 0630 which was earlier than expected. Nothing very eventful, however we were delayed 2 hours due to the immigration officer being two hours late for work. He had to show us landed, so he can issue a Bahamian transhire so we can commence an inter-island Bahamian flight. Fuel there wasnŭt too much different in price; it was comparable to that of the prices in Miami.

Our second leg we stopped in Matthew town (MYIG) which is the southern most Island in the Bahamas. It is approximately 72 miles north of Haiti and 55 miles east of Cuba. It is said to be the best secret in the Bahamas, and I can see why. Very expensive the fuel was about six dollars a gallon; we were charged a surcharge for immigration and customs. The Fuel Company charged us $45 just for coming out to the aircraft. There were no facilities provided for us to do our flight planning. Luckily there is a Coast Guard base right there on the field. They were nice enough to let us use there facilities so we can file our flight plan and check weather.

Once we took off we were pretty much on our own as far as radar coverage and navigational aids. Once Miami center handed us off to Port-Au-Prince, we realize they had no radar coverage and we were not receiving a reliable signal from the PAP VOR. Not really a big deal if you have a GPS (which we did). It is important that you give your position reports and your ETA to the next fix. With that information, they will provide you with IFR separation. Once we turned westbound towards Jamaica it became a little unsettling, there were numerous build ups from the west heading straight towards us. The MEA was 11,000 ft and we could not get lower until we were talking to Kingston. At which time we descended to 9,000ft and we had the island in sight. Kingston (MKJP) is really efficient. There are precision as well as non precision approaches to choose from.

Clearing immigrations was a breeze the agents were friendly, customs were professional as well. The fees to use Kingston were reasonable, even though they charged us a navigation fee. The landing fee was seven dollars, and overnight parking was $11 a day. Leaving the island is a different story they charge a $35 departure tax for each passenger, flight crew is excluded from tax. I must say all in all Jamaica is a great destination and anyone considering going there should toy with idea of obtaining the permit to over fly Cuba, and also you might want to check out Montego Bay, Ocho Rios, and Negril. All these cities by the way do have its own airport, MoBay as the locals call is an airport of entry also.

-- Damon Lobban, May 8, 2007
Passing Saba in the Dutch West Indies


Philip, thanks for a very useful perspective on flying within the Caribbean. As I found out while trying to research a trip I did in November, good information is hard to find, and there is precious little of it for anyone taking an airplane south of Miami. Your site was one of the very few sources of reliable advice.

On the plus side, it makes for an interesting adventure. It's not quite flying in Africa, but its not far off in places. In November, I managed to get a 172 all the way through the Caribbean to make the final crossing into South America, via Trinidad-Venezuela. I kept a short blog as the flight progressed, with some pictures: caribbeanflight.blogspot.com, which might provide further background for future journeyers.

-- Mark Zee, April 17, 2008
The information provided about St Croix and the Boelhke FBO is no longer correct (well, I don't think it ever was). I've just spent four days here as part of my solo round the world flight, and I found the island fascinating (same crime level as most other places, from my experience - you wouldn't walk around at night loaded with Rolexes and jewelery anywhere, would you?).

Bohlke FBO is very friendly and efficient, and they have fuel at more or less the same price as other icelands in the Caribbean, oxygen, maintenance, and whatever else one can expect from a large FBO. Even home-made cookies and pizza to augment the usual vending machine sweets and soft drinks ;-)

Best Regards Troll Air aka Calle Hedberg - RTW from Cape Town to Cape Town

-- Calle Hedberg, November 18, 2013
Great series of articles, I plan to follow the one for Mexico/Baja this year.

I agree about high costs in Bahamas, flying through the US is actually cheaper.

I should add that I went to several government-owned airports Nov 2013 and they all charged me landing fees of about $9 or $10. They did claim in the past that there will be no landing fees so this is something that has recently changed.

I would avoid Marsh Harbor due to the boredom there (no good beach, I was stuck due to weather), and strongly recommend Stella Maris on Long Island. I skipped going to Provo since the landing fees on a weekend was $400 for my Grumman Yankee, but trying again, I would go there on a weekday.

Happy flying everyone.

-- Ghazan Haider, April 24, 2014
Wrote a long comment and it disappeared so now just short advice. Aruba landing and overnight very expensive Curaŭ much cheaper, prettier and less crowded. Virgin Gorda with its Baths worth a visit. Chritian Fardel. Grad Case St.Martin has a very complete guide for nearly all Caribbean airports, call be reached at 011(590) 877870 has frequencies,hotels,taxis and plates for most airports in the Caribbean. Most exciting landing is at St.Barth,except maybe Saba. Have to get checked out to land at these two airports. Flying there for over 30 years in. Seneca

-- tom zaidman, October 18, 2014
Great article, the less expensive and more interesting island close to Aruba is CURAŭO. OTHER COMMENT CORRECTED NAME..

-- tom zaidman, October 18, 2014
Add a comment
Related Links
Trans Caribbean Flight- 2 weeks in a 172, calling at: Bahamas, Dominican Rep, Puerto Rico, St Kitts & Nevis, Guadeloupe, Tobago, Trinidad, Venezuela, St Vincent & The Grenadines, Martinique, St Maarten, Puerto Rico, Turks & Caicos. (contributed by Mark Zee)
Add a link