---
November 1992
I'm not sure if there is a medal for "having the most Type-A Type-A personality," but I was going for it this semester. Four MIT classes. Finishing my master's thesis. Trying to single-handedly crush Ford Motor company and its lawyers in a testosterone-poisoned battle to the death.
I was so busy that I almost didn't notice when it got dark every afternoon at 4:30. The wind reaching into my bone marrow was harder to ignore. This was my fourteenth Boston winter and each one seemed successively crueler. My parents, who launched me on my career in travel writing, launched me to New Zealand as well.
"We're coming to stay with you in Boston on December 13th and we're bringing Suzanne and Norman and David."
Suzanne is my sister and Norman and David are her two boys, 5 and 4 years old at the time. Pitching a tent on the main runway at Heathrow Airport would be more peaceful than sharing a house with this crowd. I dialed Qantas Airlines and begged them to take me to New Zealand anytime before December 13th.
December 11
"All happy families resemble one another, but each unhappy family is unhappy in its own way."
I cracked open Anna Karenina as American Airlines pulled me out of Boston only to dump me in the far harsher world of LAX. I was stranded in the international terminal there for five hours, tired and hungry. There was only one restaurant and people were waiting in line for 30 minutes to get airport food at airport prices.
When I got to the gate for my 8:30 pm Qantas flight, there was a little dispute over luggage. I'd checked an enormous suitcase and an enormous backpack in Boston, but still required three carry-ons. I unloaded my Nikons on a couple of British guys and got on the plane traveling light, i.e., carrying only a 20 kilo medium format camera system and a 15 kilo backpack with PowerBook and 80 rolls of film.
MIT professors are smart. My friend Ted gets invited to a conference in a different corner of the world every few weeks and yet never seems to suffer from jetlag. "How do you do it?" I asked.
"Just take a Halcion and a couple of drinks and you can sleep through any international flight," Ted confided.
Halcion has been blamed for psychosis, murder, and for George Bush's personality; I decided to take half of one of the tiny blue tablets after dinner. I'd never slept in an airplane before, but I gradually slipped out of the upright seat that would have roused Karen Anne Quinlan and floated off on the softest cloud imaginable.
Much to my horror, we were herded off the plane in Honolulu. I hadn't even known that we were going to stop. Halcion lets you stay awake if you need to, but that doesn't mean you're happy about it. Hawaii's great, but an hour and a half at the Honolulu Airport at 1:00 am wasn't much fun until I met Diana, a South African who'd been living in England for six years. The cold climate, stiff people, and general lifestyle in London didn't suit her.
"I'm thinking of emigrating to Australia or America. My half-sister lives in Cairns. We've actually never met, but we've been corresponding for about five years. I'm going to stay a month and see how I like it, but I've always felt a special kinship for America because of all the shows we used to watch on South African TV."
When I returned to the plane, I discovered that I had three seats to myself so I dropped a full Halcion and slept for five hours straight.
December 13
I more or less missed out on December 12th by crossing the International Date Line, but the splendid modern international terminal in Cairns, Queensland (Australia) consoled me. I picked out "Castaway's backpackers' hostel" from an ad by the courtesy phone and ten minutes later a tall handsome dark-haired fellow named Sean materialized at the wheel of a minivan. Castaway's turned out to be a little off the main strip, but at A$20/night for an air conditioned room with airport shuttle, I wasn't going to complain.
Greg Welsh, the owner of the Castaway's, looked a lot more like his last name than like Sean's father, which he was. A permanent sunburn attested to the poor adaptation of Greg's fair-haired, fair-skinned genes to the sunny Cairns climate. Greg stowed my film in the motel's freezer, told me where I could rent a bike, and explained the layout of the town. By 9:00 am I had showered, walked a few blocks to the bike shop, and emerged with a rather too small and clunky mount.
Before I knew it, I had explored the entire town of Cairns, which has just a few commercial streets, a luxury mall/hotel catering to the Japanese, and an endless strip of beachfront hotels. I was so rested from the Halcion that I decided to strike up the coast to Holloway Beach. Attempting to avoid the heavy traffic of the main road, I got a little off-track and stopped for directions at a drive-through liquor store. I tried to explain to the proprietor that I didn't think most parts of the U.S. were ready for any business concept that linked drinking and driving in an obvious manner, but our conversation was interrupted by the emergence of two falling-down drunk patrons from the adjacent bar. If this was what they were like at 11:00 am on a Sunday, I shuddered to think what their nights must be.
The directions I received led to an old wooden bridge straight out of an Indiana Jones film. What remained of this bridge spanned a muddy river about 50 meters wide. Large parts of the roadbed, especially in the middle, were missing. However, the people fishing on the edge of the bridge assured me that I could make it across. In some places, the only thing left to walk on was a single worm-eaten 30 cm-wide plank, flanked by yawning chasms on both sides for 3 meters or more. Carrying a bike unbalanced me enough to induce a touch of vertigo. The water was no more than 5 meters below the roadbed, so clumsiness was unlikely to have had fatal consequences. Still, I felt like James Bond after he walked over the backs of crocodiles in Live and Let Die (at least until a few days later when I found out that a local kid once made it across on a motorcycle).
Australia has about 2000 km of pristine coastline on the northeast where you are unlikely to encounter another soul on the white sand. Should you accept Nature's invitation to swim, you may very well brush up against one of the diaphanous 30 meter long tentacles of the box jellyfish. Best case: you end up with a red mark for the rest of your life wherever you got touched. Second best case: you die. Worst case: you go insane.
Holloway Beach has a display of color photographs informing the public how to recognize a jellyfish sting and treat it. The overwhelming theme of these photographs would be red. Holloway Beach is the only place for 50 km up and down the coast where you can swim. The government has installed a net about the size of five swimming pools. The 28C (85F) water felt refreshing after pedaling through the 30C (90F) heat, but I decamped to see the local tourist attractions.
Despite the distractions of the Royal Flying Doctors museum and the botanical gardens with its rainforest boardwalk, I couldn't help noticing that suburban Queenslanders were living in rather shabby houses and driving shabby automobiles. Everything looked rather decayed except for a few public buildings, the Japanese hotel/mall, and a magnificent four-story drive-through liquor store.
December 14
Deep Sea Divers Den picked me up at 6:00 am and by 7:15 I was watching the Japanese hotel recede from the top deck of the boat that would be our home for three days. My friend Bruce had been enthusiastic about this trip.
"For $200 they spend two days on land teaching you to SCUBA dive, then take you out on the boat for three days where you do 10 dives including your four certification dives. That includes food, equipment, and a bunk on the boat. Plus, all the other passengers on my trip were single Japanese women."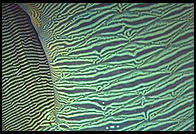 About 80% of my fellow passengers were Swiss-German men. I immediately fell in with an itinerant Irish MD and her husband, an aspiring fiction writer. Two deadbeat Americans who were teaching English in Japan, an Australian family living in Southeast Asia, and a few Brits rounded out the company. The Brits were sunburning and vomiting with distinction seemingly minutes into the cruise so I hauled out an old Provencal joke: "What goes from the color of a dead rat to the color of a dead lobster in 20 minutes?" ... "Les Anglaises en vacances."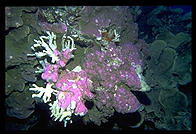 During the cruise out to the Great Barrier Reef, the stocky blond divemaster sat us around a big table and asked about our level of experience. When I said that all I had were five certification dives a year before in Hawaii, she partnered me up with Yoshito, a Japanese dive instructor with about 1000 dives to his credit.
Learning to dive in Hawaii had been harsh. The instructor was a taciturn surfer who didn't like to repeat anything. We'd suit up with 30 kilos of equipment, walk 200 meters down to a rocky beach, swim 300 meters out through breaking surf encumbered by the drag of all the equipment, then descend. Only half the students finished the class. My first boat dive convinced me that here indeed was a sport I could appreciate.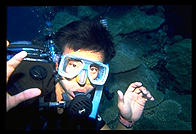 Yoshito and I checked each other's gear then took a giant step off the back of the boat. We descended into a warm wonderland that combines the spectacular coral of the Caribbean with the best fish I'd seen from Hawaii. Yoshi was a great guy who never complained that my greedy gulping of air kept our dives short. His English wasn't great, but I managed to piece together his life story, which was at odds with the Nation of Nerds stereotype of Japan.
Yoshi's parents are both avid technical mountain climbers who met on top of one of Japan's highest peaks. They taught him to climb mountains both on foot and by bike and also to ski down them. Yoshito has black belts in judo and karate . He'd previously come to Australia intending to stay three months at a university; he ended up staying nine months, traveling thousands of kilometers, and getting in enough dives to become a SCUBA instructor.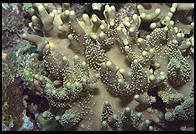 While we were chatting on the top deck of the anchored boat, a similar vessel roared by. Bikini-clad Japanese women were bursting from every passageway and hanging from the railings.
"We took the wrong boat," Yoshito noted dourly.
Every day we suited up and dove off the back of the boat, three times during the day and once at night. I was only scared twice. Once was when I was trying to feed a cookie to a few medium-size fish. A 70 kilo maori wrasse seemed to want my fingers as well as the cookie; I socked him in the face with my fins when he came around again. The second scare was during a night dive, when my flashlight illuminated the tail of a shark of undetermined size and species. He was attracted to the light and swam directly toward me. As I felt a scream rise in my throat and almost come out my regulator, I realized that he was a harmless 2-meter white-tipped reef shark.
December 16
I never thought I would tire of SCUBA diving, but 11 dives in three days was enough. I was happy to return to the Castaways and phoned up Diana for dinner. Over some skewered crocodile, Diana told me that her half-sister wasn't anything like she'd envisioned and what a bitter disappointment it was because this woman, 25 years older than herself, was the only family she had left.
December 17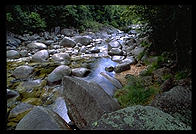 "Go to the rainforest when you're in Cairns," Bruce had told me.
"Rainforest?" I responded, "Isn't Australia a desert?"
Australia is basically a desert, but a small range of mountains in the northeast protects what is allegedly the world's oldest rainforest (250 million years) in Queensland from the harsh interior.
Cairns tourism is very organized indeed and I was soon ensconced in a plush Tropics Explorer minibus. As we drove north up the coastal road, our fascinating guide explained the region's history and pushed us out to look at gorges and for a "Croc spotting" up the Daintree River. There are supposed to be 1.2 million crocs up here, but neither the naturalist nor the captain could find any. It seems that in the hot summer they prefer to remain in the water. Finally, I spotted a 0.75 meter croc under a mangrove tree on the bank and hollered out.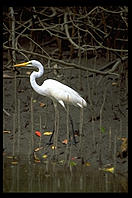 The captain edged the boat closer, everyone snapped a picture, and there was an audible sigh of relief. People were patting me on the back congratulating me for my sharp eyes. I tried to be modest.
"I had an unfair advantage; the croc reminded me of an ex-girlfriend," I explained.
It was late afternoon when we rolled into the Jungle Lodge, which was a bit of a bust. It is surrounded by private land so one can't just walk off into the bush; guided tours are $15. They also rent mountain bikes, but said bikes were (1) sized for dwarves, (2) one speed, (3) equipped with only one brake, and (4) severely rusted. The place has a reputation for wild toga parties with loose women, but they were apparently all across the street at "The Village." I booked a guided night walk and a sea kayak tour for the next morning, then changed my plans to return to Cairns a night early.
After a reasonably good curry dinner, eaten communally by the 42 guests, we set out on our nightwalk with an overqualified biologist guide. Rainforest mammals are terribly scarce so Jonathan's first display pieces were a couple of undistinguished-looking rats that he had trapped. None of the tourists were able to locate any wildlife, all of which was well-camouflaged, but Jonathan's trained eyes picked out a huge grasshopper after a few minutes. My favorite animal was a Boyd's dragon. This was a lizard-like animal about a third of a meter long with a mouth that puffs up to the size of a grapefruit. Jonathan's final flourish was a meter-long water lizard resting calmly on a tree branch.
The walk was extremely dark and somewhat tiring, but I was pleased to discover that, although insect repellent was handed out and applied, there didn't seem to be any biting insects. Of course, we were all happy that we didn't encounter the "gympie gympie" tree, with its serrated heart-shaped leaves. A slight brush and little stingers dig into your skin, causing excruciating pain. Most commonly, gympie gympie victims are admitted to a hospital and sedated for four days. For up to six months afterwards, until all the stingers have been pushed out by skin growth, a temperature change over your skin will cause horrible pain.
When we got back to the lodge, we found that Michelle, the "fun director," had fabricated a party out of 20 Swiss-German guys and many gallons of tequila. She said that it was the worst male-female ratio she'd ever seen in her year or so at the Jungle Lodge; I responded that it was just like MIT.
"Why would any guy want to go to school in a place like that?" she inquired.
December 18
Bob, an actor from New York, and Peter and Petra, brother and sister from Melbourne, and I rose at 6 am. We stepped gingerly to avoid waking the Swiss-Germans, but need not have worried because they were heavily fogged-in due to overconsumption of tequila. We walked down to the beach to meet Michelle and her boyfriend Steve, a 25-year-old marine biologist with sun-bleached hair over a ruddy complexion. We got into/onto our Surf & Ski sit-on-top "quasi-kayaks," which were to prove but poorly adapted to the heavy seas pounding Cape Tribulation this morning.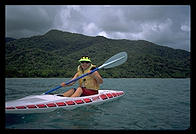 Cape Tribulation got its name because this is where Captain Cook discovered that he was on the wrong side of the Great Barrier Reef and that he would have to sail 2000 km back south if he wanted to be sure of getting out intact. He chose to press on to the north and, after a few tries, managed to get out. Each try, though, was followed by a return to shore to patch the ship.
Every 15th wave or so was extra large and usually dumped me out of the kayak. Just as soon as I would struggle back onto the unstable craft then another big wave would hurl me off again. I was developing a visceral appreciation for the "Tribulation" name but Michelle paddled calmly ahead in her Surf & Ski while Steve roared back and forth in an outboard-powered dinghy telling us how pathetic we were. None of the four tourists made it to the destination without being towed, which disgusted Steve. Furthermore, Bob and Peter were badly seasick, and Steve took that to be a sign of moral weakness.
After a short rest and drink, Bob and Peter walked back along the coast while Petra and I paddled back. My arms ached although my heart was hardly pumping--all the power and energy in my legs was utterly wasted. A stiff wind blowing in our faces impeded our progress and reminded me just how easy it would be to tack upwind with a Hobie Cat. Finally, the sun that was even then burning my scalp made me realize what an abundance of solar energy was available. The engineer in me was deeply offended by the fact that legs, wind, and sun all went unused while only two feeble girlie-man muscles in my arms could be applied to the problem of getting from Point A to Point B. Adding insult to injury, the walkers arrived 10 minutes before Petra and I.
We discussed the trip over lunch.
"What I can't figure is why looking down on tourists for being poor sea kayakers seemed to make Steve feel better about himself," I said. "I mean, the guy has a university degree and he chose to work as a kayak guide. He's a dropout; I thought it was only ambitious people who need to feel superior to others."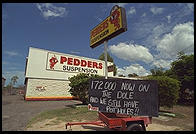 "Don't assume that he dropped out," Peter snapped back, "Maybe society dropped him out. We've got an unemployment rate over 10% and there are hardly any suitable jobs for fresh university grads."
I reflected that one of our bus drivers was an Australian Air Force pilot with 1500 jet hours who could not get a reasonable job flying commercially.
Back in Cairns in the evening, Diana and I were the sole customers at the Holiday Inn's bar. We were talking about the differences between Americans and Australians.
"Generalizing about Americans is pointless. It's impossible. I've never been to the States, but I've noticed that people from Los Angeles and people from Montana have nothing in common. Nothing," said Tony, the bartender.
How did he like American customers?
"Americans as individuals are the world's nicest people, but when they are together in a group, we can't understand them. Australians when they get together with their mates just talk. Americans together all try to talk over each other. Each guy has to top what was said by the last guy."
December 19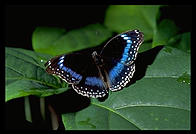 Diana and I rented a three-cylinder Diahatsu tin can for A$50 and headed inland to Kuranda, the tourist-trap-in-the-rainforest.
Although unable and unlicensed to drive, Diana felt free to laugh at my attempts to drive on the left, shift with my left hand, and use my right hand to operate the turn signal. Having started at 7, it was barely noon before we'd exhausted the Kuranda tourist traps, i.e., the Noctarium with its possums and kangaroos, the Butterfly Sanctuary, and the Aborigine dance theater/disco. I impressed Diana with the value of my new MIT Master's in electrical engineering by leaving the Diahatsu's lights on.
Some Aboriginals pushed us into an attempted 2nd gear start. When that didn't work, they pushed us into a gas station where they jumped the car, no charge. It was then that I began to think much better of Australians and Diana. In hanging around tourist traps, I'd not appreciated kindness because my subconscious told me "these people are paid to be nice to me." Yet unkindness had struck me hard because my subconscious howled "these people are paid to be nice to me and still aren't being nice." Diana for her part, although she'd laughed and teased me, didn't remonstrate with me or even seem to think that I'd done anything especially incompetent.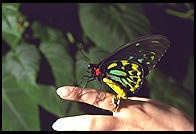 We spent the rest of the day in companionable catatonia induced by the ceaseless 85 dB SPL drone of our rent-a-can. The rain varied from torrential to sprinkles and that made photography an elaborate affair. I lugged out my 20 kilo bag of medium format gear at every waterfall in the Atherton Tablelands. Diana would hold her sister's industrial-size-and-strength umbrella over the tripod and camera while I carefully composed pictures that ultimately turned out forgettable.
December 20
The third pillar of Cairns tourism, after diving and Kuranda, is whitewater rafting on the Tully River. R&R picked me up at 6:30 am and we drove for hours through rain and gloom. The guides read us an elaborate legal disclaimer that we were to sign, explaining that this was strenuous, that we might be injured or killed, and that we were far from medical care.
"Is there anyone from England here?" Ralph, who was ultimately to be my guide, asked.
A few hands went up.
"OK, for you Pommies, `strenuous' means you have to paddle. Anyone from the United States?"
I was the only one.
"`Remote location,' that means five hours from the nearest McDonald's."
Some of the same information was repeated by a recording in English and then one in Japanese.
After what seemed an eternity of passing through forest that is being thoroughly raped for agriculture, timber, and mining, we arrived at the put-in.
My raft contained two Swiss-French girls studying English in Sydney, an Austrian banker and his beautiful Spanish girlfriend who both live in London, and a cheerful local couple. Although the rapids were Class V ("risk of death"), I wasn't smart enough to be truly scared even when our boat came down a chute and rolled over on a rock, throwing everyone into the water.
My favorite river site was rafts full of Japanese women in their twenties joyfully chanting or singing in unison, full of the bright enthusiasm you'd expect from American 11-year-olds. Ralph, our guide, saw things differently.
"The Japanese own almost all the valuable real estate in Cairns now. This is becoming their private playground. Didn't you notice the shops in town that cater exclusively to Japanese? We keep hiring more and more Japanese-speaking guides. I wouldn't mind so much except that they have such short vacations that they don't want to learn anything about Australia, they just want to come to a resort beach. We're a Third World country to them."
The Tully is never going to win any awards for scenery, especially on a gray day. It is closed in by undistinguished forest for the entire touristed length. However, it does contain some remarkable freshwater eels that swam up to share our lunch. These gentle knife-shaped creatures must have weighed 100 kilos each, being two meters long and nearly one meter around.
At the end of the day, I didn't regret the A$115 spent, especially considering the large number of safety spotters placed by R&R around the rough parts. However, I wished that the ratio of rafting to driving had been larger. Diana collected what was left of me and took me to the hotel/mall for tea and dessert. We chatted until nearly midnight.
Diana was only 24 but she already had broken dreams.
"I thought the Americans were the most wonderful people on earth, but a man living in London shattered my illusions."
I tried to defend my fellow citizens against her low opinion, but probably only served to reinforce it.
"Americans don't have true friendships between men and women. There always has to be sex."
"Well, if two people really like each other and are good friends for years, then they'll probably spend time together," I responded. "Eventually, they'll be together enough that it is probable that they'll both be unattached and together on at least one occasion and then it is kind of likely that they'd fall into bed together..."
Diana lectured me on the sanctity of sex and shook her head in despair.
December 21
Although I barely got to know any Australians, and Queensland is famous as one of the most backward parts of Australia, my stay in the country was thought-provoking.
First, it occurred to me that Greg and Shawn at the Castaway's had treated me practically like family. I'd stayed there for the better part of a week, changed my plans on them, stored all kinds of excess luggage with them, and yet they'd barely charged me. In a fully rationalized economy like that of the Northeast U.S., there is a price for just about everything. Cairns has one of the world's most highly developed tourism industries, but certain services didn't have a price and were therefore free, such as luggage storage.
Second, although the U.S. is a richer country than Australia, systems that require cooperation seemed to work better in Cairns. For example, all the taxis in the town have on-board digital displays fed by radio modems. Each driver learns about jobs in his area and the arrival time of airline flights. When I got to the gate, there were no lines to present tickets. Boarding passes have a magnetic strip on the back and you put them through a reader before getting on the plane.
[ Back | Table of Contents | Map | On to New Zealand ]
---
philg@mit.edu
Related Links
Directory Australia .com.- The world's largest category based domain name search directory. Just enter the topic you are after followed by Australia.com. Remember just Australia.com-it! (contributed by scott hull)
Add a comment | Add a link