---
Arriving in Auckland was both very familiar and unreal. Familiar were the McDonald's, the TCBY, and the airport bank giving cash advances on Visa. Unreal was the experience of rolling my free luggage cart over to the domestic terminal and getting on the plane to Wellington. Something felt wrong and then I realized "No X-ray machine." Teresa, a NZ Telecom executive on her way home after a meeting, said "There has never been a hijacking in New Zealand. We only have the machines in the international terminal to satisfying foreign regulators."

Teresa also told me that New Zealand's phone system had been purchased by an American Baby Bell and was now much more advanced than the U.S.'s because it was being used as a testing ground for new services.

They let an American company take over the nation's phone system?

"We went from being one of the world's most statist economies to being one of the world's most free market. The Welfare State was dismantled in the late 1980's. The government has removed almost all subsidies and is selling everything."

A cheerful overstuffed Maori dropped me off at James and Katherine's house in the hilly Hataitai neighborhood. I'd posted a message on soc.culture.new-zealand and James, a computer science graduate student, invited me to stay at his house. James and Katherine walked me up to the summit of Mt. Victoria, from which we could admire the city spread out over the hills, the airport, and the active harbor with its ferries to the South Island.

December 22

Allister, a meteorologist mountain biker I'd also met over Internet showed up in the morning in his 1972 Hillman Hunter station wagon, a quaint if noisy reminder of the good old days when cars were simple enough that small countries like Australia and New Zealand could design and build their own. He had taken the day off and rented me a serviceable Diamond Back bike. We drove thirty minutes out of town to the Incline Walk, which used to carry a railroad over the rugged Rimutaka Range. As we wheeled through pristine forest under blue skies, I reflected that my friends in Boston were surely freezing to death. Given that we had 18 hours of daylight at our disposal, we didn't hurry and took our time looking at streams, waterfalls, and the enormous Lake Wairarapa, for which there is no obvious relationship between spelling and pronunciation. The most exciting part of the ride was going through a 600 meter curved unlighted tunnel. There were enough deep puddles that you couldn't walk through without soaking your feet and yet it was surprisingly difficult to maintain balance in the pitch black. I hit the wall once, but put a foot down and didn't crash.

The only people that we met on the trail were pasty-faced absurdly English-looking boys with knapsacks, straight out of a 1950s English film. This "more British than Britain" scene was to be a harbinger of things to come on the South Island, which is 99% white.

December 23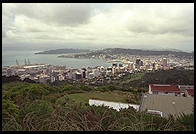 Allister brought me over to Victoria University's engineering and science campus. I was impressed by the strong demand for courses on the geophysics and geology of New Zealand. People here are apparently very curious about their country and frequently come to university to formalize their curiosity. The researchers lent me the test equipment and components I needed to repair my Rollei battery charger. I had cleverly plugged the unit into 240V without changing the transformer tap, thus disabling the $20,000 medium format camera system that I had lugged all the way from Boston.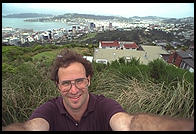 After tea with the computer science faculty, Allister and I hopped back on the bikes for a 16 km circuit of the city's hills, stopping for fish and chips on the wharf before undertaking the killer climb back to the university. Wellington is New Zealand's capital and has a full complement of politicians, but the more time I spent there, the more it reminded me of San Francisco. In addition to the topographic similarity, Wellington is crammed with bookstores, cafes, and gourmet-by-New-Zealand-standards restaurants.
The three hour ferry ride to the South Island can be one of the most beautiful boat trips in the world and cloudy slightly raw weather couldn't keep me off the top deck of the Arahura. Lush green hills came down to the blue-green water and formed intriguing narrow channels. My Polartec headband--all the comforts of sissy earmuffs yet somehow vaguely athletic-looking--and array of cameras made starting conversations easy.
"You probably find it tough to believe that New Zealand had the highest standard of living in the OECD back in the 70s," Jamie, a businessman from Christchurch, offered. "Our dollar was worth more than yours then."
[The exchange rate was 2 NZ dollars for every U.S. dollar in 1993 and salaries in the two countries were comparable in nominal dollars.]
What happened?
"The world market for lamb chops and wool collapsed. The 80s were relatively peaceful and that's bad for wool. Armies buy wool. Much worse, though, was when Britain joined the Common Market. They put up import barriers and wouldn't take our agricultural products anymore. The U.S. came up with excuses not to take our beef and they wouldn't take any cheese so there was basically nobody to sell to except the Australians who have their own problems."
[The U.S. sets an import quota of one pound of cheese per American per year.]
How were farmers adapting?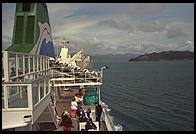 "The number of sheep is down 30 million, half of what it was, and the farmers are raising cows now to supply the American ground beef market. They can't get the carcasses in, which are worth a lot more, but the USDA can't find any excuse not to take the ground beef."
Our conversation ended as about half of my conversations with New Zealanders were to, with Jamie inviting me to stay with him and his family if I were alone in Christchurch.
I had made no advance plans for New Zealand except for the next 17 days on the South Island. It all started with Mom.
Mom was president of Radcliffe Hillel in 1955 and this means that she knows a large number of Jewish families with marriageable daughters. Every so often, Mom would give me a phone number and every subsequent phone call would include the question "Have you called <Rachel|Rebecca|Naomi>?" I learned it was easier just to call them and get it over with.
Almost invariably, these blind dates ended in disaster. My favorite was the time I went up to the Harvard Square apartment of a girl whose name I forget. Let's call her Miriam. We were discussing what to do and I offered "We could go for a walk in the Yard with my dog."
"You have a dog? What kind?" she asked.
Miriam was from Florida so I doubted that she knew what a Samoyed was. I opened my wallet and pulled out George's picture.
"You carry a picture of your dog in your wallet?!? That is the weirdest thing I've ever heard of. I've never met anyone so strange in my life."
I managed to smooth that one over somehow and we were soon walking through Harvard Yard with George. A refined Cuban-American couple stopped to admire him. They had the sort of Old World manners that haven't existed in the Old World for some generations but were preserved by the Latin-American aristocracy. The husband reached inside his camel-hair overcoat and pulled out an exquisite portfolio wallet.
"We used to raise Chows. Here, let me show you a picture..."
At one time, I thought that my mother's object in all this was getting me to marry a Nice Jewish Girl, but I began to question that model after I introduced Mom to a graduate student I'd found on my own. Not only was she Jewish, but she was observant and studying at Harvard. A couple of weeks later, a card arrived from the house in Bethesda, Maryland where I grew up. It was a Hallmark-type card that said "Take some advice from your mother" and had three blank lines to fill in. The first two were innocuous enough. "Take some time off" and "Eat more vegetables." The last one gave me a start: "Find some new women."
Thus, when Mom said I should call Natalie Corleone (not her real name), I figured she'd gotten off her Jewish kick for good. Natalie sounded nice on the phone so I invited her over for dinner. In my imagination, she was a tall beauty, the product of a French mother and an Italian father filled with the best elements of both cultures. I'd made a shambles of my love life in the past twelve months. I broke up a long-distance romance with a woman of real character in favor of a local woman who feigned love in order to get sex, something my women friends had complained about in men but I had never appreciated how deep it could cut until the knife was in the other hand. Being dumped by Miss Insincerity shook me so badly that I couldn't really appreciate any of the women I'd met subsequently. They seemed like a blur of short, dumpy, Jewish, joyless liberals angry with George Bush for being President and angry with their fellow citizens for voting Republican. Thus did I walk to my front door with a lot of hopes riding on Natalie. I just knew she'd be different.
The doorbell rang. I walked lightly to the front door with my best Welcome-to-Disneyland smile pasted on and pulled it open. No Natalie. For a second, I scanned the street to the left and right but couldn't see anyone. Then I looked down to find someone who greatly resembled my 3rd grade Hebrew school teacher.
We struggled for conversation for about half an hour. Natalie was a bitter politically correct feminist with a burning anger at Americans for being so stupid as to elect George Bush. Thoughts of escape ricocheted around in my brain and eventually touched the New Zealand neurons.
"I'm thinking of going to New Zealand in December," I offered.
Natalie was transformed. She told me all about the Flying Kiwi bus/bike trip she had taken around the South Island and how she had the best time.
I decided that if Natalie could enjoy this Flying Kiwi trip, then it must be just about the best tour in the world; I sent them a check for US$495 the next day.
Flying Kiwi House is a standard suburban spread about five minutes from the Picton ferry. The owners were Lucy, an English beauty who picked me up at the ferry terminal, and her husband Micha, a shaggy West German, who was out front assembling a clutch of brand-new mountain bikes for tomorrow's trip. Most of the passengers for tomorrow's departure were assembled in the lounge of this "backpacker's," which is a hotel concept invented in Australia and New Zealand. For about NZ$15/night, you get a bed in a shared room and the use of kitchen and living room facilities. Backpacker's are much more personal than youth hostels and vastly cleaner than American motels that charge less than US$50/night.
Most of the 20-odd passengers were German or Swiss-German, but there were three Japanese, a French engineer, and two bona fide native English speakers besides myself.
December 24
Marc, the French engineer, and I walked into downtown Picton to explore, but we found almost nothing. Most people walk right from the ferry to the train station or drive off toward Christchurch without stopping. We were barely able to find breakfast in the three-block strip of shops that ends in a little garden by the sea.
Marc's PhD was in chemical engineering and he had a postdoc at a university in Australia. It was tough to get jobs in France, especially for a specialist in wastewater treatment, and he was hoping for an industrial job in Indonesia.
After breakfast, we went back to Flying Kiwi house to load up the bus, wait for people who never showed up, and collect money for a food cooperative. We departed three hours late, around 1 pm, and proceeded down Highway 1 to Kaikoura with Micha at the wheel. Micha and Lucy don't normally guide trips anymore, but they were short of drivers and it was a busy season so they bundled their two young boys into the bus and came along with us.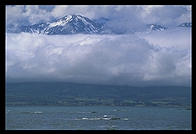 The advantages of having bus support and expert guides were apparent early on. Micha stopped at an unmarked spot on the highway and let us all out for a 5 km walk along the cliffs. A single vista from the trail took in ocean, beaches, pastures, and snow-covered mountains set back slightly from the coast. Then, 15 km short of our campsite, Micha stopped and let six of us hop on bicycles. Despite the fact that we were on New Zealand's primary highway, traffic was light and the ride was beautiful. The sun was out for the first half and the cliffs shone golden. I quickly paired up with Terry, a easygoing Australian who had brought his own bike. Although Terry is 15 years my senior, he bikes 40 km/day at home and was in much better shape.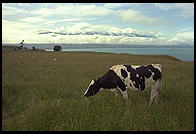 When we arrived in the Pekata Campground, we were disappointed to see that it was hard by the highway, but elated to find that an excellent dinner had been prepared by the food cooperative. Ours was the newest bus in the Flying Kiwi fleet, a veteran of the American Interstate circa 1965. Micha is an accomplished welder and he had refitted the interior by removing about half the seats to create a lounge in the rear of the bus. In inclement weather, it was possible for most of the group to sleep inside the bus, but on most nights people pitched the tents that Flying Kiwi provided. I didn't relish the idea of sharing a tent with one or two random guys so I had brought my own two-person dome tent and pitched it on the beach in the 10:30 pm twilight.
Marc, Nadja, a young Swiss-German girl, Brigitte and Beate, two college students from Stuttgart, Trudi, a Swiss-German divorcée, and Yuki, a traditional Japanese (i.e., Buddhist) organized a candlelight Christmas celebration on the beach, complete with carols in English, French and German.
Christmas Day, 1992
Terry and I had big plans to start at 5:00 am and make all 180 km to Christchurch. I had my tent folded up by 6:00, but Terry refused to budge. We finally started, with Marc, at 8:00 am and managed 45 km down the beautiful coast before the bus caught us around 11:00 am. Downtown Christchurch isn't exactly a throbbing hub on ordinary days, but it was positively dead on a gray Christmas. I spent some tranquil hours in the botanical gardens where the rock and rose gardens demonstrate that this English passion is very much alive here. When we reassembled at the bus, it seems that most of the guys had ended up in a pub.
We drove inland to the Rakaia Gorge and made camp next to a lovely river. Summer was late this year, so not too many people followed Lucy and Micha's example by skinny-dipping in the rapid ice-cold current. Their boys Rubin and Milu followed willingly enough, but after that it was just me and Melanie, a brooding free-spirited German girl who'd run away from family and social obligations to spend nine months in New Zealand. The water felt exhilarating, but I'm not sure how much of that feeling should be credited to the sight of Melanie's perfect 21 year-old body.
December 26
Terry and I set off semi-early for Geraldine, followed closely by Alex, a blond genial he-man, and Saeko, a Japanese woman. Alex was a plumber in Switzerland who had somehow managed to escape all foreign language instruction. Now, at the age of 26, he had developed an interest in travel and discovered that someone who only speaks German is in pretty sorry shape in most parts of the world. He'd come to a language school in New Zealand for a few months, but found it hard going; he didn't even like to read or write German much less English. Saeko, 29, had been at the same school touching up the English she'd learned during 18 months at the University of Kentucky. Her boisterous demeanor demonstrated how a little time in America can undo years of good Japanese upbringing. Saeko was coy about whether she and Alex were "together."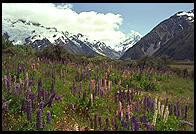 Drafting Terry, I quickly left Alex and Saeko behind in the lush green rolling hills. We made 30 km before the bus picked us up for the ride to a trailhead high above Lake Tekapo. We walked down to the lake through forests and meadows filled with purple wildflowers. Our walk culminated at the little church by the lakeshore that is a mainstay of the New Zealand postcard industry.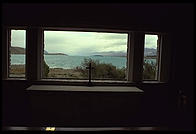 We ended the day with a 30 km ride to our campsite. The day was gray, but the ride was studded with nice views of some of the lakes and reservoirs that generate 97% of New Zealand's electricity. I was beginning to notice that Kiwis felt no need to conserve water or power. Public rest rooms often were designed with continuously running water and electric lights with no switches at all, just burning 24 hours/day.
We arrived at the campsite to find a fine dinner waiting beside frigid Lake Pukaki. Flying Kiwi always travels with a canoe and windsurfer and people invited me to join them canoeing or swimming, but I preferred to read by the lakeshore. I had counted on Anna Karenina lasting me the entire trip, but I had used it up at the Jungle Lodge and given it away to the Kiwi bartendress. At the Cairns mall/hotel bookstore, I asked for some modern Australian literature and was given Peter Carey's Ilywacker. There must have been something deeply wrong with the Booker Prize committee of 1985 because they listed this unreadable non-narrative mess as a runner-up to the barely readable non-narrative Bone People.
Around noon, Christine, a 27 year-old German Ice Princess, had announced that she intended to share my tent this evening. Her flirtations really annoyed Caroline, a dark English woman of the same age who struck me as prim and standoffish. In any event, Christine plunked herself down in my tent around 11 pm and proceeded to strip. As she removed her shirt, she mentioned that she had a boyfriend in Germany.
"We're going to get engaged in one year and married in two years, when he has a better job," she stated flatly. "Do you have a girlfriend?"
I shook my head.
"Well, that's good. Of all the men on this trip, I like Stefan the best but I don't think I'm his type. I like you the best after Stefan."
December 27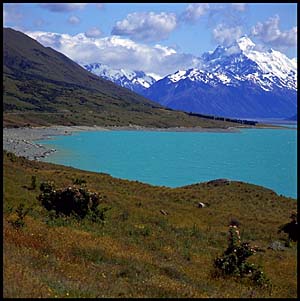 Glorious sunshine greeted me at 7:15 and it seemed the first I'd seen on the South Island. Klaus, Stefan, Marc, Ken and I managed a nude swim in the lake after breakfast. The water was refreshing and the beach close enough to the highway that we were able to moon a few passing busloads of Japanese tourists. Klaus and Stefan were Black Forest German misfits finishing up a seven-month tour of Asia. They were in their late 20s and, six months before, had finished some university courses that they hoped would lift them out of their dreary careers. Klaus had hated his job as a supermarket manager ("work 60 hours, get paid for 38") and it seemed a crime to force this good-natured bear of a man to work for a living. Stefan was much smaller than Klaus, but wiry and athletic with long dark hair and a brooding forehead like Beethoven's. Stefan spoke good English, never complained, and had an easygoing personality. Klaus loved a good beer, was slow to wake up, and could get emotional, but was generally good-natured and laughing.
Ken was an inscrutable Japanese who understood English reasonably well, but spoke with a heavy accent, chose obscure words, and made bizarre unintelligible sucking noises. Of medium height and apparently wimpy construction, Ken favored long pants and green sweaters. He was prone to verbal flights of romantic phraseology, e.g. "the fire makes me feel so sexy," "Nadja, I hope we will meet in our dreams," "I dreamed of us in a flower bed." Even Yuki and Saeko couldn't understand him, but Terry was his tentmate and took Ken under his wing.
On the way back up to the bus, Klaus asked me how I felt about being surrounded by Germans. I answered truthfully that I was really enjoying the German and Swiss-German men, but that it might be nice to trade the German women for some Italians. Klaus and Stefan howled in agreement.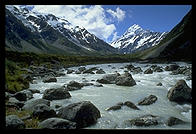 The scenery driving along the shores of Lake Pukaki was fabulous, with the distant mountains around Mt. Cook crystal clear despite 60 km of intervening air. Because of the rainshadow of the western coastal mountain range, the land here is dry. It looks a bit like the Eastern Sierra but with the added bonus of a an enormous blue-green lake in the foreground.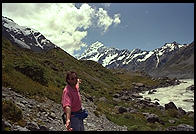 Upon arrival at Mt. Cook National Park, seven of us hiked up the Hooker Valley trail for a couple of hours until we reached an iceberg-filled lake at the foot of Mt. Cook. The icebergs had been created by calving from a beautiful deep blue glacier whose face was exposed at one end of the lake. We hiked the track under deep blue skies and soaring snow-capped mountains. Conversation ranged from joshing Ken whenever we passed Japanese women to a controlled experiment that Stefan and I conducted. We said "Konichiwa" to all the Japanese who passed and their faces lit up with pleasure; we said "Guten Tag" to all the Germans we encountered and they grunted or failed to acknowledge us at all. Melanie claimed it was because they all felt guilty for being heirs to German wars and didn't want to be recognized, but Stefan and I chalked it up to general sullenness.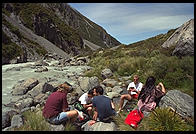 After four hours of hiking, Marc and I decided to cycle 60 km back to camp. Micha promised us a strong tailwind: "you'll hardly have to peddle." That was true for about 15 minutes, after which the wind gradually shifted until it was a steady 20 kph in our faces which made for a good lesson in Kiwi dialect. "Pushbike" means "bicycle" and "knackered" means "tuckered out." After our three-hour ride, we understood both terms intimately.
Dinner had been kept waiting for us along with a big campfire. It seemed a perfect time to haul out the old PowerBook and do a little writing, but this drew brickbats from everyone except Melanie. My attachment to the machine was so apparent that it had become a standing joke that it was my girlfriend and needed a woman's name. Thus did my Macintosh PowerBook 170 become "Samantha."
December 28
This was a long day of driving and storytelling in the lounge area of the bus. I felt a tiny twinge of homesickness so I popped a Country & Western tape in someone's boom box. All the German women derided the sentimental ballads and spoke so coldly of their relations with men that it was scary. Stefan, Klaus, Caroline, Terry, and I got to know each other a lot better and we all laughed at Marc, visibly exhausted after a sexless, but apparently also sleepless, night next to Caroline. She hadn't slept well either, but we weren't sure what she had been contemplating; Caroline was tough to read and seemed ever more complex. Her proper English reserve hadn't melted much, but we heard vague dark reports of a broken romance with a man in his 40s.
Christine removed a splinter from my foot with such skill and care that I made a mental note to love her forever, even if she had called me second choice. She had some remarkable qualities, not least of which was the ability to maintain a pampered well-kept appearance despite the travails of living rough. She never put herself in awkward situations and thus managed to maintain more dignity than most people.
I joined Christine for a canoe ride on Lake Te Anau, but even with Klaus and Dorothea, a prodigiously strong German nurse, paddling we failed to reach deep water fast enough to escape being dumped out by Alex and Stefan.
After a lakeside picnic, we had a beautiful drive up north along the vast Lake Te Anau, in back of which were steep dry mountainsides. There wasn't a cloud in the sky at 11 pm when we got to camp and the stars were magnificent.
December 29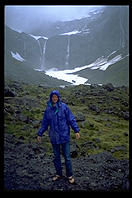 After another chilly night with Christine, during which the weather turned windy and somewhat rainy, I rose at 7:15 to find a lot of ugly clouds but a refreshing absence of sandflies, about which we had heard terrifying stories. These tiny insects were apparently far more ravenous than mosquitoes and swarmed in such numbers as to make life a living hell.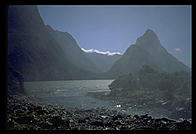 Persistent rain fogged the windows on the long drive to Milford Sound, but created spectacular torrential waterfalls down the cliffs on both sides of the road. Imagine 100 Yosemite Falls placed one right next to the other.
Milford Sound is supposed to be the scenic Holy Grail of New Zealand, but with mist obscuring nearby peaks, water sheeting down, and a stiff wind, I remained agnostic and declined a chance to go on an all-day fishing cruise in a small boat packed with some people on our tour plus an entire busload of Germans from another Flying Kiwi bus. We were all disappointed, but the day got better incrementally. Someone discovered that the cruise boat terminal had hot water and mirrors so all the men went in there to shave. It seemed like a sinful luxury. Our Flying Kiwi bus had a hot water heater and makeshift shower that made daily showers reasonably pleasant but none of us had figured out a good way to shave.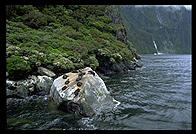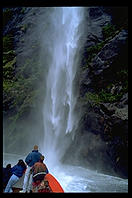 Klaus and I played chess. I promised him Christine as a reward for winning the first game, but he tried to give her back as my reward for winning the second. As the afternoon wore on, we noticed that the weather was clearing and hopped on the 3 pm megatourist boat, which was a truly fine spacious craft. The sky was still a bit gray, but the scenery was marvelous, all the waterfalls having become supercharged from the recent rain. Our captain was able to maneuver our huge boat within a few meters of the edge of the Sound (technically a fjord) so that we could experience the spray of a waterfall or get a close look at a seal colony.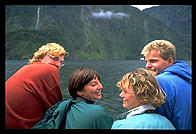 [ Back to Australia | Table of Contents | Map | On to the Routeburn Track ]
---
philg@mit.edu
Add a comment | Add a link