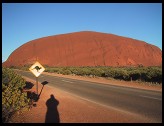 Choosing a Camera for a Long Trip
by Philip Greenspun; revised August 2018
---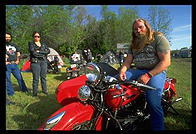 Why a separate article on choosing a travel camera? Any photographic situation you might encounter when traveling would be better covered in a specialized article about specialized equipment. Getting a good picture of bears in Alaska presents mostly the same challenges as getting a good picture of bears in the local zoo. Getting a perspective-correct image of a church in Paris is the same problem as getting a perspective-correct image of the local Kwik-E-Mart.
What then separates travel photography from home-based photography? You can probably get your 300/2.8 lens down to the zoo. You can probably get your view camera down to the Kwik-E-Mart. But you certainly can't get the right camera for every potential situation into one backpack and carry it around the world.
Picking equipment for a trip is therefore a process of deciding what kinds of images are most important to you and making a conscious decision that you'll leave the rest for another trip.
This article originated in 1997 and I've left in a lot of the film-related tips for nostalgic reasons and for passionate eBayers. The current digital recommendations are highlighted.
What Kind of a Trip?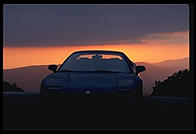 Is a primary purpose of your trip photographic? Or are you going to be gone only a few days with just a few hours in between business meetings? If you're not going to have time to concentrate on photography, then you'll probably get the best results by simply carrying a pocketable point-and-shoot camera.
If you're going to spend an hour or more per day trying to achieve some artistic objectives or seriously documenting your journey, only then is it worth considering taking a camera that won't fit into your shirt pocket.
What Kind of a Point and Shoot Camera?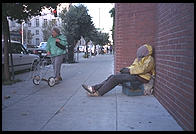 Suppose that you're really just on a business trip. Read this buying guide to point-and-shoot cameras and pick one. The one additional caveat I have to offer is that P&S cameras aren't very reliable. This isn't such a big problem if you're at home and can just pick up another camera. If I had to rely on a shirt-pocket camera, I'd pick something as simple and expensive as possible. So the fixed-lens Yashica T4 Super or Ricoh GR1 would be reasonable choices.
2018 update: The Sony RX100, available in various versions, is the true heir to the great film point-and-shoot cameras of the past. It has a 1" sensor, which is much larger than a smartphone's sensor, and therefore produces dramatically superior results. If you don't need a sports-length telephoto, you can save a lot of money by not getting the latest and greatest version, which includes a superzoom.
What Kind of Serious Camera?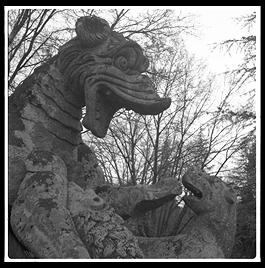 First, bring a P&S camera. There will be portions of your trip when you'll be too tired to carry the real camera but ought to be prepared in case an exceptional situation arises.
Second, resist the temptation to bring more than one serious camera system. Sometimes I go away for a few days and take a Canon EOS single-lens-reflex system (plus some 35mm film), a Fuji 617 panoramic camera (plus some 120 film), and a view camera (plus some 4x5 film). This is insanity and, on a short trip, I almost always end up taking 99% of my pictures with the 35mm SLR.
Does that mean a 35mm SLR is right for you? Probably. It works for professional photojournalists. But if what you truly hope to come back with are a few exceptional landscapes then a folding view camera or a medium-format rangefinder camera might be a better choice.
2018 update: The Sony APS-C mirrorless system is a sensible choice for all-around travel and family photography. The kit zoom is remarkably good image quality and the higher-end Sony/Zeiss lenses are excellent.
What Lenses for a 35mm (or full-frame digital) SLR System?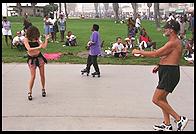 If you pick a 35mm SLR, you've got yourself a reliable and comfortable-to-use body. However, you now have to figure out which lenses to buy/bring. Canon makes 50 lenses for its EOS bodies; Nikon makes nearly 100 lenses for its F-mount bodies. You probably can't carry more than 3 or 4.
A tempting decision is to get a single wide-range zoom lens such as Canon's 24-85 or Nikon's 24-120. I'm not a big fan of cheap slow zoom lenses for home-based photography and I'm not convinced that they work so great for travel photography either. What you are trying to capture in that exotic foreign land is the exotic foreign light. If the maximum aperture on your lens is f/4 then you'll be forced to use electronic flash far too often. The light from an electronic flash is the same in Paris and Peoria.
Is your goal to get great portraits? Take an 85/1.8. It is compact and admits more than four times as much light as a mid-price zoom lens. Is your goal to cover some of the cracks in your wall with scenery? Take a 24/2.8. The sharpness in 16x20 enlargements will be acceptable. Want photos taken inside museums where the lighting is subdued? Take a 50/1.4 (works in 1/8th the light of a mid-price zoom lens).
Is your goal to get photos of buildings without converging vertical lines? Take a perspective correction lens (explaining their use is beyond the scope of this article).
Is your goal to get some great photos of the Katmai bears? Take a 300/2.8 lens. Can't afford the $4500 or weight/size given that you're only going to be in Katmai for two days out of a one-year round-the-world trip? Enjoy the bears and buy a postcard. You must make some photographic compromises and expect to walk away from at least 5% of the great photo opportunities.
Oh yes, which brand and model of body? I don't think it makes much difference. I've written about the Canon v. Nikon choice and also try to keep current with a few models in my camera buying tutorial. Just don't get a Nikon N90 and 28-200 zoom lens.
A Tripod
Take a tripod if you possibly can. Search for "compact tripod" at Amazon to see the possibilities.
What Film?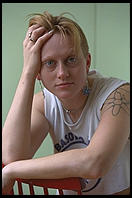 I wrote a longish piece about film. One item that I'll add for a long trip: stick to one or two emulsions. If you know that you'll want to do a big slide show at the end, then take only slide film. If you think you'll be doing only a Web site then consider color negative film, ISO 400 for everyday use and ISO 800 for low-light. If you're on an artistic black & white inner journey, then limit yourself to Ilford Delta 100 and Delta 400 (for example).
Airport X-Rays
The X-ray machines for carry-on luggage are safe. The X-ray machines for check-through luggage are not safe. Keep all of your film in your carry-on luggage and ask for hand inspection where possible but don't freak out in airports like Heathrow where this is not an option.
What about Digital?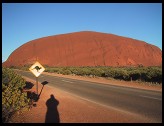 What about a digital camera? You could replace either the point and shoot or the "one serious camera" with a digital camera. Then you wouldn't have to worry about film and X-rays. Also, whenever you can find Internet connectivity, you can share your images with friends.
The main problem with a digital camera circa 2001 is that it will most likely force you into carrying a laptop computer, laptop computer battery, laptop computer battery charger, laptop computer carry case, etc. Instead of shopping for AA batteries in the pulperia and stuffing exposed rolls of film in your pocket for processing and examination back home in Des Moines, you're constantly looking for places to recharge your traveling technology circus and spending evenings editing photos instead of enjoying the nightlife.
If your trip requires you to carry a laptop anyway, a digital camera may make sense. A pocketable such as the Canon S100 or Sony DSC-P1 makes a lot of sense. As a travel camera, the bulky "full-size" point and shoot digitals like the Nikon 990 and Canon G1 don't make sense. They are sort of like the gargantuan 38-140 zoom point and shoot film cameras. Too large to put in your pocket and carry at all times; too limited, slow, and cumbersome for creative photography. Most of the single-lens reflex (SLR) digital cameras don't make sense for travel either. Cameras like the Nikon D1 and Canon D30 require you to pack lenses designed for 35mm film cameras. Given the small size of the image sensor in these digital cameras, that is sort of like carrying around a set of Hasselblad lenses for use with a Nikon. It works but why would you want to incur the extra weight, bulk, and expense of lenses designed to cover a much larger negative? Either get an Olympus E-10 with its built-in purpose-built zoom lens or wait until camera companies manufacture complete compact digital SLR systems, with their own lenses.
Trust but verify...
Whatever camera you buy, make sure that you test it before you leave! Expose a roll of color slide film using all the various different exposure, autofocus, and flash modes. Take it to a professional photo lab for 3-hour development. Ask them to look at the slides and tell you whether or not you and your new camera are working together properly.
More
---
philg@mit.edu