---
Since Bill Clinton was one of the speakers, everyone attending MIT's graduation in 1998 had to be checked out by the Secret Service.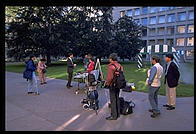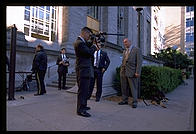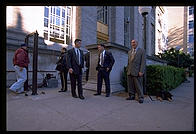 The professors and speakers assemble under a big canopy, shading them from the sun. This is kind of rude because (1) it makes getting a correctly exposed photograph of the profs + Building 10 impossible, and (2) it leaves the grads and parents out to roast.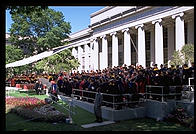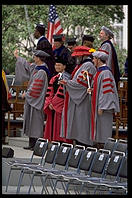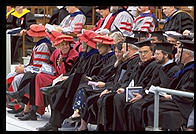 After all the profs are seated, the students file in.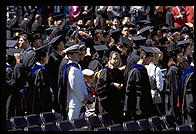 Throughout this process, the Secret Service hovered nervously. Presumably they are used to having to protect presidents from political protesters but with Bill Clinton anyone with a daughter, wife, or girlfriend is a potential assassin.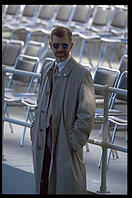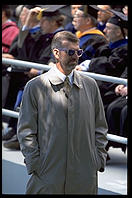 Though the graduates and parents had been cooling their heels since around 7 am, Bill Clinton didn't roll in until after 10 am.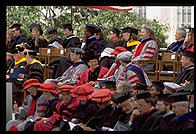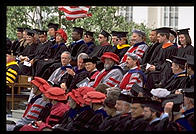 An Indian swami guy whose presence was never explained (I later learned that he is the MIT chaplain) gave an invocation that nobody understood. My friend Rajeev says that it ended with the standard "peace", "peace", "peace", which he found ironic considering that India had just exploded five atomic bombs.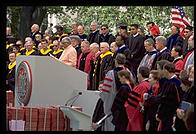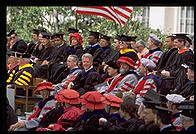 David Ho, an MIT grad and pioneer in the area of AIDS treatment, gave a 20-minute talk. Though Bill Clinton noted in his talk that he'd met David Ho 30 minutes before and that this meeting was fascinating for him, he spent much of Ho's talk reading some sort of book.
Ho didn't have an impressive speaking style but he argued eloquently for more funding for research and that prejudice against immigrants was shameful. His personal example was inspiring but he didn't gloss over the fact that most biology researchers suffer painfully.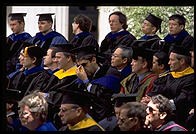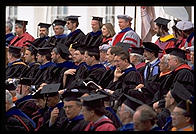 Chuck Vest, the affable president of MIT, spoke after Ho. My undergrad friends who'd covered previous years' graduations said that he's given the same speech (punctuated by the same jokes) at least four years running. Personally I can't remember anything Chuck Vest has ever said either in person or in print, except one joke he told at graduation about being a "model president" (small-scale replica of the real thing). Here are a couple of pix: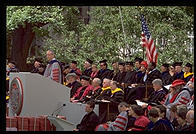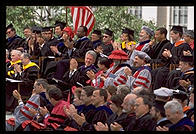 Clinton spoke after Chuck Vest. Many of the MIT community members present were hoping that the President would outline a plan for getting the military regime in Peru to free Lori Berenson, member of the MIT Class of '91, who was sentenced to life in a one of the world's harshest prisons, essentially without trial, on very thin charges of treason. Berenson has been classified as a political prisoner by Amnesty International and 55 senators have asked the Clinton Administration to twist Peru's arm.
Instead, police ejected anyone with a Berenson placard and Clinton talked primarily about the past achievements of his administration. The assembled graduates stared blankly, presumably because they were more concerned about their futures (e.g., paying off their vast student loans).
Being a Web nerd, I was gratified to hear Clinton talk about his goal to wire America's classrooms to the Internet. I hope that he starts here at MIT because I've never found an MIT classroom where I could walk in and start using a Web browser to show something to one of my classes. The faculty listened patiently.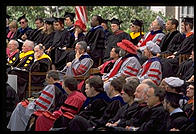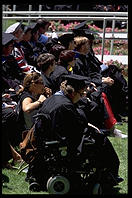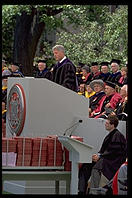 A reporter later asked me what I'd thought of Clinton's speech. I replied that "I was flattered that the President of the United States chose to visit MIT but I wish that he had said something."
After his speech, Clinton presented degrees to a few members of student government. I used the picture below in my point and shoot photography tutorial. Note that woman on the platform with a point and shoot camera. Do you think her simple apparatus kept her from getting a way better photo of Clinton than any of mine?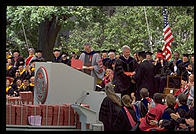 After all the speakers were done, MIT officials began handing out degrees to a river of nerds.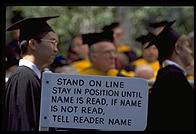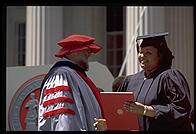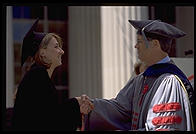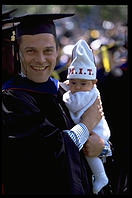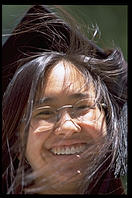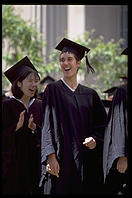 The assembled mob of familes grew restless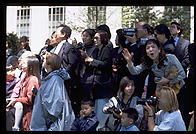 The graduates were mostly catatonic.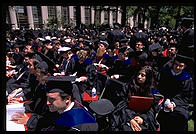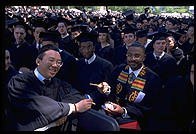 (Note: If you use my big JPEGs or FlashPix options, you'll find that the fellow on the right is wearing a "free Lori Berenson" ribbon.)
The faculty retained their composure on stage, though if you looked carefully you'd find that some were hiding novels inside their programs.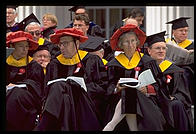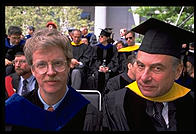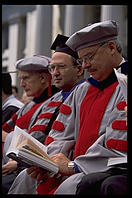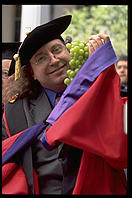 The Chorallaries sent everyone off with a song.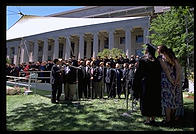 Families were reunited.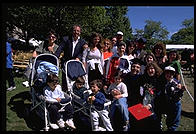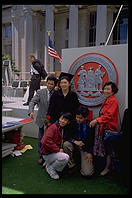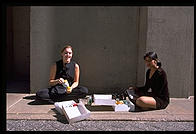 The end.
Oh yes, please don't forget Lori Berenson freezing in her windowless jail cell at 12,700 feet above sea level, without heat or running water. She was expunged from the official MIT News Office story on graduation but I'm not sure that means the community should ignore her.
---
Tech notes: Many of these photos were taken from the press box, which is way way too far from the lectern for my puny 300mm lens (Canon 70-200/2.8L + 1.4TC, bolted to a Canon EOS-5 body, bolted to a monopod). I used far too much Kodak E200 slide film, which I've now decided is the same old crud (bad grain and detail) with better marketing to appeal to naive fools like me. On a light table, the slides taken with Fuji Astia (ISO 100) look astoundingly better (these are the wider-angle shots since I had Astia in the body with a 17-35/2.8L lens).

For Real Printed Copies of some of these images (plus ones of much more interesting subjects), get a copy of Technique 1999, the MIT yearbook that consistently attracts the best photographers on campus.

Images copyright 1998 Philip Greenspun.
---
philg@mit.edu
Reader's Comments
Can you tell me a little more about the regalia? MIT is crimson and grey, of course, but do the funny-hats-vs-mortarboards have any significance? Do Institute profs only get to wear the MIT colours if they've graduated as well? Finally - who's the guy with grapes up his sleeve? ;)

-- Chris Neuman, September 10, 1998
I found the following paragraph on your page.

"An Indian swami guy whose presence was never explained (I later learned that he is the MIT chaplain) gave an invocation that nobody understood. My friend Rajeev says that it ended with the standard "peace", "peace", "peace", which he found ironic considering that India had just exploded five atomic bombs."

I fail to understand the irony. What has the Swami ,who is the MIT chaplain, got to do with India exploding five atomic bombs. Or am i to assume that by virtue of him being an Indian, somehow makes him responsible, and thus the irony ????.

roshan>

-- Roshan D'Souza, February 10, 1999
When I was a teenager the 80' I used to play my little game identifying 'undercover' workers for the secret services. This was happening in Romania during Ceausescu's dictatorship. It wasn't a strenuous task as anyone could spot the grey overcoats. And now, ten years later, I was suprised to notice from your pictures that in US, government security agents look surprisingly similar like our former "securitate" agents. Hmmm....!

-- Bradut Boghita, August 21, 1999
Maybe "peace, peace, peace" was a request made of the world's governments (Clinton in particular?), rather than a statement that peace exists now.

Those orange hats are unusual. What do they (with the remainder of the outfit) signify?

-- David Bessey, October 12, 1999
Philg wrote, "A reporter later asked me what I'd thought of Clinton's speech. I replied that "I was flattered that the President of the United States chose to visit MIT but I wish that he had said something."

I've said the same thing myself...over and over....

For a person who graduated from Oxford University and is also a Rhodes Scholar, he's got the whole world fooled, including himself!!!

-- Marika Buchberger, October 24, 1999
Add a comment | Add a link