Site Home : Boston-area Wedding : Activity

---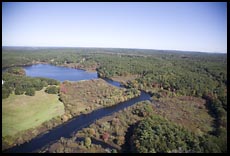 To welcome our out-of-town guests to Boston, we thought it would be nice if they could see the city from the air.

We invited them to a plush conference room at a private jet terminal overlooking Hanscom Field, about 15 miles NW of Boston. I picked up some catering trays and drinks at Costco, but we could also have had any of the companies that caters for the Gulfstream crowd come in. Every 15 minutes or so, we would take a small group of guests up in a helicopter for a tour of the revolutionary war battlefields, Walden Pond, and/or downtown Boston. Not everyone wanted to fly, but everyone had a great time hanging out and watching the airplanes come and go, the helicopter come and go, etc.

How did I arrange it? I could have called East Coast Aero Club and asked for two R44 helicopters and two instructor/pilots for the afternoon. It would have cost about $500 per hour per helicopter and, if some people take a short loop around Walden Pond and Concord, perhaps 20 guests can be accommodated per hour per helicopter. But as it happens, I am one of the instructors at the club, so I just booked a helicopter myself and took the guests for rides.

Many people had never been in a helicopter before and will remember the experience forever.

More: Boston Helicopter Tours page.
---
philg@mit.edu