Site Home : Boston-area Wedding Tips

---
We were married in Boston in October 2008. We hope that some of our experiences and ideas will be useful to others.
When
Most months of the year, it is abusive to ask people to come to Boston. The weather is horrible and hotels are expensive. June is usually reasonably nice, but if people are coming to New England from far away they will want to see foliage. A wedding in late September or early October is thus ideal.
Where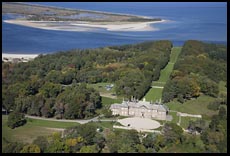 I've always hated weddings where people are trapped in a hotel conference room on what otherwise would have been a nice day outdoors.

We got married at the Crane Mansion, also known as Castle Hill. This is the nicest house in Massachusetts, the only one comparable to the mansions of Newport, Rhode Island. Guests can walk on the adjacent public beach prior to the event, then around the manicured grounds, all the time enjoying ocean views.

The Crane Mansion is open for public tours most days until 5 pm. Therefore if you want to have a daytime wedding, it will be on a Sunday. During the summer, it is conceivably nice to be at the Crane Mansion during their normal 5-10pm time block. In foliage season, however, it will be dark by 6:30 pm, and Sunday is the only day worth considering.

The events staff at the Crane Mansion has a lot of experience with weddings and can help with many of the details for which you'd ordinarily hire a wedding planner. Figure that it will cost $10,000 more than having the wedding in a boring hotel.

The main drawback of the Crane Estate is that it is a little more than a one-hour drive from downtown Boston. We got lucky with the weather, which was about 65 degrees and sunny with calm winds. That made it absolutely worth all of the planning and effort. We had the ceremony outside on the lawn with the ocean in the background. Guests spent a lot of time outdoors on terraces.

If the budget is tight, I think it would be better to have a tuna sandwich at the Crane Mansion than a sit-down meal in a hotel. Also, you don't really need flowers or other decoration in a spot where Nature and the gardeners have already worked so hard.

Contact info: castlehillfunctions.thetrustees.org (probably best to book a year in advance for a summer wedding).
Weekend Events
Some of our guests came from as far away as New Zealand. We wanted to make sure that their trip was worthwhile, so we organized a full weekend of events. Here was our schedule:
Friday afternoon: helicopter rides over downtown Boston, with afternoon snacks and drinks set up in a conference room overlooking Hanscom Field
Friday night: family dinner; Suggestions for non-family: Dinner at Cambridge 1 (pizza/salad/wine) in Harvard Square and then walk around Harvard Yard or movie at Harvard Square theater; taxi over to the Museum of Fine Arts, which is open until 9:45 pm on Friday and has a good restaurant serving dinner until 8:30 pm.
Saturday day: chartered bus took interested guests up to the White Mountains of New Hampshire (itinerary)
Saturday night: salsa party, with live band and instructors, at hotel
Sunday: wedding itself
Monday morning: brunch at home
Vendors
Here is a list of Boston-area wedding vendors that we used. In some cases, e.g., caterers, the choice was limited by the Crane Estate.
---
philg@mit.edu