Costa Rica Handbook
by Christopher Baker, circa 1994

Home : Travel : Costa Rica : One Section
---
Note that this excerpt from the Costa Rica Handbook is obsolete. If you're planning a trip, we recommend that you buy the latest edition of the hardcopy book from amazon.com.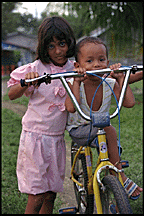 ---
Traditional Review
Christopher Baker's Costa Rica Handbook is part of the Moon Travel Handbooks series that I've enjoyed in many other corners of the world including New Zealand and New Mexico. Strong points of the book include the following:
100 pages of introductory material on the history, politics, and ecosystems of Costa Rica (more or less what you see above)
Another 100 pages of practical general-purpose tips
350 pages more of region-by-region coverage, illustrated with 75 maps and containing accurate phone numbers for just about every organization or business you'd ever want to call.
Useful information on learning Spanish in or moving to Costa Rica.
I think the book was well worth the $17.95 I paid for the May 1994 edition. Moon Publications has on-line ordering information or you can order from amazon.com.

If you are doing an independent public bus-based trip, you might find the Lonely Planet guide helpful, but in general everyone I know who has tried both prefers the Moon guide.
---
Text copyright Christopher Baker. Photographs copyright Philip Greenspun.
---
philg@mit.edu