---
Aarangi Backpacker's shuttle picked me up at the train station and brought me back to their pleasant house across Hagley Park from downtown. I rented a 1970s touring bike from the proprietor. It seems that a German tourist had left it with him. Despite its vintage, the bike was a lot faster than the Flying Kiwi bikes with their fat knobby tires. Skinny tires and the flat terrain of Christchurch made me feel like Superman. I set off at 8:30 pm in shorts and a shortsleeve shirt for a tour of the town, which was still drenched in plenty of sunlight.

January 11

The old University of Canterbury was downtown in a set of beautiful gothic buildings that are now an arts center. In the 1970s, the school abandoned their distinguished campus for a set of modern buildings set amongst landscaped grounds on the outskirts of town. The computer science faculty set me up with an Internet connection to MIT, ripped apart my PowerBook to try to figure out why I was having trouble charging batteries, and took me out to lunch.

There are only two restaurants within walking distance of the university and my host Tim had been at the university for eleven years. One was a Chinese-run dim sum parlor and I asked him how it was.

"I've never tried it."

It was superb.

In the late afternoon, I rolled over to New Zealand Photocorp, the one professional photo lab on the South Island. Work had ground to a halt so that employees could take pictures of a bikini-clad beauty sunbathing on a scaffold across the street. I left them my slide film.

Marita, Brigitte, Dorothea, Klaus, and Stefan had all just arrived in town and they met me at the Dux DeLux vegetarian restaurant/seafood bar/cafe, a famous tourist trap that was packed with Germans.

The women had taken the train down, but Klaus and Stefan had hitchhiked from Nelson. Given Klaus's massive size, their long hair and unshaven beards, I said that I expected it had taken them awhile to catch a ride.

"Ten minutes," said Klaus, "A television producer in a station wagon stopped. He was on his way to Christchurch. We asked him to let us off in Blenheim because we needed to pick up some stuff in Picton. He said `tell you what, I have some stuff to do in Blenheim that will take about an hour. Why don't you guys take my car and get your stuff in Picton, then come back and pick me up and we'll all go down to Christchurch?"

January 12

I was up a little earlier than everyone else, so I came down to the dining room, plugged in Samantha and toasted some bread for myself. Ten minutes later Brigitte appeared in front of me with dishes for six in her hands. Before I could move, she had connected two tables and set forth a feast of fruit, cheese, pate, jam, toast, cereal, and milk. It occurred to me that this demonstrated a fundamental difference in our characters.

Somehow on the Routeburn Track I had smashed the UV filter on my Nikon 28mm lens. Shards of glass had fallen from the broken filter into the lens itself and I couldn't see any way to get them out without scratching the front element. There is a Nikon Authorized Service Center in New Zealand, conveniently located 1000 km away in Auckland, but people said to go talk to Jack Ruth so I biked over there.

Jack's shop is called Technar Electronics and it is a musty workshop on the top floor of a building in downtown Christchurch. I found Jack, a man of about 60, and two younger assistants amidst a sea of old test equipment and tools. Jack inspected the lens for a minute, then managed to use a pointy tool to lift a plastic ring right next to the front element. He knocked out some of the larger pieces of glass with a hand blower, but it was clear that the lens would have to disassembled.

The only thing I know about lens disassembly is "spanner wrench," but there were no slots for a spanner wrench on the front ring. Jack used a rubber emergency gas cap to get enough purchase on the smooth ring to unscrew it. There were only three screws holding the next ring, which was quickly removed to expose all of the broken glass. Jack went after the fine shards with the blower, then cleaned the exposed front element with cotton dipped in acetone before reassembling the lens.

The total charge for 20 minutes of expert precision work? NZ$8.

Returning to New Zealand Photocorp confirmed what I already knew: having a good time and taking good pictures seldom go together. For one thing, I'd only exposed eight rolls of film since leaving the U.S.
---

Every day at 1 pm, a long-haired middle-aged man in a wizard outfit brings a red stepladder into Cathedral Square and delivers an oration. "Men are smarter than women. Animals that are more intelligent take longer to mature and animals that are more playful are judged more intelligent. Thus, for example, we judge a dolphin more intelligent than an insect because it knows how to play. Women mature quickly and turn serious when they are very young. Men take longer to mature and remain more playful than women, ergo they are more intelligent."
The crowd of 100 listeners sat calmly on steps.
"Women are in fact the root of all evil. The world was a nice place until 7000 years ago when women became moral. Still, if you have to get married, make sure it is with a young girl. A man of 35 is a good match for girl of 18 or 19 because men mature later. Men who love to cry, suffer, change diapers, and say `I'm sorry' are really women. Every time a man says `sorry' is bullshit. Don't ever admit error because it changes your hormones.
Man's great weakness is willingness to obey his wife. This the only sin for which a man may not be forgiven by God. It says so in the Bible. God's punishment is forcing him to work, something I have not done since 1968.
Men know they are stupid, but women take them seriously. Women love work and think men ought to even though men hate to. You cannot please women, if you agree with them they despise you for being a wimp, if you don't, they hate you...
"I have tried so hard to be humble, but something inside tells me `lucky you.' It is not just because I live here in God's own country. I wake up in the night thinking `I might have been born Chinese, Jewish, African or even... American. It is almost unthinkable, but I might have been born a woman.'
"Adam was the worst man in the history of the world. Why? Because he obeyed his wife and had kids. Jesus was the best man in the history of the world. Why? Because he had no kids, lived off young women, told them he was God's gift to them and they believed him. Check your Bible: women adored Jesus and touched his hair.
Right now I'm going to offer blanket forgiveness to all the women in the audience who have nagged men to death. Step forward if you want forgiveness."
Nobody budged.
"I like to do this. Men feel best when they forgive women, but when they say `sorry' they die."
An audience member accused the Wizard of misogyny.
"I love women. I live with three wonderful women. Women are better at everything practical. The only thing that men can do better than women is the ego trip: jumping bragging, shouting, lying. However, women have to think the man they are with is god. Women cannot have an orgasm without thinking that the man is god-like. Sex should be a women's religion and ego a man's; babies are a mistake."
The Wizard went on at some length to tear apart Christianity, which upset a man from Dunedin, then stepped down from his stepladder. I asked him what he thought of the French saying "God made man and saw that he was lonely. God made woman so that the man might feel his loneliness more acutely." This addition to the Wizard's stock earned me a free Wizard's Map of the World. The Southern Hemisphere is on top, with New Zealand, at the center.
---
The wizard's Web site: http://www.wizard.gen.nz/. Photo and audio courtesy of Christian Treber
---
January 13
Klaus, Stefan, and I piled into their tiny rented Mazda hatchback. In hopes of sleeping in the back, they had reserved a station wagon from A1 Car Rentals, one of the many vendors of used Japanese cars (literally cars that have been used in Japan for three years then shipped to New Zealand because their owners didn't want to go through the hassle of the Japanese inspection).
Our first stop was the International Antarctic Center. Christchurch is closest stably governed city to the South Pole and the U.S. Navy runs a huge supply operation from the airport here. Like most fabricated tourist attractions in New Zealand, this one proved disappointing and we weren't sorry to head south on the coastal road.
After three hours pushing through the rain, we stopped in Oamaru and walked by chance into what must be the nicest pub in the world: the Last Post Inn. This is a renovated 1842 stone post office warmly furnished with leather upholstery. As the bill for NZ$6.50 was presented for my (excellent) steak sandwich and salad, I reflected how nice it was to be in a society where I could afford everything. This was, of course, partly due to the wonderful-for-me exchange rate prevailing at the time, but also due to the lack of rich people and associated services. The huge class of credential-holding yuppie lords in the U.S. that support Mercedes dealers and $80/person restaurants is either missing from New Zealand or isn't paid very well, e.g., doctors get about NZ$40,000/year, which is about the same as an engineer's or manager's salary.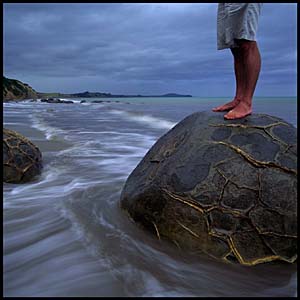 As we approached the famous Moeraki boulders, the heavens cleared just enough to make the 300 meter walk to the beach pleasant and photography with the Rollei possible. The boulders rest in the surf of the South Pacific and their preternaturally round shape and patchy quilts of rock crystal make them look like dinosaur eggs.
Jane King's New Zealand Handbook says "made of carbonate of lime, silica, alumina, and peroxide of iron, the boulders were formed by chemistry on the sea floor about 60 million years ago through the slow accumulation of lime salts around a small core; the cracks are filled with yellow calcite crystals."
The light was fading at 10 pm when we arrived at the Elm Lodge in Dunedin, a super plush backpacker's high upon a hill overlooking the South Pacific. With a reputation as one of the nicest backpacker's in New Zealand, we weren't surprised to find that the place was full. However, Marita, Dorothea, and Brigitte had already checked in and they invited us to squeeze into their triple.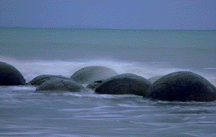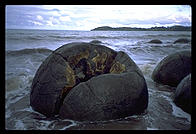 January 14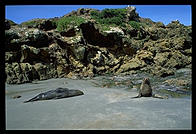 The girls served us breakfast and then Klaus, Stefan, and I headed out to the Otago Peninsula, which the girls had already toured. We worked our way out to the tip very lazily under rare blue skies. Larnach Castle, like most of the manmade things we'd read about, didn't live up to its description in the guidebook. We tried to have a picnic in Portobello, but high winds drove us back into the car. While inside, we had one of the strangest experiences of the trip. We watched two women in a sea kayak paddle into shore and then struggle to haul it up on the beach. They were about 10 meters away when it became obvious that they weren't managing very well and we got out of the car to help them. The "women" turned out to be only about 10 years old and hardly more than waist-high. Perhaps we were unaccustomed to the sunlight, but we didn't completely trust our senses after that.
---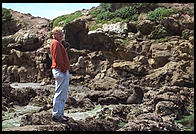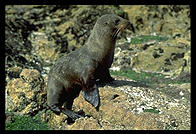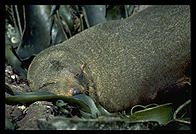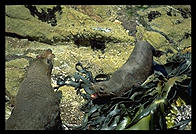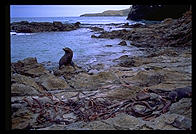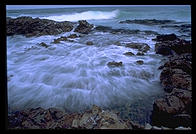 ---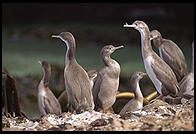 Penguin Place is named for the blue penguins that come ashore en masse each night, but a fur seal colony hangs out there full-time. Although a "seals bite" sign cautioned us to stay off the rocks, we found that if we approached slowly, the older seals would tolerate us within about one meter.

In addition to watching the seals play and fight, we observed a group of about 100 cat-sized gray cormorants nesting in the cliffs. The ones on the beach would tolerate our presence within about three meters. Then we embarked on a tour of the yellow-eyed penguin sanctuary.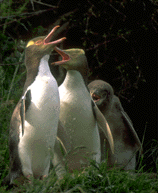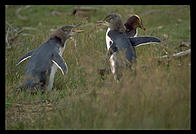 By standing in blinds, we were able to stay within five meters of the birds without disturbing them. The adults have yellow bands around their eyes, hence the name. We saw three families at the perfect time of day, around 5:30 pm when the parents had come back from the sea with food for their children. It would have been nice to have a 600mm lens, but I managed to get a few decent photos with a 200. The most interesting part of the commentary was that the penguins, which normally live about 22 years, mate for seven years and then look for someone new--the Seven Year Itch in the animal kingdom.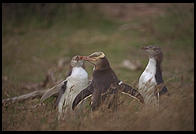 It was 6:30 pm and we had a mere three and a half hours of daylight left in which to explore the rest of the Otago Peninsula's wildlife. We stopped at the Royal Albatross Colony and were lucky enough to see 15 huge birds soaring in the air. This is billed as the world's only "mainland" nesting site for albatrosses, but these birds don't stick to New Zealand. One tagged bird was observed making a round-trip to Australia in three days. A 1000 km cruise in one day is typical and an albatross is able to hit 100 kph with a 50 kph wind behind it. Non-breeding males cavort in the air above the colony while the nesting birds sit with a serious mien.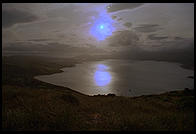 January 15
After another night with the Brigitte, Dorothea, and Marita in their triple, we breakfasted together and watched them depart in their yellow Mazda. Klaus and Stefan hadn't hiked the Routeburn with the Flying Kiwi tour and were interested in doing it now. They asked the owner of the Elm Lodge what the weather was likely to be. He picked up the phone and made a couple of long distance phone calls to inquire. Then he gave us NZ$6 to give back to the women because they'd paid more than our $9/night.
Before leaving Dunedin, we ran some errands downtown. I was through with my foray into Australian literature and stopped into a used book store to resupply. Most of the shop was given over to pornography, especially old issues of Penthouse. However, right up front was a beautifully bound set of W. Somerset Maugham for NZ$10/volume. Keep in mind that the U.S. is the First World's cheapest market for books and that a crummy paperback in New Zealand normally costs over NZ$20.
"How long has this set been here?" I asked the proprietor.
"At least three months," he replied.
I bought Of Human Bondage.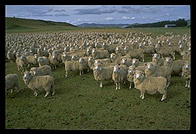 We drove through farm country to Gore and then Te Anau. We'd been so spoiled by the drama of the Southern Alps that we found the landscape uninspiring and, although the weather was sunny, a fierce wind kept us mostly in the car.
Our backpacker's was cheap, clean, and run by friendly people. However, sometimes the social scene in the lounge just doesn't click and this one seemed to be filled with loud smoking women of various nationalities. When the national park visitor center reopened at 7:30 pm, we stopped in to find out about Routeburn conditions and get permits for Klaus and Stefan. The forecast was for good weather and a couple came in who'd just walked the Routeburn for the fourth time. Nonetheless, Klaus was unsure, citing the 63 people already going and the potential for crowding in the huts. I finally bludgeoned him into going by telling him that the huts were enormous and that even in the unlikely event that all the extra mattresses were taken, he could take my Thermarest pad and have the huge dining room to himself.
January 16 (Saturday)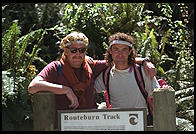 After Stefan and Klaus had shopped for their trek and we'd filled the car at the last gas station for 120 km, it was past 11. We stopped for some photography at the Mirror Lakes. Freed of the Flying Kiwi schedule and with Klaus helpfully carrying my heavy tripod everywhere, I was beginning to take a few decent pictures with the Rollei. At the Divide, I dropped them off for the Routeburn Track walk.
Did you ever wonder why roads have paved shoulders? I never understood why the government would waste so much money on two lanes that are never used. That was until the 109,000th kilometer in the life of our economy rental, which came 20 minutes after I dropped off Klaus and Stefan.
The car decided to go left. I turned the steering wheel to the right. The car still wanted to go left. Both of the tires and wheels on the left side became intimate with the sharp boulders that serve as the shoulder for the Milford Highway. Two tires were slashed and two wheels dented; I had one spare.
The next car to pass contained Jim from Montana and Wright from California. They helped me push the car off the road and offered me a ride to a nearby ranch where they were staying so that I could call the AA. Then we realized that there was probably no telephone there. I pulled out my cameras, tripod, Samantha, and a change of clothing and locked the disabled Mazda. After Jim and Wright left, a small station wagon stopped. Warren, a Kiwi electrician, and his wife Estelle didn't talk much, but took me all the way to the backpacker's in Milford Sound from which I called the AA.
"We can't do anything for you unless you are standing next to the car with the keys," said the Automobile Association. "The closest garage is the Mobil in Te Anau. There is nothing in Milford Sound except a gas pump."
Te Anau was 100 km from the car and it was Saturday afternoon. I was getting a little depressed when the Mobil garage itself called.
"Just give the keys to any bus driver and ask him to drop them off here. We'll pick up the car for you and have it fixed tomorrow [Sunday]."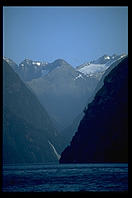 I did this and then turned my attention to getting out on Milford Sound while the sky was still blue. My only option was a 5 pm fishing cruise in a small boat run by Fiordland Travel. Rather than enjoy the smooth water and magnificent scenery of the Sound, we rushed out to the Tasman Sea where 1.5 meter waves made me long for the patch, sea bands, and ginger pills back in the Mazda. Nobody caught any fish; several people hurled.
As we came back in, I looked longingly at the Fiordland sailboat, which cruises into Milford Sound every night at 5 pm and returns the passengers to the dock at 8 am.
I was pleasantly surprised to have refrained from vomiting and also to find that The Kiwi Experience bus was willing to run me back to the Milford Sound Lodge for free. The dinner cooked by the lodge was mediocre, but the company was great. Jim and Wright showed up and we shared a table with guys from England and Germany. After dinner, I spent some time with Eric, a young Minnesotan who was traveling by himself on a loaded touring bike.
How did he like riding in the rainiest summer in New Zealand history?
"It's better than my last vacation. I went to the Philippines and got my wallet, passport, and camera stolen. I chased and caught the thief and dragged him to the police, but it soon became obvious that the police were part of it. I had to pay off a few people just to keep my stuff."
Why the Philippines?
"I've been teaching English in Taiwan for a couple of years and the Philippines are really close by. I should never have gone, though. The country isn't especially scenic, it is racked by guerrilla war and fear, and is incredibly poor."
January 17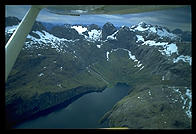 Milford Sound looks good from a boat, but much better from the air. In 45 minutes, our Fiordland Adventures scenic flight covered most of the surrounding mountains and I probably could have waved to Klaus and Stefan. I shared the plane with Frank and Petra, a young couple from Stuttgart. They gave me a lift back to Te Anau, patiently stopping for 30 minutes at The Chasm so that I could exercise the Rollei.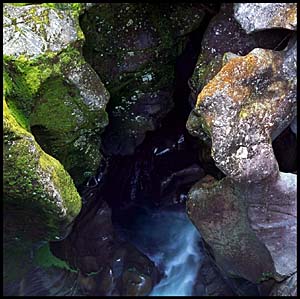 The Chasm is a collection of mossy rocks that have been sculpted by a stream plunging down 15 meters through lush forest. It was the most interesting photographic subject I found in all of New Zealand and relatively accessible thanks to wooden walkways constructed by the park service.
"Your steering's OK," said the overall-clad woman running the Mobil garage, "my father just tested it."
Why had the car drifted left?
"You probably got a hole in your left tire," she said, "there's no way to tell now that it is all shredded by the rock." [Something very similar happened to me on the Alaska Highway in Chapter VII of Travels with Samantha.]
"We put on two retread tires and one wheel."
Only one wheel?
"We used your spare on the car and managed to straighten one of the original wheels enough to use as a spare. She'll be right."
The bill was NZ$510.85, almost exactly equal to the deductible on the rental car's insurance.
"Oh, make sure you go to the AA office in Christchurch. They'll reimburse you for the tow and some of the service."
It was a relatively crash-free two-hour drive to Queenstown. Without any rocks to hit, I got bored and picked up the first hitchhikers I saw. John was slightly built with a scruffy beard and a red bandanna. Julie, his girlfriend of one month, was about the same size with very fair skin. Both were covered with a generous helping of dust.
How long had they been waiting for a ride?
"More than two hours," answered John, "It has taken us forever to hitch from home, which is Invercargill. That's all the way on the south tip of the island."
How could people leave them stranded for so long on such a hot dry day?
"Kiwis treat foreigners a lot better than they treat their own sometimes."
That explained the Canadian flag I had seen some hitchers displaying. What were they doing for work?
"I was working as a cook, but Invercargill has a pretty flat economy. Now I'm working for the government," John smiled.
"That means he's unemployed," interjected Julie.
"We're going to stay for awhile with her brother in Queenstown and see if we like it."
The literal zenith of Queenstown tourism is the scenic gondola ride terminating in a mountain-top restaurant. I waited at the top with my Rollei for the light to do something interesting, but it never did. Saul, an expansive law professor in Australia, and his beautiful wife Allison, entertained me.
"I'm actually an affirmative action refugee from Canada," Saul noted. "I used to be a corporate lawyer in Toronto but I wanted to teach. Unfortunately, the law schools were direct about one thing: they were only hiring women. That's why I came out to Australia."
How did he like it?
"I like teaching, but Australians in general are lazy, uneducated, unintellectual, and crass. Then of course, I have my students from Hong Kong who are even worse in some ways. They are just deal makers and have no sense of right and wrong or even that scruples might be worth having."
Did they long to return to Canada?
"Canada is problematic for its own reasons. Canadians always have a desperate need to justify Canada's existence. The fact is that Canada doesn't do very many things better than the United States does, but people need to come up with something to explain why they are still in Canada. A well-educated person with transferable skills can do much better financially in the U.S., which has higher salaries and lower taxes. This leads to a culture of denial."
Allison and Saul cooked me a superb dinner at their backpacker's and then I went back to mine to discover that Klaus and Stefan were already in town.
How had they done the track in two days?
"We made in all the way to the emergency shelter at Harris Saddle last night," said Stefan, "and then made it to the end of the track this morning before the ten o'clock bus."
"You won't believe what we saw," offered Klaus, "A 60 year-old guy from Schotland [Scotland] who was carrying his pushbike over the Routeburn."
A bicycle?
"He said he was touring the South Island by bike and wanted to do the Routeburn but not have to worry about getting back to his bike. So he took the pedals off and began hiking the Routeburn. He would actually pick up the bike and carry it for a few clics [km] then go back and get the panniers."
Why take off the pedals?
"To make it easier to fit the bike through narrow parts of the track."
January 18
We hung around Queenstown waiting for the weather to clear so that we could go flying with Saul in a rented Cessna 172. It never did so we pressed on to Makarora, where we'd started the Siberia Experience side-trip, and stayed in the cabins.
[Saul eventually did manage to get the plane and fly over to Milford Sound, but arrived just in time to watch the last cruise boat for two hours depart. They had to get the plane back by 6 pm so there was no way they could wait for the next boat. Red Boats, which operates the 200-person boats, offered to run a big boat out just for the four of them who'd come in by plane, plus another couple of tourists who happened by. No extra charge.]
New Zealand has reasonably good and very inexpensive ice cream, but they don't have "ice cream mixed with stuff" like we do in the U.S. Apparently Germany is also getting along fine without this product category, for Klaus and Stefan were surprised when I mixed M&M's into vanilla ice cream for dessert. Stefan appreciated the new taste, but Klaus thought it was insanity to put hard frozen chunks of anything into smooth creamy ice cream.
Before bedtime, I finished up The Big Con, by a Kiwi journalist angry over the dismantling of the welfare state. He questioned whether it is fair for some people to be ostracized from the tribe merely as a consequence of unemployment. This struck an odd note in my American ears, because I'd never heard anyone question the inevitability of millions of Americans being condemned to partial citizenship, forever wards of the state and never properly educated or employed.
January 19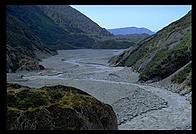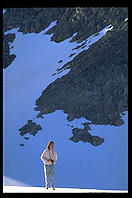 We continued over the mountains to the west coast and caught up with Marita, Dorothea, and Brigitte in Franz Josef. There is a nice road and parking lot that lets you drive right up to the terminal of the Franz Josef Glacier. Or at least you could back in 1965 when the road was built. For some reason New Zealand's glaciers have been shrinking for several decades and it is now a two hour walk from the parking lot to the face. One walks up a broad gravel-covered path that was carved by the Franz Josef Glacier when it was larger. One must cross numerous streams fed by meltwater from the glacier. Brigitte once again proved her mountain goat heritage by skipping nimbly over the stones while the rest of us pondered how to get over without taking a bath and/or a fast ride down to the really terrifying river emanating from under the glacier. This river was roiling with one-meter waves despite an absence of visible rocks. The water was an ugly gray color from the bits of granite stripped off the mountain by the glacier. I kept imagining with a shudder what it would be like to go rafting down the river, with or without a raft. It was much more pleasant to contemplate the waterfalls, some as high as 300 meters, that tumbled over cliffs on either side of the moraine.
The walk turned out to be well worth the effort, as the view over the glacier was beautiful, with shades of light blue filtering through the crevasses.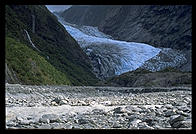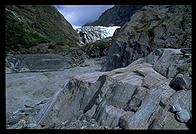 In the evening, we took Brigitte out for a 23rd birthday dinner at the best restaurant we could find. Frank and Guido, two bike tourists from Cologne, joined the crowd and I had a tough time following all the German.
January 20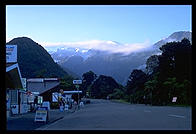 At 7:45 am the light in "downtown Franz Josef" was a red glow. Our taciturn pilot pulled up on the collective with his left hand, pushed forward on the cyclic with his right and the helicopter lifted off smoothly. Clear low sunlight made ice castles on Franz Josef Glacier stand out and it was a real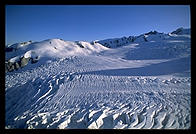 kick to land on the "neve" snowfield above Franz Josef Glacier. It is 500 km from Franz Josef to Mt. Cook by road, but both are in the same national park and the 3,764 meter peak loomed over us. The snow was too hard-packed to support a real snowball fight, so we piled back into the helicopter and returned to Franz Josef over a landscape formed from the incomparable smoothness of melting ice.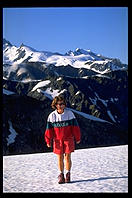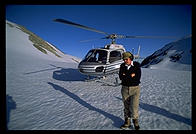 The weather was so nice that we drove back south to Fox Glacier and took the easy stroll around Lake Matheson, which is famous for its early-morning reflections of Mt. Cook, then hiked up to Fox Glacier's terminal. This glacier is a bit flatter than Franz Josef and one can waltz right up the edge of the ice easily, albeit not without going beyond Department of Conservation signs promising a quick death by falling rock or ice to anyone foolish enough to pass. A thick gray river raged out from underneath the glacier just as at Franz Josef.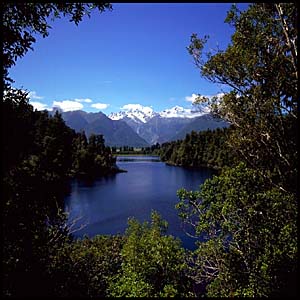 Stefan manfully drove the entire distance to Arthur's Pass, about 250 km, with just a couple of brief rests. Arthur's Pass Road was built in 1865 to provide a direct route from Christchurch to the gold fields on the west coast. One stretch is only as wide as a single car, plus occasional wider turnouts. Steep grades, tight switchbacks, and incipient rock slides are the rule. We had no trouble believing that people searched for a year to find a better route before reluctantly settling on this one.
We arrived at the Mountain House Backpacker's to find Brigitte, Marita, and Dorothea cooking us dinner! The place was rather charmless and packed. We six were sharing an eight-bunk room with a Minnesotan named Fred who had been dolefully looking for someone non-German to talk to.
In the lounge, I met a Belgian woman who had emigrated to New Zealand six months before. She was about 25 and from Flemish stock. What gave her story a 19th-century twist is that she had never visited the country before making the decision.
January 21
The trail to the Devil's Punchbowl was described as "worthwhile in any weather," but it really wasn't so spectacular compared with a lot of other things we'd seen. We climbed for about half an hour with views from the trail of snow-capped peaks on the other side of the valley. When we got to Punchbowl Falls, we found it dropping about 150 meters into a basin and then trickling downhill to form the attractive creek we'd been following. Spray from the waterfall was drenching so we didn't contemplate the spectacle for very long.
On the way back to Christchurch, Klaus drove 140 kph at times, but Dorothea passed us and we didn't see the girls again until we arrived at the Bealey International Hostel, a really nice place with a garden. We had another excellent dim sum lunch at the university and were again the only white people in the place. The native New Zealanders were all patronizing the fish and chips takeaway next door.
As the Mobil garage had suggested, I stopped by the Automobile Association office and told them my sad tale.
"May I see your card please?" asked the pleasant woman behind the counter.
I confidently handed over the flimsy plastic.
"This expired on December 31st of last year," she pointed to the date on the card.
"Oh! I left home on December 11th and didn't realize that my card was going to expire," I explained lamely, "there is probably a new one waiting for me back in Boston."
"Have a seat over there and I'll see what I can do."
I wasn't optimistic. Back in the States, my AAA membership paid for only a 5 km tow and one would not get far with an expired card. Here I was asking for a 100 km tow on an expired foreign card.
Twenty minutes later, the counter agent sat down next to me and handed over NZ$276.50 in cash.
"This is for your the tow and roadside service. We are supposed to write you a check, but we thought that you probably wouldn't have a bank account here, so I went down the street to my bank and cashed it for you."
Tim, a computer science professor at the university, and his wife Kim invited me over for dinner. I told them how amazed I'd been at the Kiwi ability to repair things.
"We took a sabbatical in Canada," said Tim, "and couldn't believe that used furniture and other used stuff is so cheap, or that people just throw things out. We still have the mentality that new manufactures have to come from far away and we'd better fix them ourselves or make do somehow."
How did they like living in Canada?
"One thing that took me time to get used to," noted Judith, "was how all the business people in North America treat every customer as a potential criminal."
I concurred that it was wonderful to travel through their country where openness and trust were the rule.
"That's a problem sometimes when Kiwis meet foreigners. My friend Elizabeth loves foreigners and believes everything they say. She fell in love with a Turkish man who promised to marry her. He kept needing money for things and took her for more than $10,000 before disappearing."
Did that make her cynical?
"She repeated her mistake with another Turk a few months later."
Tim and Judith have kids in elementary school, where the conservative government has brought sweeping changes.
"They fired a lot of administrators," said Judith, "and now parents actually operate each school. The parents choose the teachers and set the curriculum, although the money comes from Wellington."
I said that it must be easier to work a system like this in a country like New Zealand where everyone was essentially middle class.
"Our society is actually becoming much more stratified, especially in the last couple of decades. People stick to their own neighborhoods and don't mix too much. We don't even know anyone who lives in a state-owned house," said Tim.
When I got back to the backpacker's, the other five were all raving about their trip to the Banks Peninsula, where pink light bathed the hills at sunset, particularly coming back on Summit Road.
"You must go there tomorrow," Klaus insisted, "It is the best thing I have seen in New Zealand."
As I was about to put my earplugs in, a necessary defense against Klaus's prodigious snoring, two undergraduates from Cal State Long Beach came in.
"We've been here for ten days," said Christine, who was tall, thin, tanned, and with crow's feet around her eyes that made me place her around 30. "We've been hitchhiking everywhere and this is our first night in a hostel. We've never waited more than ten minutes for a ride and whoever gave us a ride has always offered us a place to stay."
How did they like the country?
"It's fabulous," put in her companion Laura, who looked more like 23. "Everyone is an environmentalist. Now that George Bush is finally going out and Al Gore is coming in, maybe the U.S. will change."
Having grown up in Washington, D.C., I laughed at her optimism.
"Don't you believe in environmentalism?" asked Christine.
"Well, a German girl on the Flying Kiwi bus stopped me from throwing out a couple of AA batteries in a Queenstown trash can because she said there was a recycling bin somewhere in Wellington. I didn't feel that it was worthwhile to carry these dead batteries 500 kilometers to recycle them. What does that make me?"
A pig, it turned out. People who didn't recycle were all pigs.
"What about a guy who lives in Indiana and never travels anywhere, but doesn't recycle his newspaper?" I inquired.
A pig.
"But you two fly around on 747s all the time, burning so much jet fuel that it doesn't matter how much you recycle. Just living as an American squanders the world's resources and recycling only makes a tiny percentage difference. If you really wanted to go soft on the earth, you'd have to live in a Third World country like a Third World person," I pontificated.
"Don't you believe that if you take a footstep in the desert, that the chain reaction from that footstep might extinguish a species?" asked Christine.
"Sure, that's basic chaos theory. Bounded input, unbounded output," I agreed.
"Then why don't you believe that recycling a single can might save the Earth?" Christine asked with a triumphant expression.
I thought about trying to explain entropy, about how there were an infinite number of unordered states and only one ordered state so that the probability of landing by chance in a ordered state was zero. Then I reflected that my dime store knowledge of physics was probably inadequate for delivering a cogent explanation. I was proud of myself for remembering the classic example of the butterfly flapping his wings in New York causing a typhoon in Fiji a week later.
"We've heard of that. So?" asked Laura.
"Well, it doesn't work the other way. A butterfly flapping his wings in the middle of the typhoon can't stop the typhoon. That's sort of like drinking a Coke on a flight from LA to Auckland and then recycling the can at the end. You've already burned 10,000 gallons of jet fuel."
Laura and Christine were unconvinced and remained optimistic that simple steps could save the earth, but living in Los Angeles had made them cynical about men and their stories.
"People are never who they say they are," said Christine. "I was down in Puerto Vallerta a while back and a guy in a bar told me he was a medical student. I said, `You're not in med school.' He insisted so I asked him `What's the biggest bone in the human body?' and `What's the largest organ?' All he could come up with what that he was specializing and didn't have to know this stuff. Sheesh."
As Laura took off her pants, I noticed a bandage on her knee.
"I fell when we were hiking and had to go to the hospital for stitches. It was great. No waiting and I got to see a real doctor instead of one of those nurse-practitioners we have back in the U.S. The funniest part was going to pay. I got stitches and a shot of antibiotics and stuff so I was a little nervous about the bill, but I figured I'd just pay by credit card and get my health insurance back in the U.S. to reimburse me. So I asked them if they took Visa and they looked a little confused. `Sure,' they said, `but your bill is only $7.50.'
[NZ$7.50 = US$3.25; hospitals in New Zealand have all been privatized now so this is an unsubsidized service]"
January 22
Klaus and Stefan lent me the car for the day so I could go out to the Banks Peninsula. The radio had warned of a Nor'Wester with gale-force winds, but the air was perfectly still as I placed the heavy Rollei on the heavier ballhead on the still heavier tripod at an overlook on Summit Road just outside of Christchurch. Thirty seconds later, the wind was a steady 50 kph and the camera nearly blown over.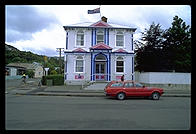 At 9 am the light was flat, the weather overcast, and I had a hard time seeing what had so captivated Klaus. I drove straight to Akaroa at the end of the peninsula. This town was settled by French whalers in 1840 and it has French street names, French-named restaurants serving English food, and a handful of nice Victorian buildings. I took refuge in the Astrolabe Cafe, which plays old jazz records and serves excellent food.
By 1:30 the weather had settled down to blue skies with a steady 30 kph wind so I headed off to the other town on the peninsula, Okains Bay. The town's main feature is a cove with a hard-packed sand beach that is lovely for walking or even driving.
A few hundred meters back from the beach, there is a Maori museum of sorts. The most interesting attractions were a brace of humongous canoes and a traditional-style Maori meeting house. Maoris traditionally lived in Pa (fortified villages) built on top of hills or ridges, in which the focus of life was the marae (central square) in front of the meeting house. This one was filled with weavings and wood carvings illustrating Maori legends.
A 21-year-old caretaker was the only other person in the museum. He'd lived on the Banks peninsula all his life. When I took out my wallet, he noticed a bit of green poking out from behind the colorful New Zealand bills.
"Is that American money? I've never seen any. Can I look at some?"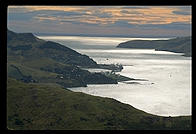 Had this been New York, I would have assumed that this was part of a Three Card Monte scam, but I handed over some cash without a second thought here. It was charming to meeting someone who hadn't been corrupted by the U.S. Dollar.


[ Back | Table of Contents | Map | On to the North Island ]
---
philg@mit.edu
Add a comment | Add a link