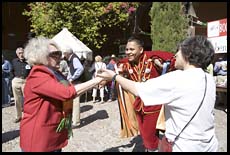 Canon EF 16-35/2.8L II USM Lens Review
by Philip Greenspun; revised May 2008
---
The quality-conscious photographer is typically torn between buying a set of prime lenses or a zoom to cover the range. Canon makes this decision much easier in the wide-angle portion of the optical range by having failed for decades to update their medium-speed prime wide lenses with ultrasonic motors. If you want fast quiet autofocus with the useful option of full-time manual focus, the Canon wide zooms are your only option short of spending $1000+ for each focal length.
The zoom range goes from a dramatic 16mm to a boring point-and-shoot default 35mm.
If you have a full-frame Canon digital body and a desire to do some photojournalism, canon_16-35.
Note that this lens was upgraded to a "II" version in 2007. The capabilities of the versions are very similar and the sample images on this page come from both versions of the lens. A section below contains side-by-side comparisons of identical scenes photographed with the two versions of the lens.
Optics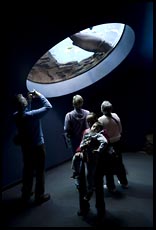 The lens design is complex, with 16 elements of glass arranged in 12 groups. Three of those elements are aspherical, which improves image quality and reduces the number of elements required. Nonetheless, contrast will never be as high nor flare as well-controlled as with a simpler prime lens. Distortion will also be higher.
Maximum magnification is 0.22x at a distance of less than one foot. With a full-frame camera, the smallest object you can photograph is roughly half the size of an 8.5x11" (A4) piece of paper.
Image at right: The II version of the lens; from my trip to the Georgia Aquarium; after shelling out for this lens you might not have enough left over to pay the $26 per person admission fee.
Construction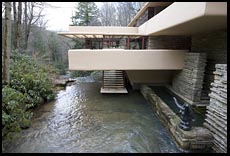 Like all L lenses, the 16-35/2.8L is ruggedly constructed and resistant to water and dust. The included lens hood bayonets onto the exterior of the lens, leaving the 82mm filter and lens cap threads free. As noted above, the 16-35 incorporates a ring USM motor, which enables "full-time manual focus", even when the lens is set to autofocus. This is very useful when you want to use Custom Function 4 on an EOS body, which moves autofocus to the exposure lock button on the rear. You can focus manually if desired and, at any time, push the rear button to give yourself a shot of autofocus.
Weight is 640g, which balances reasonably well with Canon's professional bodies and is only slightly heavier than the 24/1.4L and 35/1.4L lenses. The medium-speed prime lenses are much lighter, e.g., only 185g for the 28/2.8.
Image at right: Fallingwater, March 2008, with the II version of this lens.
Alternatives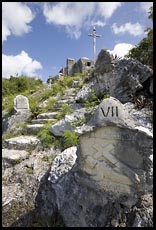 The highest quality alternative to this lens is a bag of prime lenses and an assistant to change them for you. Canon has kept improving this lens, however, and now is up to the 16-35/2.8 III.
The 17-40 offers a lower price, a lighter weight, and a slightly different zoom range, with some loss of wide angle drama. You sacrifice one f-stop, which translates to a dimmer viewfinder. Canon has not kept this lens up to date with optical improvements. The 20-35/2.8L is an older design, but maybe a good value used if you don't need the drama of 16mm or the ultrasonic motor.
If you are using a crop-sensor digital SLR, the equivalent lens to the 16-35 is something like 10-22.
Image above right: Cat Islands, Bahamas, 2008 with the II version of the lens, 20mm at f/11.
Conclusion
For travel with a full-frame digital SLR, a standard professional kit includes this lens plus the canon_70-200/2.8Lis and canon_50/1.4.
Where to Buy
You can get this lens overnight from canon_16-35.
More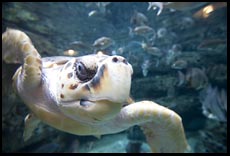 Original versus II version
Here are some comparison images taken with the original 16-35/2.8L and the 16-35/2.8L II lens, which was introduced in 2007. A Canon EOS 5D body was mounted on a tripod and set to self-timer and mirror lock-up. What are we looking for? The major sins of wide angle zoom lenses include the following:
vignetting, i.e., corners darker than the center. All lenses do this to some extent, but our eyes don't usually notice it.
distortion of vertical and horizontal lines
You can also look at sharpness and resolution; how easy is it to read text? Contrast is what determines how much "punch" images have, particularly on a gray day or in flat indoor light. Lack of contrast is a serious problem with cheap zoom lenses, but not typically with the Canon L series.
| | | | |
| --- | --- | --- | --- |
| | | Old | New |
| | Brick wall at 16mm, f/2.8; look for vignetting (darkening in corners) | | |
| | Brick wall at 16mm, f/8; look for distortion | | |
| | Flowers at 16mm, f/2.8; click to enlarge and look at detail, especially in the sign at lower right. This is a difficult scene due to the backlighting. | | |
| | Same scene at 16mm and f/8. | | |
| | Same scene at 35mm and f/2.8 | | |
| | Same scene at 35mm and f/8 | | |
| | Cactus Garden, 16mm and f/2.8 | | |
| | Cactus Garden, 16mm and f/8 | | |
Personal Conclusion: Canon's optical engineers say that the II version of the lens has improved corner sharpness. I'll have to take their word for it. Most viewers concentrate on whatever is in the center of an image. Readers who primarily photograph people will probably never notice any difference. Photojournalists tend to work at f/2.8 much of the time, which is where vignetting is the most severe. Both the I and II version of this lens have significantly darkened corners on the brick wall test at f/2.8. Need higher optical quality than what you get from the original version of this lens? Grab a tripod and stop down to f/8. Substitute a prime lens. Don't rush to the store and trade up to the II version expecting a dramatic improvement in image quality.
Examples
| | |
| --- | --- |
| | 16mm, f/5.6, 1/400th. Helicopters fly pretty low and Victoria Falls is pretty big. The 16mm wide end of this lens enables the structure of the Falls and associated road, rail, and hotel network to be appreciated. |
| | |
| --- | --- |
| | 16mm, f/4.5, ISO 320. Generally speaking, the wider the better for architectural interiors. |
| | |
| --- | --- |
| | 16mm. Would have been better with a touch of fill flash. For photographing people inside a vehicle as well as the view out the window, a wide angle is essential. |
| | |
| --- | --- |
| | 21mm, f/2.8, 1/500th. My beach cottage near Los Angeles. |
| | |
| --- | --- |
| | 16mm, f/2.8, 1/30th, ISO 800. It takes a genius to make a good photograph of randomly attired people sitting around a table of used plates and napkins. If you want folks to think you're a great photographer, don't agree to take pictures at weddings. On the bright side, the 16mm wide end enables you to capture everyone at the table plus the room in the back. If the room is dimly lit, as it will generally be, use a high ISO and a reasonably long shutter speed to get a natural blend of flash and ambient light. |
| | |
| --- | --- |
| | 35mm, f/2.8, 1/30th, ISO 800. Wedding photos improve dramatically when the subjects aren't eating... |
| | |
| --- | --- |
| | 16mm at f/2.8. Brutal high-contrast lighting conditions. |
| | |
| --- | --- |
| | 16mm at f/2.8. The light was dim enough that even at ISO 400 this required a shutter speed of 1/25th. Note the apparent distortion of the people at the edges of the frame, a distortion that will go away if you put your nose close enough to the screen. |
| | |
| --- | --- |
| | 17mm. "If your pictures aren't good enough, you're not close enough," say the photojournalists. Zooming out to 17mm brings in the entire church, but also way too much uninteresting foreground grass. The solution would have been to jump over the fence and get close to the flowers and shrubs. Obnoxious behavior for a visitor? "A revolution is not a dinner party," said Chairman Mao. |
| | |
| --- | --- |
| | 21mm. The cathedral and the person in this scene are not equal in real-world size. If you are too far back from both, the person will appear as a tiny dot next to the cathedral. Only by getting very close to the smaller subject, and therefore using a rather wide angle to capture the larger subject in the background, can you render the two subjects comparable in size in the final image. |
---
philg@mit.edu