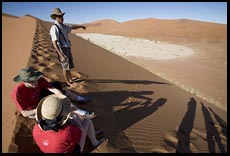 A Photographer's Guide to Namibia
by Philip Greenspun; created September 2007
---
Namibia is the African country for beginners to Africa tourism. It is mostly too dry for malaria. The spaces are wide open. The cities are uncrowded and safe. The roads are good and you can drive yourself from place to place rather than being shepherded.
Expect a lot of open space; Namibia is the size of Texas and Oklahoma combined, yet home to only 2 million people. If you've been photographing the crowded urbanized environments of Europe and the American Northeast, Namibia will seem awesome. Folks from Arizona or New Mexico will ask "Why did I sit on a plane for 25 hours?"
Highlights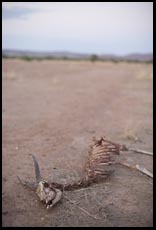 Namibia's unique attraction is the Namib Desert, perhaps the world's oldest and home to some of the world's highest sand dunes.
Namibia has a handful of places to see the charismatic megafauna more closely associated with Botswana and South Africa. Etosha National Park in the north-central portion of the country is an easy place to see big animals such as elephant, especially in the "very very dry season" (April-October) when they congregate around waterholes (the rest of the year in Namibia would be considered "very dry season" by folks from most other parts of the planet).
Southern Namibia is home to the Fish River Canyon, Africa's deepest.
Non-photographers will appreciate the range of adventure sports that are popular along the windy cold-water beaches. Namibia is popular for windsurfing, snowboarding down sand dunes, riding dirt bikes and four-wheelers, and skydiving.
When to Go
The best time of year is winter: April through October. The animals congregate more at water holes during this season, but mostly you're trying to avoid the brutal heat of summer.
Culture
Diamonds are formed deep in the Earth, where temperatures and pressures are high. Many of these diamonds were shot towards the surface by "Kimberlite Pipes" in Kimberly, South Africa. Over millions of years, the Orange River carried many these diamonds out into the sands of southern Namibia. In the 1800s it was possible to walk out in the desert, look for glints in the sand, and pick diamonds up off the ground (today you need to go offshore a bit and dredge up some sand to filter).
What do you call a country with minimal population, an important port, and lots of diamonds? An ideal colony! That's what Namibia was for Germany until 1919 and then for South Africa until 1990. The core of Namibia is not the place to see a vibrant native African culture. On the plus side, the German influence means that a lot of folks here learned how to run a clean hotel.
Compared to the more densely populated African countries, Namibians are well educated (85 percent literacy) and wealthy ($7,600 GDP per capita in purchasing power equivalent to an American). Religion is not a source of conflict, with most of the population adhering to some form of Christianity. It sounds great and it is if you are one of the handful of guys who own a diamond mine. It is pretty good if you are one of the 3 percent of the population working in a diamond mine. It isn't good at all if you're among the 50 percent of the population scratching out a living trying to grow crops or feed animals on some of the world's driest land.
See the CIA Factbook for more.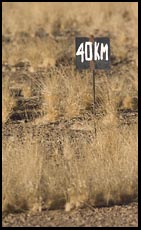 Getting Around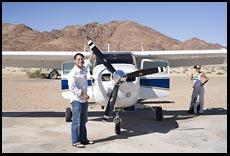 If you have more than two weeks, rent a car and drive everywhere. The scenery from the highways is beautiful and the roads are always reasonably good. Unless you enjoy being beaten up for hours on washboard surfaces, splurge on a big heavy Toyota Land Cruiser. Many of the larger vehicles will come with a rooftop pop-up tent, very useful for sleeping under the stars or when a hotel is fully booked and you don't want to drive 40 miles to the next one.
If you're tight on time, there are Cessna air taxis serving most of the better hotels. You are picked up at the international airport in Windhoek, get into a 4- or 6-seat Cessna, and arrive at your hotel one hour later. When it is time to go to the next hotel, the Cessna returns to pick you up and take you directly to the next sightseeing spot. With two people, expect to pay $500-1000 per leg. Charter flights become very practical for a group of 4-8 people.
If you have basic VFR skills, flying yourself around Namibia is a reasonable option. Convert your U.S. license to a South African one, rent a plane in South Africa, work your way through some bureaucracy to get permission to enter Namibia, and enjoy severe clear weather just about all day every day. Airstrips at lodges are usually more than 3000' long and well maintained. Remember that the commercial air taxi pilots often start with only 200 hours of experience; this is not Alaskan bush flying where you dodge clouds and land on gravel bars. Namibia has some of the world's loneliest terrain, so it is safest to follow roads in the event that are you forced to land. Make sure that you have a personal locator beacon and a satellite phone.
Sossusvlei
If you want to see or climb a big sand dune, Sossusvlei is the right place. The dunes are mostly within a big national park, accessible by a paved road, so all that you need to enjoy these are a rental car, a tent or a credit card for a nearby hotel or lodge.
A luxury option: Sossusvlei Wilderness Camp
Swakopmund
Angelina Jolie and Brad Pitt had their baby in Swakopmund, a tidy coastal town in central Namibia. Swakopmund is the best place in Namibia to take photos of people engaged in adventure sports.
Etosha National Park
I haven't been here yet, but I want to go!
More: Wikipedia page
Doro Nawas
Doro Nawas is a luxury hotel near the Twyfelfontein San rock art paintings.
More: Camp Web page within wilderness-safaris.com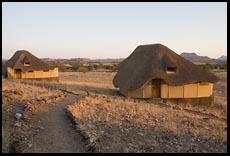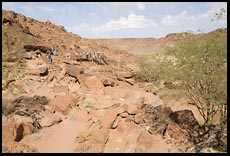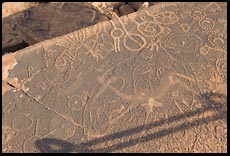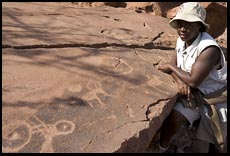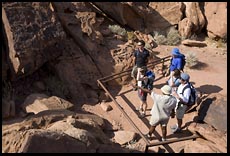 Wildlife is scarce in this region that was cleared for ranching, but desert-adapted elephants can be seen depending on the season and various kinds of antelope may be photographed, but prepare to work at 600mm or longer as they are shy.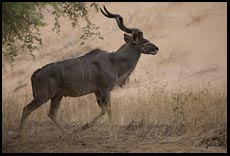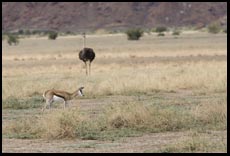 Welwitschia
, Namibia's national plant: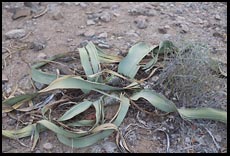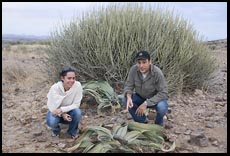 Equipment Recommendations
Namibia has some game parks and some animals. The recommendations for long lenses and animal photography from general safari tips will therefore apply to a portion of your photography. For the scenery, however, you will want to bring landscape photography gear:
tripod
ballhead
quick-release plate system
highest quality camera body, regardless of weight
wide focal length lenses, starting at 14-16mm on a full-frame 35mm format camera
hood for each lens to maximize contrast in an environment with lots of bright reflections
Arranging a Trip
You can get a guidebook, rent a car, and poke around. The hotels can be sparse and fully booked during the European summer vacation season; a tent is an important backup option if you don't want to stick to a rigidly planned schedule.
Painless and luxurious: contact James Weis at Eyes on Africa and let him book the entire trip (what I did). He is an experienced wildlife photographer and knows the lodges, the seasons, and the animals.
Guidebooks
More
This guide is just a beginning. The author hopes that reader comments, below, will add details and photos from other portions of Namibia.
---
philg@mit.edu