---
Istanbul was the center of Western Civilization for hundreds of years, the center of the Ottoman Empire for hundreds of years, and is today a beautiful waterside city of nearly 15 million energetic people.
Where to Start
Istanbul is a sprawling collection of villages, all of which have exploded into each other, rather than one coherent city. Unless you have months on the ground, you will have to pick one or two Istanbuls and leave the rest for a future trip. Are you interested in slugging it out with the postcard photographers for conventional tourism images of the historic district? Stay in Sultanahmet. Interested in exploring the relationship among the city, the two seas, and the strait between the seas? Rent a boat and live on it. Interested in showing the lifestyle of the latest generation of wealthy Turks? Hang out in nightclubs along the Bosphorus. Interested in how people from poor villages in the southeast adapt to the cost and secular life of the big city? Visit the slums and the factories.
Istanbul Bazaar: the Religion of Shopping
A lot of folks would suggest starting a tourist or photographic project in Istanbul in the mosques. In Istanbul, however, urged on by some of the highest living costs in the world, the citizens seem to spend more time thinking about commerce. Why not start in the Bazaar, the world's oldest shopping mall? It is right in Sultanahmet, probably walking distance from your hotel.
Unless you feel like paying more than you'd pay in the U.S., try not to buy anything. If you fall in love with a carpet and don't mind the fact that you could have bought it cheaper in the U.S., any shop can roll it up to be checked through on your flight. The merchants will tell you that a handmade carpet is a duty-free "handicraft". U.S. customs officials will tell you that a handmade carpet is a carpet and cheerfully collect duty when you arrive back in the States. Don't buy a carpet anywhere that a guide has taken you; the shop will be paying the guide and his company a 40-percent commission. A reputable shop that does not pay commissions to guides is Sengor Carpet (pronounced "Shangor"; say that "a friend of Oya's sent you").
Religion other than shopping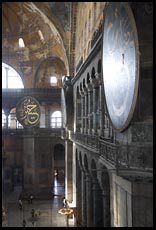 At the beginning of the 20th Century, "religion in Istanbul" would have covered a diverse spectrum of belief systems. Christianity, for example, was as popular as any other creed, albeit subject to official discrimination. In building modern Turkey, the government went to extraordinary lengths to "Turkify" the country. The Greeks, Armenians, and Jews who were once common on the streets of Istanbul have been replaced with a flood of immigrants from other parts of Turkey. For the tourist, the practical effect of this change is that photographing religion in Istanbul means photographing Islam.
Mosques are among Turkey's greatest architectural achievements and Western audiences are very curious to see images relating to Islam. Of all of the cities in Turkey, however, Istanbul is the one where Islam plays the least important role in daily life. Keeping dogs as family companions and drinking alcohol, both forbidden in most interpretations of the Koran, are more common than daily attendance at the mosque. It is thus somewhat misleading to concentrate your photographic efforts on covered women and people praying.
The most interesting mosques are in Sultanahmet. A non-obvious and not-too-easy-to-find one is Rustem Pasa, up some stairs from a busy nest of market alleys. Rustem Pasa is famous for its ceramic tiles.
[Visiting Christian sites elsewhere in Turkey can be interesting even though most of the remaining Christians departed in the 1950s. Various sites in modern Turkey were visited by St. Paul and other early evangelists. Touring the Jewish sites is not for the faint of heart. One Istanbul synagogue, Neve Shalom, has been attacked three times: September 6, 1986 (by Palestinians), March 1, 1992 (Palestinians again), and November 15, 2003 (by Turkish members of Al-Qaeda). More than 40 people died and nearly 400 were injured in these attacks.]
Tourists
Taking pictures for a glossy souvenir book? Wake up at 0600 and visit sights before anyone else shows up. Later in the day, wait for fat ugly tourists clad in clashing colors to walk out of the frame. Is that Istanbul as you experienced it? As anyone else is likely to experience it? Tourism has been a feature of the city for centuries. Why not show the sights as they are typically experienced, packed with tourists?
Natives
Istanbullus are accustomed to all of the indignities of big city life, including being stared at and photographed by tourists. Try to be quick in raising the camera to your eye and give the subject a big smile as you set the camera back down on your chest.
More: introduction to street photography.
A Higher Perspective
There are no standard airplane or helicopter tours over Istanbul. The easiest way to get above the older areas of downtown is an elevator ride up to the top of the Galata Tower. You'll be looking south towards Sultanahmet, so visit near sunset for the best images. The tower is open until midnight.
The Water
Istanbul and environs were built along the Bosphorus, the Golden Horn, the Sea of Marmara, and the Black Sea. For photos of the city from the water, start with the ferry system from Eminonu. Almost any ferry will do, but the system also runs a daily sightseeing round-trip tour.
Art Museums and Galleries
The Istanbul Biennial offers the best chance to get interesting photos inside galleries. The Biennial is held every odd-numbered year, i.e., the same years as the Venice Biennale. The Biennial features contemporary art from a variety of countries. The art tends to be unusual and to occupy large spaces so a photographer is not simply copying paintings. Photography within the exhibits was allowed in 2007.
Photographic Exhibitions
The Istanbul Modern museum is a good starting point for seeing the best Turkish photography.
Side Trip: Cappadocia
The most bizarre built environment in Turkey is Cappadocia, just a one-hour flight to the southeast. The volcanic tuff on the surface facilitated the carving of churches, monasteries, houses, and hotels into rocks. Erosion results in Bryce Canyon-style hoodoos sticking up in the middle of towns. In the bad old days when Mongol and Muslim invaders rode across the plain, the Christians here defended themselves by building massive underground shelters, up to eight levels deep and capable of holding thousands of people.
Cappadocia supports a massive hot air balloon industry, with 28 tourists filling each basket and as many as 50 balloons launching on a typical morning. I rode with Cihangir Balloons, piloted by Cihangir, a rock solid guy with 4000 airplane hours who turned to balloons 15 years ago. Highly recommended. Earplugs are essential, at least for the one ear closest to the burner. Layers are also a good idea as it starts out cold (pre-sunrise) and ends fairly hot due to burner. You might find it helpful to read our aerial photography tutorial before embarking.
Some practical details... June is the best month in which to visit Cappadocia. The hills are green, the weather is mild, and the hotels are vacant. May is crowded with tourists who come to visit the battlefields of Gallipoli. July and August are hot and crowded. September and October aren't bad, but the soil is parched. Fly into Kayseri, from which there is an inexpensive shuttle bus to Goreme. Nevsehir is slightly closer, but the flights are at very inconvenient times and you'll have to pay for a taxi that will cost more than the flight. Stay in Goreme, which the guidebooks claim is busy and spoiled by tourists, but in reality it is a very sleepy town. During a week when the travel agents say that all of the good hotels are booked, you're likely to be eating lunch alone in a restaurant along the main drag. A rental car is nice to have, but not necessary if you are staying in Goreme because all of the tours start from there.
I stayed in the Cappadocia Cave Suites hotel, which was very nice, and ate at the Alaturca restaurant. If you have a car, it is worth driving 10 minutes to Urgup and eating dinner at Somine, perhaps the best restaurant in the region.
Make sure to do the tour of the Ihlara Valley, an easy one-hour walk that terminates in a riverside restaurant. Try to wear shoes with some kind of tread, e.g., running shoes.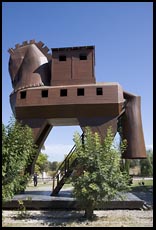 Side trip: Troy
Turks will tell you not to go to the ruins of Troy, which are very ruined indeed. "There's almost nothing to see," they point out, suggesting visits to better-preserved Greek and Roman ruins. For those who've enjoyed The Iliad, however, merely looking out over the plains of Troy from the walls of Ilium will will be worth the flight to Turkey. Troy is reached by a 30-minute flight on a regional jet from Istanbul to Canakkale.
No guides are available within the historic site. It is probably best to hire an independent guide, such as Mustafa Askin, before you drive all the way to the entrance gate. He hangs out at the last restaurant on the right. The food at the restaurant isn't bad, either!
It only takes about one hour to walk around the ruins and read the signs on the self-guided tour.
Older single guys may be inspired by the museum's reproduction of the famous photo of Sophia Schliemann wearing Helen's jewels (click on Heinrich Schliemann's Wikipedia biography to see the photo). I had always assumed that this depicted Schliemann's daughter. In fact, the 47-year-old divorced German merchant married an 18-year-old Greek girl.
After Troy, you could visit the beach. We stopped at a friend's beach house across from the Greek island of Lesbos.
We decided that we could be reasonably comfortable there, even with only two full-time servants. We also visited a small island, Bozcaada, also known by its Greek name of Tenedos. The island, whose ancient Greek population was displaced during the 20th century, is popular with Turkish yuppies, artists, and writers. It was relaxing at the tail end of the season, but not interesting for someone without friends on the island and/or Turkish language fluency.
Skip the Dolmabahce Palace
In the 19th Century, the Sultans decided to build themselves a European-style house: the Dolmabahce Palace. The location along the Bosphorus cannot be faulted, but the interior is in hideously bad taste. Some of the materials are luxurious, but mostly the place is an illustration of how many terrible oil painters there were back in the good old days. Even the most curmudgeonly traditionalist will be sold on Abstract Expressionism after a visit to the Dolmabahce Palace. Versailles it ain't. In case you want to see what you're missing by skipping this staple of the bus tours, here are some photos:
English Bookstore
Many of the bookshops along the main pedestrian street in Beyoglu have substantial selections of English-language books.
Shopping Malls
There are a lot of rich people in Istanbul and they love to shop. To get the authentic Turkish shopping experience, don't go to the Bazaar; go to the mall. Kanyon is the most interesting architecturally. The prices probably won't tempt you to buy too much: $7 for an ice cream cone; $250 for running shoes; $1,000 for a pair of high heel shoes; $10,000 for a dress. The identical product can usually be obtained in the U.S. for about half of what it costs here. Due to decades of attacks by Kurds, cars are carefully screened for bombs before being allowed into the parking garages.
Hotels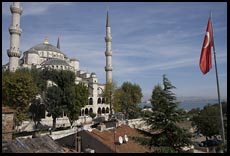 One good hotel that we inspected, not found in any guidebook, is Hotel Sultan Hill. The building is a converted Ottoman-era house, which means that most of the rooms have windows on two sides and therefore much better light than a typical hotel room. The rooms were small but very clean and there is a beautiful roof terrace. The price was 70 Euro for a double, 50 Euro for a single, including breakfast. www.hotelsultanhill.com.
For a hotel right at the airport where you can relax before or after a long flight, the Polat Renaissance Hotel is a great choice due to its huge seaside outdoor pool, large pool, and well-equipped gym (complete with Turkish bath; see below).
The Turkish Bath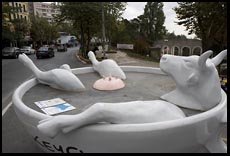 Here's a story from my Weblog...
All of the Turks with whom we spoke reacted with horror when we expressed interest in going to a Turkish Bath (hamam): "You'll come out dirtier than when you went in"; "They are for poor travelers to the city"; "A 200 lb. hairy Turkish guy will scrub you raw"; "Anyone with money who wants a Turkish bath has one built in his house." None had been to a public hamam at any time during their lives (ranging from 40 to 80 years old).
A friend's uncle told us about a "hotel hamam" that would be clean and, more importantly, staffed with lithe Russian beauties. "It is out near the airport in the Polat Renaissance Hotel. They also have a nice gym."
We fought our way through heavy traffic to Beyti, the kebab restaurant favored by heads of state (obligatory letter from Bill Clinton on wall) and visiting business executives. After Mallory ate delicately, Oya reasonably, and I gluttonously, Oya's driver delivered us to the hotel. Oya did not wish to break her lifelong trackrecord of hamam-free bathing and wished us well.
Mallory went into the women's section with a trim middle-aged Turkish woman in a neat uniform with what turned out to be a bikini underneath. I went into the men's section with a thin white towel around my waist and was soon met by a short hairy 200 lb. Turkish guy, naked from the waist up wearing a similar towel. He would be doing the scrubbing, which necessitates forceful pulling of arms and holding of heads while dousing the customer with water.
The details of the bath itself are best forgotten. For a better idea of what it was like, rent the Borat movie and watch the scene where Borat and his producer fight in their hotel.
Oya told us that to get the maximum benefit from the hamam one must stay for an hour or two afterwards to let the moist heat open up the pores in the skin. Mallory was hot and I was fat so we decided to move on to the exercise portion of our visit to the Polat Renaissance.
The gym is as nice as any gym in the United States, with banks of clean new machines, an indoor pool, three hot tubs, and an outdoor pool with a patio overlooking the Sea of Marmara. Sadly the outdoor pool isn't heated and we were advised that it was shockingly cold. A girl in the weight room explained why the place was so empty at 6 pm: "People don't come here until after work. If they leave their office at 6 the traffic is so bad that they might not get here until 8. People therefore usually stay downtown until 7 and make it here by 8:15 or 8:30." What does it cost to be a member of such a nice gym? $300 per month (Turkish bath plus exercise for a day tourist was $120). What about salaries at her company, a clothing manufacturer downtown? The seamstresses get paid about $550 per month.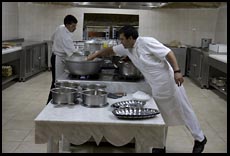 Restaurants
Food is excellent throughout Turkey and you are unlikely to be disappointed. Menus tend to be more limited than in the U.S., however, with restaurants concentrating on serving whatever has recently come into season.
Turks love Turkish food and have a tough time imagining why anyone would want to eat anything else. You'll find the ubiquitous pasta and pizza on menus in tourist areas, but otherwise a dearth of international choices.
Bakeries sell quick and inexpensive snacks such as spinach or meat baked into bread. Good luck figuring out how to ask for what you want, though!
The best news for gourmets is that McDonald's is well-established throughout Turkey. The second best news is that Turkey is amply supplied with Haribo Tropifruit gummi candies.
Guidebooks
Eyewitness Turkey is useful for planning photographic expeditions because it includes a small snapshot of each site. Perhaps it is a consequence of the size and complexity of Turkey, but the Amazon reader reviews on both the Rough Guide and Lonely Planet are mixed. You will definitely need one or the other if you are going to travel independently.

Getting There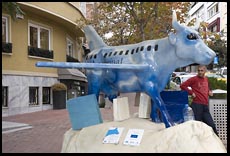 From the U.S., the only non-stop carriers are Turkish Airways (New York and Chicago) and Delta (New York). United will connect through Frankfurt; American and British Airways will connect through London; Air France will connect through Paris.
Air travel is still a comparative luxury in Turkey and consequently the airport environment is very civilized. Ample security and check-in personnel ensure that there is never a long line. A Turk would be shocked to see customers shuffling their feet in a one-hour check-in or security line at an American airport.
If you decide to venture beyond Istanbul, internal flights are cheap, plentiful, and can be booked online. Turkish Airways and Atlas Jet are two of the big suppliers.
The metro runs from Ataturk airport to the center of town for about $1. A taxi could cost $25-50 and take 1-2 hours, depending on traffic.
Getting Around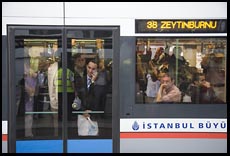 Istanbul was not designed to hold 13 or 15 million people. Consequently, the transportation system is strained. A small portion of the downtown area is served by a metro and a tram system. The villages up and down the Bosphorus are reasonably well served by a ferry system. Elsewhere folks walk, are driven by their private chaffeurs, take taxis, or jump in shared taxis.
Before cursing your taxi driver for the fare, remember that Turks pay the world's highest prices for gasoline, about $8.50 per gallon at a time when Americans were paying $2.50.
Survival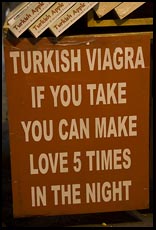 American citizens need a visa to visit Turkey, but you can get it upon arrival at the airport for about $20.
The time in Istanbul is GMT+2, i.e., two hours ahead of London and seven hours ahead of New York. Thus if it is 9:00 am in New York, it is already 4:00 pm in Istanbul.
Electricity in Istanbul is 220V at 50 Hz with a double-pinned round plug similar to what the French and Germans use. Most laptop computer and digital camera power supplies can function on this power and at most you'll need a mechanical adaptor. Business hotel rooms often are equipped with an American-style plug near the desk. If not, the hotel will lend you an adapter.
The country code for Turkey is 90. Tri- or Quad-band GSM mobile phones will work everywhere in the country, with coverage and service quality vastly better than in the U.S. Expect your mobile carrier to stick you with $1-2 per minute charges upon your return. If you're going to be in the country for any length of time, get hold of a prepaid phone or SIM card.
Internet cafes are common, but typing on a Turkish keyboard is difficult because the English "i" key is in a different place as are many other important characters.
Money is the lira, but merchants often accept the euro and dollar as well. You can get lira with an American ATM card from just about any bank machine. Expect prices for most things to be between 1.2 and 2X the price that you would pay in a large American city.
Learning Turkish
Think it would be tough to learn Sanskrit? English has a lot more in common with Sanskrit than with Turkish, since both English and Sanskrit are Indo-European languages. If you grew up speaking Hungarian or Finnish, Turkish will come a bit easier than for an English speaker, but it is still a multi-year challenge.
Fortunately for the tourist, English is taught to all Turkish youngsters. Unfortunately, the teaching is done in Turkish government schools by Turkish government employees. Turkish kids learn English the way that American kids learn math and science. Even the most basic English conversation is usually beyond a graduate of Turkish high school.
How can the tourist industry in Turkey present an English-speaking facade? There are a lot of Turks who've worked for several years in an English-speaking country and then returned to Turkey to raise a family. These are the folks to whom you can talk.
If you want to learn enough Turkish to navigate consumer situations and be polite, the Pimsleur Turkish program is a good start.
---
philg@mit.edu