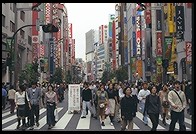 A Photographer's Guide to Japan
by Philip Greenspun; created 2000
---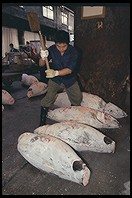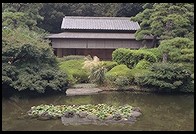 Imagine a country where everyone is good at his or her job. Imagine a country where everyone has respect for elders and teachers. Imagine a country where every shop clerk treats each customer like an honored guest. Imagine a country where everyone wears expensive clothing, the food is slurpy, and there aren't any napkins because apparently nobody needs them. Imagine a country where everyone has good taste.
You've imagined Japan.
One thing that is tough for an American to understand is how Tokyo-centric Japan is. In the U.S., if you are ambitious for money you move to New York. If you are ambitious for power you move to Washington, DC. Those who want to get into show business move to Los Angeles. Techies move to Silicon Valley. People who love knowledge and learning move to Boston. In Japan, each of these types of people would move to Tokyo. And they have! Tokyo is corporate headquarters. Tokyo has the best universities. Tokyo is the seat of Japan's powerful central government. The good thing about Tokyo-centricity is that a Japanese family can stay together even if the members develop divergent interests. The bad thing is that real estate prices are insane, commuting means 75 minutes standing on a packed train, and one is constantly part of a crowd. As a tourist, it is a marvel to see how well Tokyo functions despite the crowds. In planning your trip remember that you can escape those crowds merely by leaving Tokyo.

General Tips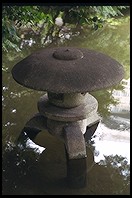 The best months to visit Japan are spring and fall. The climate in Tokyo is similar to that of New York City. You can control the climate to some extent by traveling up into the mountains, north to Hokkaido, or south to subtropical Okinawa. If possible, I recommend starting your trip in a part of Japan that is smaller and slower-paced than Tokyo. Nara and Kyoto are reasonable choices, served by the Kansai international airport.
The Japanese are incredibly friendly to photographers. Some museums and temples restrict the use of tripods but otherwise this is a place where you can snap away in comfort. Street photography is easy despite the language barrier; the Japanese are especially tolerant of foreigners.
It is easy to buy a camera or film in Japan but don't expect bargains on most items. Generic digital/35mm gear is about the same price as in New York. Certain kinds of medium-format cameras, such as Mamiya, can be substantially cheaper in Japan.
Survival
If you're from most Western countries, you don't need a visa to enter Japan for 90 days.
You will most likely be flying into either Narita Airport (near Tokyo) or Kansai (near Osaka and the airport of choice for visiting Kyoto and Nara). If you've traveled light, you can take a train from Narita into Tokyo. If you've got a lot of luggage and are staying at a big hotel, take the special airport bus (90 minutes). If you come into Kansai and are going to Kyoto, the train is the only reasonable option.
Considering that English is a required subject in Japanese government schools, it is remarkable how few Japanese speak English. Remember also that you won't be able to read most signs or product packaging. Prepare to be disoriented and confused.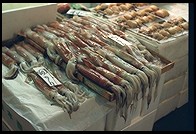 You'll have to try very hard to get food poisoning in Japan. The guidebooks caution only against raw bear meat and raw wild boar due to risk of trichinosis.
Electric power is 100V (US voltage is about 117) and plugs are American-style two-prong affairs. Curiously, the line frequency is 50 Hz in Tokyo and eastern Japan, 60 Hz in the west. Most laptop and digital camera power supplies will work fine in Japan.
The time in Japan is 9 hours ahead of Greenwich Mean Time (London), which makes it 14 hours ahead of New York. Thus if it is 9:00 am in New York, it is already 11:00 pm in Japan. Japan does not observe Daylight Savings Time, so the time difference from New York will be 13 hours in the summer.
The currency in Japan is the Yen. You get about 100 of these to the dollar. Bring lots of US dollars in cash or travelers checks into Japan and also try to use the ATMs in the airport or the post office. The average bank ATM will not work with an American bank or credit card! Remember that, at least as of September 2000, Japan remains a cash-oriented society. Six of us ate a $1000 sushi meal. We had to pay in cash. We visited a rare book and print shop. They had some lovely drawings of koi for $2000. Cash only.
Japan is about as safe and crime-free as a country with 125 million people can be. My friend Curt left his Nikon FM2 on a subway train. He complained about the loss to a Japanese friend who asked "Why didn't you go to the lost and found and get it back?" It did not occur to the Japanese that the camera would have been misappropriated; it did not occur to the American that the $500 camera would be returned. Curt went to the lost and found. The Nikon was there.
Bring your familiar over-the-counter medicines with you. The Japanese do not have a strong tradition of self-care. If you're sick, you go to the doctor and take whatever is prescribed without asking what it is. Pharmacists are helpful but some of your favorite drugs may not exist, e.g., Sudafed, unless you go to the American Pharmacy (Tokyo: (03) 3271-4034).
Getting Around
Traveling by train is very practical.
Snapshots
Guidebooks and Real Books
Per page, the most useful guidebook to Japan is the Dorling Kindersley Eyewitness Guide . There is a photograph of nearly every sight so you can decide whether or not it is worth the trip photographically. If you have a $20/day budget and want to know which bus to take and at which hostel to park your backpack, get the Lonely Planet Guide to Japan . You can gain useful added perspective from Tokyo, Kyoto and Ancient Nara (Richard Lloyd Parry 1999).
If you'll be staying more than a week, pick up Little Adventures in Tokyo : 39 Thrills for the Urban Explorer (Rick Kennedy). You also want "Bilingual Map of Tokyo, Yokohama, Tsukuba" by Makuhari Messe. These will be available from larger bookstores, e.g., Kinokuniya (main store is in Shinjuku) and Book First.
For real books, try The Sailor Who Fell from Grace With the Sea (Yukio Mishima) and Snow Country (Yasunari Kawabata). John Dower won the Pulitzer Prize for Embracing Defeat: Japan in the Wake of World War II . If you want to go back a few years earlier, read Dower's War Without Mercy .
As far as cinema goes, the greatest works are those of Akira Kurosawa, including Seven Samurai and Ran . Also see Woman in the Dunes , Tampopo for fun, and maybe some Japanese animation from the local video shop. The 1967 James Bond film You Only Live Twice was filmed in Japan.
More
---
philg@mit.edu