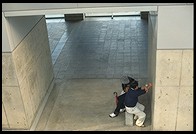 Kyoto
by Philip Greenspun; created 2000
---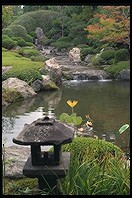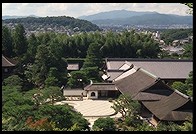 Capital of Japan from 794 through 1868, Kyoto today is a small city with tremendous cultural assets. The population is 1.4 million and has its share of concrete, but don't blame the American military for its despoilation. Out of consideration for its artistic treasures, the city was spared both the incendiary bombs and atomic bombs that devastated the rest of Japan. Surrounded on three sides by mountains and cut through by rivers, a typical view of Kyoto will include both the manmade and the natural.

Kiyomizu-dera
If you're up at 0500 with jet lag, the only place to go is up to the eastern hills to Kiyomizu-dera ("pure water temple"). This is a 1000-year-old temple with a great view of the city below, a Shinto subtemple, and, most importantly, it opens at 6:00 am.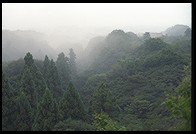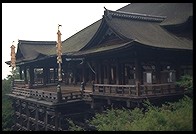 Up the hill a bit to the Shinto area...
A few steps down the hill from Kiyomizu-dera, Jin worships at his own temple... a beer vending machine, happily up and running at 7:30 am on a misty Sunday morning: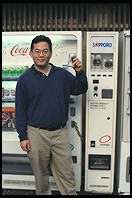 Saiho-ji
Saiho-ji is an unusual temple. You have to make reservations. You can only visit at a couple of set times each day. You have to pay $30. You have to participate in a 20-minute Buddhist ceremony. The monks who run Saiho-ji don't want it to be reduced to mere tourist attraction. After the service you can walk in peace around the garden, which contains 120 different kinds of moss.
Dry Gardens
Kyoto is the birthplace of the Zen dry landscape garden. A dry garden is built on a base of raked pebbles that may suggest water. Islands within the sea or lake of pebbles are created with large unusually shaped rocks or small trees. The canonical Zen garden is alongside the main building at Ryoan-ji.
Koi
Kyoto's temples keep lovely collections of Koi. Some of the carp may be rotated from a temple's collection into a "mud pond" where the minerals bring their color up. The black/brown standard carp originated in China and arrived in Japan nearly 2000 years ago. Colorful mutations were noticed and selected for starting around 200 years ago. Only around 1900 did Koi breeding and keeping spread throughout Japan. Koi today are bred in countries throughout the world, notably Israel and the United States, but the fish with the best and truest patterns are bred by the Japanese. (See Koi Net for more information.)
Note: if you really want to get good pictures of Koi, it would be best to use a polarizing filter (I didn't have one with me). A polarizer will eliminate reflections from the surface of the water. Also, make sure that you are using ISO 400 or faster film. This will ensure a fast enough shutter speed to freeze the motion of the Koi.
Snapshots
Temple Snapshots
The end of the line
Getting Around
Kyoto traffic is tame enough that if your budget permits you can take taxis from point to point (usually around $20 per trip). Otherwise, the bus system is extensive, there are two subway lines, and a variety of JR and private trains criss-cross the city.
Where to Stay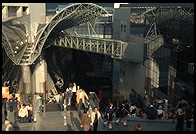 I don't know of a hotel in Kyoto with in-room Ethernet access to the Internet. We stayed at the Hotel Granvia, which is right in the enormous new Kyoto train station and shopping complex. This makes it very convenient for people arriving off an international flight to Kansai and then taking the train to Kyoto. It also makes it easy to depart for Tokyo via the bullet train. The hotel is comfortable, the staff is excellent and speaks English, but the overall experience is somewhat generic.
For the authentic Kyoto experience, you probably ought to stay in a ryokan. These are traditional Japanese-style inns. Meals are included in the price but probably best not to ask about why there is no 10base-T jack in the tatami mats... The best-known ryokans are Hiragiya ( www.hiiragiya.co.jp), Tawaraya, Seikoro, Shiraume, and the ryokan section of the western-style Miyako Hotel ( www.miyakohotel.co.jp).

---
philg@mit.edu