Monteverde Lodge
part of the Costa Rica story by Philip Greenspun
---
Monteverde Lodge is the nicest and one of the newest hotels in Monteverde. The restaurant serves the best food in Monteverde, although it isn't quite up to the high standard set by the Tortuga Lodge, which is owned and operated by Costa Rica Expeditions as well.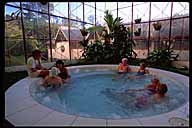 By far my favorite feature of the Monteverde Lodge was the "15-person Jacuzzi" (a sign in the room refers to the "Yacuzzi"). Chantal actually decided we should measure this and we decided that 20 people would actually fit comfortably.
Rates are about $70/night. Book through Costa Rica Expeditions.

---
philg@mit.edu
Add a comment | Add a link