The Aviation Tourist in Boston

by Philip Greenspun, updated February 2019
---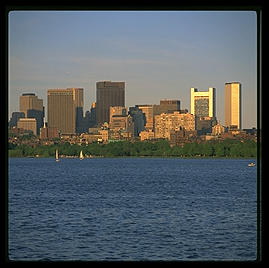 Cold and grey in the winter, hot and hazy in the summer, windy and gusty in the spring and fall as the weather systems move through, New England would seem to be a poor choice of destination for the aviation tourist. Nonetheless, if business calls you to Boston and the weather gods smile it is possible to indulge almost any aviation interest within a 45-minute drive of downtown.

Here are the things that you can do within a 30-kilometer radius of the city center:
take aerobatics instruction from a former U.S. military fighter pilot
learn to fly a helicopter (world's lowest prices on the Robinson R44)
rent an airplane and fly out to the beach-island playgrounds of the rich and famous
take off from a non-towered field and, after flying for 20 minutes, land at Logan Airport, the world's 32nd busiest, in the heart of Class B airspace
work toward the FAA certificate of your choice, from Private through Airline Transport Pilot (ATP), at the flight school of your choice
The Airspace and the Air
Logan Airport sticks out into Boston Harbor, more or less from downtown. Its Class B airspace thus overlies the city center. Roughly 14 n.m. out is a ring of towered airports that serve general aviation and whose Class D airspaces are underneath Logan's Class B. These are Beverly (KBVY), Bedford (Hanscom, KBED), and Norwood (KOWD). At roughly 20 n.m. out there is another ring of airports, including the towered field of Lawrence (KLWM) and a bunch of non-towered airports such as Marshfield, Plymouth, and Taunton.

You'll want the Boston VFR Terminal Area chart, available at any flight school, before venturing out. Boston Approach controls the low altitude airspace near the city and they tend to be fairly busy during the daylight hours, often too busy to provide flight following. Very seldom will they clear you through Class B airspace; you always always have to go around and underneath.

Despite the fact that Eastern Massachusetts is, by western North American standards, virtually flat, surface winds in excess of 15 knots usually translate into a very bumpy ride in the air. One way to escape the turbulence is by climbing. The air is usually smooth by 7500' MSL but sometimes you'll need to go as high as 9500' or 10,500' to be out of the bumps. Another way out is to head for the beach. Very seldom will you be more than a 10-minute ride from the ocean. Once you have the airplane a few hundred meters offshore the air is almost always smooth. Flying 1500' above the waves is a great way to see many of the most attractive houses in New England and more than likely following the coast won't add more than 15 minutes to the total flying time in reaching your destination.
Hanscom Field, Bedford, Massachusetts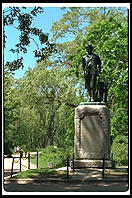 Hanscom Field in Bedford (KBED) will very likely be the most convenient base for your aviation tourism. If you're bringing your own aircraft, there are three FBOs. None are inexpensive, unfortunately, but Rectrix will likely provide the warmest welcome.

Hanscom is accessible from downtown Boston via public transit (Red Line on the subway to Alewife, then MBTA Bus 76) and is close to the high-tech companies on Route 128, also known as Interstate 95, the ring highway surrounding Boston. The closest hotel to the field is the Sheraton Lexington. If you're coming from the New York area you can even fly directly into Bedford on U.S. Airways or Pan Am.

Hanscom has a 7000' main runway with an instrument landing system (ILS) in both directions and a 5000' crosswind runway. The tower has radar and, aside from the high level of corporate jet and student traffic, Hanscom is a very easy place to operate. East Coast Aero Club (www.eastcoastaeroclub.com; no membership fee required) offers an assortment of well-maintained low-wing airplanes at low prices and a diversity of high-time instructors who are dedicated to teaching (and/or have rich wives). I was a student at ECAC starting in 2001 and have been teaching there since 2005. My specialties are the Robinson R44 helicopter and instrument airplane instruction in the Cirrus SR20. ECAC also offers aerobatics instruction with Marc Nathanson, a former fighter pilot, and Bill Witzig, a former USMC test pilot and current aerobatics competitor.

East Coast Aero Club is the only facility in Bedford with helicopter instruction using the four-seat Robinson R-44 at the world's lowest rates.
A One-hour Sightseeing Flight
For a good introduction to coastal New England scenery, depart Bedford to the northeast, towards Lawrence (KLWM), and follow the Merrimack out towards the sea. If you climb to 2900' you'll be above Lawrence's Class D airspace and below Boston's Class B. Once you reach the ocean, drop down to 1500' and head south along the beach. After about 5 minutes you'll reach Cape Ann and a beautiful view of the Crane Mansion. Turn left to stay off-shore and follow the outline of Cape Ann. You'll pass over Rockport, home of cheap lobster and cheaper seascape oil paintings. You'll pass over Gloucester Harbor, home port of the swordfishing boat Andrew Gail, whose unfortunate fate was chronicled in the book The Perfect Storm. Begin to head north across Cape Ann when you're approaching Beverly airport's Class D airspace, then head back to Bedford for landing.

If you want to turn this into a day trip, land at the Plum Island airport (2B2), in and among the dunes, if you don't mind a 2100' runway. Bob Lobster, a classic New England seafood shack (with fully up-to-date prices!), is an easy walk east from aircraft parking.
Cape Cod and the Islands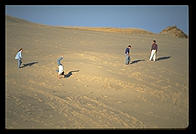 The quintessential Boston getaway is to Cape Cod and the islands of Martha's Vineyard and Nantucket. If Cape Cod is your destination you can save some air time by renting a plane on the South Shore, e.g., Marshfield or Plymouth . If you start from Bedford you'll spend your first 20 minutes working your way southeast around the Boston Class B airspace. You'll reach the coast near Marshfield (3B2; see below) and proceed south along the beach. Keep going all the way around the shoreline and land at the Provincetown airport (KPVC; 3500' runway with ILS and VASI/PAPI). You can walk right into the dunes of the National Seashore, a beach run by the U.S. National Park Service, or take a taxi into "P-town", which has all the Victorian bed and breakfasts, fine restaurants, and lively parties that you'd expect from the gay/lesbian capital of New England.

A more conventional alternative is Chatham. Most of Cape Cod's "towns" aren't actually towns. Chatham is an exception, with a walkable main street. You can land at KCQX, which has a 3000' runway that can feel a little less comfortable than Provincetown's due to being embedded in a forest. The lowest instrument approach gets you down only to about 550' above the runway. The airport also has a popular restaurant where families congregate on weekends (photos). If you're not arriving by Gulfstream, I recommend Pleasant Bay Village, a motel-style complex with beautiful Japanese gardens, complete with koi (my photos from a summer 2014 stay).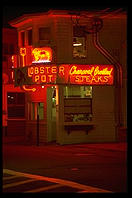 Depart Provincetown Airport and head for the open water just to the northeast. Look for whale-watching boats because they tend to congregate around the whales. There aren't too many animals for which the view from an airplane 500' above the surface is interesting, but humpback, minke, fin, and right whales are certainly among them. When you're done with whale watching, fly south along the Atlantic Ocean beaches, the east coast of Cape Cod, and hold your heading over a 15-mile gap of water that separates the Cape from the historic whaling island of Nantucket (KACK; 6000' runway with ILS and VASI; control tower). Nantucket was one of the largest and wealthiest towns in New England until the discovery of petroleum took the wind out of the sails of the whaling business. Consequently a 20-minute walk through the cobblestone streets of downtown Nantucket will take you past dozens of interesting 18th- and 19-century buildings. If you're around in April, be sure to check out the Daffodil Festival, complete with antique car parade, dog parade, and three million daffodils blooming. For bicycle rentals, contact Nantucket Bike Shop, which will deliver bicycles to the airport or a nearby hotel, such as the Nantucket Inn, adjacent to the airport and famous for Sunday brunch (probably not the best place on the island to stay). See my 2014 photos, which includes quiet Madaket Beach, and also www.nantucket.net for more information on this island.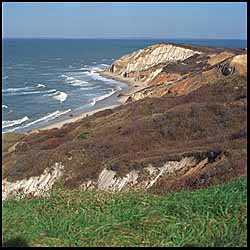 Martha's Vineyard is much larger than Nantucket and the industrial whaling heritage is not as overwhelming. The big airport (KMVY) has a control tower, an ILS, a 5500' paved runway, a good on-field restaurant (breakfast and lunch only) in the fancy new terminal, public transit service, and high prices for overnight parking. The small airport (1B2) is Katama Airpark, which includes three grass runways, one of which at 4000' is claimed to be the United States's longest. The grass is quite firm and the airport is regularly visited by tricycle-gear aircraft, including light twins. The Katama airport has a restaurant on the field and is just a short walk from one of the handful of public beaches on Martha's Vineyard.
Nantucket and Martha's Vineyard get pretty crazy during the summer tourist season and summer weekends are beyond crazy. To escape the crowds consider a visit to tiny Block Island (KBID, 2500' runway with VASI/PAPI). Block Island offers similar geography and scenery to its big brothers but it isn't as large or clogged with Range Rovers and celebrities.
Bedford-Ptown-Nantucket-Vineyard-Bedford can be flown in about 4 hours of Hobbs time. See http://www.photo.net/us/ne/cape-cod for more of the author's photos and advice on Cape Cod and the islands.
Very Big Modern Art and Very Small Airplanes
Western Massachusetts is home to a 3000'-high section of the Appalachian Mountains, a depressed old mill economy, the Boston Symphony Orchestra (summer only) and a few important art museums. A good base for operations is Harriman and West Airport (KAQW) in North Adams. About a one-hour flight from the Boston area, this uncontrolled field has a 4200' runway, a soaring club (www.mohawksoaring.org), and is just a short taxi ride from three art museums: Clark Art Institute, Williams College Museum of Art, and Massachusetts Museum of Contemporary Art (Mass MOCA). Clark (www.clarkart.edu) has the best collection, including an extensive assortment of Impressionist works. Mass MOCA (www.massmoca.org) offers some of the largest indoor art spaces in the United States and is home to a seasonally refreshed show of massive works of installation art. Mass MOCA resides in a 19th-century mill complex that was most recently used by Sprague Electric to produce capacitors and other electronic components. An infusion of $22 million in taxpayer funds turned the old buildings into a destination for art lovers from all over the East Coast. The project was supposed to provide jobs for locals but most of the people hired seem to be black-clad New Yorkers. None of the working-class families that I met in North Adams had visited Mass MOCA.
Even Bigger Art
A little over one hour from Bedford is the 12,000' runway at Stewart International (KSWF), just north of West Point on the Hudson River. This airport is the home of C5 cargo planes, first-rate FBOs, and is convenient to two great art destinations: Storm King Art Center, the nation's leading sculpture park, and Dia:Beacon, the nation's largest museum for contemporary art.
Aviation Museum
The only real aviation museum in New England is at KBDL, a very GA-friendly airport about a 30-minute flight from Boston. The New England Air Museum unfortunately does not have ramp parking, but Signature at KBDL will be happy to lend you a beautiful crew car for the 3-minute drive.
Helicopter Lessons
You can take helicopter lessons at Bedford, Lawrence, or Norwood. For Bedford, see the previous description of East Coast Aero Club. A fun stop in the helicopter is the Plum Island airport (see above) for lobster.

A fun day trip in the helicopter is to fly down to Manhattan, circle the Statue of Liberty, and land at the Downtown/Wall Street helipad for lunch (not too much more expensive than parking a car in Manhattan). About four hours of round-trip flight time in a Robinson R44.
Running with the Big Dogs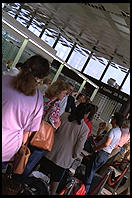 If you want to practice your radio communications skills and get some beautiful views of downtown Boston there is no better trip than going into Logan Airport (KBOS). If you avoid peak times such as weekday afternoons you'll probably get a very pleasant reception. It will also help if you study the ground diagram before departing and have that diagram on your kneeboard. Start by listening to the ATIS and then calling Boston Approach with your position and "Landing with [ATIS code]". They generally have two runways in use, one for the heavy airplanes and one for commuter flights. In many ways landing at Logan is easier than at the busier general aviation airports. There is no pattern at Logan. Pursuant to FAR 91 Appendix D, section 4, no solo student pilot operations are permitted at Logan. You won't be asked to identify and follow some other airplane "about to turn base"; you'll be vectored until you're lined up with the runway and then cleared to land.

If you touch-and-go you might get away with paying only a $27 landing fee. Otherwise you'll fall into the hands of the only FBO at Logan: Signature Flight Support. Without fuel, a one-hour stop here will cost approximately $225. The Signature folks are helpful and will shuttle you to the main terminals or airport hotels in their courtesy van.

Departing Logan is a breeze. Ask for progressive taxi instructions and directions to a reasonable place to run up. Your biggest risk at an airport like this is a runway incursion or finding yourself on the wrong taxiway, nose-to-nose with a 747. Don't be afraid of sounding amateurish. Remember that this is an international airport. The pilots of the 747 might never have been to Logan before either.
Boston: Up Close and Personal
If you are familiar with the landmarks of MIT and Back Bay, you can fly down the Charles River into very nearly the heart of Boston. Here's how it works, according to my friend Gary:

My procedure is to call Boston approach (124.4) from the vicinity of the
intersection of Rt. 128 and the Mass. Pike at 2000'. "Request transit
Class Bravo for City Tour [that's the local term for it], Charles River
to Back Bay, then return westbound."  Usually they'll assign a squawk
code and hand you off to Boston tower or Boston skyway (the helicopter
controller, 124.725).  Sometimes they'll just suggest that you call the
tower or skyway with the request.

I generally fly down the river until abeam the Prudential or Hancock
building (except when they only clear me as far as Mass. Ave.), then
turn around to the left over MIT and Harvard.

An anomaly today was that skyway cleared me into Class B at 1000'.  I
had to tell them that that would be too low for required terrain
clearance.  I requested 1200' instead, and they came back with 1500'
after coordinating with TRACON.  Remember to keep 2000' laterally from
the tall buildings.

None of this works during Boston Red Sox games. Under the general post-9/11 principle that only one American business can be functioning at a time, aviation within downtown Boston, aside from scheduled airlines, is shut down from 1 hour prior to a game until 1 hour after it ends. The NOTAM for sports games (primarily intended to exclude banner-towing aircraft from competing with in-stadium advertising) has an exception for aircraft on an ATC clearance, which of course you would be within the Boston Bravo. However, the FAA controllers within Boston tower have instructions to exclude airplanes, even ones not towing banners, from within 3 n.m. of the stadium during the game and +/- 1 hour.
Up to Maine
New England's only national park is Acadia, on Mt. Desert Island, connected via a causeway to the Maine coast (http://www.nps.gov/acad/). Acadia is notable for medium-sized forested mountains meeting the Atlantic Ocean, red and yellow foliage in the fall, the 45 miles of carriage roads for bicycling and 115 miles of hiking trails. The airport (KBHB) is halfway between the towns of Ellsworth (mainland, Walmart, strip malls) and Bar Harbor (island, village green, cute shops, high prices) and features a 5200' runway, a crosswind runway, an ILS, and an excellent FBO. In the summer you can enjoy dog-friendly cruising on the schooner Rachel B. Jackson (www.rachelbjackson.com).

The coastal route up from Boston takes you past the former Pease Air Force base (KPSM), a towered field with the longest runway in New England--11,300'. This is a great place to practice touch-and-goes or low flight over the runway, but not a great place to stop for lunch as there is no restaurant on the field. Continuing up the coast be careful not to violate the prohibited area around an estate in Kennebunkport, Maine. Former U.S. president George Herbert Walker Bush was officially a resident of the great state of Texas, based on a three-night stay in a Houston hotel. This worked out well financially for Bush the First because Texas has no state income tax and the Internal Revenue Service apparently wasn't interested in investigating where George H.W. actually spent his time. As a pilot you need to be better-informed than the I.R.S. about where Mr. Bush spends his time. As of 2002 you weren't allowed below 3000' when Bush was at home, 500' when Bush was away. The next airspace obstacle to the beachcombing aviator is the Portland, Maine Class C. The controllers at KPWM are friendly and if you want to stop for a quick on-field lunch, this is a fine place to do so. Just remember to contact clearance delivery before contacting ground control for a departure taxi clearance. Halfway between Portland and Bar Harbor you might want to stop in Rockland (KRKD), which has an on-field transportation museum with a remarkable collection of automobiles and early airplanes. Downtown Rockland has a great art museum and hosts the Maine Lobster Festival every August.
Out to Long Island
New York's Long Island is difficult to visit by car. From Boston you must drive all the way to New York City (4 hours) and then start backtracking northeast out the spine of the island. You can shortcut this process by taking a ferry across Long Island Sound from Connecticut but it is much easier and faster to go by airplane. Unlike in Massachusetts, all the beaches in New York State belong to the public. If you wish you may walk around the entire perimeter of Long Island without trespassing on private land. Otherwise Long Island is similar in many ways to Cape Cod and Martha's Vineyard/Nantucket. Broad beaches and beautiful white sand dunes give way to massive 3rd and 4th homes for the wealthy. In the Hamptons, accessible via taxi from KHTO (4200' runway with PAPI; crosswind runway), you can hobnob with movie stars and Wall Street bandits. But a more relaxed way to enjoy the tip of Long Island is by landing at Montauk (KMTP). At the southern end of the 3200' runway are two classic beach restaurants; at the northern end is the beach itself! Be aware that this airport charges a $15 landing fee and that no gas is available.
Good Hotels in Boston
Boston is a very expensive hotel town. You'll just have to suck it up and pay. Here are some nice hotels that are dog-friendly and have high-speed Internet access in the rooms: None of these places are cheap but the places that are awful aren't cheap either.
More
A good source for information about and user comments on facilities at the various airports listed in this article is www.airnav.com. If you like to take pictures, visit my photographer's guide to Boston.

If you've got a question, visit the Aviation Question and Answer Forum on this server.
---
Text and photos Copyright 2002-2019 Philip Greenspun.
---
philg@mit.edu
Reader's Comments
You mentioned flying near Acadia National Park. I hired (but did not fly) a small airplane for an Acadia National Park Aerial photography flight.

-- jim harrington, November 1, 2003
Add a comment
Related Links
Photos From On High- Aerial photos of NY and New England, Buildings Bridges and more. Chris Milian aerial photographer www.photosfromonhigh.com (contributed by Chris Milian)

Nantucket Adventures- Seal Cruises and ecotours around historic Nantucket Island. Adventures depart daily to remote Tuckernuck and Muskeget Islands. Home of Nantucket's first and only seal sighting guarantee. We understand the needs of pilots and aircraft owners. Ground transport from the airport to our location aranged for our fly-in guests. Feel free to contact us for further information about our airport, our Island or our cruises. (contributed by Mark Scharwenka)

Northampton MA- Northampton is a great college town in the Pioneer Valley. The airport is an untowered field with a 3500 ft paved runway and 2 Instument approaches and a friendly FBO. Situated between Amherst and Northampton there are great resturants, cafes, and music venues nearby. With UMass Amherst, Smith College, Amherst College, Hampshire and Mt Holyoke, there is a lot to do in the Valley. (contributed by harry hinske)
Add a link