Chapter XVII: Don't cry for things that can't cry for you
of Travels with Samantha by Philip Greenspun
---
Wednesday, September 1
Cousin Tony took me out to lunch at his golf club, with his wife Carol and daughter Debra. They lived in Ecuador for many years before Carol's insistence that they move back to her hometown of Boulder paid off. Debra is working at a company that trains executives for overseas assignments.
"The really hard part is not getting Americans to adapt to life abroad, but easing the transition for families coming here from the Third World. They can't believe that it is possible to do anything productive, creative, or fun if one has to cope with children, laundry, and household chores."
Carol gave me directions to Denver and I-70, but Tony contradicted her. His approach would have taken me 15 miles out of my way on a two-lane road. When I mentioned this, he gave me the same directions that Carol had, without acknowledging that she'd been right in the first place. I want to get married so that I can be right all the time.
Under a big sky, Denver flashed by without revealing more than a glimpse of skyscraper clusters and petroleum farms. Fields of wheat and corn sweep up to the edge of the Rockies here. After three hours of driving through flatland, I was still shy of the border. The little hamlet of Burlington beckoned with the 1905 Kit Carson County Carousel.
"It was built by the Philadelphia Toboggan Company in 1905. It is the only one in the U.S. that has all of its original paint, which was protected by varnish over the years. That's why it is a National Historic Landmark," said Cheri, a cheerful high school senior.
To show me the lengths to which tourism officials in her part of Colorado will go, Cheri trotted out her Colorado's Outback brochure. It describes "the other Colorado," which supposedly bears some resemblance to Australia's Outback. Australian or not, it is either "as wild as your imagination" (per the brochure) or "as flat as Kansas and almost as Goddamn wide" (if you ask me). The brochure didn't explain the county's name, though, so I asked Cheri.
"I don't know why we named our county after Kit Carson. He killed 1,000 Navajo Indians and did a bunch of other bad stuff. I think he only passed through here anyway."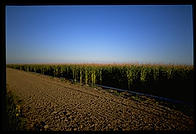 While Buck Mulligan shaved his way through a BBC dramatization of Ulysses, I passed the "leaving colorful Colorado" sign and rolled into the Kansas Welcome Center around sunset. A large AIDS education poster is featured in front of endless wheat fields. I learned that this part of I-70 is named for Dwight Eisenhower, born and raised here in Abilene. He got part of his inspiration for the Interstate system, funded in 1956, on a 1919 Army convoy trip; it took 62 days from Washington, D.C., to San Francisco.
With my nose pointed directly east, the bulging rising full moon hung directly in front of me for 20 minutes. I pondered the hidden meaning of signs proclaiming, "Every Kansas farmer feeds 92 people ... and YOU."
Thursday, September 2
Determined to get to Kansas City before the art museum closed, I kept the cruise control on for six hours and missed Historic Kansas. Kansas was the site of sometimes-violent conflict between pro- and anti-slavery contingents just before the Civil War. Each faction established its own communities, and it would have been nice at least to see where John Brown got his bloody start.
I also missed Tourist Kansas. I missed Walter P. Chrysler's boyhood home in Ellis, "a city with a rich past and a promising future." I came within a mile of the Sternberg Museum, "the best kept secret in Kansas" and holder of the "world-famous fish-within-a-fish fossil." I blew by the Dwight D. Eisenhower home and library. I did not detour up to Leavenworth, the first town settled in Kansas, where federal offenders kick back in the Big House. Most bitterly disappointing, I missed Hays's Barbed Wire Museum, which "contains hundreds of different types of barbed wire and tools used in making and stringing barbed wire."
Kansas is so determined to remain thoroughly boring that someone tossed all the interesting parts of Kansas City over to the Missouri side of the river. As I crossed the border, I settled upon a simple system for making Kansas just as interesting per hour as the average U.S. state. All you need is a car that goes 300 miles per hour.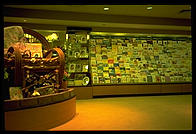 None of my 13,500 miles had taken me through any black neighborhoods, and it was a novelty to drive block after block without seeing any white faces. Segregation persisted until I arrived at the Nelson Atkins art museum, where some fraction of every penny you've spent on Hallmark greeting cards has been put to work for culture.
Thomas Hart Benton, who painted in Kansas City around 1940, said, "I'd rather my art were exhibited in saloons where normal people can see it than in museums." A typical vaulted-ceiling marble-floored museum gallery is devoted to his work. My favorite is a crowded portrait of Hollywood as a sham machine running on cheesecake. Figures, equipment, and sets crowd every portion of the canvas. LIFE magazine commissioned it but wouldn't print it because of the half-naked woman in the center; they changed their tune a year later after the painting won a big award. Benton's major series depicting the settlement of the U.S. are displayed as well. One shows pilgrims in New England and another cowboys in the Wild West, but the theme is the same: white guys turn Arcadia into a living Hell for red guys.
The Hudson River School is well-represented here, with a Moran Grand Canyon and a Bierstadt Yosemite. Kansas City residents are treated to a good selection of modern art, ranging from a classic Nevelson to a wild chainsawed and painted laminated plywood Arnoldi. If I'd been willing to brave sheets of rain, I might have seen the world's biggest collection of Henry Moore sculpture.
Back on the black side of town, I stuffed my face at Arthur Bryant's famous barbecue joint. Kelly, a 28-year-old practical nurse, sat next to me with her 3-year-old daughter Shanell.
"I was only 12 when my son Donell was born, and it was a bit of a struggle to get through high school. But I managed and now I'm getting some more advanced nursing degrees."
Does the segregation here bother her?
"Oh, I've got white friends; even if neighborhoods aren't all that integrated, I never feel out of place. Some folks say there isn't anything to do here, but life is what you make of it."
Driving east through a heavy rain, I reflected upon my conversation with Kelly. Whenever hard-working yuppies complained about all the single mothers living on Aid to Families with Dependent Children (AFDC) unfairly soaking up their tax dollars, I used to nod my head in agreement. Assuming Kelly had been on AFDC at one time, she was about the 15th AFDC mother I'd talked to at some length. It struck me that I liked all of them much better than the typical yuppie grubbing his way up the ladder of consumerism. I began to think that if yupsters were willing to work 80 hours/week in pursuit of that bigger BMW or sailboat, then they shouldn't complain about having to support a few women content with a 1950s standard of living.
Horrified by these thoughts, I stopped in Foristell, Missouri, just short of St. Louis, and looked around for a Republican deprogramming center.
Friday, September 3

We will dance the Hoochee Koochee,
  I will be  your tootsie wootsie;
If you will meet me in St. Louis, Louis,
  meet me at the fair.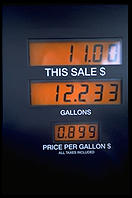 After tanking up for 89 cents/gallon (!) I drove into St. Louis and visited the Gateway Arch. Eero Saarinen was born in Finland in 1910 and came to Michigan with his family in 1922. He studied architecture at Yale and won a design competition in 1947 for a westward expansion monument (presaging the choice of an immigrant Yalie's design for the Vietnam Memorial). The wheels of government turn slowly; construction was started in 1962 and finished in 1965. Saarinen died of a brain tumor in 1961.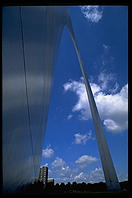 I watched an inspiring movie on the arch's construction. Huge steel plates came in by train from Pittsburgh and were assembled into triangles on site. Each triangle comprises an outer skin of stainless steel and an inner one of carbon steel with space enough in between for steel tendons. Once welded, a triangle would be hoisted into place on top of one arm and its tendons attached to those sticking out of the preceding triangle. Five hundred tons of force were applied hydraulically to stretch the tendons and then concrete was poured in between the inner and outer steel plates. The arch weighs more than an aircraft carrier.
Because of its 600' height, the arch presented unique construction problems. Each arm had to support its own weight until 450' had been reached, when a temporary support strut was inserted between the arms. Until then, the arms couldn't lean on each other or on outside scaffolding. Ground-based cranes couldn't reach high enough to lift new sections onto the arms so tracks were laid on the outside wall of each arm for an arch-based crane. Every scene in the movie shows guys perched a few hundred feet off the ground with no safety ropes, yet remarkably none of the forecast 13 deaths transpired. Finally, joining the two sides required jacking the two arms apart a bit and hosing one down with water so it wouldn't expand in the heat of the sun. Thousands of people thronged underneath to watch, and I was saddened to think that Saarinen didn't live to see his triumph.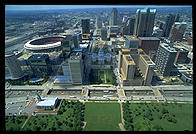 A tram system worthy of Rube Goldberg takes one to the top of the arch in a claustrophobia-inducing five-person capsule. The capsule twists with a lurch a few times to keep the occupants upright during the four-minute ride up. How's the ventilation? Make sure your fellow riders are wearing deodorant. Once on top, you can lean on an inner portion of the triangle and stick your face against a small glass window to look nearly straight down. It is nauseating. Curiously, the thriving metropolis of St. Louis stretches as far as the eye can see in the supposedly open West whereas the farms of Illinois present a much more open picture back east. I didn't contemplate this paradox for long; feeling simultaneously claustrophobic and acrophobic, I was delighted to ride the tram back down and walk over to the riverbank to check for signs of the Flood of `93.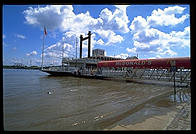 Everything looked normal until I realized that city workers weren't changing street light bulbs; they were removing river mud. Then I noticed that the Riverboat McDonald's was floating in what used to be its parking lot.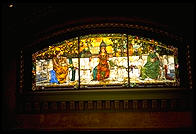 After a quick look around LeClede's Landing, the yuppie/jazz riverside nexus of St. Louis, I drove through downtown and stopped at the old train station, which has been redeveloped into a fancy hotel and shopping mall. Sandra tended bar and told me about her flood experiences.
"I don't personally know anyone who lost a home, but I do think that most of those people were pretty stupid to build on a floodplain. What struck me most about the flood was driving along the highway and seeing a restaurant roof sticking out of the water; I used to go there every week. For that matter, the highway itself was under water for weeks; an Interstate highway! Then there were all those private airplanes at our local airport. When the levee broke, there wasn't time for most people to fly their planes to safety."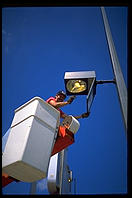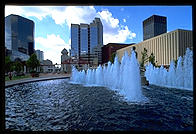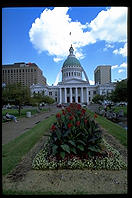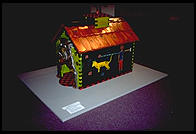 "Works of art by world-renowned dog artists such as Sir Edwin Landseer, Arthur Wardle, Percival Rosseau, and Jean Baptiste Oudry are to be found in the collection of The Dog Museum," read the brochure that lured me to this wealthy suburban neighborhood, where signs of the flood were nil. The museum outgrew its New York City beginnings and came to the middle of Queeny Park here in 1987. I expressed my disappointment at the lack of Samoyed pictures to the woman running the show.

"We take whatever is donated to us."

Computer fans will be pleased to note that advanced technology is at work here matching people with the right breeds. I answered a bunch of personal questions using a touchscreen to see if either of my favorite breeds, Samoyed or Golden Retriever, would come up. My perfect mate is apparently the West Highland Terrier, a yapping 10 lb. old lady's dog. I don't care how lonely I get; I'm not going to try computer dating.


"The state is exceptionally well and evenly drained."
--- AAA TourBook for Missouri

"Water Over Road."
--- warning sign on Highway 94
Alton, Illinois, was abbreviated by 10 miles of this main road going underwater; this was September, three months after the Flood of `93. Cars rested by the road, recently uncovered by the receding waters, their interiors encrusted with river mud. Farmhouses stood isolated in flooded fields. Ruins and bare foundations dotted the landscape, along with debris and sandbags, but the area wasn't as devastated as I'd expected. First, the places I visited had never been densely populated, and second, the fields and trees appeared to be coming through unscathed.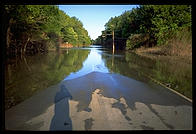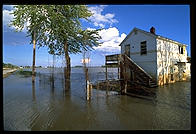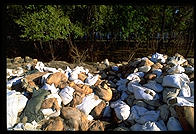 Listening to the tunes of St. Louis Radio KYKY, I crossed the Mississippi into Illinois an hour before sunset. KYKY faded somewhere on the Interstate, and I had to choose a "W" station for the first time since June 4th, when I'd left St. Paul. I was back East.

Saturday, September 4

Inspired by Kerouac's pre-Interstate adventures in a book-on-tape edition of On the Road, I meandered on "scenic" backroads through Indiana and up the Ohio River Valley into Cincinnati. Gritty industries line the riverfront road, then a gleaming downtown whizzed past from my superhighway vantage point. Before I knew it, I was dumped into the extensive park that surrounds the city's art museum. Dog owners, families and lovers played around fountains.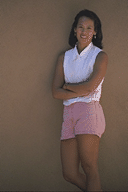 Two seconds of watching Lily walk through the parking lot reintroduced me to a part of myself I hadn't seen for 14 years. Lily and I were sophomores together at MIT back in 1979. My memory of our first conversation has faded a bit with the years, but I remember one thing clearly: after one hour, I knew that I wanted to spend the rest of my life with her. Circumstance conspired against us, though. We were young (15 and 18). The subtlest miscue from one would slash the other to the bone. During my three years at MIT, I never thought about physics or math except for during brief lulls that separated tempestuous thoughts of Lily. Depending on where we were in our on-again, off-again romance, the thoughts might be bliss, hope, anger, pain, regret, or curiosity.
We went our separate ways in 1982, she to design bleach factories in Cincinnati and I to write software in Silicon Valley. I rested secure in the knowledge that we'd certainly marry one day; we just needed a little time apart to grow up. Lily punctured my self-inflated balloon in 1984 by marrying someone else. How could she be happy without me? How could a Chinese-American girl, raised in New York City, who was a cynosure at MIT, be happy in a white bread suburb of Cincinnati?
Years passed but we never grew distant. Lily's voice on the phone would sound as familiar as those of friends I saw every day in Boston. Her infrequent letters kept me apprised of important developments. This was my first trip to Cincinnati to see her, though, and I didn't know what to expect.
Lily bounced across the art museum parking lot with her gymnast's posture and sunlit smile and changed my world. Everything I'd ever felt for her came back in a rush; I never wanted to be parted from this woman. We strolled a bit obliviously through the collection and out into the park. All the years and miles of separation melted away; we might have been continuously together until the day before.
Although Lily was always a superstar at whatever she did, she doesn't work anymore.
"Mike makes enough for me and the kids. I'm just not materialistic enough. I got pushed into MIT and chemical engineering by a bunch of well-meaning people who thought they knew what was best for me. I was too young to make an intelligent choice."
Next time something you buy falls apart, consider this: among our friends from the MIT Class of `82, only a handful are actually designing products. The rewards of an engineering career in America are apparently insufficient to retain the talents of the best-trained engineers. Lawyers keep litigating, doctors keep medicating, MBA's keep managing, but our engineer friends have mostly thrown up their hands and said "Why bother?"
The more I listened to Lily, the more clearly I remembered how I'd loved her, and the more jaded seemed my current approach to love. I might love a woman deeply, but if questioned rationally could come up with a list of pragmatic reasons why we'd not be optimal mates. "I love her with all my heart, but perhaps it would be easier to marry someone <more vivacious | American | who wants kids | who can carry more camera equipment>." I hadn't become bitter and pessimistic after getting hurt, but these kinds of thoughts poisoned love just as surely. The only person I could remember loving absolutely without reservation recently was George, and he was, well, a dog.
Alaska had made me a better listener, and I finally got Lily to explain why she wouldn't marry me. My Fair Lady's Henry Higgins was never my conscious idol, yet Lily remembered my imitation of him as my least attractive quality.
"I didn't want to live your life. I wanted you and I wanted me. I wanted to have a life together and a life for myself and watch you enjoy a life of your own. Maybe things would have been different if we talked about it, but we were too busy hurting each other. I was hurt for months but I was mad for years. And that was all before I left MIT"
Lily took me back to her new Tudor house in the distant suburbs (big houses, small trees). Mike and their two adorable daughters joined us for dinner, then Lily and I sat up talking past midnight.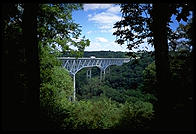 Sunday, September 5
Just like old times: Lily got five hours of sleep and had more energy than I after nine. As I pulled out of the driveway, I thought about how pointless it was to have spent all that time and effort chasing other women if none of them made me sparkle inside like Lily. I didn't let myself get depressed with these thoughts, however. Even if 95% of her heart was committed to husband and children, the leftover 5% was still worth a lot. Our joy in each other's company had survived 14 years and one marriage; I felt fortunate just to have known her.
Tourist attractions are thin on the ground in the 13 hours between Cincinnati and Philadelphia. I got really excited about a Scenic Overlook off I-71 out of Cincinnati; it turned out to overlook "Ohio's longest Interstate highway bridge."
It was past midnight when I arrived at Eero's townhouse, but he and Iris, his Israeli girlfriend, were just sitting down to dinner. I'd come full circle: Eero had helped me pack the van in Boston and seeing him again psychologically wrapped up the trip.
Note: Eero's father is an architect who worked with Eero Saarinen for two years, which is how an Italian-American got a Finnish name.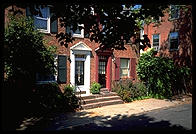 Monday, September 6 (Labor Day) and Tuesday, September 7
This region is fundamentally about subtly refined inferiority complexes. Inferiority 101: Philadelphia itself is between Washington, D.C., whose power it lacks, and New York, whose wealth it lacks. Inferiority 336 (advanced graduate course in recursive inferiority complexes): Lots of folks live in no-man's lands between Philly and D.C. or Philly and New York; "NOT Philadelphia, NOT New York, New Jersey's own Rock 101.5" shouts one radio station.
W.C. Fields ("I went to Philadelphia, but it was closed") notwithstanding, Philadelphia has a lot going for it. Black, Chinese, Indian, and white citizens live, rather than just work together.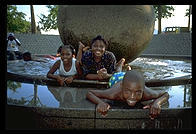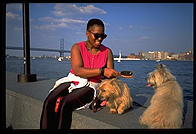 Middle-class folks can actually afford to live downtown; townhouses rent for $700-1000/month. Bars, restaurants, and entertainment appeal to wide ranges of people. The population simply isn't large enough for the total segmentation of services that one finds in larger cities ("Saturday is Nicaraguan Communist Women's Folk Music Night, Sunday is Nicaraguan Socialist Women's Folk Music Night"). Civic pride blossoms on every street corner with more outdoor sculpture than I've ever seen.
America's third largest art museum beckons from the banks of the Schuylkill. A huge statue of Rocky adorned the top of its famous staircase in one of the Rocky movies, and Sylvester Stallone donated the prop to the museum. When the museum tried to remove it, Stallone allegedly sued to force them to keep the statue there. It rests now on a South Philly street corner near Rocky's fictional home; how ephemeral is fame.
What remains is the 1920s neo-classical art warehouse stocked with piles of good stuff. Local boy Thomas Eakins gets a couple of rooms crowded with portraits. The Hudson River School is represented by a fabulous Moran Grand Canyon and a nice Andes scene by Church. The Impressionism section lacks the lively singles' scene of the Metropolitan, but a big Cézanne collection makes up for it. Those used to the crowds of the Metropolitan or the National Gallery will be confused here. Parking is free, rooms are empty, and guards are lonely. At least a dozen guards greeted me with a friendly "How ya' doin' today?"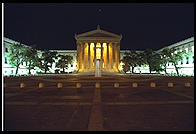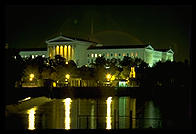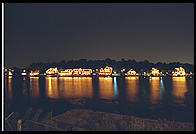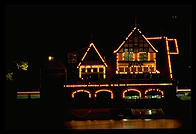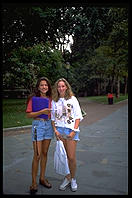 The University of Pennsylvania is an unusual Ivy League school. First, half the students are here only because Harvard rejected them. Second, the WASP enclave atmosphere is preserved only in the architecture of a couple courtyards. Harvard had its Jewish quota and then replaced it with a "geographical diversity" objective (i.e., not so many New York Jews, please). Penn scarcely seems to have tried to hold the fort. Half the buildings bear Jewish names, and I could have sworn that half the kids strolling around campus were from my synagogue (55% are supposedly Jewish; the rest are Asian). This is not the place to tell that great Jewish-American Princess joke--no, not even the "beige" one.

Wednesday, September 8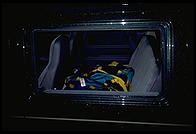 "I don't know if this makes you feel better, but I've only been here six days and it has already happened to me twice," sympathized Elizabeth.
I must have looked a bit stunned as I contemplated the gaping hole in the side of my van. While my $700 alarm system slept, someone smashed a center window and removed all my clothing, then the cameras hidden underneath. I was behaving in an almost adult fashion until I realized that one of my slide Carousels was gone. Seventy hand-picked pictures, history.
Back at Eero's, I phoned the police and placed an ad in the Inquirer offering a $300 reward for the return of the slides. Philadelphia's police force hasn't yet recovered from the ignominy of the MOVE bombing, but Officers Keitt and Garrett seemed likely to restore the department credit. These trim, professional, sympathetic, young black guys looked at the stuff in my van and shook their heads.
"We wish you could say that you could park this on the street here, but you can't."
Although the loss was more than $30,000, the detectives back at the precinct declined to come out and take fingerprints. Keitt and Garrett were delighted to accept two bear snapshots--to help them identify my slides if any should turn up--and told stories of bear paranoia on childhood camping trips.
"Just run downhill," Garrett noted, "they trip and roll if they try to follow you."
I pointed out that the bears in the snapshots were standing on slippery rocks at the top of a waterfall.
"Maybe it would be better just to run."
Nobody in Philadelphia had a replacement window in stock so I pressed north toward MIT in hopes of making a staff meeting. The New Jersey Turnpike's 12 lanes have never been noted for charm, but they looked even uglier with a steady rain roaring through a massive hole in the car. The loss of my slides made me feel a bit sorry for myself, but half-hourly news updates about a German tourist murdered in Miami kept me from wallowing in self-pity. I sought comfort in philosophy as well: "Don't cry for things that can't cry for you."
After 15,000 miles, the six rainy hours to 545 Technology Square went by in a blink. As the Mass Pike rolled underneath, I thought about how good it would be to get back to finishing my Ph.D. in electrical engineering and computer science. A country-western radio station provided accompaniment:

Well there ain't no shame
in a job well done,
in driving a nail
or drivin' a truck.
As a matter of fact,
I'd like to set things straight.
A few more people should be pulling their weight.
If you want a cram course in reality,
you get yourself a workingman's Ph.D.

The reward offer worked, by the way. An electric company worker found the carousel in the street. So I lost the cameras but got the images back a few weeks later.
---

Chapter XVIII: MIT

Table of Contents
---
philg@mit.edu
Add a comment | Add a link