Los Alamos to Boston (September 1994)
by Philip Greenspun

Home : Travel : Footsteps : One Section
---
Friday, September 23, 1994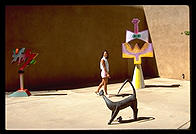 I was just getting to really like Los Alamos. I'd met the town intellectuals and had two or three dinner dates a week and a lunch date every day if I could tear myself away from my beloved Macintosh Common Lisp. Weekends with Susie and Stephen in Santa Fe, with its string of Friday night art gallery openings and super deluxe art market kept me sane. However, it was getting cold in my tent and I decided that LANL was a better place to finish a computer science PhD thesis than to start one. I started driving back towards MIT.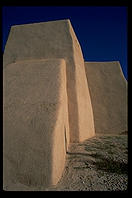 New Mexico beckoned me back even as I drove out into Colorado. A cloudless sky overhead and the surreal autumn light made Taos and the beautiful valley of Arroyo Honda shimmer. I finally understood why the place attracted so many painters. New Mexicans describe their state as "Land of Enchantment" or "Land of the Flea and Home of the Plague" depending upon mood, but I'd concluded for sure that this was the land of the cracked windshield. I couldn't believe that I'd survived both the Alaska Highway and a summer in New Mexico with my windshield intact.
Fifteen miles short of the Colorado border, on a smooth highway with no evidence pebbles, a pickup truck coming the other way kicked up something that put a dime-sized crack right in front of my eyes.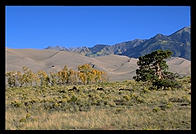 It was 8pm and almost pitch dark when I got to the campground at Great Sand Dune National Monument. A ranger narrated a half hour slide show on Colorado wildflowers, all of which were long dead, for a miscellaneous collection of Swiss-Germans and Coloradans. Her presentation was devoid of the usual National Park Service New Age philosophy except at the end: "next time you look at a wildflower, feel the wonder." Wind and cold was about to penetrate my Gore-Tex Thinsulate parka so I was happy to pitch my tent and get into the sleeping bag. The wind was so strong, though, that it would blow part of the tent in on my head every now and then. Ear plugs were essential to keep the howling wind noise out.

Saturday, September 24, 1994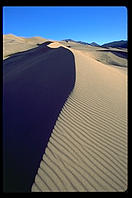 I managed to push myself out of bed at 6:45 by reminding myself that I hadn't come all the way here to miss the shadows on the sand dunes. The scenery was perfect. A field of Colorado fall color, mostly yellow and maroon, backed by a 700 foot high sand dune over which towered the sharp peaks of the Sangre de Cristos. I hiked out onto the dunes for a bunch of footprint-free shadow-filled shots but felt no desire to climb all the way to the top through the viscous sand.
Air conditioning, telephones, satellite TV, and Internet have ameliorated some of the hardships of life in the real West, but breakfast at the Oasis cafe just outside the park taught me that it is still a different world. My waitress had been a passenger in a car when a rock came through the windshield going 110 mph.
"We're still looking for the truck that kicked up the rock," her father noted. "She might have been killed if she hadn't had her head turned sideways."
As it was, she still had some nasty scars and hadn't been able to start at Arizona State University as planned.
"You can be decapitated by a Kleenex box in the back seat if you stop short," noted the waitress's young grandmother. We appeared skeptical. "It's true. If you're going 60 mph, a Kleenex box can take you head right off."
"If I had to choose between a rock and a Kleenex box, I'd take the Kleenex," I offered.
"Me too," said the waitress.
---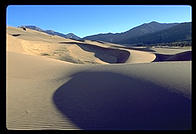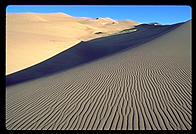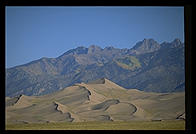 ---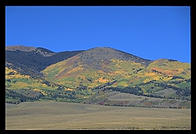 I drove through open range in a flat valley north towards US 285, a scenic route that follows the spine of the Rockies for a thousand miles or so. I stopped to check out an alligator and fish farm before pressing on to Salida. Like every Western town, there is the inevitable strip of WalMart, fast foods, and supermarket, but Salida has a vital brick downtown as well. I learned that the town was home to one of America's nicest mountain bike rides, the Monarch Crest. You take a shuttle bus up to 11,000' for $10, then climb just 1000' more along the Continental Divide, then ride mostly downhill for the rest of the 35 mile trip. That's my kind of biking and it broke my heart not to be able to stay another day in town and do it.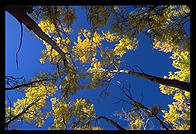 I ate lunch at the First Street Cafe with Norm, a 5th-generation German-American who grew up in New Jersey but joined the 10th Mountain Division and trained at Fort Hale, north of Leadville, Colorado.
"It was all volunteer and great skiing, but camping in minus 40 degree weather wasn't much fun."
They fought the Germans in the mountains of Italy, 990 of the 15,000 men falling to enemy artillery.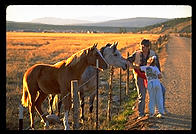 "I was on a ship near the Azores en route to retraining for the invasion of Japan when we got news about the Hiroshima bomb. I didn't believe it. There was a guy who'd been a DJ before the war who put together a daily news show for men on the ship from what he got over the ship's radio. He was a renowned prankster and none of us who knew him believed the atomic bomb story. When we found out it was true, we were walking on air for days."
Not everyone in Salida is so thrilled with the work of Los Alamos, however. A downtown storefront is the studio and home of the artist/agitator Dr. Doom. He campaigns against Republicans, nuclear arms, and a litany of other right-wing ills by driving around the West in placard-covered vehicles and dumping drums labeled "nuclear waste" on roadsides. The election of Bill Clinton has taken a lot of the wind out of his sails even if nothing substantive has been accomplished on any liberal front.
After a shower and dip in the Salida hot springs, I spun up through yellow Aspens, green pines, horse pastures, and bald high passes to the southern entrance of Rocky Mountain National Park.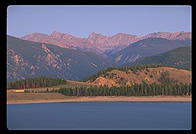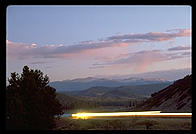 Sunday, September 25, 1994
The Shadowcliff youth hostel takes the "hostile" out of hostel with a glorious view over Shadow Mountain Lake to at least five mountain ranges. I spent the day hunting great photographs of Aspens, waterfalls, and the Rockies, but somehow never hit my photographic stride, perhaps partly due to spirit-lifting but photographically boring cloudless blue skies.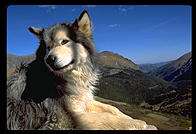 Towards the top of the park road, which goes up to 12,183', making it the "highest continuous paved road in the US," I began to feel short of breath and get a copper/salt taste in my mouth. A ranger at the 11,750' visitors' center said the metallic taste was a common symptom of altitude, which reassured me. Two Malamutes looked perfectly at home at altitude and their owners turned out to be good souls from Hewlett-Packard's Greeley scanner division. Two guys came over to join the fun and when they heard us talking about exchanging JPEGs of the dogs over Internet asked for the Travels with Samantha URL because they were students at the Air Force Academy.
Driving in gathering darkness through narrow valleys, I knew that I was really out of the park when I passed a Vishay sales office. Hewlett-Packard is taking over Colorado and their Loveland division apparently buys the fancy Vishay resistors. It was a very lonely and trying trip on US 34 for an hour before I reached I-76, which punches diagonially northeast from Denver into Nebraska. I collapsed at 11:30 in an interstate-side motel in Julesberg, Colorado, two miles short of the border.
Monday, September 26, 1994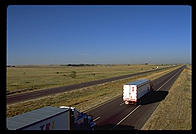 Crossing into Nebraska was thrilling out of all proportion to the flat brown landscape. This was my first new state of the trip and 48th in my life. Iowa and South Dakota were the only states I'd not visited. Writing something interesting about Nebraska is a challenge. Doing it when you cross the state on I-80 in ten hours is impossible. An average farm started with a fine white farm house in the middle of an acre of green lawn surrounded by square miles of corn. Iowa is supposedly the state with the highest percentage of millionaires, but Nebraska can't be far behind as I didn't notice too many people among whom this agricultural wealth would have to be divided.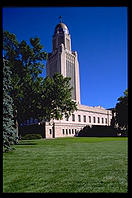 The state capitol in Lincoln is a fine Art Deco monument with a 14-story tower from the top of which Emil, a WalMart stock clerk, proudly showed me the attractions available to the city's 200,000 residents. Emil was excited to be working in this Walmart which was three times larger than the one he'd left in western Nebraska. The governor and local press were coming to see their store's latest innovation: whenever a mother lost a child in the store, an announcement would come over the PA system that would cause every employee to stop work and search for the kid. It sounded sensible, but then I thought "this is Nebraska, what's going to happen to the kid anyway?"
After dinner in the quaint yuppie Old Market section of Omaha, a vast metropolis of 300,000 an hour east of Lincoln, I debated sticking around town so that I could stalk pictures for Heather has Two Mommies in the renowned Omaha Zoo. Responsibility prevailed and I charged across the Missouri River for a dark ride through suddenly hilly Iowa. After the open spaces of New Mexico, dodging the heavy semi traffic of I-80 at night made me pretty nervous, plus my headlights seemed to be aimed too high and were irritating other drivers. It was midnight when I checked into a Days Inn just west of Iowa City. The desk clerk was a smoking kid from University of Iowa who was taking a "using Internet" course. He was getting college credit for reading Travels with Samantha on the Web! "Should I lock the car?" I asked, "I've got a lot of cameras in it."
"This is Iowa. People don't steal things."
Tuesday, September 27
I crossed the Mississippi into Illinois in the "Quad Cities" area, where chiropractic was invented and is still headquartered. The art of highway maintenance that is so carefully practiced in Iowa and Nebraska seems to have fallen into disrepute in Illinois. As the moonscape of I-80 pounded my bones, I recalled an engineer from Caterpillar who described his summer working for the Illinois Department of Transportation.
"They worshipped the twin gods of Waste and Incompetence."
Anxious to get to the Art Institute before closing time, I passed up the Ronald Reagan Birthplace, 32 miles off the interstate. I needn't have hurried. Tuesday is not only "free day" (though the others are "pay what you can" like the Metropolitan) but "open until 8" day. I wore out my feet and learned that the museum has a lot of good pictures but no Vermeers.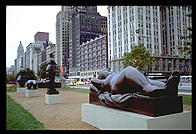 Despite my September interlude in Boston, I was overwhelmed by the big city feel of Chicago after a summer in New Mexico. The scale of the buildings, lakeshore park, lake, and traffic awed me. Every face looked as if it betrayed an interesting story. It was overstimulating, but not quite as nerve-wracking as navigating rush hour Chicago traffic moving bumper to bumper at 65 mph in a minivan with no rear visibility due to overpacking.
The mills of Gary, Indiana ringing the lakeshore just southeast of Chicago looked truly Satanic. I wanted to stop for a picture but couldn't figure out how so I pressed two hundred miles northeast on I-94 into Ann Arbor, Michigan. For the first hour of my trip, I was educated by Studs Terkel interviewing Roger G. Kennedy, the director of the National Parks Service, and author of Hidden Cities, the Discovery and Loss of Ancient North American Civilization. My American history textbooks implied that, although the Aztecs and Incas may have had impressive cultures, that the North American Indians had never been more than nomads thinking about their next deer supper. The truth is apparently that the Ohio river valley in the fourth century A.D. was dotted with cities containing impressive earthworks and hundreds of thousands of people. This was well-known to George Washington and his contemporaries who evinced a genuine scientific interest in these cities if not a respect for the descendants of the city builders. When white Americans were engaged in a systematic program of displacing the Indians, they didn't want to think of them as having been capable of advanced civilization and hence the knowledge was lost to laymen if not to historians. [Jeff and Lori assured me later that if I watched public TV instead of the Simpsons, I'd have learned about this long ago; Anne Marie assured me that if I grew up near some of the big sites, such as Cahokia, Illinois, just across the river from St. Louis, I'd also have known.]
Wednesday, September 28 (my 31st birthday)
Phil Donahue flung cheap shots at famous defense lawyers on the motel breakfast room TV while I munched donuts. Neither Donahue nor his audience approached the wit of one lawyer: "What's the difference between a spermatozoa and a lawyer? The spermatozoa has a 1 in 6 million chance of becoming a human being."
University of Michigan has some nice Gothic architecture in addition to the usual state university Bauhaus horrors. I sat for a moment in the supremely comfortable and soul-inspiring student union reading the daily paper. One photo that caught my MIT-trained eye was of the school's new Star Trek club; it was of four attractive women.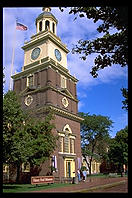 After my year of litigation with Ford Motor Company, the city they'd built in Dearborn drew me like a magnet. I skipped Henry Ford's 52-room limestone mansion and the various corporate campuses because I wanted to concentrate on the Henry Ford Museum and Greenfield Village, whose charms allegedly couldn't be fully explored in less than two days.
Henry Ford, who fought a libel suit over whether he said "History is bunk," built a 12-acre replica of Philadelphia's Independence Hall to house his treasured documents of American invention. The museum opened in 1929 and resembles an airplane hanger inside.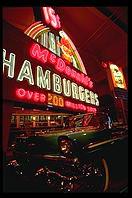 Don't look for Smithsonian-style explanations of technology; the museum's credo is "We gots the stuff and here it is." Edison's last breath is in a test tube next to Abe Lincoln's death chair, not far from the death car of John F. Kennedy, not far from an old McDonald's sign, across the corridor from a silver collection, adjacent to a bunch of vacuum cleaners, which are a stone's throw from a bunch of old wooden farm machinery. Old people say that this is how the Smithsonian was when everything was housed in the "castle" on the mall and that it was better then. For them the Henry Ford Museum represents the last authentic museum experience available in America.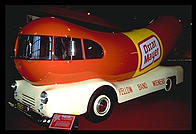 Irene, a museum staffer, two retired ladies from Oklahoma, and I paused for a conversation. Surrounded as we were by the greatest American inventions of the past century, we naturally discussed.... O.J. Simpson.
"Do you think he's guilty?" Irene asked.
"I've been living in a tent all summer with no TV. I'm not educated enough to say," I responded.
The two Oklahoma ladies remarked that it was amazing how many people thought that he wasn't guilty or that, if he was, he shouldn't go to jail. They'd never met any of these people, but they'd heard reports that they existed.
Irene nodded her head but I decided to stir up the pot with a slightly stretched argument from David Hume.
"Why do you think that everyone shares the belief that justice is good? For example, if we had a society of superabundance, property-based laws and courts would serve no purpose. Would there be any point in prosecuting someone for stealing your car when you could just as easily walk down to the corner and get another one for free?"
My listeners looked slightly puzzled but I pressed on.
"What if we had a society with resources so limited that you couldn't get enough to feed your family no matter how hard you worked unless you stole. People in that society wouldn't think property laws and courts were useful either. It is only in a middle-class society where folks believe that reasonably hard work will yield a reasonable standard of living that justice is considered good. If the TV networks find a black guy in the ghetto who believes, whether or not it is true, that there is no honest way for him to get ahead in this world, there is no reason to suppose that he'd buy into our middle-class concept of justice. Admittedly O.J.'s crime was a crime of passion, not of property, but once you get the ideas that courts and laws aren't serving your community, you probably don't think they are useful for anything."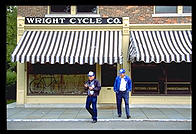 Greenfield Village is a 120-acre confection of Americana, albeit an extremely inventive and litigious Americana. Henry Ford liked certain buildings all around the country, especially the homes of inventors and self-made men of industry. He wasn't content to take snapshots; he physically dragged the buildings here. Thomas Edison's complete Menlo Park laboratory is here. The chemical-stained bleary-eyed workers are gone, but old women relate with pride how he got 1093 patents.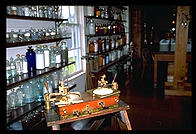 "If any of the workers got sick, Edison would mix up a cocktail of chemicals at that bench over there and make them well. They were all working so hard that they couldn't afford to have anyone sick, you see."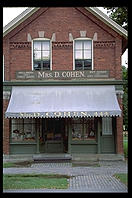 Edison was Ford's hero, you see, and the whole place was dedicated to Edison in person when it opened in 1929 (Edison was 82 at the time). The Wright Brothers weren't far behind and get two spots: one for the bike shop/workshop and one for their home. Ford was no racist and Booker T. Washington's house is here to prove it. Nor did his reputation for Jew-hatred seem warranted standing in front of Mrs. D. Cohen's perfectly preserved millinery shop.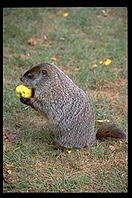 A whimsical mood prevails in Greenfield Village. A lovely Stephen Foster memorial fronts the circular pond with working steamboat. Model T Fords cruise the streets, a steam train circles the complex, and children ride a wooden carousel. Nothing American would be complete without various ripped-off parts of Europe, of course, and Henry Ford wasn't content to replicate a la Busch Gardens. Parts of the Cotswolds and Switzerland were excised and rest here.
Although the $20 combined ticket price isn't very different from Disneyland's, the corporate stage management and heavy-handed spin control is absent. The bookshop contains a full selection of biographies of Ford and none of them gloss over Ford's worldwide publication of anti-Jewish propaganda from 1921 through 1927, when he retracted his views, and continuing much later in Germany and many other foreign countries. The continued popularity and availability of Ford's work in the 1930's in Germany, Ford's acceptance in 1938 of Germany's highest honor from Adolph Hitler, and Ford's refusal to reaffirm his 1927 retraction clouded his reputation further. However, at the end of the war, Ford began to see and state that he'd been mistaken about the International Jew and noted that he should figure out how Hitler and Germany had managed to cause so much trouble. Ford only had two more years to live so it languished on his "to do" list.
I didn't feel inclined to judge Ford harshly. On the witness stand in the "history is bunk" trial, he proved embarrassingly ignorant of history. He seems to have been nice to all the Jews he knew personally and appears to have refused to finance Hitler despite rumors to the contrary. It is a tragedy of capitalism that the ill-informed opinions of the rich assume titantic and profound proportions in the public mind. We automatically assume that poor people must be stupid--otherwise why wouldn't we just give them money instead of social workers, Medicaid, food stamps, etc.--and that rich people must have done something wonderfully innovative and clever to get that way.
As the museum closed at 5 pm, I headed through Detroit's mellow rush hour towards Canada. A gas station attendant warned me to "watch out for those Canadian drivers." I took his advice seriously, reasoning that anyone who chose to live in the traditional Murder Capital of the US was probably not easily alarmed.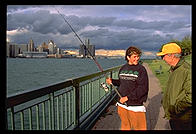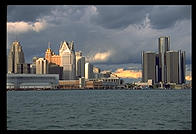 My first stop in Canada was the sister city of Windsor, Ontario, where I photographed the Detroit skyline from the riverfront and chatted with Leonard, who was fishing, and Candis, his 8th-grader friend. The metric system doesn't seem to be taking root in Ontario because Candis said she was more comfortable thinking in pounds than kilograms.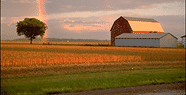 Lower Ontario seems like a flatter version of Iowa: cornfields and smooth highway. Without federal subsidies, however, the farmhouses were functional rather than palatial and never surrounded by huge expanses of lawn. Every acre was put to some use and millionaires appeared to be thin on the ground.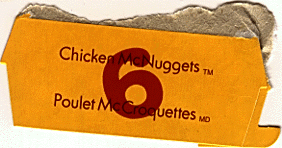 Stoked with Poulet McCroquettes from McDonald's, I made it all the way to Niagara Falls by 11 pm. I remembered being awed by the Falls when I was 10 on the Great Family Trip to Upstate New York (complete with sister screaming in the back seat). I had never seen anything on that scale before. After traveling in the West, Alaska, and New Zealand, however, the Falls don't seem unbelievable outsized anymore even if the sheer amount of water staggers the New Mexican mind.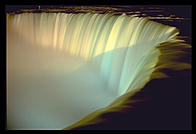 They'd turned off the lights on the Falls at 11 pm so I shuddered in the darkness at the lip of the more graceful Canadian Horseshoe Falls before returning to the solid neon of the tourist streets. The Canadian side is famously less tacky than the American side, so seeing wax museums every few meters, a Ripley's Believe it or Not museum, a Guinness Book of World Records museum, every kind of carnival game and booth, I shuddered to think what the American side would be like.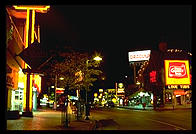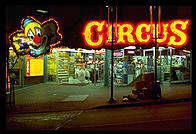 Thursday, September 29, 1994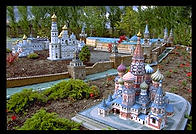 Tivoli Miniature World was my favorite tourist attraction in Niagara Falls. Where else can you get the Taj Mahal, Arc de Triomphe, and Eiffel Tower all in one picture with the 600'-high Skylon Tower in the background. Models of medieval cities and cathedrals are exquisitely detailed and precise. I even saw Mt. Rushmore, which I'd scratched with regret from my touring program despite the fact that it would have made a perfect 50 states.
Determined to make the Falls look as small as Tivoli Miniature World, I hopped into one of Niagara Helicopters's Bell Jet Rangers for a bird's eye view of the city, gorge, power project, and Falls. This was living.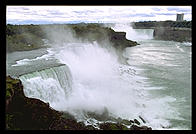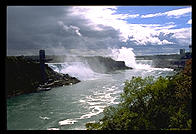 I drove back into the US and straight along the shore of Lake Ontario past tidy corn, apple, pear, and berry farms. It was painful to go through Rochester without stopping at any of the Eastman-funded monuments to photography, but I was anxious to get to Oswego, a couple of hours east.
Oswego, New York is a dream town for any public relations person looking for a challenge. The town contains three nuclear power plants and a concentration camp for Jews.
Friday, September 30, 1994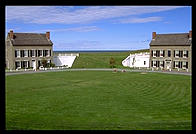 Fort Ontario's earthen walls sit on high ground above the mouth of the Oswego River and Lake Ontario. It is a New York State Historic Site that is being restored to its 1868 appearance. I barged in on Patrick Wilder and Richard Lacrosse, Jr., the two on-site historians, and asked about the fort's World War II history.
"We can tell you about that," Patrick said, "but the fort's most interesting history was during the Revolutionary War and the War of 1812. Fort Ontario was the embarkation point for the world's first boat people. Did you ever wonder where the English speakers of Canada came from? `British North America', as it was then called, was just French settlers and Indians until the Revolutionary War. During the war, loyalists from all over the 13 colonies came to Fort Ontario, which was held by the British, and embarked across the Lake to British North America.
Fort Ontario isn't too far from the Proclamation Line, which was one of the causes of both the Revolutionary War and the War of 1812. The British gave the Indians jurisdiction to the west of the line and the white settlers jurisdiction to the east. A fellow like George Washington who'd already claimed 500,000 acres in Ohio couldn't be expected to be very happy with this arrangement. People forget that there were revolts not just in the 13 colonies but in the Caribbean as well and that the goals of the Revolutionary War included establishing a country that was much larger, including Canada, Bermuda, and the Bahamas. The settlement of 1783 that ended the war was brokered by the French.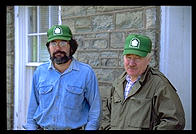 They told the Americans that the most they could hope to get was the 13 colonies and that promising to honor the Proclamation Line and compensate the loyalists for their homes wasn't so bad, that they could possibly gain some of the other goals in the future. So the Americans signed.
Between the Revolutionary War and the War of 1812, the population of the U.S. went from three million to over seven million. That wasn't from immigration and it was mostly in the northeast. What happened is that men in the northeast had four or five wives and twenty children. They'd go through wives the way you'd go through oxen. When one got worn out and died in childbirth, they'd get another. The oldest son would get the farm and the rest of the kids would move out to the Ohio river valley and clear some of the forest the Indians were intent on preserving. When the Indians would kill one of these guys, his relatives back in Massachusetts would complain to their Congressmen and they would pressure the president to send in troops. This caused the Indians and the British to complain that the US wasn't honoring the 1783 agreement or the 1796 agreement, which finally ended British control of forts such as Fort Ontario. In return, the Americans reiterated their promise to honor the Proclamation Line, which they didn't, and compensate the loyalists, which they didn't.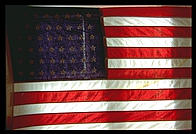 Meanwhile, the British were at war with Napoleon. When the Royal Navy needed a merchant vessel, they'd grab one from the English merchant marine and pay the owner a fixed sum. The owners didn't like that so they would reflag their vessels in the US and claim that the ship could no longer be appropriated because it was American. And what do you think would happen if a Royal Navy ship pulled into a port next to an American merchant ship? The sailors on the British ship were poorly paid, poorly fed, got shot at, and often received the cat o' nine tails. They'd see the well-fed, well-paid, happy American sailors on the neighboring ship. There would be a couple of splashes in the middle of the night and the American ship would have a couple of new crewmembers.
The British didn't like to see their merchant fleet or their navy shrink so they took to stopping ships on the high seas and looking around to see if the men or ship had previously been British. If so, they'd seize the ship and the men and sometimes even hang a few navy deserters. One time, they even boarded an American warship and took off a few deserters and when word got to the newspapers, Americans everywhere were humiliated and outraged.
The war started, though, when the French encouraged the Americans to take Canada and renounce their agreement regarding the Proclamation Line. The US expected it to be easy because they figured the French up there would welcome liberation from English rule.
Well, we lost. It was our first Vietnam.
The French in British North America didn't want to be part of the U.S. The British let them keep their law, elect their local politicians, and practice Catholicism. Many of the New England states had established Protestant churches at the time."
"Oh yes," I recalled, "I think Massachusetts had a state church until 1820."
"That's right, plus they ran into 10,000 British troops. You won't read about the attempt to take Canada in history books, though, because we lost those battles. One of the nice things about not being occupied after a defeat is that you get to write your own history of the war.... Of course, the Germans and Japanese were occupied and they've been doing it anyway... Well, if you look at an American history textbook, what you'll mostly read about is a naval battle in New Orleans. It was irrelevant to the main currents of the war and we mostly won because of luck and the fortunes of war, but we won so you get two pages on it. Nobody mentions that none of the war's objectives were achieved and that we actually lost some territory.
Anyway, these are the kind of stories that the loyalists who fled to Canada have been passing down through the generations up there and you don't have to push a conversation very far over there before you dig up a different look at the American Revolution."
Most of what I'd thought about the fort's role in World War II turned out to be wrong as well. A little background may be helpful first.
Although numerous European governments on both sides of the conflict appealed to the U.S. to shelter some Jews from the Holocaust, FDR was adamant about not letting a single Jew become an American citizen throughout the war and he was also adamantly opposed to temporarily sheltering any refugees. However, by 1944 pressure from countries such as England had become so intense that FDR felt he had to make at least a token gesture. Consequently, it was decided to accept one boatload of refugees.
I'd thought that these 982 people, most of them Jews, were saved from the Holocaust. However, I learned from Patrick that they'd already escaped the death camps and were residing in liberated Italy. Thus, the U.S. was really doing the Italians a favor by taking 982 mouths to feed off their hands.
Roosevelt wanted to make sure that these folks never became permanent U.S. residents and imprisoned them in Fort Ontario behind barbed wire. I thought that he'd succeeded and that they were eventually deported. However, I learned that the imprisonment wasn't comprehensive during the war, for school-age children were let out during the day to attend Oswego Public Schools, and I also learned that FDR's plan was thwarted.
Congress was also opposed to letting the refugees stay, but Harry Truman felt sorry for them. In 1946, when Congress was in recess, Truman unilaterallly ordered all 982 across the border into Canada for a day and then readmitted to the U.S. by special presidential order; 899 ultimately settled permanently in the U.S. and 50 or 60 returned recently for the 50th anniversary of the Fort Ontario camp.
Several excellent books have been written on the subject: Haven: The Unkown Story of 1000 WWII Refugees by Dr. Ruth Gruber, the former liaison between the refugees and the government, Token Refuge, by Sharon Lowenstein, and Don't Fence Me In, by Joseph Smart, the former commander of the camp.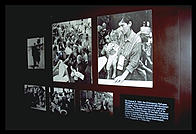 I walked around the fort with my camera, but was disappointed to find that none of the buildings from the refugee camp remain. They were torn down by the city and state after the federal government turned the land over to them in 1946. The fort itself is being restored to its 1868 appearance and the whole park is going to concentrate on this particularly uneventful period of the fort's history. Exhibits and information that don't relate to this period will be torn down.
Today's museum has a very informative well-designed artistically-presented series of exhibits on the fort's history from 1726 through WWII. All the exhibits are professional with a unified graphic design, except for the one wall given over to the refugee camp days. This looks like an afterthought and basically consists of a bunch of photographs tacked to the wall.
One of the saddest wall hangings is an engraving showing the town of Oswego in 1852. It looks beautiful and bustling with tall ships at every dock and graceful buildings at the mouth of the Oswego River. Today, there are ugly docks and oil storage tanks where the tall ships once berthed.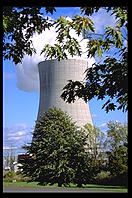 Before leaving town, I headed out to the nuclear electricity plant complex. The first two reactors are cooled with lake water and look like generic factories. The third and last was built with a characteristic cooling tower because people were concerned about heat build-up in the bay.
A nice Energy Center explains the wonders of the reactors, how safe nuclear energy is, and how one eighth of New York State's power is generated here. Three Mile Island isn't mentioned in the exhibits.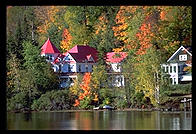 I left Oswego at 3 pm and threaded my way around the east shore of Lake Ontario and then east into the Adirondacks to Saranac Lake. The Adirondacks that you can see from the road have a much more settled look than the White Mountains. There are large areas of near-wilderness, but one has to get far off the main roads to see them. Still the foliage was marvelous.

Saturday, October 1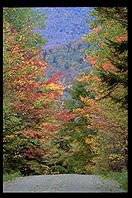 Driving back to Boston through the Adirondacks and southern Vermont in foliage season may not be heaven, but as a homecoming technique it sure beats driving up the Jersey Turnpike in the rain after having all of one's posessions stolen in Filthadelphia (see Travels with Samantha, Chapter XVII).

Foliage Pictures
The Adirondacks began to grow on me on Route 73 southeast of Lake Placid. This was the highest and wildest part of the part so far, under a blue sky with wispy clouds. At Ft. Ticonderoga, I took a ferry across Lake Champlain then continued on 73 to 100, the spine of the Green Mountains. After photographing Moss Glen Falls and Texas Falls, I stopped for an excellent lunch at the Rochester Cafe in Rochester. Despite some very interesting conversations with Vermonters who'd given up the city because they didn't like the pace and the imposed value system in which things not done to earn a buck are considered a waste, I regretted stopping. My leisurely lunch caused me to arrive in Quechee 15 minutes after the last launch of the day in the Quechee Balloon Festival, which I had completely forgotten about.
I wish I could say that something really interesting happened in the last moments of the trip but I-89 and I-93 down to Boston in the dark are not the places for epiphanies.
The End.
---
Shameless Advertising
If you've read this far, you might enjoy my other Web books:
---

Up to the Footsteps cover page.
---
Related Links
---
philg@mit.edu
Add a comment | Add a link