---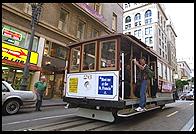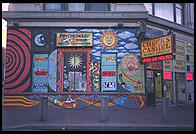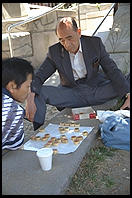 Like every other member of the MIT Class of '82, I wanted to move to California. It would be warm, there would be lots of women, we'd play volleyball every day, it would never rain. So we all moved to Silicon Valley where it gets pretty cold at night, there are no women, nobody plays volleyball, and 1982 was the rainiest winter on record.
I worked at Hewlett-Packard's research labs in Palo Alto, a boring suburb about 30 miles south of San Francisco. HP has a reputation for being the best Fortune 500 for an engineer. This means that if you don't like it at HP, you don't have to try working at any other big company. One of the most frustrating parts about living in Palo Alto was that it was tantalizingly close to San Francisco while being a world away in spirit. You couldn't just move to San Francisco because there were no techie employers up there; you'd have to commute an hour every day down to Palo Alto or the truly hellish towns farther south.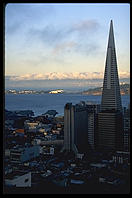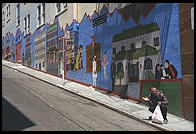 My friend Gwyn went to Yale so she knew a lot of yuppies in the San Francisco financial industry. One time she took me to a friend's apartment on Russian Hill. His view stretched from the Golden Gate Bridge in the west to the Bay Bridge in the east. His apartment opened onto a huge roof-top flower garden. His rent was the same as mine. He walked out his door into cafes, art galleries, and thousands of desperate single women. If I could somehow contrive to live and work in San Francisco, that would be a kind of paradise. It never happened. I moved back to gray flat Boston to work at a start-up company with some friends and tried to put the image of that apartment on Russian Hill out of my mind.


Chinatown
The best dim sum place in Chinatown isn't quite in Chinatown; it is Yank Sing on Battery Street just across from the Embarcadero One building (where you can park for $4 or so on weekends).
Alamo Square
You have to go here to take a picture of the four Victorian "Painted Ladies" that constitute "Postcard Row":
Sic Transit Gloria Hippie (Haight-Ashbury)
Dust off your copy of the Electric Kool-Aid Acid Test and walk around the birthplace of the 1960s counterculture. How has Haight-Ashbury changed since then? In 1998, on one corner of the intersection between Haight and Ashbury there is a Ben and Jerry's shop; on the opposite corner, a Gap.
The crepe place next to Ben & Jerry's serves really good crepes at low prices and has a clean restroom! Highly recommended.
Golden Gate Park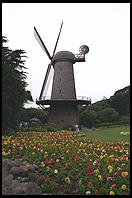 Golden Gate Park is the largest urban park in the U.S. so far as I know (3.5 x 0.5 miles). If the flower greenhouses and Japanese Tea Garden (see "museums") are a little too effete for you, check out the bison range.

Golden Gate Bridge
(gratuitous photos)
Museums
San Francisco really isn't a great museum city. There are a bunch of serviceable museums in Golden Gate Park, but they can't compete with their landscaping. The Asian Art Museum is the best of these, and its landscaping, a full-scale Japanese Tea Garden, is worthwhile. The M.H. de Young Memorial Museum is almost completely generic as to structure and collection, except that they kicked the European art out into the Legion of Honor over by the Golden Gate Bridge.
Down by the Civic Center, the new Museum of Modern Art is a splendid building filled with mostly appallingly ugly items.
If it is a nice day, you're probably better off spending your time walking around randomly.
The Japanese Tea Garden
Adjacent to the Asian Art Museum in Golden Gate Park is the Japanese Tea Garden:
You can actually sit down and order tea.
Nightlife
The San Francisco Opera is the second best in the United States (after the Metropolitan in New York) but they perform in the drably functional War Memorial Opera House in a dreary part of town. Davies Symphony Hall is a much more interesting modern building nearby even if the San Francisco Symphony isn't one of our very best ensembles.
The Sunset
At the western edge of the city, more or less surrounding Golden Gate Park, is a quiet almost suburban neighborhood: the Sunset.
Marin County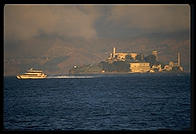 Famous for hot tubs and BMWs before Reagan made everyone (well, everyone with an MBA) rich enough to buy hot tubs and BMWs, Marin County also contains natural treasures. My favorite among these is Muir Woods National Monument. This sizable redwood forest is only about a 45-minute drive from downtown San Francisco, over the Golden Gate Bridge and down through hills toward the sea.
If you have an afternoon, a great way to spend it is walking deep into Muir Woods, then turn left up the Dipsea Trail to a ridge over the ocean. You leave the moist dark redwoods and come out into Alpine fields, usually with a view of the Golden Gate and the city. It is only about 4 miles round-trip; pick up a map at the ranger's station.

Point Reyes National Seashore is also pretty well-liked by locals, especially for its lighthouse, but I personally haven't explored it much. If you just keep going north, you'll end up in Humboldt County, home to some of the most innovative marijuana agriculture in the nation.
If you don't want to drive far from the city, one of the closest and easiest hikes is Tennessee Valley Trail. This is basically a dirt road that gentle slopes down to the beach.
Berkeley
Oakland
Oakland is probably the most interesting town in the Bay Area but I haven't explored it (beyond the famous landmark Paramount Theater).
Napa Valley
If you like to see office workers from San Francisco spilling drunkenly out of rented limos and touring wineries owned by rich folks from Silicon Valley and Hollywood, Napa and Sonoma are for you. Photographic opportunities are most abundant when the grass is green and the mustard is flowering. This would be roughly January through March. I went there in October after the grapes had been picked. Here are my photos of the scorched earth:
My favorite photo from my last trip to Napa Valley was actually taken on the way back, in Richmond, at the northern tip of San Francisco Bay:
It looks a lot more impressive in the version at the bottom of my Fuji 617 review.
---
philg@mit.edu