Self-criticism was important in the Soviet Union, in Mao's China, and for the Khmer Rouge (see Wikipedia). Here's what it looks like in Boston today: "ICA Boston closes show of work by Nicholas Nixon, who has been accused of sexual harassment, at his request" (The Art Newspaper):
the Institute of Contemporary Art Boston (ICA Boston) prematurely closed a solo exhibition of works by Nicholas Nixon, who has been accused of sexual harassment by former students at the Massachusetts College of Art and Design (MassArt), at the artist's own request, …

Nixon retired abruptly from MassArt on 2 March, after allegations of sexual harassment prompted the school to launch a Title IX investigation, which the school's president David Nelson addressed in a letter to the MassArt community on 22 March. Following the subsequent Boston Globe report, the ICA added signage in the gallery space of Nixon's show stating that the institution was "dismayed and disturbed" by the allegations, and discussing questions raised by the situation such as "Can we separate creative output from personal conduct?"
The museum took down the "open forum" (now a "closed forum," literally?) where people could express their thoughts about the accused and his now-discredited art, but the article preserves some samples:
"I love these pictures because they are about how these women live their lives," Respini wrote. "There is immense power in their sisterhood and unflinching gazes. And now it seems the maker of these pictures is a yet another man who has abused his position of power. I condemn this kind of behavior and am angered by it. Can I still love the pictures?"

The majority of the posts that followed were written by anonymous ICA staff members and heavily criticised what they perceived as an inadequate response. "As a woman who works at the ICA, I am sickened by this… Dialogue is not substantial enough of an action," one staff member wrote. Another staff member wrote that "when presented with an opportunity to make a controversial but morally guided decision, the ICA chose to protect the problematic artist and its own pockets. By keeping this exhibition on view and by twisting this decision to be about public discourse, the ICA as an institution is silencing the voices of those who have come forward to name Nicholas Nixon as an abuser."
In December 2017, the 70-year-old Nixon was celebrated in New Yorker magazine:
Today, we are bombarded by images of women every day—in entertainment, in advertising, in art, on social media—but depictions of women who are visibly aging remain too rare. Stranger still, women whom we know to have aged are often made to appear as if they have not, suspended in a state of quixotic youthfulness, verging on the bionic. But Nixon … is interested in these women as subjects, not just as images, and he's committed to documenting the passage of time, not defying it.
What did the exhibit look like before it went into the memory hole? Here are some iPhone snaps from February 23, 2018:
Separately, the museum still has an "Art in the Age of the Internet, 1989 to Today" exhibit, which starts with Nam June Paik's 1994 Internet Dream. The sign says that he hoped for "a communication network as a participatory mass medium, one that might foster genuine connectivity and understanding between diverse groups of people." (How has that worked out?)
Cindy Sherman's 2007 print seems to predict the Facebook/Instagram culture pretty well. (The sign: "… they're older women and if they are successful, maybe they're not really happy. Maybe they've been divorced, or they're in an unhappy marriage, but because of the money, they're not going to get out.")
Here's a fun Sarah Sze kinetic work for engineers that is not part of the Internet exhibition: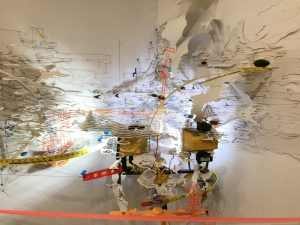 Finally, one gift shop item on February 23, 2018 loosely related to what would happen in March with the Nicholas Nixon show…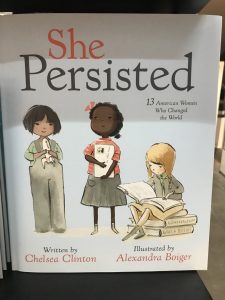 My friend, on seeing Chelsea Clinton's She Persisted, asked "Is that about divorce plaintiffs?"
Circling back to Nicholas Nixon… an 8×10 view camera photographer worked fast enough to get #MeTooed? And if he had been having sex with students, does it make sense to remove the images of the wife and her sisters from museums worldwide? Why do these women have to go into the memory hole also?