A friend's new two-refrigerator kitchen: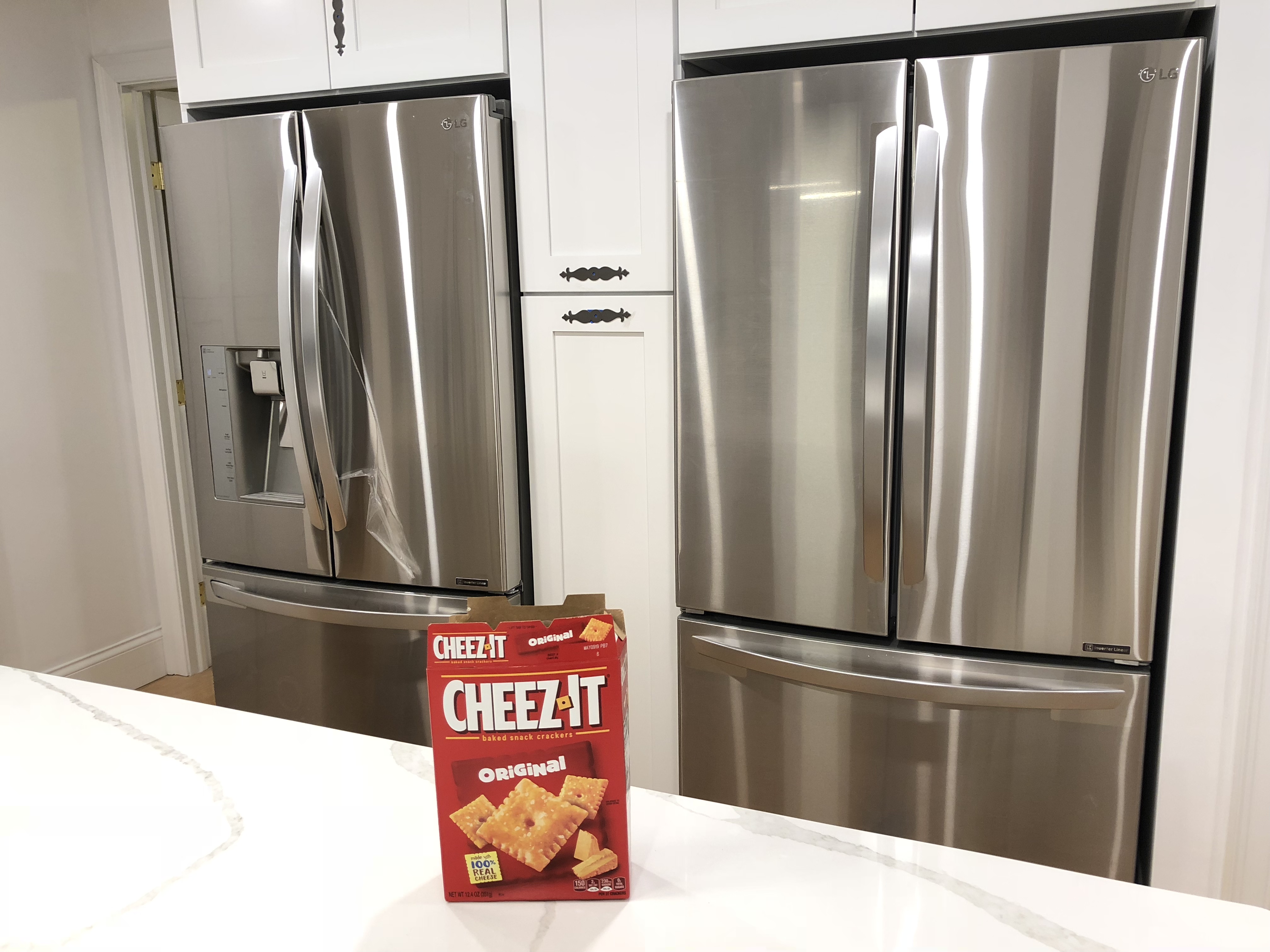 Full post, including comments
It's Friday again and therefore time to put the Happy Helmet on. What could be more fun for an American than wallowing in materialism and playing with machines?
This old gold dredge is on the road from Nome, Alaska to the small town of Council.
">
MIT demonstrates its patriotism by giving us a four-day weekend for Patriot's Day and I'll be heading south in the airplane: Saturday to DC (parents/sibs); Sunday to Williamsburg, Virginia (w/parents); Tuesday morning to Gettysburg, Pennsylvania (visit Matthew Amster, anthropologist, and Andy Wermuth, documentary filmmaker); Tuesday evening back to Boston (weather permitting; the forecast is a bit ugly). On the way down I hope to repeat a fun flying experience from Monday: asking the Logan Airport tower for a "city tour" clearance. On the way to East Hampton we were able to fly down the Charles River at 1500′, right over Harvard and MIT, then made a right turn to the south in front of the tall buildings of downtown. The only other aircraft in this space normally are the medical helicopters.
It is biking time again. If you're old and creaky and don't like biking because it hurts your neck, back, and, uh, butt, I can recommend a recumbent. It is as comfortable as sitting on your living room sofa except that sometimes you fall over sideways onto pavement (recumbents have smaller tires and therefore less angular momentum and therefore less resistance to tipping over). You can pick them up new for $600+ and learn about them in alt.rec.bicycles.recumbent
If you live in the Boston area, I found a bike shop that seems vastly superior to the usual suspects (Wheelworks and IBC): ATA Cycle on Mass Ave near Porter Square in Cambridge (http://www.atabike.com/). They are very fast yet thorough with mechanical work. They have some beautiful mountain bikes for trips through the Middlesex Fells, Lynn Woods, and other local spots.
When you get tired from biking and watch to relax on the sofa, this summer will bring the first crop of HDTVs that have enough holes in the shadow mask to display something like all the pixels in an HDTV signal (1920×1180). Unlike with computer monitors, TV makers don't tell you how fine the dot pitch can be. The HDTVs sold so far have taken a high-res signal in but aren't capable of producing anything other than a low-res picture because there aren't actually enough distinct holes in the metal grille separating the electron gun from the phosphors. Blowing $2500 on a Sony KV-34XBR910 so that you can enjoy every pixel of Laverne and Shirley will provide a much-needed boost to both the US and Japanese economies.
If you're concerned that America's maturation into neo-feudalism will tempt the serfs to try to take away some of your hard-earned wealth, consider an armored car from Lincoln, Cadillac, or Mercedes.
Full post, including comments