Although the profit opportunity from child support, e.g., from a one-night unmarried encounter, was limited in Florida, the state was a paradise for alimony plaintiffs, especially those married or 7 years or more who could seek "permanent alimony". The successful plaintiff could use what had been the defendant's money to throw a massive divorce party, as recently described in the Wall Street Journal. Due to the cruel tyranny of Ron DeSantis, however, the party may be over a little earlier than planned…
"Governor DeSantis Signs Landmark Alimony Reform Bill Eliminating Permanent Alimony" (Lowndes). As in some other states, the alimony revenue opportunity is now a formula based on time served:
The length of durational alimony is not to exceed 50% of short-term marriages (<10 years); 60% of moderate-term marriages (10-20 years); and 75% of long-term marriages (20+ years);
Plaintiffs still have an incentive to quit jobs and spend like crazy in the months or years leading up to their lawsuits:
The amount of durational alimony is to be determined by reasonable needs not to exceed 35% of the difference between the net incomes of the parties, whichever is less.
"reasonable needs" = whatever a plaintiff was spending during the marriage, so a plaintiff who takes five trips to Europe before suing can say that regular trips to Europe were part of the marital lifestyle. Also note that alimony is now tax-free (as child support previously was), so 35% of the defendant's income is roughly 50% of the defendant's spending power (and could become more if Joe Biden delivers on his promise to make successful Americans pay their fair share). Alimony revenue entitlement is subject to modification if incomes change, so a plaintiff who wins 15 years of alimony will have a financial incentive to refrain from work for 15 years.
Embedded in an amoral society, moralism:
Courts can consider the impact of adultery in determining the amount of alimony whether or not it has a financial impact.
(In the true no-fault states, a plaintiff who says "I want a divorce because the defendant objects to all of the Tinder dates I have brought home to the master bedroom" is entitled to the same profits as one who has been faithful.)
It will be tougher to profit after a defendant's death:
Requires the showing of a special circumstance to secure alimony with life insurance.
Let's check the reactions…
A "gender bias expert" (PhD!) implies that it is "women" who are alimony profiteers, despite the fact that the Florida alimony law was and is gender-neutral: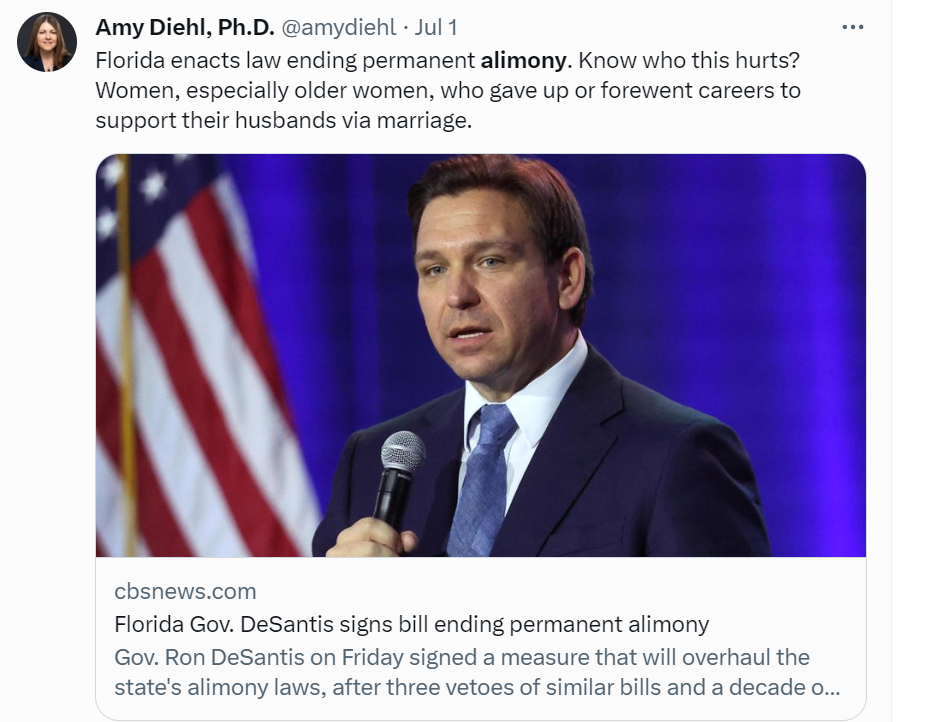 Here's one from a "fascism fighting scribe" (who complains of living in "DeSantistan" (why not move away from fascism?)) in which the reduction in profitability of divorce lawsuits is characterized as "erosion of the institution of marriage in Florida":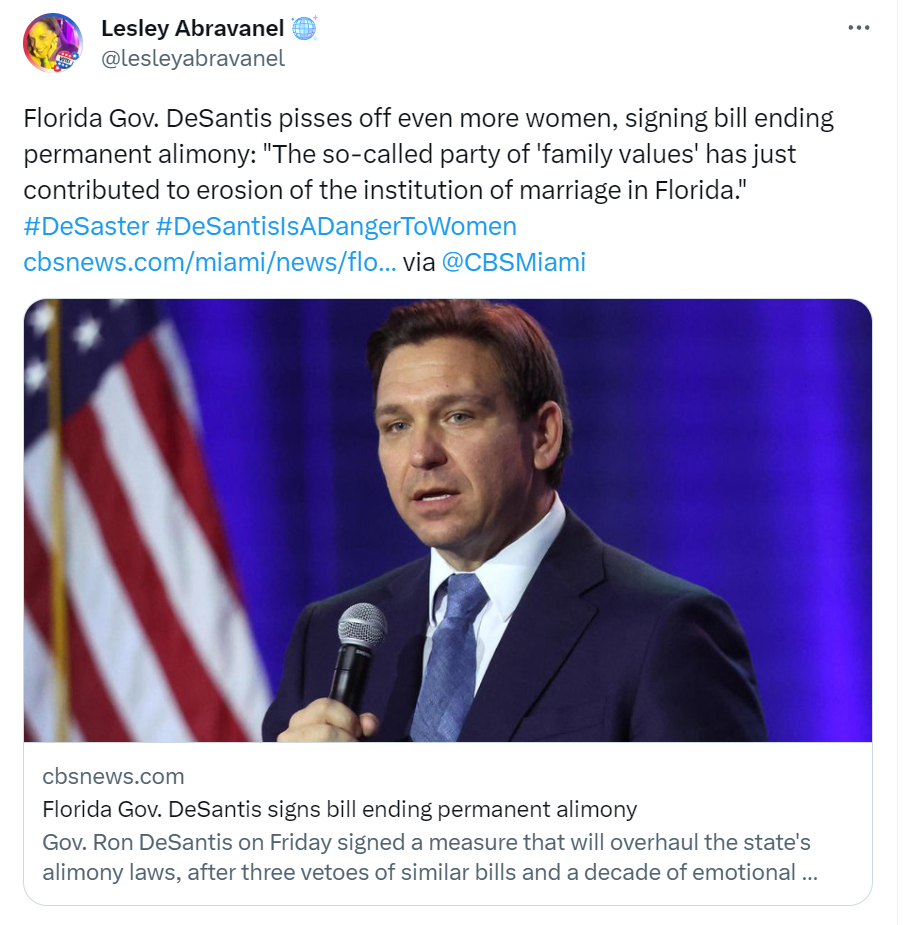 Note that this person also suggests that, out of 74 gender IDs recognized by Science, it is "women" who are passionate seekers of permanent alimony.
Regardless of the gender IDs of those involved, the new law is interesting from a cultural perspective. Americans apparently can agree that decades of cash payments are the natural outcome of a marriage in which one participant decided that he/she/ze/they would be better off partnering with someone else (or flying solo/Tinder). The British have a different point of view. A married defendant will see his/her/zir/their plaintiff in court over a period of months and, in an ideal world, one former sex partner will pay the other a lump sum as part of a "clean break". And then in Germany, assuming the couple being divorced checked a "separate property" box on the marriage license application, neither former sex partner will pay the other (someone who didn't work during the marriage is expected to work once divorced).
Related:
Real World Divorce Florida chapter (will now require revision!)
a look at how family law financial incentives shrink the U.S. economy by discouraging plaintiffs from working
below is an ideal Presidential-style tweet from Joe Biden's handlers that, in my opinion, DeSantis needs to copy if he's going to win. Biden's script line, "There is nothing beyond our capacity if we work together" is completely false, but it sounds great. (Why false? Building and operating a Chinese-style high-speed rail system is way beyond our capacity. Creating a health care system that an increasingly low-skill population can afford has been beyond our capacity for decades (so 18% of GDP is spent on health care compared to less than 5% in high-skill Singapore).) DeSantis would have to modify the below. Say that he's optimistic if we change a few things, e.g., stop offering to change the depicted child's gender with drugs and surgery, try to cut the number of Americans on means-tested welfare down from 100 million, etc. But DeSantis needs to start with a message that even the lowest-skill most welfare-dependent richest-in-criminal-background Americans are going to contribute to a bright future.
Full post, including comments