If we regard the lead-up to the election as a Bachelor's degree in Trump-hatred, can the post-election activity be thought of as grad school? From "Voting Trump Out is Not Enough," by Keeanga-Yamahtta Taylor (New Yorker):
Like tens of millions of Americans, I voted to end the miserable reign of Donald J. Trump, but we cannot perpetuate the election-year fiction that the deep and bewildering problems facing millions of people in this country will simply end with the Trump Administration. They are embedded in "the system," in systemic racism, and the other social inequities that are the focus of continued activism and budding social movements. Viewing the solution to these problems as simply electing Joe Biden and Kamala Harris both underestimates the depth of the problems and trivializes the remedies necessary to undo the damage. That view may also confuse popular support for fundamental change, as evidenced by Trump's one-term Presidency, with what the Democratic Party is willing or even able to deliver.
The hated dictator's name appears more than 20 times in this article.
With Trump gone, it is apparently time to listen to the scientists who said that the shutdown would cost more lives than would be saved from Covid-19:
Today, in Philadelphia, where I live, there is not a single aspect of life that the pandemic has not upended, from work and school to housing and health care, pulling poor and working-class African-Americans, in particular, deeper into debt and despair. The uncertainty of the moment, let alone the future, feeds fear, frustration, hopelessness, and dread. In Philadelphia, shootings are on the rise, and the murder rate is growing. … African-Americans make up eighty-five per cent of the city's shooting victims. Even before the pandemic, drug overdoses in Black Philadelphia were on the rise. In the first three months of shelter-in-place orders, a hundred and forty-seven Black residents died by accidental drug overdose, forty-seven per cent of drug deaths in the city. … Job losses have overwhelmingly affected low-wage, minority workers. Since May, as many as eight million people have been pushed into poverty, with Black families overrepresented among them. … Thousands of people have already been evicted during this crisis, and nearly one out of six renters have fallen behind on their rent. Nearly one in four renters who live with children report that they are not up-to-date with the rent. The Centers for Disease Control and Prevention's unprecedented moratorium on evictions was too good to be true: the Trump Administration recently signalled to landlords that it would allow them to challenge the eligibility of tenants. This leaves the viability of the C.D.C. moratorium up to the discretion of individual judges, who may or may not honor it. Local organizers and activists have tried to fill the gap created by federal neglect with relentless mutual-aid organizing, but it is hardly sufficient.
Our cities are actually run by good people:
It is not a Trumpian slur to observe that many of the cities where Black suffering takes place are also governed by proud members of the Democratic Party. Instead, it illuminates the depth of the bipartisan failure to address the tangled roots of racism, poverty, and inequality.
But they have been let down by the U.S. economy, which is only about half as large as it needs to be to support the subsidies that low-skill and/or non-working Americans require:
In Philadelphia, which, ignobly, has among the highest proportion of poor residents of any big city in the country, thousands stand on the cusp of eviction. Twenty-two per cent of households in the city are severely cost-burdened, meaning that they are spending half or more of their income on housing costs, which is well above the national average. Before this downturn, sixty-one per cent of households headed by Black women in Philadelphia were spending at least thirty per cent of their income on rent, compared with fifty-three per cent of households headed by white women and forty-four per cent of households headed by white men.
(The author doesn't mention this, but what will really help these folks is 45 million immigrants to compete with them in the rental market: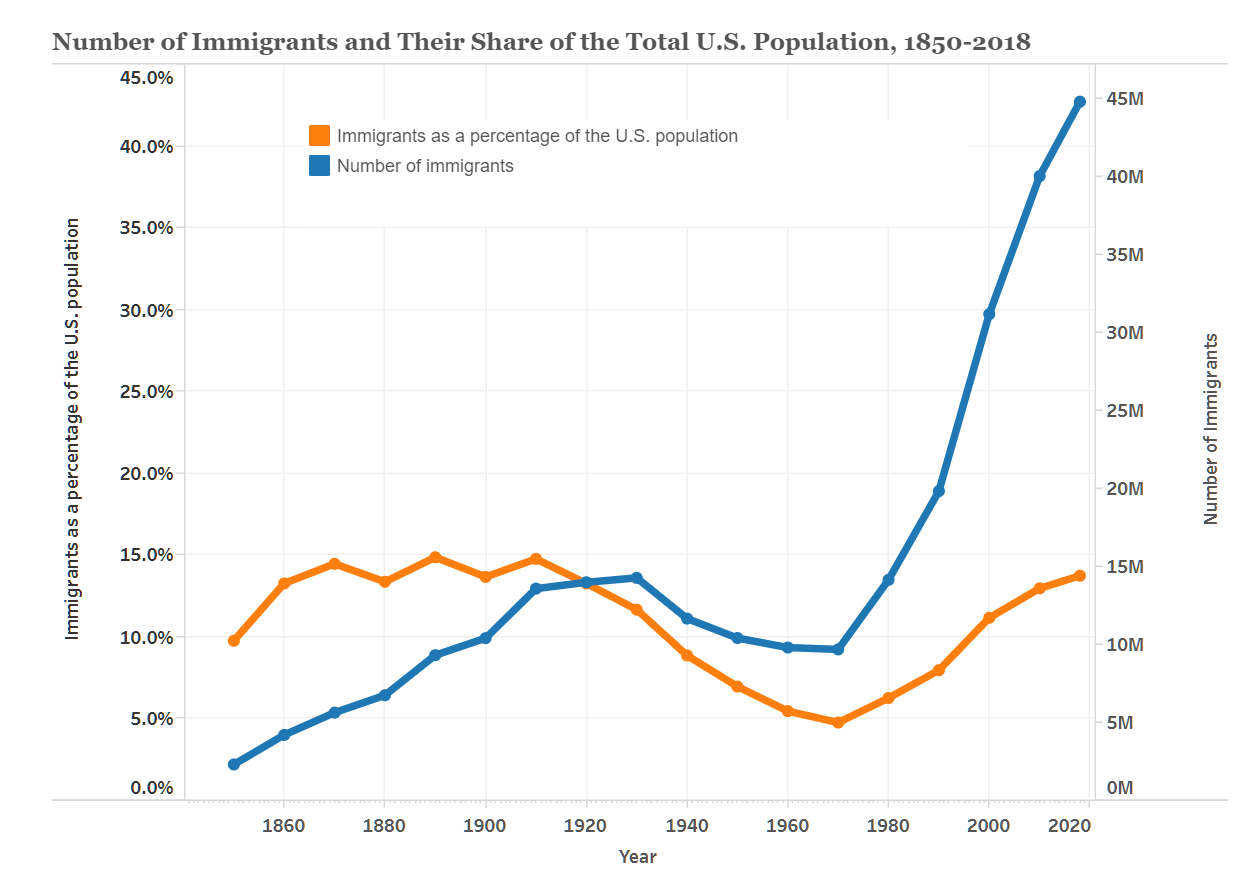 (from Migration Policy Institute). Econ 101 tells us that when demand is boosted by 45 million, prices for scarce rentals will inevitably fall.)
Not enough money is being diverted from rural America (i.e., the counties that voted Republican) to the cities (i.e., the counties that voted Democrat):
The likely gridlock in Congress next year will lead to more stagnation in local government, as communities become hamstrung by a lack of federal funding.
(I should do a separate blog post on this. I wonder if the reason that people in low-density parts of the U.S. vote for smaller government is that big government spends nearly all of its money in cities. Hospitals, federal buildings, central post offices, community centers, concert halls, courthouses, etc. all tend to be built in downtown areas. The bigger the government, the larger the transfer from rural counties to urban counties.)
The core problem is the existence of Republicans:
That conclusion may seem to be supported by the shocking fact that upward of seventy million people voted to reëlect the most corrupt, venal, and brazenly racist President in modern American history. … The insistence on unity between the two parties almost always comes at the expense of those whose needs are greatest. How would a Biden Administration incorporate the views of a Republican Party that has supported a white-supremacist President, voted for Trump's plutocratic tax cuts, advocated for the separation of families at the border, and facilitated the heist of a Supreme Court seat in hopes of fulfilling the right's fantasy of ending access to abortion and destroying any hint of government-backed health insurance? We were told that this Presidential race was the most consequential of our lifetimes, that it was a contest between democracy and budding fascism. Why would Biden welcome the foot soldiers of Trump's authoritarian politics into his coalition?
And the struggle will continue even if Trump disappears in his Boeing 757, beyond the reach of even the most vindictive Democrats:
The need in this country dwarfs the best of what Biden has put on the table for changing our current condition. But the demonstrations of the summer, the ongoing campaigns for mutual aid, and the growing movement against evictions are demonstrable proof that power is not only generated in mainstream politics but can be garnered through collective organizing and acts of solidarity. They also foretell a future in which the country does not return to a long-forgotten normal but is animated by protests, strikes, occupations, and the ongoing struggle for food, medicine, care, housing, justice, and democracy.
One reason that I voted for Bernie Sanders (twice!) was his logical consistency. In my opinion, we shouldn't run a country that says housing is a "right" and then provide subsidized housing to only one quarter of those who qualify. At the same time, building the 7 million additional low-income housing units that are required (NLIHC) will cost roughly $5 trillion. Not only don't we have an extra $5 trillion lying around, but every year an additional million or so low-skill immigrants arrive whose correspondingly low income would entitle them to subsidized housing (i.e., even if we got 7 million new units built by the end of 2021, we'd still have a substantial shortfall).
The Democrats actually did have control of the Presidency and Congress in the first two years of the Obama Administration, right? And they couldn't find enough money in the U.S. economy to achieve their policy goals? If the Democrats' huge advantage in funding is sufficient to take control of the Senate via the Georgia runoff votes, will they be able to fund their dream programs in 2021 and 2022? Or will they discover that the U.S. economy has grown at a much slower per-capita rate than their dreams?
Related:
Full post, including comments