For native-born U.S. citizens, it takes about three months, including mailing time, to get a passport if you pay extra for "expedited" service. From the State Department web page (retrieved end of October 2023):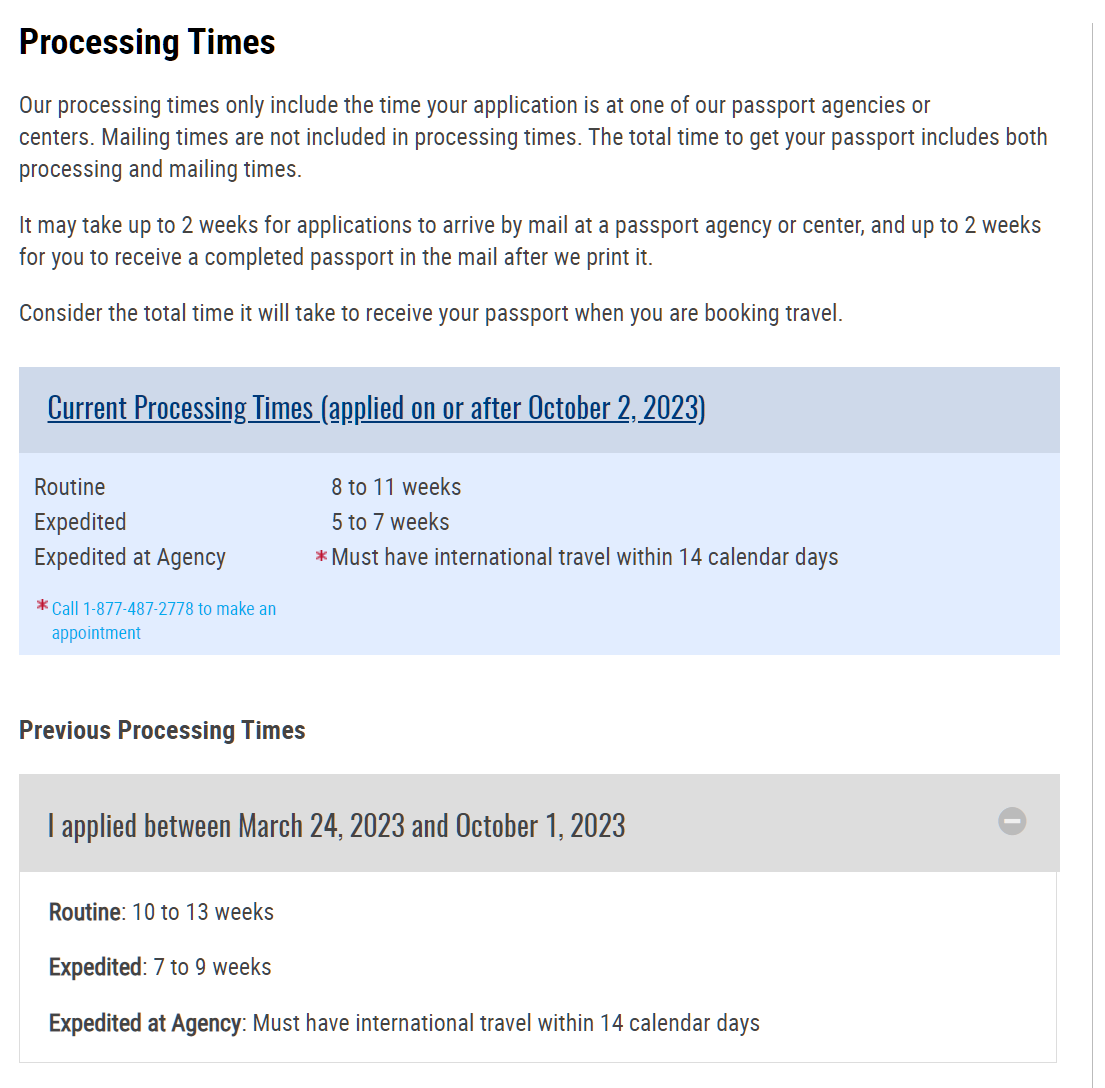 As of October, they were saying that it would take 2 weeks to mail, then 5-7 weeks to "process", then 2 more weeks to mail.
Friends who are immigrants have been reporting U.S. passport renewals in just a day or two. How do they do it? The U.S. government offers an emergency service. The immigrant uses Adobe Acrobat to create the required PDFs regarding the "life-threatening illness or injury" from which an immediate family member back in the old country is suffering. The American bureaucrats have no means of verifying these documents so entirely fictitious physician names and addresses work fine. The immigrant buys a fully refundable plane ticket back to the old country, makes an appointment, walks into a U.S. government passport agency.
Why can't State Department clear the backlog, especially for simple renewals? What stops them from paying overtime to the existing staff to work nights and weekends until the processing time is back to something more reasonable? (or hiring Venezuelan asylees to assist? We are informed that 500,000+ Venezuelans who've joined us are eager to work and highly qualified) What's "reasonable"? In 1971, when the U.S. population was 200 million, it typically took between 5 and 21 days to get a passport (New York Times) and when the backlog increased the government would add night shifts to clear it. In 1961 (US population 180 million), it took 3 days: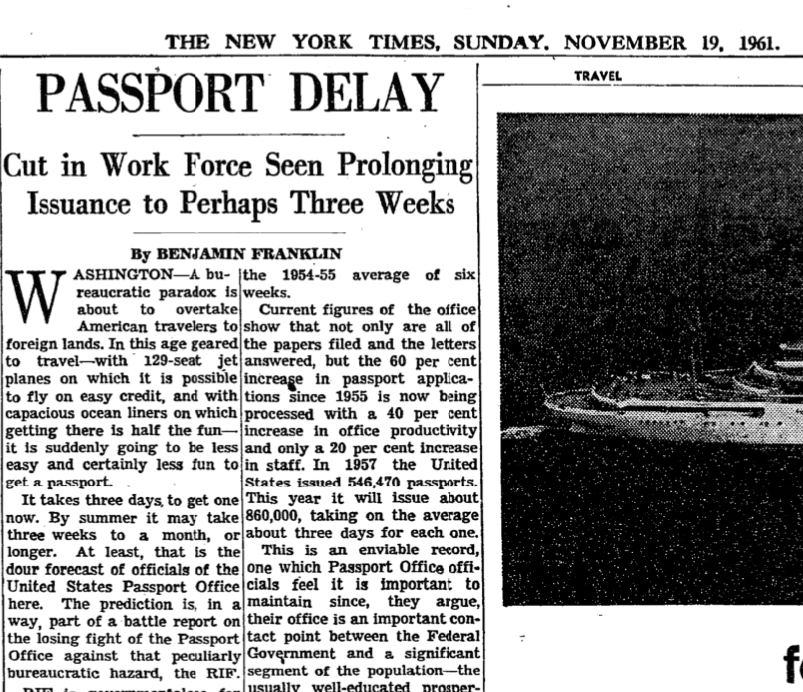 A native-born American might be able to work a similar process via the "urgent travel" channel. Buy a refundable ticket for travel within 14 days and then begin to work the phones and try to get an appointment and travel to a major city (a customer in Tallahassee, Florida would have to drive perhaps 6 hours to Miami or Atlanta or New Orleans).
Finally, why do we need to show passports when returning to the U.S.? The passport was already checked twice by airline personnel on the departure side. If the southern border is open to millions of new Americans who choose to walk in, why must we stand in line for a third check after an exhausting international flight?
Related:
"Airport travel delays after U.S. Customs computer outage" (NBC, 2019): International travelers were waiting in long entry lines at some of the nation's busiest airports Friday … The outage affected New York's John F. Kennedy Airport, Los Angeles International Airport and Chicago's O'Hare International Airport, among others. Images on social media showed travelers jammed into terminals at JFK and O'Hare as they awaited admittance to the United States.
Full post, including comments