"China says it 'firmly opposes' a potential forced sale of TikTok" (CNN):
China said it would "firmly oppose" any forced sale of TikTok, in its first direct response to demands by the Biden administration that the app's Chinese owners sell their share of the company or face a ban in its most important market.

The comments came as TikTok CEO Shou Chew testified in front of US lawmakers amid mounting scrutiny over the app's ties to Beijing.

China's commerce ministry said Thursday that a forced sale of TikTok would "seriously damage" global investors' confidence in the United States.
Why is TikTok more of a security concern than apps from other countries, which might or might not be backed by China ultimately? TikTok is, at least, obviously prominent and can be monitored carefully. I would think the worst computer security problems are the unknown unknowns.
Separately, is the deeper problem with social media apps that they are addictive, especially for young people? Instead of forcing a TikTok sale, would it be smarter to require all of the social media apps to set a 30-minute daily limit per user? (of course, some addicts could get around this by creating multiple accounts, but those would seem to be edge cases)
I'm not a TikTok user, but I logged in with my Google credentials and gave the app my birthdate (Jurassic!). The algorithm is purportedly awesome, but I didn't find any videos that I wanted to watch on the default home screen. A search for COVID doesn't yield anything as brilliant as Adley's April 20, 2020 explanation of Faucism. A search for "Robinson R44" does not yield better content than on YouTube: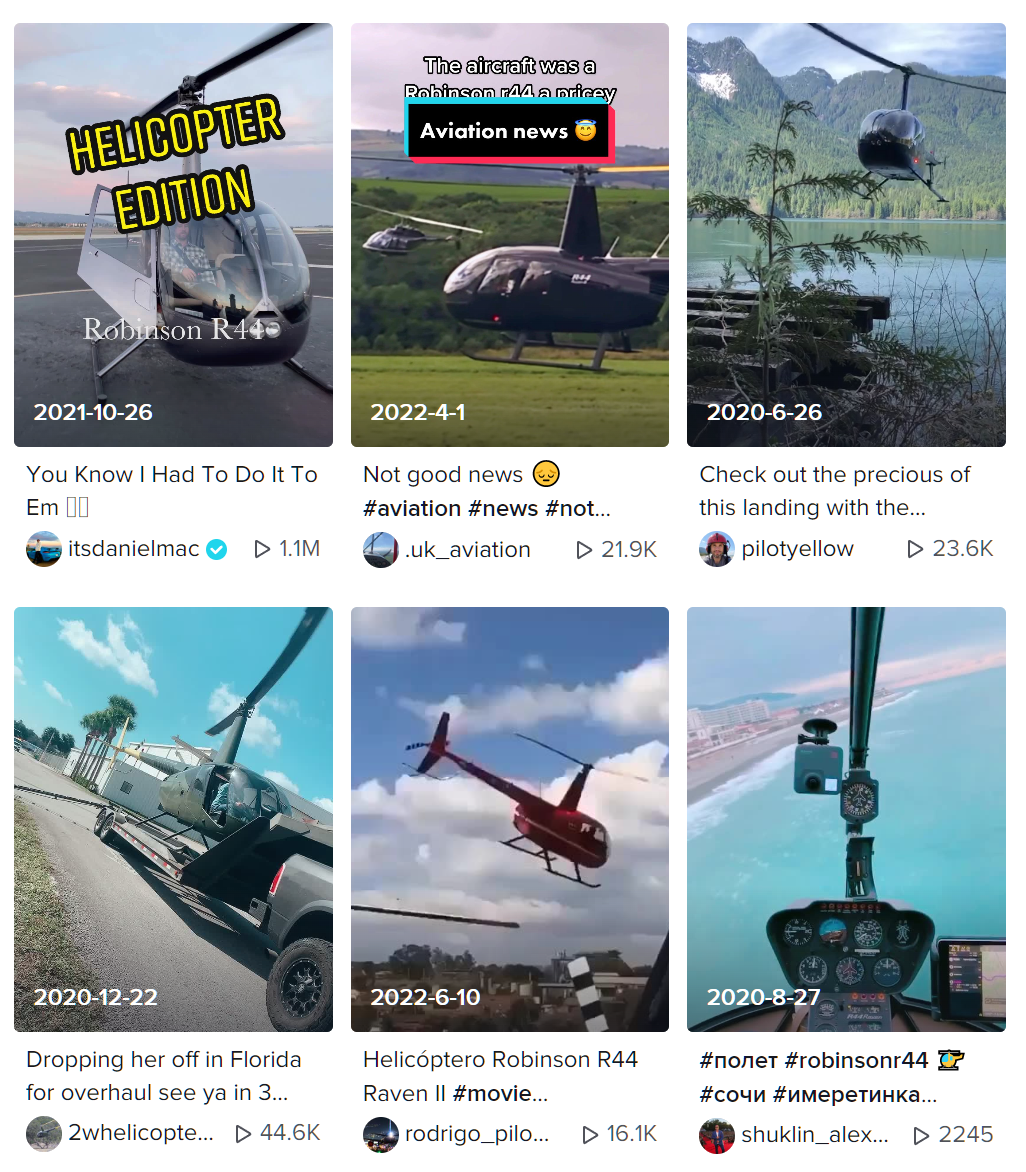 I'm following one friend on TikTok, but he keeps his likes private (and maybe there is no way to share them just with me?) so I can't use his favorite videos as a gateway into the service.
Readers:
What's great about TikTok?
Should we force a sale due to TikTok's Chinese connections?
Should we use regulation to protect ourselves from ourselves via a 30-minute limit on each social media platform?
Full post, including comments