Piston-powered airplanes subject pilot and passengers to unpleasant vibration. Battery-electric airplanes have minimal range.
There have been some successful applications of Wankel rotary engines in aircraft. The homebuilt folks have had some success with Mazda RX-7/RX-8 engines. Here's an article from EAA's Sport Aviation in 2002: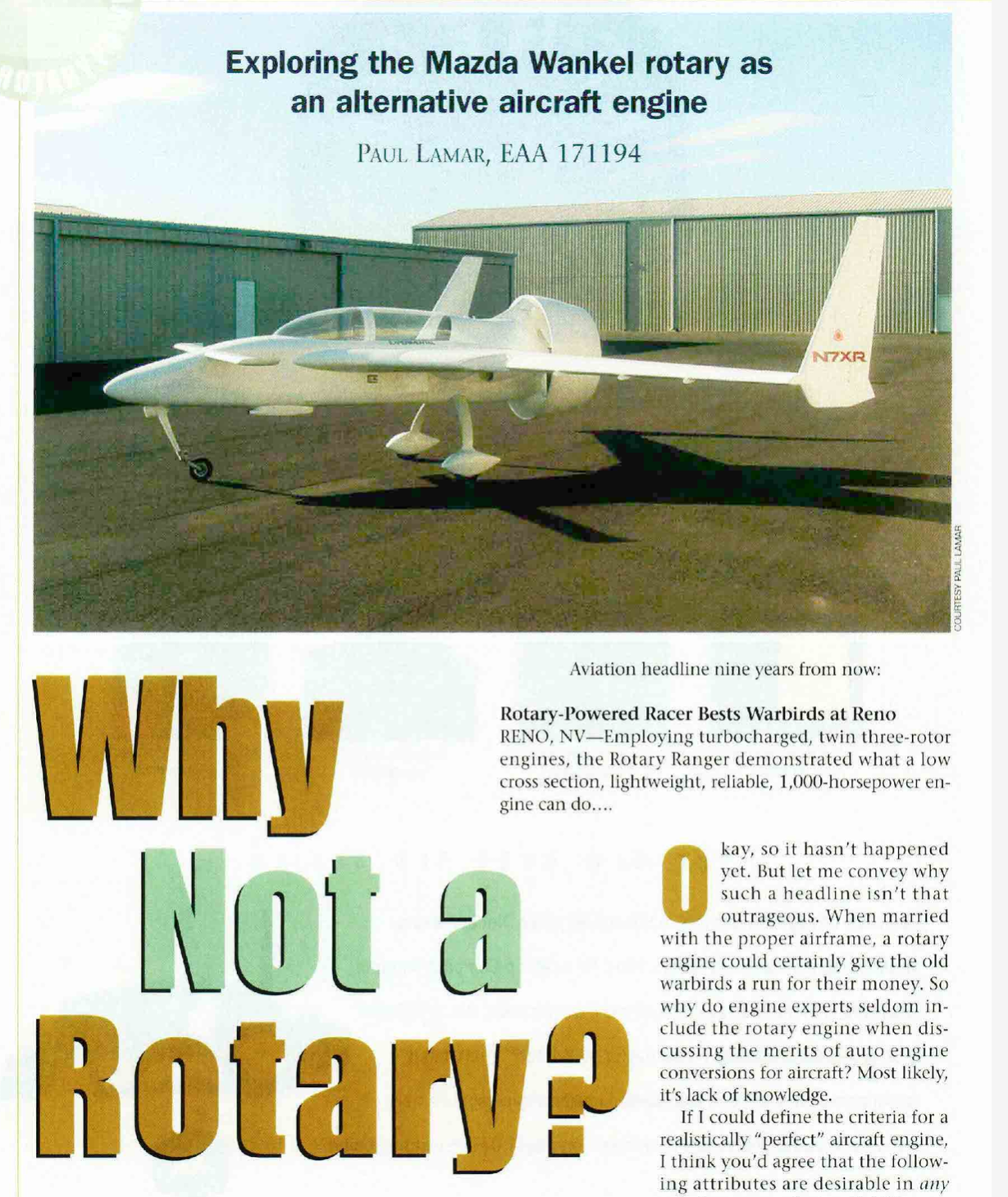 While incredibly reliable in automotive use, car engines haven't done well running at high power settings all day every day in airplanes. The aviation-specific rotary engines thus far, such as Diamond's AE50R, are low power engines designed for self-launching gliders and UAVs.
What if the smooth rotary engine were used to generate electricity buffered through a battery pack? Then it wouldn't matter if the engine failed more often than 1930s-style Continental and Lycoming piston engines. An engine failure would mean using a 20-minute battery reserve to land. Is there a mass-market low-cost battery+Wankel combination available? Yes! From "The Hybrid Wankel Rotary-Powered Mazda MX-30 R-EV Is Finally Here. Here's How It Works" (Autopian, January 2023):
For starters, the engine doesn't drive the wheels. It only serves as a generator connected to a motor/generator unit to send power to the battery pack. The battery pack then provides juice to an electric motor which powers the wheels. This means that despite burning gasoline, the MX-30 R-EV should theoretically have the seamless power delivery of an EV, and it should be able to keep the Wankel engine at its "sweet spot" for efficiency for a significant portion of its on-time.

As for deeper details on that rotary engine, there's the presence of direct injection, something never attempted before on a production rotary engine. The side housings are aluminum and coated with plasma for low weight and friction management respectively, all while being just 80 mm wide. For the sake of longevity, the apex seals are 25 percent wider than the ones on an RX-8's RENESIS engine, clocking in at 2.5 mm. The result is 73.7 horsepower from just 830 cc of displacement. Curiously, although rotary engines love to rev, Mazda claims that peak power hits at just 4,700 RPM. That might sound weird for a high-revving Wankel, but it should translate to very low noise.
At 214 pounds, it looks like this engine is fairly heavy for its horsepower (a little heavier than an 80 hp aluminum piston engine), but given the high efficiency of electric drive maybe this would still work out well for a 2-seater.
Readers: Where's the flaw in this path toward aircraft powered by a mass-market powertrain?
Related:
Full post, including comments