Here's a typical perspective from an American Jewish Democrat:
The guy who gets a paycheck from the Anti-Defamation League wants to fill the United States and other countries "around the world" with any person on Planet Earth who is capable of spinning an asylum yarn, e.g., "I was afraid of my spouse" or "there was a criminal gang in my neighborhood" or "I identify as 2SLGBTQQIA+ and my native country does not support Rainbow Flagism."
But how is this perspective consistent with the State of Israel continuing as a Jewish state? There are 5.3 million Palestinians living in the West Bank and Gaza. All of them could make credible asylum claims, e.g., "I am 2SLGBTQQIA+ and Wikipedia says that therefore my situation is 'precarious'." ("Gaza, however, still follows the British Mandate Criminal Code Ordinance, No.74 of 1936, which outlaws same-sex acts between men, with the current punishment being up to 10 years in prison.") Or "I am fearful that the Israeli military will blow up my apartment building in case they suspect that Hamas is using it for offensive purposes."
Arabs are already 20 percent of Israelis. After the 5 million Palestinians settle in Israel as asylees, plus additional asylum-seekers from other Muslim countries as necessary, the Muslim population will outnumber the Jewish population and Muslim Israelis can vote to establish an Islamic government within Israel, either expelling the Jews or keeping them around as tax-paying Dhimmi.
There must be mental gymnastics that I am missing that enable these migrant-supporting Jews to, without being obvious hypocrites, oppose the migration of Muslims, including Palestinians, into Israel. But I can't figure out what it would be! If a person says that any Muslim is entitled to cross the U.S. border and apply for asylum, how can he/she/ze/they be opposed to a Muslim crossing the Israeli border and applying for asylum?
In case the above tweet is memory-holed, a screen shot is below. Separately, note that the Hebrew Immigrant Aid Society is mentioned. Anger regarding this taxpayer-supported enterprise was cited by Gregory Bowers as his motivation for shooting Jews at a Pittsburgh synagogue in 2018 ("HIAS likes to bring invaders in that kill our people. I can't sit by and watch my people get slaughtered. Screw your optics, I'm going in."). This was predicted years earlier by a friend who is an Orthodox Jew (working class white males in the U.S. becoming Jew-haters as a consequence of HIAS and other prominent Jewish-led efforts to increase low-skill migration into the U.S.).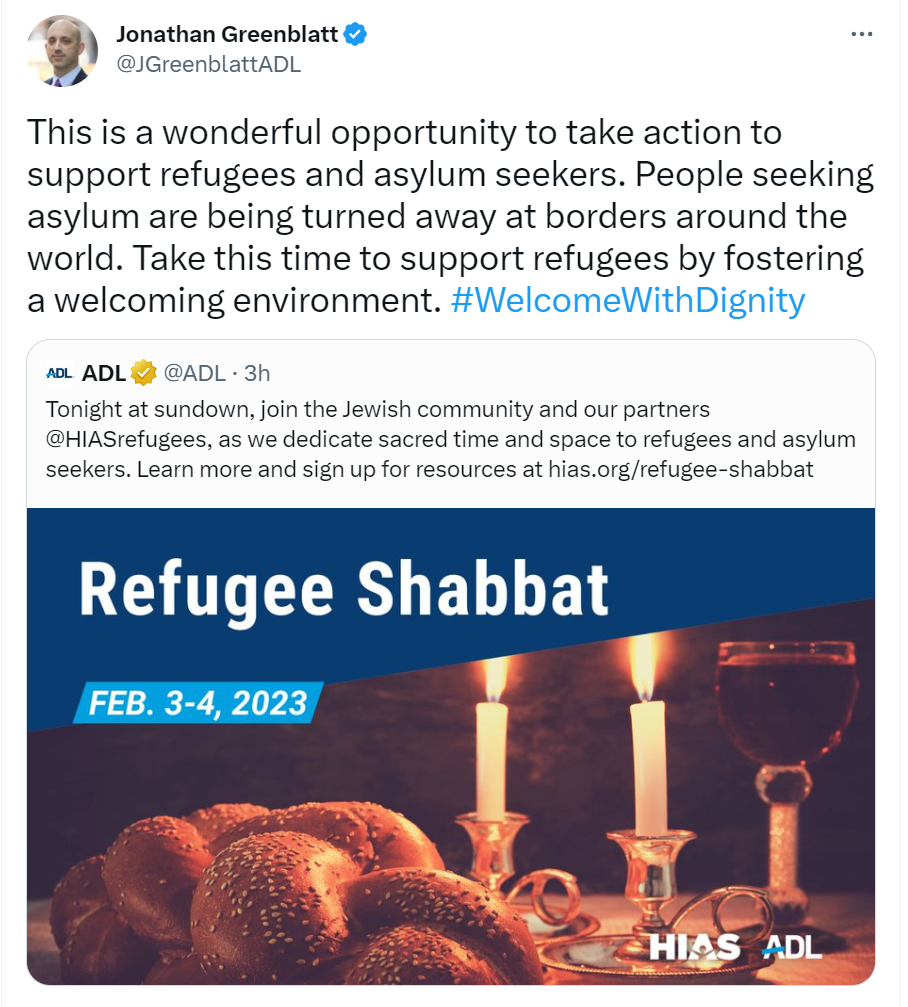 Related:
Full post, including comments