The December issue of MIT's alumni magazine, Technology Review, arrived. this includes a special sub-magazine that is only about things that happen on the MIT campus or that are done by MIT alumni. The cover story: "MIT's new chancellor laid a foundation for leadership through her groundbreaking research on politics and racial justice."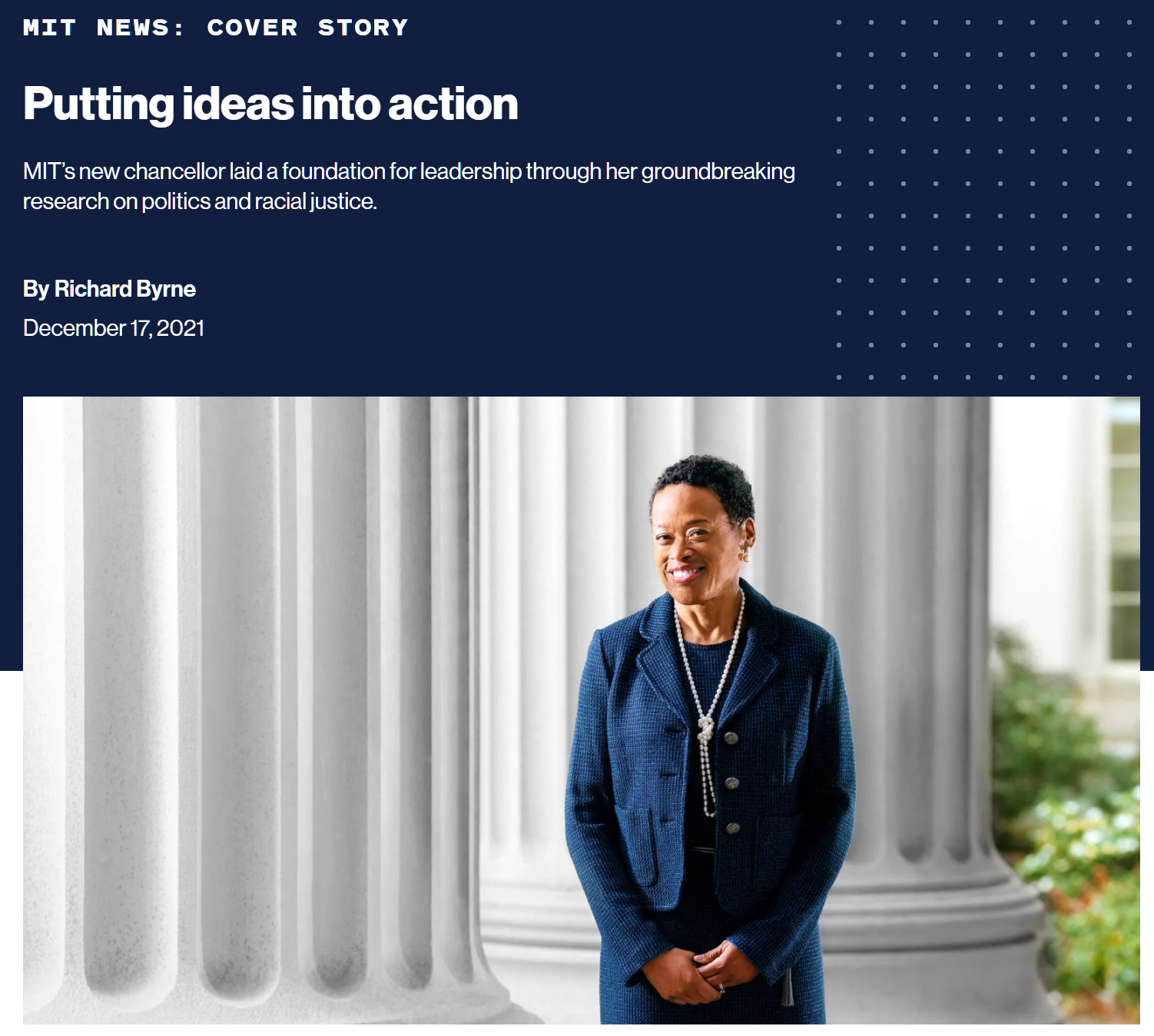 What else was in the issue? "Discrimination by the numbers":
When Phyllis Ann Wallace reached Yale University, in the mid-1940s, she was used to facing obstacles and proceeding anyway. Women weren't expected to go into economics, especially at the graduate level, and for Black women like herself, breaking into the field decades before schools, buses, or workplaces were legally integrated was practically unheard-of.

Her book MBAs on the Fast Track chronicled how the experiences of men and women with equal education differ, and why women work longer hours for the same compensation.

She arrived [at MIT] as a visiting scholar at the Sloan School and quickly moved up to become the school's first female professor, in 1975. In her office overlooking the Charles River, she wrote books and papers on women in the labor force, particularly Black women, often inviting students to coauthor or co-edit. She worked to ensure that male MIT students were aware of equity issues, believing that "if you can really educate them now, hopefully they will go out and bring about the revolution wherever they are."
(Note: Americans upset by "why women work longer hours for the same compensation" and who want to work for just one hour and earn a lot more than the average MBA can refer to "Child Support Litigation without a Marriage" and/or the $2.5 million tax-free example of Hunter Biden's plaintiff (she didn't waste time getting an MBA!))
Anything about Science (the new capitalized-like-God version)? A brief interior article noted that David Julius, Class of '77, "shared the 2021 Nobel in Physiology or Medicine for discoveries about how the body senses touch and temperature." In other Nobel-ish news, a current MIT professor won the Nobel in economics.
Speaking of elite university experts on comparative victimology, "'Rhodes Scholar' claimed she grew up poor and abused — then her story started to unravel" (New York Post):
In November 2020, when University of Pennsylvania graduate student Mackenzie Fierceton won the prestigious and highly competitive Rhodes Scholarship to study at Oxford — one of just 32 scholars selected from a pool of 2,300 applicants — she was praised by the Ivy League school's president in a newsletter.

"Mackenzie is so deserving of this prestigious opportunity," declared president Amy Gutmann of the 23-year-old from suburban St. Louis. "As a first-generation [to go to college] low-income student and a former foster youth, Mackenzie is passionate about championing young people [and] dedicating herself to a life of public service."

Multiple college consultants told The Post that the college application process now features more questions about overcoming obstacles. The 2021-2022 essay prompts from Common App, the organization that oversees undergrad applications for more than 900 schools, include "Recount a time when you faced a challenge, setback, or failure."

Categorizing herself as a first-generation, low-income student with a history of horrific abuse — who also earned nearly straight A's and was student body president in high school — Fierceton certainly fit the bill. She was admitted to Penn in 2015 to study political science, then began studying for a clinical master's degree in social work in 2018.

When Fierceton's Rhodes Scholarship was announced, the Philadelphia Inquirer profiled the academic star in November 2020, noting that she "grew up poor, cycling through the rocky child welfare system [and] bounced from one foster home to the next."

As Fierceton said in that story: "I would trade [the Rhodes honor] to have been adopted and have a family."

But after that Nov. 22, 2020, profile ran, an anonymous accuser sent an email to Penn and the Rhodes Trust, claiming Fierceton's story was "blatantly dishonest." The email reportedly alleged that Fierceton grew up in St. Louis, Mo., with her mother, an educated radiologist; that her family was upper-middle class; and that she had attended a fancy private high school and enjoyed such high-end hobbies as horseback riding.

According to Winkelstein's subsequent report, Fierceton was raised in an upper-middle-class household; it also notes her mother is a radiologist and that her grandfather had graduated from college.
The Penn victimological bureaucrats criticize the young student for purportedly lying, but take no responsibility for their own incompetence. These are paid full-time victimologists and they can't distinguish between true victims and the child of a radiologist? How are ordinary Americans supposed to accept the Ivy League say-gooders as experts on social and racial justice?
Full post, including comments