Let's start off in the Department of Sick with Envy… "Lavish Palm Beach mansion built just six years ago, then bought for $110m last year 'by Estée Lauder boss' will be TORN DOWN and replaced with new property" (Daily Mail):
A never-lived-in oceanfront mansion that quietly sold for $110 million last year is to be torn down and replaced with a new property.

The mansion, built in 2016 at 1071 N. Ocean Blvd, Palm Beach, is owned by a company linked to cosmetics billionaire William P. Lauder.

He owns an empty lot next door and is believed to want to combine both parcels of land before building his dream home, just six miles from former President Trump's Mar-a-Lago.

The home was originally purchased for $40.42 million by Philadelphia businessman Vahan Gureghian and his wife, Danielle, an attorney, but they never moved in.

There is even room for a two-lane bowling alley in the basement – although it's soon to be destroyed by the wrecker's ball.

He purchased that lot, at 1063 N Ocean Blvd, for $25.4 million in April 2020 at which point he demolished the existing home which had stood there since the early 1960s.
(What kind of engineering was involved to make a watertight basement? Almost nobody in Florida has one.)
To make our envy even more intense, the article includes a photo of the dilapidated eyesore: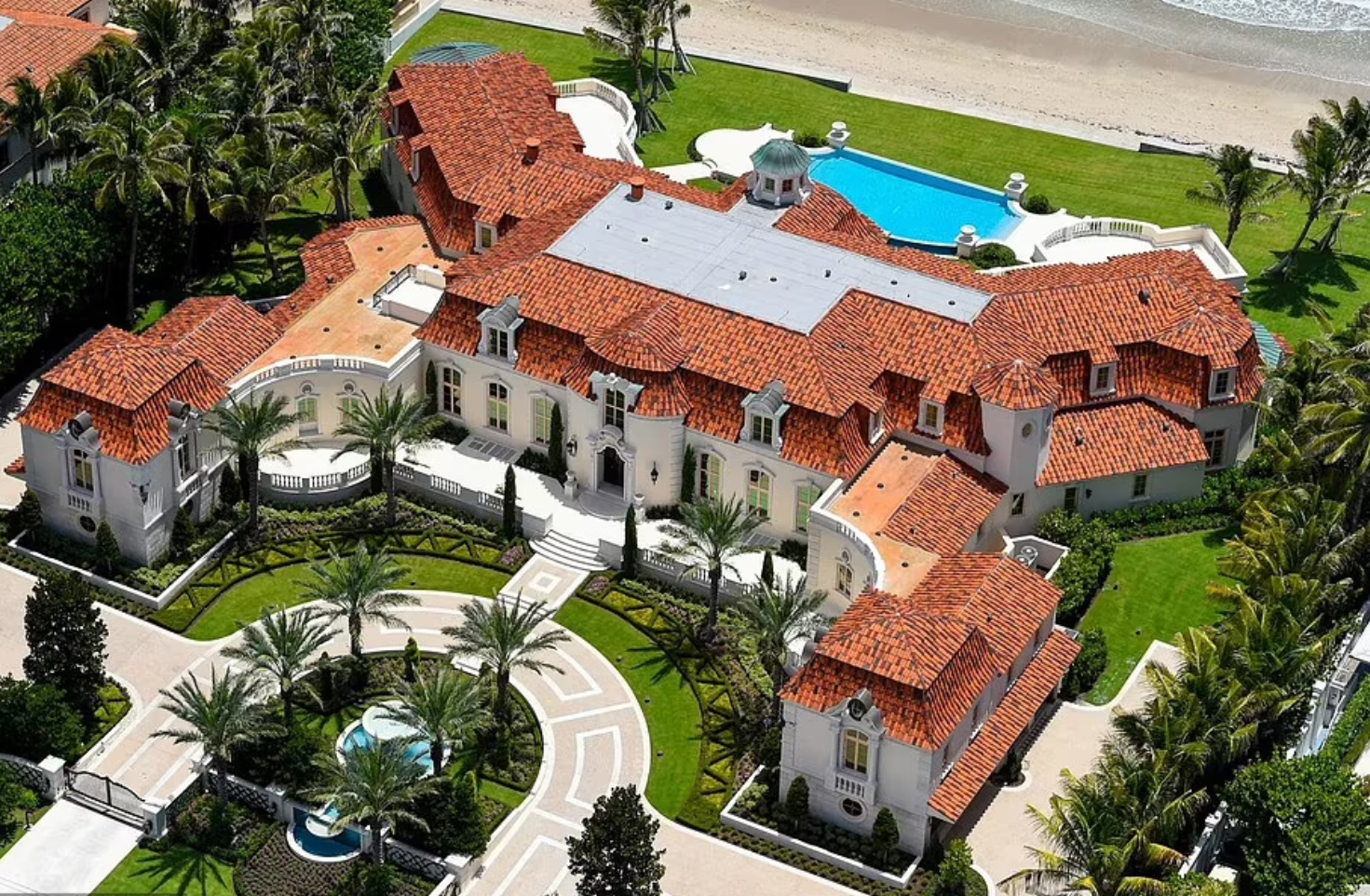 It is at times like these that I'm glad I voted for Bernie!
What does the guy who is throwing out a 6-year-old 36,000-square-foot house have to say about our beloved planet? A 2021 talk from the committed environmentalist:
During the pandemic, concerns about the environment have intensified and Lauder noted that, at this point, sustainability is no longer a choice for companies.

"We have to think about what we make and sell from cradle to grave," he noted. "How can we get more recycled material in our packaging? How can we reduce the use of plastic and other components that end up in landfills?"
The entire house will go into a landfill, but that's okay because very little of it is plastic?
It's all about the Science:
Sustainability and science go hand-in-hand. Lauder said…
See also "Estée Lauder Companies Reaches Milestone Climate Goal, Net Zero" (2020):
The Estée Lauder Companies (ELC) announced on November 2nd that it has achieved Net Zero emissions and sourced 100% renewable electricity globally for its direct operations, reaching the target it set on joining RE1001.

Building upon this achievement, the company has also met its goal to set science-based emissions reduction targets for its direct operations and value chain, positioning the company to take even more decisive action against climate change in the coming decade.

The Estée Lauder Companies commits to reduce absolute scope 1 and 2 GHG emissions 50% by 2030 from a 2018 base year. This target is consistent with reductions required to keep warming to 1.5°C, the most ambitious goal of the Paris Agreement. The Estée Lauder Companies also commits to reduce scope 3 GHG emissions from purchased goods and services, upstream transportation and distribution, and business travel 60% per unit revenue over the same timeframe.
It was Science who said "toss that 6-year-old house into the landfill"!
So we started off sick with envy, but ended up learning something profound about the role that each of us can play in saving Spaceship Earth.
Update, 10/26: Government moves fast in Florida! The environmentalist got a demolition permit and the house is on its way to the landfill.
Full post, including comments