One of America's greatest poet-philosophers, Merle Haggard, released "Are the Good Times Really Over" 40 years ago. Now that we're in the last month of 2021, it seems like a good time to see how things panned out.
I wish a buck was still silver
And it was back when country was strong
Back before Elvis and before Viet Nam war came along
Before the Beatles and "Yesterday"
When a man could still work and still would
Is the best of the free life behind us now?
And are the good times really over for good?
That buck that Haggard sang about in 1981 is now worth about 30 cents. Silver cost $10.50 in 1981 and was about $28 in mid-2021. So, actually Haggard was correct in thinking that a silver dollar would hold a roughly constant value.
Did we recover from our loss in the Vietnam War and become strong again? Not strong enough to defeat a peasant army in Afghanistan.
"When a man could still work and still would"? I don't think Haggard envisioned that the term "man" would become undefined. Can someone who identifies as a "man" still work? Yes. Would a "man" work? The Richmond Fed, based on BLS data, says "no" (male labor force participation rate down from 80 percent (1970) to 69 percent (just before coronapanic) to somewhere south of 69 percent today: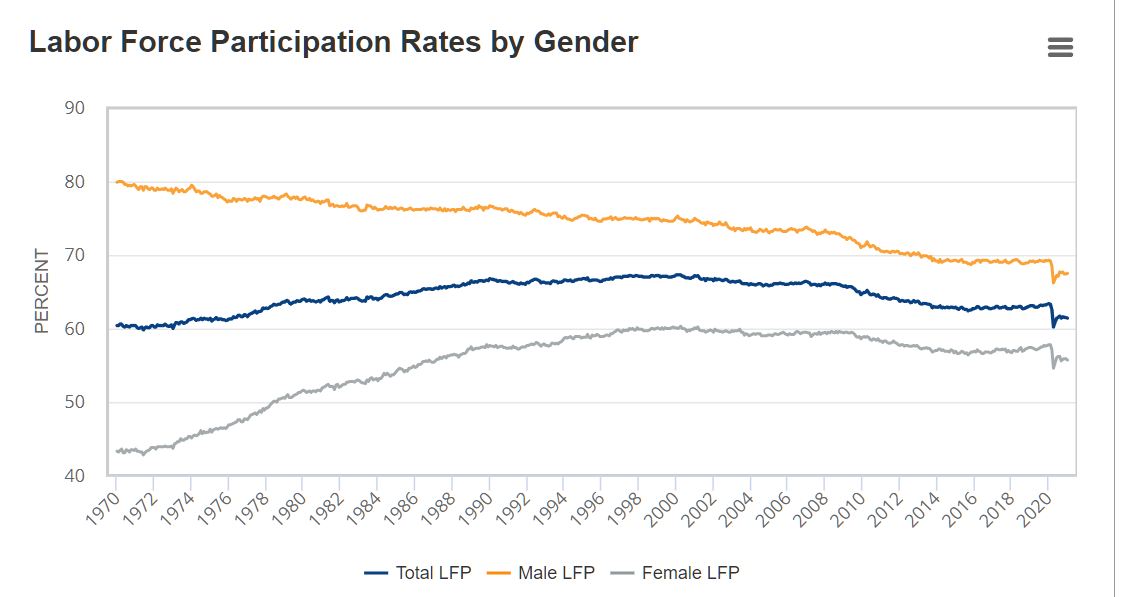 What about the "best of the free life"? For those in means-tested public housing, getting health care via Medicaid, and shopping with SNAP/EBT, the free life is better than ever. But maybe Professor Haggard meant free as in "liberty". In that case, we're free to follow governors' and the president's orders to get vaccinated (and inject children as well, so that they don't die from a pernicious killer of 82-year-olds), wear a mask, refrain from gathering, etc.
Are we rollin' down hill like a snowball headed for hell
With no kind of chance for the flag or the Liberty Bell
I wish a Ford and a Chevy would still last ten years
Fords and Chevys are way better than they were in 1981, so his wishes were granted! What about his wish for the flag? As long as he wanted rainbow flags to have a chance, that wish was also granted.
Before microwave ovens
When a girl could still cook
And still would
So many issues with the above that I won't even comment!
Happy December to friends who are still in the frozen north!
Full post, including comments