Front page of nytimes.com on November 10: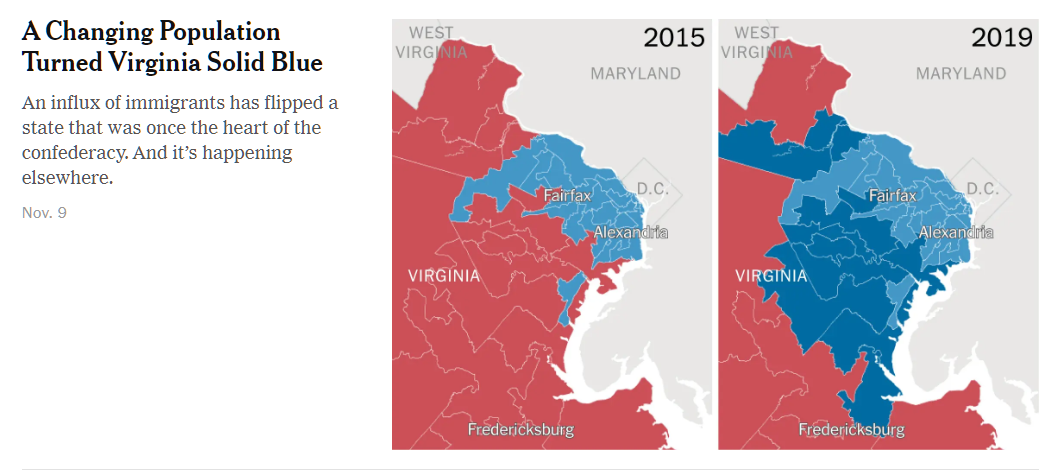 "An influx of immigrants has flipped a state…."
From the article:
Not long ago, this rolling green stretch of Northern Virginia was farmland. Most people who could vote had grown up here. And when they did, they usually chose Republicans.

The fields of Loudoun County are disappearing. In their place is row upon row of cookie-cutter townhouses, clipped lawns and cul-de-sacs — a suburban landscape for as far as the eye can see. Unlike three decades ago, the residents are often from other places, like India and Korea. And when they vote, it is often for Democrats.

In 1990, the census tracts that make up Mr. Katkuri's Senate district were home to about 35,000 people — 91 percent of them white. Today, its population of 225,000 is just 64 percent white.

"If my parents came back today, they wouldn't recognize the place. The changes came like a tidal wave."

In the 13th Senate district, where Mr. Katkuri lives, one in five residents are immigrants.

Around the advent of the modern immigration system, in 1965, foreign-born people made up only about five percent of the American population. Now they are nearly 14 percent, almost as high as the last peak in the early 20th century. The concentrations used to be in larger gateway cities, but immigrants have spread out considerably since then.
The main purpose of funding a military is to prevent people from other countries from exercising political control, right? If the NYT is correct and people from other countries ("immigrants") are exercising political control in the U.S. already, what is the point of working all of those extra hours each year to fund our $700 billion military?
Related: