Suppose that you are an expert user of Windows NT/XP/Vista/7, an expert user of an iPad, and an expert user of an Android phone…. you will have no idea how to use Windows 8.
What are the best features of Android? A permanently on-screen Back button. A permanently on-screen Home button. Neither of these are present on the Windows 8 "tablet screen". Every app developer implements the "Back" feature in a manner and location of his or her own choosing (Microsoft apps seem to put a big arrow on the top left of the screen; other developers used the bottom left; many screens do not have a Back option at all).
What is the best feature of iOS on the iPad? A permanent hardware Home button. It isn't as convenient as going "Back" on Android but at least it facilitates re-navigating to wherever you were. The closest thing to a full-time Home button in Windows 8 is the "windows" key on the keyboard (but the whole idea is that the keyboard is not always available/required).
What is the best feature of Windows XP/Vista/7? Click right on an object to get a context-dependent menu of useful functions. Android copied this feature: touch and hold an item in order to get a context-dependent menu of options. The Windows 8 tablet interface lacks this interface standard.
Microsoft has had since October 2008 to study Android. It has had since June 2007 to study iPhone. It seems as though they did not figure out what is good about the standard tablet operating systems.
One thing that Android and iOS do not address is how to handle the requirement of offering a legacy Xerox Alto-style mouse-and-windows environment. Microsoft here integrates the tablet and the standard Windows desktop in the most inconvenient and inconsistent possible way. Due to the desperation of the average consumer to watch television at all times on all devices, the typical computer screen is fairly wide. One would think therefore that it would be possible to use traditional applications in the left-hand two-thirds of the screen while running a tablet environment on the right-hand one-third of the screen. Windows 8 does not allow this. It is either the old Windows XP desktop or the new Android-like tablet environment. As far as I can tell they cannot be mixed except that a tablet app can be set to appear in a vertical ribbon on the left or right edge of the screen.
A reasonable user might respond to this dog's breakfast of a user interface by trying to stick with either the familiar desktop or the new tablet. However, this is not possible. Some functions, such as "start an application" or "restart the computer" are available only from the tablet interface. Conversely, when one is comfortably ensconced in a touch/tablet application, an additional click will fire up a Web browser, thereby causing the tablet to disappear in favor of the desktop. Many of the "apps" that show up on the "all apps" menu at the bottom of the screen (accessible only if you swipe down from the top of the screen) dump you right into the desktop on the first click.
Confused about how the tablet apps work and want to Google for the answer? You go to a Web browser in the desktop interface and can't see the tablet interface that you're getting advice on how to use. Keep your old Windows 7 machine adjacent so that you can Google for "How to use Windows 8" on the old computer and have the pages continuously visible.
The only device that I can remember being as confused by is the BlackBerry PlayBook. I would find this machine a lot more useful if it simply ran Android as a sub-environment and did so in the right-hand third of the screen. Comments from those who love Windows 8 would be especially appreciated.
To end on a high note, some of the supplied apps are wonderful, e.g., the Bing Finance app. Swiping back and forth on a 27-inch screen is a great way to get a comprehensive picture of a lot of information quickly. (Of course, this would be equally true if one had a similar app on a 27-inch Android tablet… it is just that there aren't any high-res 27-inch Android devices of which I am aware.)
[This article is based on using Windows 8 on what may be the best current hardware: Dell XPS One 27 computer with a quad-core i7 CPU, 16 GB of RAM and a solid state hard drive accelerator ($2600). I will try to write a bit about the Dell hardware in a subsequent posting. The screen is beautiful. The supplied keyboard is tiny, as if made for a clown. The display tilts down easily, making it easy to get up from one's chair to read a web page while standing.]
[Separate issue: Given how misguided the whole design of Windows 8 seems to be, why have tech journalists given it basically positive reviews? My theory is that journalists love anything new, different, and complicated. Windows 8 is all of those things.]
[December 6, 2012 update: A reader asked a question about DxOMark's camera phone testing procedures. I went to the DxO site downloaded a PDF. Given the wide aspect ratio of the 27″ monitor, I expected to read the PDF in one window while typing my thoughts about it in the browser. From Google Chrome, I opened the PDF document and was immediately zapped into the Metro interface's "Reader" app. My browser was gone. Although the screen is easily wide enough to display two pages simultaneously, the software elected to show just one page at a time, surrounded by massive black bars (see screen capture below). Instead of looking at a text entry box and the PDF simultaneously I would have to go back and forth between screens, trying to remember what was on each. I tried the same series of steps in Microsoft Internet Explorer and the result was the same.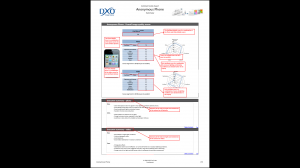 Now I understand why Jakob Nielsen calls this "Microsoft Window". (I would bet that this behavior can be fixed by installing the traditional Adobe Reader software, but that leaves open the question of why Microsoft shipped the operating system with this behavior as the default. Wouldn't this typical use case of downloading a PDF and then wanting to view it while, say, typing an email have come up?]