President Obama arrives on Martha's Vineyard for a two-week vacation starting today. This effectively shuts down Cape Cod, the Vineyard, and Nantucket as aviation destinations (see tfr.faa.gov for maps showing the 70-mile (60 nautical) diameter circles of restricted/forbidden airspace) and therefore shuts down a lot of New England-based aviation businesses (flight schools that normally rent planes to people visiting these islands, sightseeing operators, aircraft maintenance, aircraft fuelers, etc.). There will ultimately be at least three different flight restrictions. Obama will fly in a Boeing 747 from Washington, D.C. up to Otis on the Cape. Due to the fact that the runway on the Vineyard is only 6000 feet long he will be transferred to a smaller aircraft (in previous years a Boeing 757 and also an Osprey?) and fly 5 minutes from Otis to the Vineyard. It is unclear why he wouldn't prefer to take a Boeing 757 non-stop from D.C.
I spent the previous week on the Vineyard. The Secret Service was already encamped in rented houses with SUVs flown in from D.C. Ospreys thundered overhead in flights of three. "I thought it was odd that the newspaper carried an official government notice that it was 'forbidden to welcome' President Obama at the airport," said one summer resident while crabbing with her daughter. "That's not a phrase that I've seen before."
We departed this morning about 1.5 hours before Obama was due to arrive. As we drove to the airport we found the highways clogged with black SUVs bearing D.C. plates and at least a dozen Massachusetts State Police cruisers. There were two Coast Guard Eurocopters parked on the ramp. In case those helicopters, plus the Marine helicopters that had been previously flown up in C-17 cargo planes, were not sufficient, the Massachusetts State Police was there with its own gold-plated Eurocopter (see this 2012 posting and this February 2014 posting for more on the state's EC135). During the preflight we watched a $100 million Osprey land and depart. As we taxied out in our little four-seat airplane we heard an FAA ground vehicle communicating with the ground controller about a from-the-ground airport equipment inspection (weather was perfect for visual flying so in fact no equipment was necessary for taking off or landing). As we took off we heard the State Police call the Tower to request orbits around the field (at $2000 per hour) so that they could "conduct a runway inspection").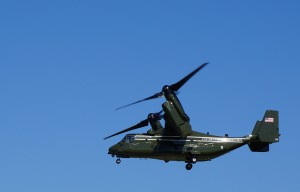 A Dutch friend asked if this pomp and circumstance was related to our English heritage. I replied that David Cameron regularly flew London/D.C. on British Airways (example). She replied "The Dutch Prime Minister rides to work on a bicycle."