Two months ago Whirlpool tried to explode our suburban house with natural gas (previous posting) during a failed attempt to repair a less-than-five-year-old range (and in fact it turned out that it could never have been repaired; follow-up posting). Through their KitchenAid division they then tried to burn down our Cambridge apartment with a less-than-three-year-old dual-fuel range. The range had been top-rated by Consumer Reports, which shows the danger of relying on tests done on fresh-out-of-the-box products. The knobs don't seem to control the gas directly, unless the valves are very light [See updates below; they actually are gas valves]. You push a knob in and turn it and the gas comes on, the burner lights, and you're cooking. What if the mechanical interlock that keeps the knob from turning, unless it is pushed in, jams? Then there is no way to turn the burner off. If the gas flow is electronically controlled you'd think that there would be an "all burners off" option on the oven control/clock panel, but there is not. With four adults in the house, two of whom have engineering backgrounds, and a pair of pliers, we managed to get the burner off after about 15 minutes of experimentation. Until that happy moment we had four adults and three kids in an apartment with an open flame that could not be extinguished.
[Note that the range had previously failed, also out of warranty, with a control board that emitted a continuous 60 Hz. buzzing (would reset if the breaker was turned off then back on). And the companion $1,500 KitchenAid dishwasher suffered from two failures in less than 12 months of use, requiring a total of at least six service visits (it now has a new control board and circulation pump and works pretty well).]
I called the KitchenAid 800-number to arrange service. They took the position that because the range was more than one year old they had no responsibility for repairing it and would charge me for an out-of-warranty repair. I was curious to see if this was the final answer so I asked to speak to a supervisor. After I asked "Can you really design a product that will burn a customer's house down and then charge them to fix it?" I was transferred to someone in the safety department who finally agreed that Whirlpool would cover the new control knob.
As it happens, my friends' two-bedroom rental in Beaver Creek, Colorado has a new-looking KitchenAid gas cooktop. Half of the burners won't light. Gas flows and an igniter sparks (sometimes on a different burner, though), but there is no resulting flame.
While I have been struggling with these new-and-not-cheap ranges, a friend posted these photos on Facebook:
He was replacing a White Westinghouse range, purchased in 1957, that was working perfectly at the time of its de-installation, 59 years later. He wanted a convection oven, but I am wondering if he will come to regret this decision!
Readers: I hate to sound like the old codger who claims that everything was built better in the old days, but is it time to give up on natural gas as a cooking fuel? If you combine the engineering departments of American appliance manufacturers with the expected skill level of repair technicians who are going to show up, would it make sense to say that all new ranges and cooktops should be electric? (induction?) What about foreign brands? Are Korean-engineered (Samsung and LG) or German-engineered (Miele) gas ranges more reliable and therefore, considering the power source, safer? And should we give up on high-end appliances? If the expensive ones are going to fail every few years, why not buy bottom-of-the-line products that can be replaced for about the same cost as a repair?
Update 2/19/2016: Whirlpool factory service shows up to try to fix the problem. My report of a stuck gas burner turned into a written note that the (electric on this model) baking element had failed. So the repair guy didn't have the correct parts.
Update 2/22/2016: Whirlpool factory service shows up with the gas valve. It turns out that the knobs are directly connected to a common gas line: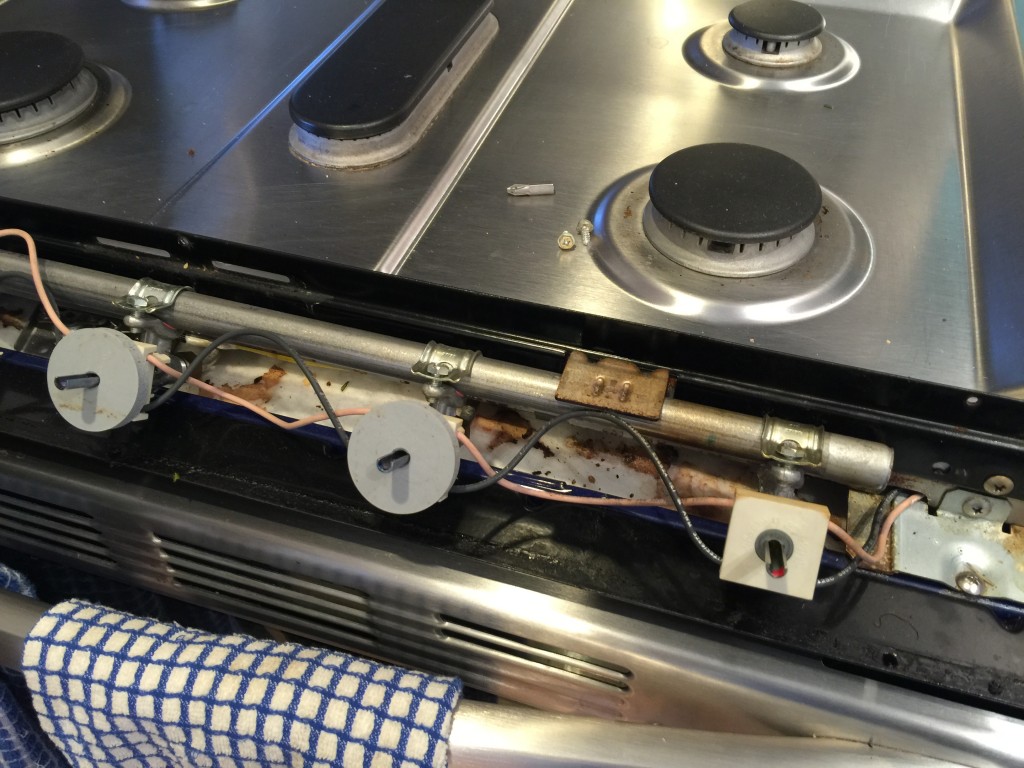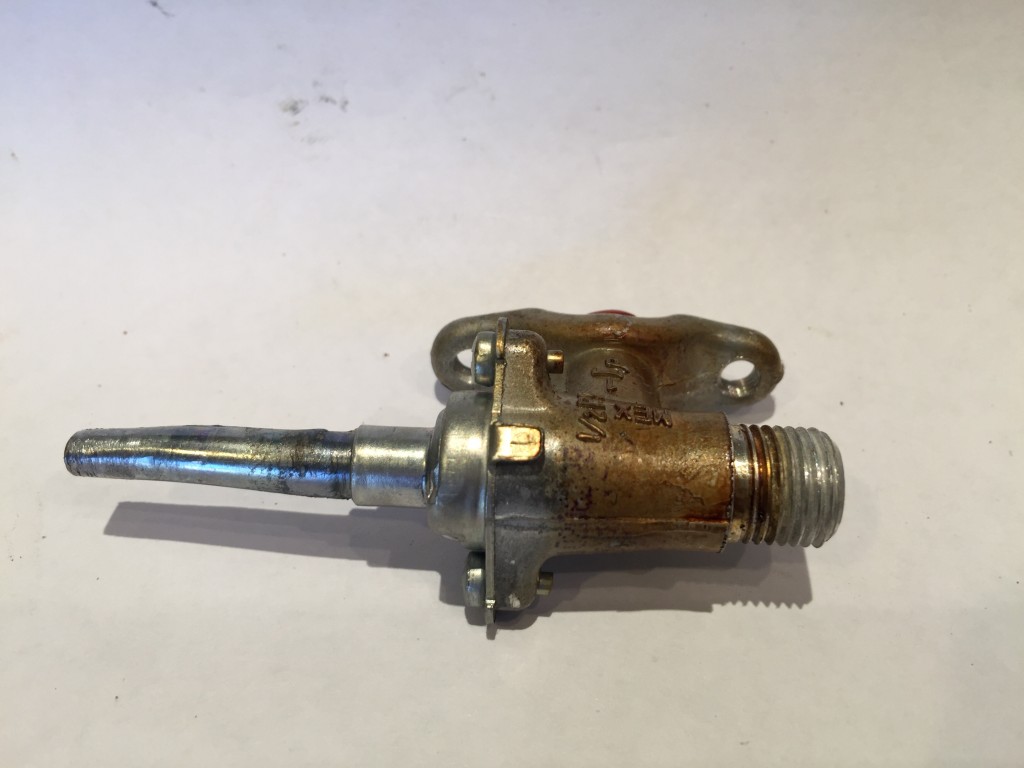 Unfortunately, somehow the old knob wouldn't fit onto the new valve. So the saga continues with a quest for a new knob…