I am mostly done with a two-week cruise on the Serenade of the Seas. The Voom Internet service is an honest 3 Mbits down and 2 Mbits up. That's 8X the measured upload speed we had in our Paris hotel. The engineers have done a remarkably good job of covering the ship with wifi. While on Deck 11, I started a FaceTime call with Domestic Senior Management. I then walked up to the top of the ship and all the way down to the cabin my mom and I are sharing on Deck 3. There was a slight hitch in the service just once or twice. The call dropped only once, which was when our button-happy two-year-old on the other side pressed the hang-up circle. The verdict from the other side, a Verizon FiOS link, was "better than any of the calls from Paris." (one of those calls was from a $600/night Hyatt hotel where a friend was staying) As we got closer to the end of the cruise and more passengers signed up for the service it became subject to more hiccups, but it always worked.
The ping time below is long, as expected given that each packet requires a trip up to space and another one back down. This is noticeable as an extra second or two before a web page is rendered (compared to visiting a domestic site from a high quality home broadband service). Also noticeable is the fact that web developers have larded up their non-mobile pages with so much JavaScript and graphics that even a connection that would have been considered great 10-15 years ago is now somewhat pokey.
As far as I know Royal Caribbean is far ahead of the other cruise lines. The result is that an extended stay on a cruise ship need not cut you off from videoconferences with family, work with Dropbox and Google Docs, etc. Based on the FaceTime calls, which are more demanding than typical business apps, it seems that the High Seas and the full possibilities of the Internet are now compatible.
I tested the service primarily with a Windows 10 laptop, an iPhone (iOS 9.3.3), and an iPad (iOS 9.3.3).
Stuff that worked great:
Dropbox (uploaded about 30 GB of photographs and videos during the cruise)
Dropbox photo backup from iPhone
authoring via Google Docs within Chrome
Web browser (I ordered some stuff online)
authoring via WordPress
downloading the week of iPad app updates that had backed up during the catastrophe of Paris: 1 Gb. That's 8 Gbits
downloading iOS operating system updates for iPhone and iPad
Facebook on every tested platform
Streaming Netflix to an iPad (brief hiccup every 30 minutes of playing time perhaps)
IMAP access to AOL email (guess if it was me or my 82-year-old mom conducting this test)
iPhone backups in the background
Stuff that worked painfully:
ssh'ing to a Unix server and then trying to edit files with Emacs; the round-trip ping time makes this usable only in an emergency
Stuff that didn't work at all:
Napster (formerly Rhapsody; whose idea was it to name a subscription streaming service after the outlawed file sharing system?). I'm wondering if Napster uses UDP. Streaming audio with Google Music worked reasonably well.
Checking a development server that communicates over HTTP on a nonstandard port and also uses HTTP auth
Summary: Consumers with mobile devices should be thrilled with this as long as they are patient with some hiccups in the very most demanding applications, such as videoconference. Sitting at a laptop in one's stateroom and using Google Docs, Chrome, and Dropbox, it is often not that different than being at home. (I talked to about 20 other passengers who had signed up for the service. They were generally satisfied but they didn't seem to understand why it couldn't be as rock-solid and lightning fast as their at-home broadband connection.)
Room for improvement: the system times out after every two hours of non-usage. If you're running Dropbox and a browser with Gmail the laptop can in fact stay connected for 24 hours or longer. A phone, however, will go to sleep. Then there is a cumbersome three-page re-authorization process where you tell the system what language you prefer (why can't it remember that with a cookie?), whether you have a username or an access code, and then finally where you type in the username and password (which the browser has apparently been instructed not to save). This should be a single page prompting for just the password and with a link to "more options" for anyone who wants to change the language or type in an access code. Something about this software made Google Chrome and Windows 10 unhappy, but switching from username/password authentication to an access code (which I got from the guest services folks) made the problem disappear.
I wonder if this will open up even more growth for cruise lines, or at least Royal Caribbean. Now people who either want or need to stay in touch can cruise with only minimal communication hassles and limitations. Time to buy stock in Royal Caribbean? The ticker is RCL (chart).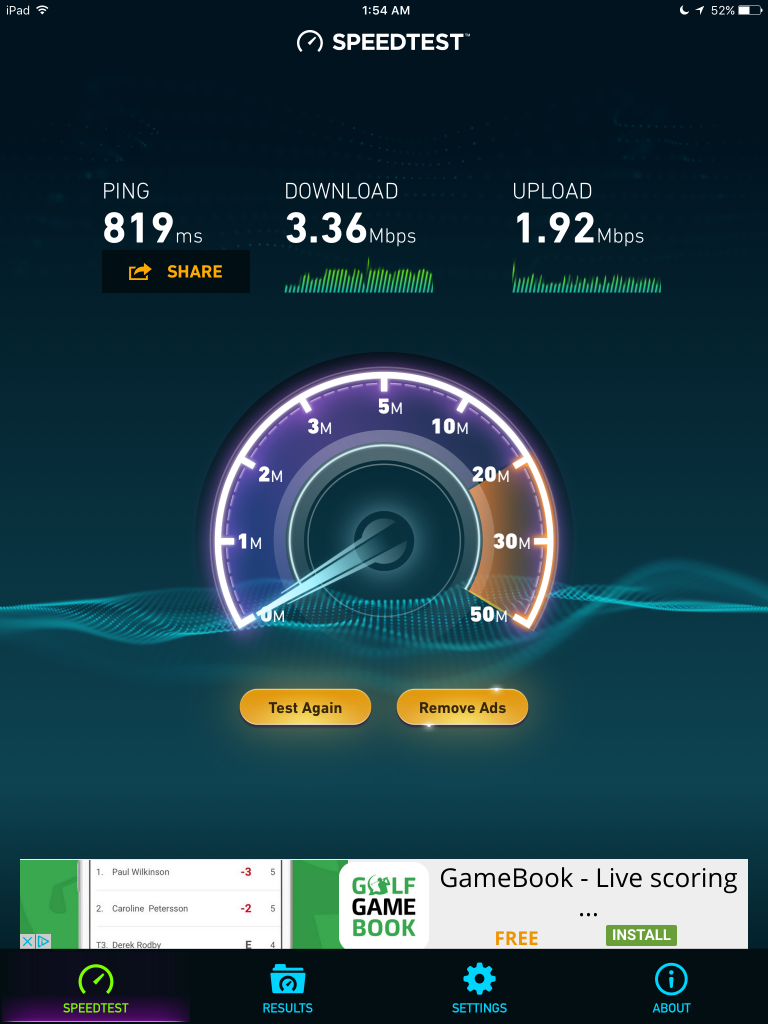 More: