After two weeks in South Florida, where the interstate highways serve mainly as parking lots from 6:00 am to 8:00 pm daily (Ft. Lauderdale/Miami is a 1.5-hour, 28-mile experience; see image below for traffic parked in both the regular and the $12 "express" lanes of I-95), I'm wondering why there isn't more discussion around U.S. infrastructure and immigration. The Interstate highway system was set up in 1956 when the U.S. population was 169 million. Due primarily to immigration (immigrants and the children of immigrants) the population has doubled since then (Pew). Consequently, we sit in traffic jams instead of working or enjoying leisure and family activities.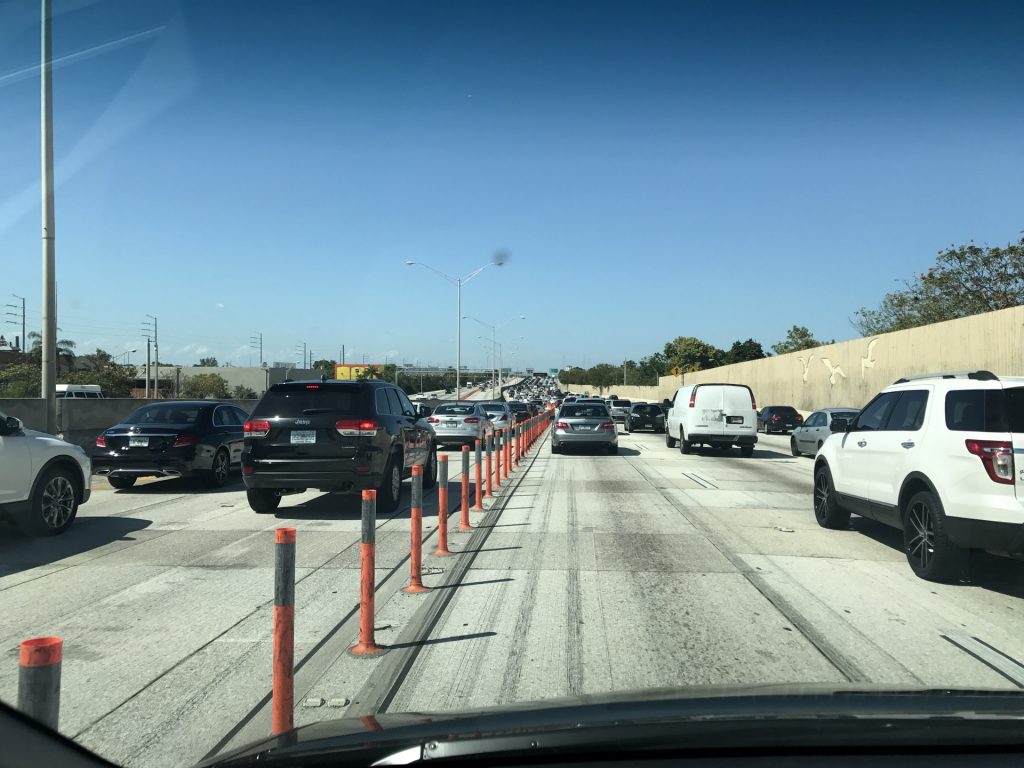 A naive analysis of immigration might start from the assumption that we could be better off economically any time that we could accept an immigrant who earns an above-median wage (also factor in whether kids are likelier-than-current-American-average to wage jihad? see Omar Mateen and Syed Farook, for example). But a larger population requires more infrastructure. Most of our infrastructure is inherited from 1850-1970 or so. If it costs us more today, in inflation-adjusted dollars, to build a bridge, highway, subway system, or tunnel, then we could be making ourselves worse off by adding population even if the new additions to the population earn an above-median wage. Does it cost us more? "Why California Stopped Building Freeways" is a 1993 article that describes "skyrocketing costs" through the 1980s. (See also Longfellow Bridge repairs will now take about as long as the original construction for how 2015-18 repairs will cost 4X, in inflation-adjusted dollars, what it cost to build the bridge in the early 1900s.)
Plainly there are some immigrants to Florida who boost the overall economy. A retired Wall Streeter fleeing New York income and estate taxes who buys a $10 million house and pays breathtaking property taxes will more than compensate for his or her burden on the infrastructure. But has anyone calculated the break-even point?
[Of course I realize that boosting an economy is not the only reason to welcome immigrants. However, it is an argument frequently made by advocates for continued and/or increased immigration.]
Update: Gizmodo estimates the value of current U.S. infrastructure at about $114,000 per capita. But our cost of building new/additional stuff is much higher than the value of our old stuff. So perhaps it would cost at least $250,000 for every additional American to provide infrastructure at the current level? If every immigrant who shows up results in population expansion of 6 additional people (parents via chain migration, spouse, kids), an immigrant or employer would have to pay a fee to the U.S. Treasury of $1.5 million for each new person who shows up (in order for existing American residents not to become worse off).