"I thought that because I was smart I should be rich," noted one alum, still working 9-5 as a software developer. Especially when one factors in retirement/pension, it seems that not too many of the reunion attendees had earned more than a Massachusetts State Trooper or a California prison guard. Most of those who had out-earned an 80th-percentile public school teacher had gotten out of tech per se, e.g., to become doctors or work in financial services.
Electrical Engineering and Computer Science was the biggest department for the Class of 1982 and there were quite a few software engineers and some circuit designers at the reunion. The computer nerds agreed that, outside of Silicon Valley, one's career was likely to be lame and irrelevant. Typing all day every day was apparently not a healthy lifestyle. Here are a classmate's hands: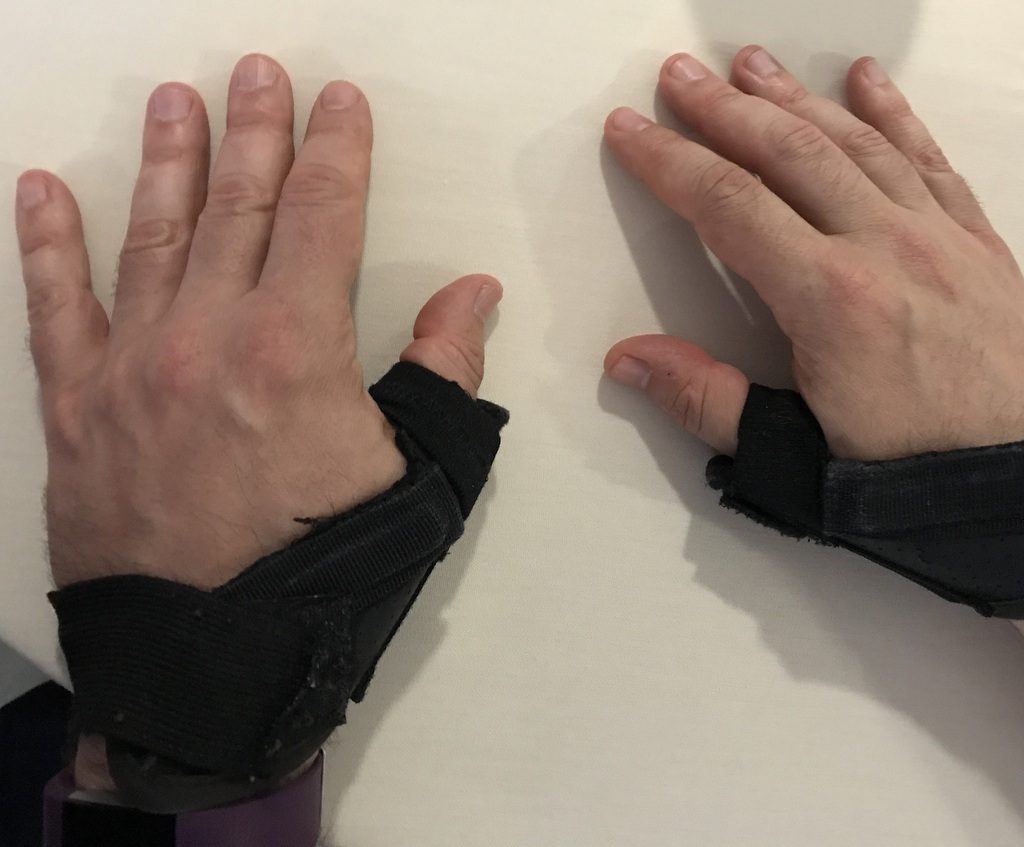 He didn't earn enough to retire young. He spent three years teaching "maker skills" and found it rewarding, but it didn't pay enough so he is back to the coding grind.
Heterosexuality was either the norm among our classmates or a condition of reunion attendance; I didn't see anyone from 1982 with a same-sex adult companion (at an "all-classes" event with about 1000 attendees, I did see two young women holding hands). In our class of roughly 1,000 there doesn't seem to be anyone who has changed gender ID. That may change with the next generation, however. Alumni from wealthy Boston suburbs reported neighbors having children who had changed gender IDs. One alum's son (still!) is a 20-year-old liberal arts college student. The parents refer to "his girlfriend," but in fact the individual is "non-gendered" and is offended if referred to with female pronouns.
Most of my classmates seem to have been married, at least at one point. This prospect filled some members of the Class of 1997 with horror. The 42-year-old never-married software engineers were fit, slender, cheerful, carefree, and could have passed for 30. One of them said "I'm being buzzed by Tinder right now." What was wrong with marriage? "The women that I meet want to have kids, but the women I know with kids seem like total bitches and the stuff that upsets them is trivial. You go to a family's house for dinner and the mom is obsessing over precisely what a 5-year-old is eating. I don't remember a lot of 5-year-olds starving themselves to death. Why are these moms monitoring every bite?"
The prevalence of divorce tracked the research of Brinig and Allen pretty well. Classmates who'd lived in states where divorce was more lucrative, e.g., Massachusetts or California rather than Georgia or Texas, were more likely to have been sued by their spouses. Classmates who'd earned more money, e.g., by working in real estate or financial services, were more likely to have been sued than those who toiled as faceless cubicle-dwelling coders. The women who had been sued were the higher-earning spouse. For example, female physicians who survived 30 years of practice without a malpractice lawsuit had proved vulnerable to attack in family court. No-fault divorce for their plaintiffs was rephrased as "Would you like to discard your 55-year-old wife, take half of the money she saved from working as a medical specialist, take half of the money she's going to earn going forward, and see if having sex with younger women is more exciting?"
Aviation was a field best suited to the patient. "My first job out of MIT was at Hughes Aircraft preparing a bid for the FAA on the NextGen Air Traffic Control System, which still hasn't been implemented [35 years later]," said a tablemate at dinner. An aeronautical engineer, Class of 1960 (so he's roughly 79), talked about starting his career working on a variant of the F-105 jet fighter and now finishing it as an FAA employee. Not that much has changed! [Thinking that you'll work with newer technology in the U.S. military? A friend's message: "I found out that [the Boeing 757 that becomes] Air Force Two's nav databases have to be loaded by floppy with everything checked against some sort of huge spreadsheet to make sure they have the approaches and waypoints they need for wherever they're going (they can only have a limited amount at any one time)"; it isn't quite this bad in the civilian world because a Cessna 172 can have a $10,000 Garmin GPS with, if desired, an SD card containing a database covering every airport, airway, and waypoint on Planet Earth.]
One alum had worked for 30 years building trading software for big banks. What had he learned about the financial services business? "The only way to make money is by cheating the customer."
Physical fitness seemed to be an important component of happiness for our group of mostly 57-year-olds. One guy works from home for a big integrated circuit manufacturer and his non-MIT girlfriend said that he worked 70-80-hours per week for 12 out of the preceding 18 months. She runs a fitness center ("I worked in corporate America for decades. I'm a lot happier now.") and gets him out on the golf course regularly as well as into the gym. They both seemed to be doing great despite his lack of "work-life balance."
Maintaining musical skills also seemed to be a good investment of time and energy. The Alumni Jazz Band (roughly our class's age) performed at our brunch and they looked happy and sounded fantastic.
Understanding government and government regulation seemed to be the key to a lot of careers. One alum's wife works for a "woman-owned small business" that perpetually keeps the headcount below 100 people. They are thus entitled to "sole source" federal contracts and don't have to compete with other/larger companies. How do they get the work done on what might be huge contracts? "They subcontract everything to Booz-Allen. That's how business is done in D.C."
Readers: What did you learn at your latest college reunion?
Related: