… specifically to women. There is a lot to celebrate in this Facebook Careers video. The description:
The Grace Hopper Celebration of Women in Computing is happening this week in Orlando and we'll be there. Join Engineering Director Debbie Ferguson on a flight journey as she offers her perspective and career advice from 600 feet in the air.
Ms. Ferguson has been commuting by plane from Sacramento to her office at Facebook. She says that she started the aerial commute (it could be 2-4 hours each way, depending on traffic, by car) during a previous job at Google so that she could be home with two young daughters for dinner every night.
Some public comments:
Sylvia French: "Must have been hard rising to that level as a woman."

Missy Dawn: "I have never heard of you or any of this. I wish I would've sooner. I have a 17 year old daughter who is graduating this year. What an inspiration to young woman you are and this organization."

Amy Hayes: "You are an inspiration to us all!"
The Piper Malibu, especially the early Continental-powered version with the 4-blade MT prop (quiet inside!), is the ideal family airplane. As long as you have a letter from God promising that the stressed-to-the-limit turbocharged piston engine won't quit, you can fly in pressurized air-conditioned comfort nearly anywhere in North America with just one stop and sipping gasoline at close to 20 mpg. (Debbie's Matrix version is slightly simpler and, unfortunately, not pressurized.)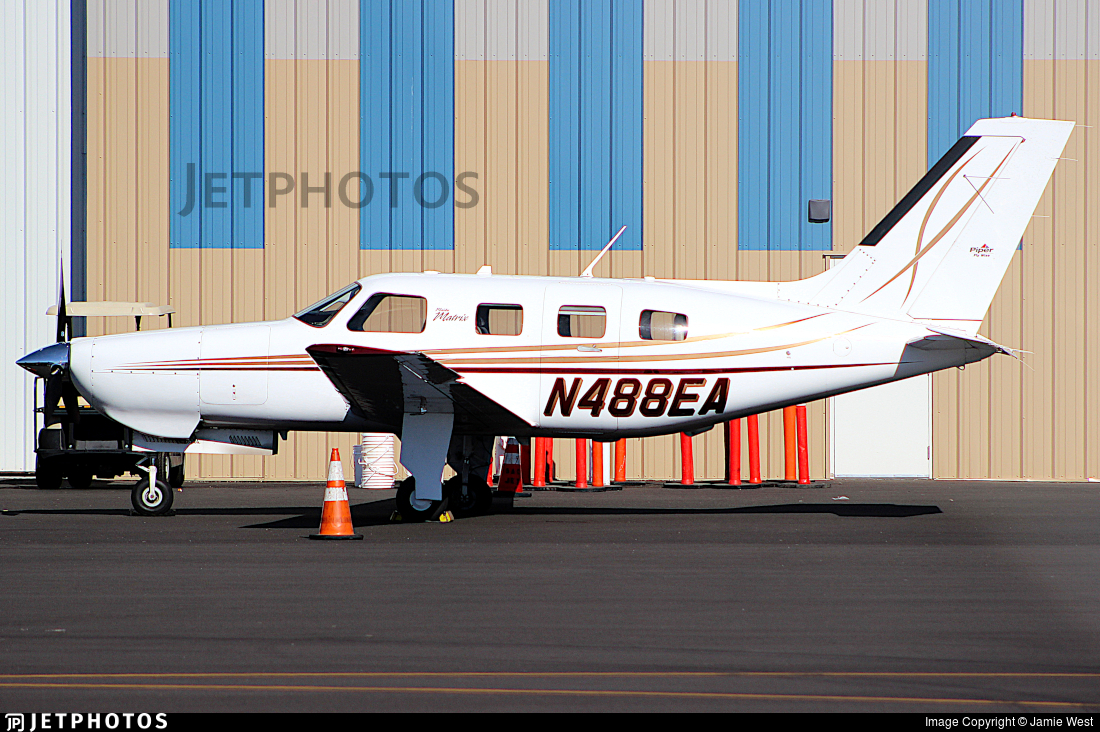 As I tend to do with any story about aviation, I looked up the plane and the pilot in the public registries. It seems that the plane, N488EA, was purchased new by an Oregon LLC in 2008 and hasn't been resold. (Oregon has no sales tax, so this saves about $70,000 in California taxes.) In the FAA airmen registry (who will get out the pitchforks to make them update their sexist language?) there is a "Deborah Ross Ferguson" in the Sacramento area with the bare minimum ratings necessary to fly a Malibu with insurance, i.e., a Private certificate with "Airplane Single Engine Land" and "Instrument Airplane" ratings. But the certificate was issued in May 2016. Certificates are issued when a person adds a rating, e.g., the instrument rating. How did Ms. Ferguson fly a $1 million cabin-class airplane for 8 years without the minimum ratings?
Ms. Ferguson's LinkedIn page confirms the narrative from the video, with commuting to Silicon Valley starting in 2004 for a job at Google. Any kind of search for "Deborah Ross Ferguson," however, brings up pages mentioning a "David Ross Ferguson." A search for "Debbie Ferguson," brings up this page:
Conference delegates will hear from Fiona Mullan, Facebook's HR Director from EMEA (Europe, Middle East and Africa) who will speak about Facebook's diversity programmes and Debbie Ferguson, Engineering Director at Facebook who will speak about her experience as a transgender women in the workplace.
If we assume that this pilot got a new certificate due to a name change, that the transition from "David Ross" to "Deborah Ross" occurred at the time of the FAA certificate reissue in 2016, and that Ms. Ferguson was 18 years old when entering college in 1983 (LinkedIn), she spent 51 years identifying as a man.
Certainly this story could be inspiring as a tale of American personal fulfillment. Ms. Ferguson built a successful career doing what she loved, earned a pilot certificate, has enjoyed the freedom of flight, and was able to select a new gender. But why would it be specifically inspiring to women considering engineering as a career? What if the lesson that they take away is "The best way to succeed as a woman in Silicon Valley is to spend 51 years as a man"?
[And what lesson can men learn? Ms. Ferguson's LinkedIn profile says "Particularly passionate about coaching women as they develop their leadership skills." Is the best way for a man to demonstrate passion about women in the workplace to become one?]
Separately, I wonder if this is the answer to Bay Area real estate prices. Six Silicon Valley workers buy shares in a $300,000 Piper Malibu. That's $50,000 each. Four of them get pilot certificates and rotate so that there are always two pilots in the front seat as an airline-style crew (for safety). They can then live 80 miles away and get to work with about one hour of round-trip flying per day. The plane thus runs 250 hours per year for the commute. At $300 per hour (everything costs more in California), that's $75,000 per year in expenses plus another $25,000 for hangar and insurance. Each of the six is thus spending $16,667 per year or about $1,400 per month. That's way less than the additional cost of housing in Silicon Valley, right? As an added bonus, when these six folks age out of the Silicon Valley workforce, e.g., at 50, they'll have enough flying hours to get a job at an airline.
Related: