It has been 17 years since the events of 9/11 transformed the United States. Despite fears of domestic jihad, we have preserved some of our traditional liberties, including the freedom to fly (well, except in the Washington, D.C., area, any time the President is visiting, any time there is a major league sports event, etc.). From the 1920s through the mid-1980s, the idea was that a middle-class American could purchase an airplane and fly almost anywhere within the U.S. without filing a flight plan, talking to Air Traffic Control, or otherwise becoming tangled up in a bureaucratic process. Due to skyrocketing (so to speak) costs, this had to be backed out to rent an airplane rather than purchase, at least for the middle-class earner. But we still have most of the freedom of avigation that we had back in the 1920s.
Could it be that we'll get closer to mid-1980s prices for aircraft? Read on…
I met a young pilot recently and we discussed the possibility of him buying an airplane. Here's part of an email from him:
My game plan is to keep adding certifications and experience then buy an aircraft in 7-12 years or so. I'm a long term thinker to a fault. The market should be flooded with many small aircraft in the future. Below, per FAA data, you can see from the 2012 and 2017 charts of the private pilots they are fewer and older as time progresses.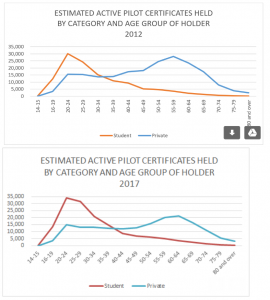 (Complete data: faa.gov)
Certainly it does seem as though potential light aircraft owners were concentrated at 55-59 in 2012 and are now concentrated at 60-64. The composite airplanes, such as Cirrus and Diamond, that have been built over the last 20 years, are mostly immune to corrosion.
It seems as though history is on his side. The pilot-owners who knew how to fly piston twins have aged out of being able to handle these high(ish)-performance aircraft and they are now selling for under $100,000, oftentimes for less than a same-era single-engine plane.
So perhaps in 7-12 years we will still have the freedom to fly and a Cirrus SR22 will be almost free (at least to acquire, if not to maintain)?
On the third hand, what about China? They have a rapidly developing general aviation culture. They are the owners of Cirrus and Continental, the manufacturer of the engines inside nearly all Cirruses. As Americans hang up their wings, why wouldn't there be thousands of Chinese folks interested in exploring their new freedoms?