From one of our most intelligent citizens, a salute to the scientific genius working alone: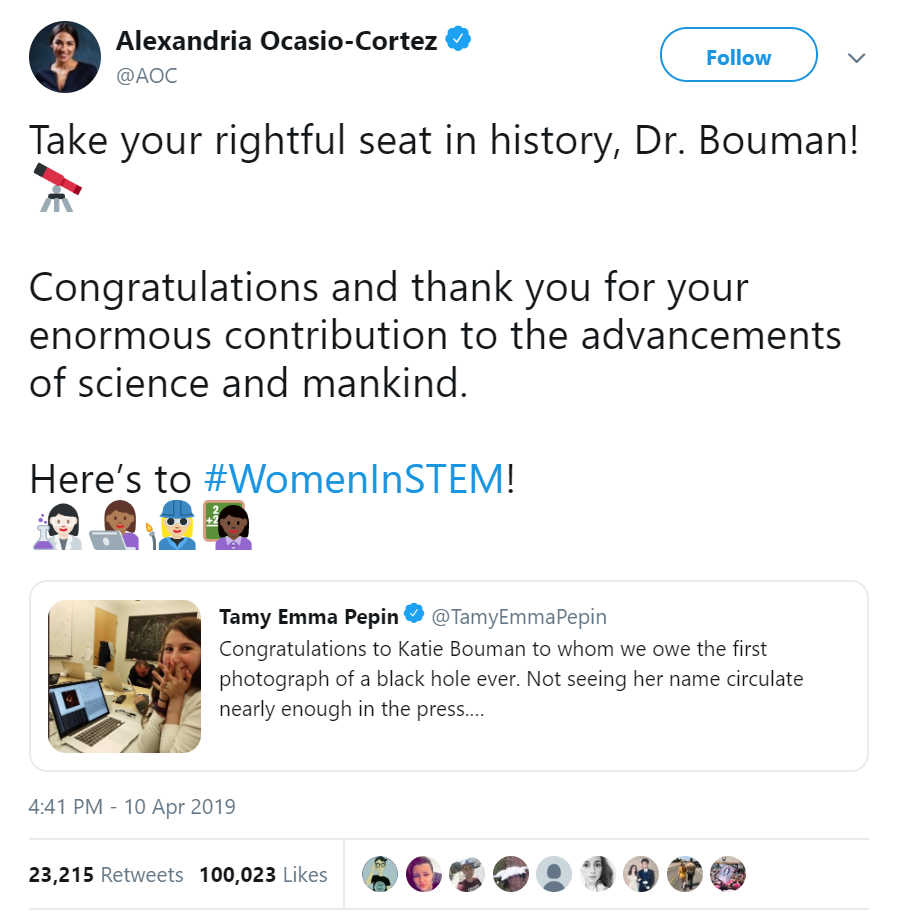 Brian Keating's Losing the Nobel Prize, published just last year, said that the age of a Katherine Clerk Maxwell discovering Maxwell's Equations mostly on her own was over. The book describes a paper regarding Higgs boson discovery with 6,225 co-authors.
Readers: What is the significance of this "photo" (it is all false or pseudo color since the emissions were not in the visible portion of the E-M spectrum)? What is the actual "advancement of science"? (Rare break from Trump hatred from the NY Times: article on how the experiment worked. The core article on the announcement doesn't suggest that any in-question hypotheses were confirmed or rejected. I asked a physicist friend: "it's not exactly the event horizon. It's the photosphere seen on edge. With limb darkening, it appears as a torus. … eventually you might use images like this to see how general relativity plays out over time. In other words, make a movie called Event Horizon (after they see the actual horizon that is). … It confirmed part of a theoretical prediction. One that was made by a scientist other than Einstein.")
(Separately, my Facebook friends who were energized by this example of female nerddom (a postdoc identifying as a "woman" writing software! And earning 1/8th the income of a same-age dermatologist (postdoc salary provides less after-tax spending power than obtainable by having sex with a primary care doctor in Massachusetts)) decided that they needed to add a photo of another successful female-identifying programmer. They had to reach back only half a century to find one:
In 1969 Margaret Hamilton wrote the onboard software code for Apollo 11 and coined the term "software engineering." Now 50 years later, Dr. Katie Bouman's algorithm enabled the connecting of telescopes around the world to take the first photo ever of a black hole. Here is a photo of Margaret Hamilton with the reams of code, and one of Dr. Bouman with the hard drives containing the 5 petabytes of data generated. Cheers to #WomeninSTEM – now imagine what we could do if they let women run the world! (Photo credit @floragraham). #blackhole #bigdata #IoT
The folks who were excited to see someone identify as female sitting at a desk typing code took their last science class in high school, would consider attending a computer science course to be a physical assault, and would flee if offered the opportunity to spend 45 minutes learning about how their smartphones work.
(There seems to be some question regarding whether Margaret Hamilton was the sole author of the big stack of assembly language code next to which she stands. In 2014, for example, the Boston Globe ran an obituary on Richard H. Battin:
Dr. Battin, who developed and led the design of the guidance, navigation, and control systems for the Apollo flights … As astronauts Neil Armstrong and Aldrin were approaching the Sea of Tranquility on that historic July 20, 1969, flight, Dr. Battin was at Mission Control in Houston with MIT Instrumentation Lab founder Charles Stark "Doc" Draper.
See also a 2016 discussion on Hacker News on the question of whether this Battin guy contributed anything significant.))
Is it safe to say that the 19th century lone genius of science is back?